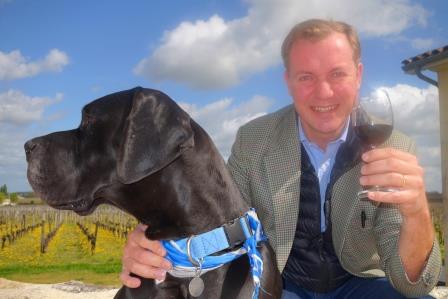 Learn everything about Chateau Le Conseiller Bordeaux Superieur, with wine tasting notes and wine with food pairing tips. Learn the best vintages, the history of the property, and information on the vineyards and winemaking. If you want to read about other important, Bordeaux Chateaux: Links to all Bordeaux Wine Producer Profiles
Chateau Le Conseiller is one of the best examples of how good low priced, value Bordeaux wine can be. Jean Philippe Janoueix is making some of the best Bordeaux Superieur wine in Bordeaux today.
Jean Philippe Janoueix also manages La Croix St. Georges in Pomerol, La Confession in St. Emilion and two other Bordeaux Superieur estates, Chateau Croix Mouton and 20 Mille. Chateau Le Conseiller made its debut for the young Jean Philippe Janoueix with the 2002 vintage,
Chateau Le Conseiller Vineyards, Terroir, Grapes, Winemaking
The 27-hectare vineyard of Le Conseiller is planted to 85% Merlot and 15% Cabernet Franc. The vineyard has a terroir of clay and limestone soils. On average, the vines are maintained at an impressive, 40 years of age.
For a Bordeaux value wine, Jean Philippe Janoueix does a lot of work to make sure this is the best wine possible from Le Conseiller. To produce the wine Chateau Le Conseiller, the grapes are whole berry fermented a mixture of concrete tanks and stainless steel vats.
During fermentation at Le Conseiller, they pump over 3 times a day. Malolactic fermentation takes place in 50% new, French oak barrels. The wine Chateau Le Conseiller is then aged in 50% new, French oak barrels and new American oak barrels for 9 months prior to the bottling.
Interestingly, Le Conseiller is one of the few Right Bank Bordeaux that import American oak barrels. At Chateau Le Conseiller, for the barrels, Janoueix uses 50% traditional shaped oak barrels and the remaining barrels are the cigar-shaped barrels that Janoueix likes.
These expensive oak barrels are in use at his top Right Bank estates in Saint Emilion, Chateau La Confession, and in Pomerol at Chateau La Croix St. Georges. Even though there is Cabernet Franc in the vineyards, the wine is often produced using 100% Merlot.
The best vintages of Chateau La Conseiller are: 2022, 2021, 2020, 2019, 2018, 2017, 2016, 2015, 2014, 2012, 2010, 2009 and 2005.
All this effort and expense is clearly seen in the quality of the wine. If you're seeking a well-priced, tasty, Bordeaux Superieur Bordeaux value wine that drinks well on release, this is a great choice. It is not a wine for aging. Chateau Le Conseiller is best enjoyed within a few years of release.
When to Drink Chateau Le Conseiller, Anticipated Maturity, Decanting Time
Chateau Le Conseiller is much better with at least 1-3 years of aging in good vintages. Young vintages can be decanted for up to 1 hour.
This allows the wine to soften and open its perfume. Older vintages might need very little decanting, just enough to remove the sediment. Chateau Le Conseiller offers its best drinking and should reach peak maturity between 2-6 years of age after the vintage.
Serving Chateau Le Conseiller with Wine, Food, Pairing Tips
Chateau Le Conseiller is best served at 15.5 degrees Celsius, 60 degrees Fahrenheit. The cool, almost cellar temperature gives the wine more freshness and lift.
Chateau Le Conseiller is best paired with all types of classic meat dishes, veal, pork, beef, lamb, duck, game, roast chicken, roasted, braised, and grilled dishes. Chateau Le Conseiller is also good when matched with Asian dishes, rich fish courses like tuna, mushrooms, and pasta.
Château Le Conseiller (Jean-Philippe Janoueix) Wine Tasting Notes
12 Vintages 36,274 Views Sort by Vintage-Rating
2020
Château Le Conseiller (Jean-Philippe Janoueix) (Bordeaux Supérieur)

With a showy nose of licorice, smoke, espresso, cocoa and plums, the wine is round, fleshy, fruity, medium-bodied and already delicious to taste. It is difficult to find better wine in the price range on the planet. 88-90 Pts

1,682 Views

Tasted

May 20, 2021

2019
Château Le Conseiller (Jean-Philippe Janoueix) (Bordeaux Supérieur)

Medium-bodied, red fruits and floral notes with an earthy accent starts off this 100% old vine Merlot-based wine. Medium-bodied, soft, sweet, fresh and ripe, the wine comes along with touches of truffle and cocoa to complicate the red fruits on the palate and in the soft, polished, sweet, fruit-filled finish. This is already quite tasty, so you can enjoy it on release. This is my favorite vintage of Le Conseiller yet. Drink from 2022-2033. 90 Pts

710 Views

Tasted

Mar 29, 2022

Medium-bodied, soft and approachable, this 100% old vine Merlot serves up a blast of cherries, plums and licorice with a dab of smoke and espresso in the finish. It is difficult to find better wine in the price range on the planet. 87-89 Pts

2,784 Views

Tasted

Jun 8, 2020

2018
Château Le Conseiller (Jean-Philippe Janoueix) (Bordeaux Supérieur)

Ripe, round, medium-bodied and fruity, with lush, juicy plums, chocolate, licorice and black cherries in a forward, ready to drink style that sells for a song. What more can you ask for in a top Bordeaux value wine? The wine is produced from 100% old vine Merlot.

974 Views

Tasted

Mar 9, 2021

From 100% old vine Merlot, the wine is forward, soft fruity and juicy. Easy to drink, this is going to be fun on release. 87-89 Pts

1,544 Views

Tasted

Apr 19, 2019

2016
Château Le Conseiller (Jean-Philippe Janoueix) (Bordeaux Supérieur)

A top example of a Bordeaux value wine, with supple textures, ripe, sweet, dark, cherries, espresso, licorice and just a bit of chocolate in there for good measure. This is meant for early drinking pleasure.

2,819 Views

Tasted

Apr 29, 2017

2015
Château Le Conseiller (Jean-Philippe Janoueix) (Bordeaux Supérieur)

From 100% old vine Merlot, the wine is lush, round, forward and approachable, with a plush, chocolate, covered, black cherry, espresso and smoky note, that sticks with you from start to finish. 87-89 Pts

2,047 Views

Tasted

Apr 29, 2016

2014
Château Le Conseiller (Jean-Philippe Janoueix) (Bordeaux Supérieur)

From 100% old vine Merlot, the wine is soft, forward and a true crowd pleaser with its upfront, sweet cherry and vanilla character. Drink this on release. 85-87 Pts

2,123 Views

Tasted

May 1, 2015

2013
Château Le Conseiller (Jean-Philippe Janoueix) (Bordeaux Supérieur)

From 100% old vine Merlot, hints of licorice, earth and red fruit poke through the nose. Medium bodied, with light fresh cherries in the finish, this is forward, approachable and a fine value. 85-87 Pts

2,123 Views

Tasted

May 1, 2014

2012
Château Le Conseiller (Jean-Philippe Janoueix) (Bordeaux Supérieur)

Soft, round and approachable, this is a perfect example, of charming, fruity, uncomplicated drinking.

2,471 Views

Tasted

May 15, 2015

From 100% Merlot, the wine is filled with tobacco, oak, soft textures and a forward style. The finish displays oak, so it's not for the oak averse. That being said, as long as you drink this young, it's one of the best Bordeax value wines available. 87-89 Pts

2,699 Views

Tasted

Apr 26, 2013

2011
Château Le Conseiller (Jean-Philippe Janoueix) (Bordeaux Supérieur)

Sweet raspberry, medium-bodied, easy-drinking finish. 84-86 Pts

1,460 Views

Tasted

Apr 20, 2012

2010
Château Le Conseiller (Jean-Philippe Janoueix) (Bordeaux Supérieur)

Le Conseiller, produced from 100% Merlot combines black cherry, licorice, chocolate and soft textures to produce a top value Bordeaux wine. 88-89 Pts

3,843 Views

Tasted

Apr 22, 2011

2009
Château Le Conseiller (Jean-Philippe Janoueix) (Bordeaux Supérieur)

Medium bodied, soft, black cherries and toast are found in this crowd pleasing, forward, value priced, Bordeaux wine.

3,368 Views

Tasted

May 1, 2012

2009 Le Conseiller, produced from 100% merlot, opens with dark berries and fennel. This ripe, soft textured wine will offer pleasure early. A top value wine for the vintage, it will sell for about $15 in the states. 88-90 Pts

2,963 Views

Tasted

Aug 26, 2010

2005
Château Le Conseiller (Jean-Philippe Janoueix) (Bordeaux Supérieur)

Drink this sooner than later to grab the last of its remaining sweet, cherry and licorice personality.

2,664 Views

Tasted

Jun 28, 2015