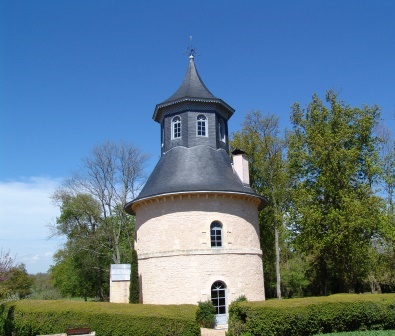 Learn everything about Chateau Reignac Bordeaux Superieur, with wine tasting notes and wine with food pairing tips. Learn the best vintages, a history of the property, information on the vineyards and winemaking. If you want to read about other important, Bordeaux Chateaux: Links to all Bordeaux Wine Producer Profiles
Chateau Reignac History, Overview
Chateau Reignac was purchased in 1990 by Stephanie and Yves Vatelot. The debut vintage was named Reignac Prestige. The Vatelot family spared no expense in striving to produce the best possible wine from their terroir. After purchasing Chateau de Reignac, Yves Vatelot turned things around quickly.
He began harvesting by hand, instead of a machine. He completely renovated the estate and wine cellars and he brought in Michel Rolland to consult. Yves Vatelot also replanted much of the vineyard and increased the density of the vineyard plantings.
Chateau Reignac became the first Bordeaux to sell their wines on the American market utilizing a direct-to-consumer model. They have their own website where consumers can buy their wine instead of the traditional route of purchasing the wine at a wine merchant.
Chateau Reignac Vineyards, Terroir, Grapes, Winemaking
The large, 74-hectare vineyard of Chateau Reignac is planted to 65% Merlot, 25% Cabernet Sauvignon and 10% Cabernet Franc for the red wine. For the white wine, 2.1 hectares of vines are planted to 53% Sauvignon Blanc, 23.5% Semillon and 23.5% Sauvignon Gris.
The estate is a massive 135-hectare property with 60 hectares of vines devoted to greenery, parkland, and verdant slopes.
The vineyard is situated on the western side of the Entre Deux Mers appellation. The vineyard is planted to a vine density of 6,000 vines per hectare. The terroir is gravel and clay soil, which is perfect for the Cabernet Sauvignon and limestone with clay soils for the Merlot. The white wine grapes are planted in the limestone soils.
To produce the red wine of Chateau Reignac, the wine is vinified in vats. Actually, they have applied for a patent to protect their vinification process. What happens is, the grapes are placed in the barrel through a specially designed lid before maceration. Or if it is after cold maceration, the grapes travel from stainless steel vats on a specially designed sluice. 
The barrels rest on a rack allowing for easy rotation, along with an internal device that is attached to the head of the barrel. Once the maceration and fermentations' are completed, the wine is racked from a sluice valve that is attached to a removable barrel head. The lid opens and the pomace can be easily removed.
Lastly, the detachable barrel head is eventually replaced with a traditional top while the wine ages in the barrel. These steps, along with the intense efforts in the vineyard allow this wine to compete with many Right Bank properties in blind tastings.
Malolactic Fermentation takes place in 100% new oak barrels. The wine of Chateau Reignac is aged in 100% new, French oak barrels for between 16 and 20 months. A portion of Chateau Reignac is micro-vinified, meaning it is barrel fermented.
For Reignac Blanc the wine is vinified and aged in a combination of 80% new French oak barrels while the remaining 20% is vinified and aged in egg-shaped, cement vats for 9 months before bottling.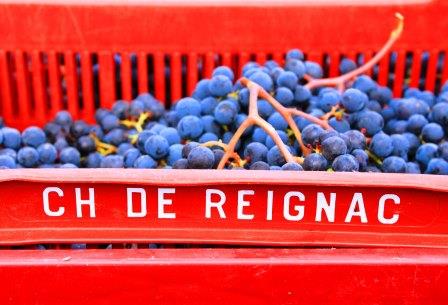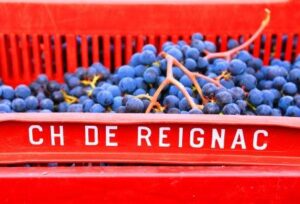 When to Drink Chateau Reignac, Anticipated Maturity, Decanting Time
Chateau Reignac is much better with at least 2-4 years of aging in good vintages. Young vintages can be decanted for 1 hour or so. This allows the wine to soften and open its perfume.
Older vintages might need very little decanting, just enough to remove the sediment. Chateau Reignac offers its best drinking and should reach peak maturity between 3-14 years of age after the vintage.
Serving Chateau Reignac with Wine, Food, Pairing Tips
Chateau Reignac is best served at 15.5 degrees Celsius, 60 degrees Fahrenheit. The cool, almost cellar temperature gives the wine more freshness and lift.
Chateau Reignac is best paired with all types of classic meat dishes, veal, pork, beef, lamb, duck, game, roast chicken, roasted braised, and grilled dishes. Chateau Reignac is also good when matched with Asian dishes, rich fish courses like tuna, mushrooms, and pasta.
The best wine from Chateau Reignac is called simply Reignac. The wine is produced from the estate's oldest vines which are on average more than 40 years of age. This is the wine that you read most of the good comments on.
There is a second wine, Chateau de Reignac. This causes some confusion in the marketplace, due to the extremely similar names of the Grand Vin and the second wine. The second wine, which is called Chateau de Reignac features a white label and comes in a typical Bordeaux-shaped bottle. The Grand Vin has a brown label is comes in a taller bottle.
Balthus
In 2002, Reignac introduced a new, top-of-the-line wine, Balthus with the purchase of a small parcel of vines. Balthus is produced from a 3-hectare parcel of 100% old vine Merlot.
Balthus is produced using 100% micro-vinification techniques, meaning that the wine is made completely in the barrel from start to finish. In that regard, Balthus was ahead of the curve for small production wineries.
If you jump ahead about 8 years later, a few of the top Right Bank estates are also using micro vinification techniques, most notably La Violette in Pomerol. Balthus is the most expensive wine from vines planted in the Entre Deux Mers appellation as well as the most expensive Bordeaux Bordeaux Superieur.
The best vintages of Chateau Reignac are: 2022, 2021, 2020, 2019, 2018, 2017, 2016, 2015, 2014, 2012, 2010, 2009 and 2005.
Chateau Reignac is a rich, concentrated, opulent, ripe, up-front style of wine that offers a lot of pleasure for the money. Plus, the wine shows well young.
Chateau Reignac is an outstanding value Bordeaux wine made in a crowd-pleasing style that drinks well on release, offers good character, and remains fairly priced. On average, when combined, the total production of Chateau Reignac is close to 30,000 cases per year.
Reignac Wine Tasting Notes
39 Vintages 143,767 Views Sort by Vintage-Rating
2022
Château de Reignac Balthus (Bordeaux Supérieur)

Round, plummy wine with chocolate, espresso, mint and cherries in a round, forward, creamy, lush, rich, fruit-filled, forward style. Drink from 2025-2037. 90-91 Pts.

917 Views

Tasted

May 8, 2023

2022
Reignac (Bordeaux Supérieur)

Rich, round, forward, fruity, ripe, sweet and packed with chocolate coated cherries, this is ready to go on release and will be fun to enjoy for up to a decade. Drink from 2025-2032. 90-92 Pts.

2,656 Views

Tasted

May 8, 2023

2021
Balthus (Bordeaux Supérieur)

Espresso, herbs, and smoked cherries show up in the nose and soft, round-textured, medium-bodied, oaky, plummy palate. Drink from 2023-2029. 88-90

834 Views

Tasted

May 20, 2022

2021
Reignac (Bordeaux Supérieur)

Flowers, espresso, licorice and black cherries on the nose and on the medium-bodied palate, you find a ready-to-go, dark cherry, cocoa and plum finish. Drink from 2023-2028. 87-89

2,140 Views

Tasted

May 20, 2022

2020
Balthus (Bordeaux Supérieur)

Full-bodied, opulent, rich and fleshy, the layers of ripe, dense plums and chocolate with hoisin sauce on the nose and palate leave a long impression. This finish shows a lot of oak at the moment, so give this 3-5 years to better come together. This is a full-bodied, opulent, hedonistic styled wine that is made from a specific parcel selection of 100% old vine Merlot. 91-93 Pts

878 Views

Tasted

May 20, 2021

2020
Château de Reignac Balthus (Bordeaux Supérieur)

Opulent, fleshy, soft-textured and forward, the glossy, dark, red fruits are fresh, soft and polished on the mid-palate and in the fruit-packed finish. This finish still shows a bit of oak at the moment, so give it a year or two to become better integrated. Drink from 2024-2035.

346 Views

Tasted

Mar 21, 2023

2020
Reignac (Bordeaux Supérieur)

The first thing you notice is the nose with its espresso, chocolate, black raspberry and cherry fragrance. The wine is already simply delicious with its layers of sweet, lush, chocolate covered plums. Ripe, fleshy, and ready-to-go, you can enjoy this on release. Drink from 2023-2034.

1,978 Views

Tasted

Mar 21, 2023

Lusciously textured black cherries coated in dark chocolate with licorice are found on the nose and on the opulent, richly textured palate. Ripe, fleshy, rich and with loads of flavor and concentration. Give this just a year or two, and it should be good to go. 90-92 Pts

2,922 Views

Tasted

May 20, 2021

2020
Reignac Blanc (Bordeaux)

Smoky, yellow and orange fruits with freshness and a creamy, fruity finish is what you will find here. Drink from 2023-2028.

1,845 Views

Tasted

Mar 21, 2023

2019
Balthus (Bordeaux Supérieur)

Dark chocolate mint chip ice cream with black raspberries, black cherries, smoke and licorice hits you with little effort. Full-bodied, rich, plush, round and ready to go, the creamy textured finish is just right for all the layers of dark, ripe, red fruits, licorice and coffee beans. If you are hedonistic in nature, this is for you. The wine is produced from a specific parcel selection of 100% old vine Merlot. Drink from 2023-2034.

539 Views

Tasted

Mar 29, 2022

Chocolate mint is the first thing you notice before moving to flowers, licorice, plums, cherries and smoky aromatics. Round, lush, generous, hedonistic and full-bodied, wait a couple of years and this will be quite nice to imbibe. The wine is produced from a specific parcel selection of 100% old vine Merlot. 91-93 Pts

1,589 Views

Tasted

Jun 8, 2020

2019
Reignac (Bordeaux Supérieur)

Blackberries, plums, vanilla, smoke and licorice are what you find on the nose, before you get to the palate which is plummy, rich, round and polished, with loads of dark, creamy fruits in the finish. Drink from 2022-2033.

1,775 Views

Tasted

Mar 29, 2022

Rich and plumy, round and sweet with layers of fleshy, juicy plums, chocolate, licorice and smoke from start to finish. 90-92 Pts

2,738 Views

Tasted

Jun 8, 2020

2019
Château de Reignac Blanc (Bordeaux Supérieur)

Sweet yellow citrus notes with hints of green apple that is best for early drinking consumption. 83 Pts

2,353 Views

Tasted

Jun 28, 2020

2018
Balthus (Bordeaux Supérieur)

Deeply colored, polished in texture with layers of lush, ripe, sweet, round, juicy, rich, polished fruits with a lot of oak, licorice on top in the finish. This is already drinking really well.

604 Views

Tasted

Mar 9, 2021

Voluptuous in texture, the wine is dense, fat and loaded with toasty oak, licorice, extremely ripe fruit and chocolate. This is not a refined wine, but it is sure hedonistic. The wine is a parcel selection of 100% old vine Merlot. 91-93 Pts

1,139 Views

Tasted

Apr 19, 2019

2018
Reignac (Bordeaux Supérieur)

Espresso, chocolate covered cherries, plum and smoke fill the nose while layers of plush, ripe, dark red berries and oak hit your palate. You can drink this now, or age it a few years. This could be the best Reignac ever produced!

1,977 Views

Tasted

Mar 9, 2021

Round, lush and juicy, with plenty of smoke, licorice, espresso and ripe, black cherries coupled with a dark chocolate underpinning and freshness in the finish. Age it a few years, or drink it on release. 90-92 Pts

2,719 Views

Tasted

Apr 19, 2019

2018
Château de Reignac Blanc (Bordeaux Supérieur)

Yellow citrus and mango with tropical notes and green apple in a lush, creamy style for near term drinking pleasure.

1,858 Views

Tasted

Mar 9, 2021

2017
Balthus (Bordeaux Supérieur)

Deeply colored, polished textures, licorice, espresso and toasty oak work well, leading you to the black raspberries and cocoa in a round finish. Give it a few years before popping a cork.

1,193 Views

Tasted

Apr 26, 2018

2017
Reignac (Bordeaux Supérieur)

Medium bodied with freshness and a core of sweet red fruits, you'll also find licorice, strawberry and coffee bean notes. This round, easy to drink wine will be best in its youth.

2,202 Views

Tasted

Apr 26, 2018

2016
Balthus (Bordeaux Supérieur)

Dark in color, the wine is hedonistic. The layers of ripe, lusciously textured, dark berries, licorice and cocoa smell, taste and feel great. The finish is round, deep and long. Drink it or age it, this is the best vintage for Balthus ever produced.

724 Views

Tasted

Sep 21, 2019

Dark in color, you find dense, fat, ripe, sweet, lushly textured fruits with plush textures and a dark, sweet, open, fat finish with gobs of ripe, dark berries, licorice and cocoa.

1,422 Views

Tasted

Apr 29, 2017

2016
Reignac (Bordeaux Supérieur)

Layers of black cherries, licorice and smoke come easy here. The wine is full bodied, lush, opulent and just a touch hot, still, it is hard not to be seduced by all the delicious, decadent fruits. You can enjoy this on release.

2,953 Views

Tasted

Sep 21, 2019

Easy drinking, forward wine, with a round, licorice, and black cherry profile that will be delicious on release.

3,877 Views

Tasted

Apr 29, 2017

2015
Balthus (Bordeaux Supérieur)

Dark in color, you find licorice, dark red fruits, chocolate and floral scents. The wine is lush, round and fat with sweetness, flesh and a hint of jam in the chocolate covered plum finish. Give it a few years before popping a cork.

1,571 Views

Tasted

May 21, 2018

Dark in color, with round, lush, sweet, ripe, chocolate covered cherries, espresso and cocoa from start to finish in this forward styled wine.

1,537 Views

Tasted

Apr 29, 2016

2015
Reignac (Bordeaux Supérieur)

Deep in color, with lush, soft, fleshy textures, ripe tannins and a wealth of juicy, sweet, dark cherries, licorice and chocolate on the nose and palate. You can drink this on release, or age it a few years for to develop secondary characteristics.

2,968 Views

Tasted

May 21, 2018

Forward, open, easy drinking charmer, with soft textures, ripe fruits and sweetness in the round, easy going finish.

3,229 Views

Tasted

Apr 29, 2016

2014
Balthus (Bordeaux Supérieur)

Dark in color, with round, fat texture, chocolate covered black raspberries and espresso notes in a forward style. 88-89 Pts

1,773 Views

Tasted

May 1, 2015

2014
Reignac (Bordeaux Supérieur)

Soft, supple, forward, lush and polished, this will drink best in its easy to like youth. 88-89 Pts

2,887 Views

Tasted

May 1, 2015

2013
Balthus (Bordeaux Supérieur)

Dark ruby in color, especially for the vintage, the wine is all about the spicy black raspberry and floral notes, medium body, oak and spicy, dark red berry character. 88-89 Pts

1,716 Views

Tasted

May 1, 2014

2013
Reignac (Bordeaux Supérieur)

Herbs, licorice, cherry and citrus accents are coupled with an oaky personality to produce a wine that should be enjoyed in its youth. 86-88 Pts

2,751 Views

Tasted

Apr 5, 2014

2012
Balthus (Bordeaux Supérieur)

Chocolate mint, blackberry and fresh herbs create the nose. On the palate, the wine is soft, medium bodied and ends with a sweet, chocolate covered, black cherry and mocha finish.

2,606 Views

Tasted

May 15, 2015

Truffle, cherries, smoke and chocolate, with a thyme accent creates the nose. The wine is lush and polished, with a forward, rich, fruity character.

2,419 Views

Tasted

May 7, 2015

Deeply colored with licorice, chocolate, coffee bean and jammy berries, this wine offers lush, fat textures and a long, ripe, flashy, fruit-filled finish. 90-92 Pts

3,046 Views

Tasted

Apr 26, 2013

2012
Reignac (Bordeaux Supérieur)

Earth, licorice, black cherry and smoke on the nose, with a forward, sweet, fresh, chocolate and vanilla bean, cherry finish.

2,836 Views

Tasted

May 15, 2015

Easy to drink with its fruit forward, medium bodied, chocolate covered cherry and licorice filled round personality. This is a wine of pleasure, not a wine for aging.

2,384 Views

Tasted

May 7, 2015

Medium/full-bodied, with an open personality, the wine is filed with oak, licorice and jammy berries. At the moment, the oak dominates the fruit in the finish. 88-90 Pts

3,445 Views

Tasted

Apr 28, 2013

2011
Balthus (Bordeaux Supérieur)

This special 100% Merlot wine from the owner of Reignac was made from small yields of 27 hectolieters per hectare. At close to 14.5% ABV, the wine offers fennel, floral, black cherry, spice and espresso bean scents. Soft and round, this black cherry dominated wine should drink well early. 89 – 91 Pts

1,665 Views

Tasted

Mar 16, 2012

2011
Reignac (Bordeaux Supérieur)

From a blend of 70% Merlot, 25% Cabernet Franc and 5% Cabernet Sauvignon, the wine is deep in color, Tannins and slightly firm for this producer, the wine offers licorice, jammy black raspberry, coffee and pepper. 14% ABV. 88 – 90 Pts

3,488 Views

Tasted

Mar 16, 2012

2010
Balthus (Bordeaux Supérieur)

Rich, round, lush sweet, ripe fruits, licorice, chocolate and espresso beans are all over the place in this 100% Merlot wine.

2,090 Views

Tasted

Nov 16, 2014

2010
Reignac (Bordeaux Supérieur)

Tight at the moment. With effort, oak, earth, licorice, some and plums cound be found. There is good freshness in the fruits, but it requires a few years to soften and open up.

3,537 Views

Tasted

Nov 19, 2014

Reignac opens with oak, espresso bean, jammy black fruit and cassis, Round, supple and packed with jammy ripe fruit, this should offer pleasure on release. 88-90 Pts.

5,737 Views

Tasted

Apr 22, 2011

2009
Balthus (Bordeaux Supérieur)

Approachable already, with blackberry, plum, vanilla, licorice, jam and chocolate, this luscious 100% Merlot wine is a definite crowd pleaser.

1,777 Views

Tasted

May 9, 2012

2009
Reignac (Bordeaux Supérieur)

This pop and pour, crowd pleaser is ready to go. Lots of licorice, vanilla, coffee bean, black cherry liqueur and cocoa character are found in each sniff and sip. This is not an ager, but for easy drinking pleasure today, this is worth the tariff.

4,257 Views

Tasted

Nov 29, 2013

2008
Balthus (Bordeaux Supérieur)

Showing well today, with its luscious, ripe, sweet, dark red fruits, licorice, chocolate and coffee beans in full force. Round and easy to drink, this is a crowd pleaser.

1,870 Views

Tasted

Aug 26, 2017

2008
Reignac (Bordeaux Supérieur)

Cigar box, licorice, blackberry, pepper, herbs, and cherry scents couple with the medium bodied wine to deliver a crowd pleasing style of Bordeaux wine that shows well young.

3,025 Views

Tasted

Sep 19, 2012

Licorice, chocolate, coffee and sweet red with black plum scents are easy to find in this blend of 75% Merlot and 25% Cabernet Sauvignon Bordeaux wine. This easy to like, crowd pleasing, lush styled wine is already drinking well. It probably won't improve much. Enjoy it young for its delicious qualities as it will not make it to old age.

3,079 Views

Tasted

Aug 7, 2011

2006
Reignac (Bordeaux Supérieur)

Who doesn't like a deal? When the offer came to buy this for the whopping sum of about $12, I could not resist and bought a case. Earth, smoke, blackberry, coffee and smoke scents open to a fully mature, soft, medium/full bodied wine that ends with spicy, black cherries and a hint of dust in the tannins. I would drink this over the next 3-5 years. It's not a wine for aging. But for this price, it's a steal. It's being offered by multiple merchants all over the country.

2,927 Views

Tasted

Sep 19, 2012

Still deep in color, with scents of coffee, smoke, licorice, plums. This concentrated wine is a blend of 75% Merlot and 25% Cabernet Sauvignon, the same assemblage used in the 2005. The opulently textured finish ends with licorice, chocolate, black cherries and hints of blue fruit. I prefer drinking these wines on the young side to retain their upfront, ripe, lusty fruit qualities.

4,898 Views

Tasted

Aug 19, 2011

2005
Balthus (Bordeaux Supérieur)

Lush, round, ripe, fat, dark, juicy fruits, licorice, smoke and espresso notes are all over the place. Concentrated, full bodied and rich, the wine is long, with intensity of flavor in the chocolatey, black cherry and even blacker licorice in the finish.

3,078 Views

Tasted

Jan 10, 2018

2005
Reignac (Bordeaux Supérieur)

Is this the deal of the year for a house wine? Depending on where you live, for $12, you get a nose filled with coffee bean, licorice, jammy dark berries, cherry and earth. Fleshy, round, ripe and ready to drink, the wine ends with chocolate covered plums and licorice. 2005 Reignac is a value Bordeaux wine worth buying by the case!

5,882 Views

Tasted

Aug 10, 2012

From a blend of 75% Merlot and 25% Cabernet Sauvignon, the wine offers aromas of jammy berries, coffee, black cherry and licorice scents. Round in texture, the wine finishes with ripe, chocolate and black cherry flavors.

7,498 Views

Tasted

Jul 25, 2011

2001
Reignac (Bordeaux Supérieur)

Fully mature, with licorice, cooca, truffle, vanilla, cassis and blackberry, this richly textured wine is at its apogee. I'd drink it over the next few years before it starts to fade.

3,057 Views

Tasted

May 9, 2012

2000
Reignac (Bordeaux Supérieur)

My last bottle of this wine offered licorice, coffee, black raspberries and juicy plums with earthy notes. Still round and supple in texture, there is no tannin to be resolved, The wine finishes with juicy black fruit, chocolate and licorice. Aged in 100% new oak from a blend of 70% Merlot and 30% Cabernet Sauvignon, this wine paid dividends from its under $20 price. I'd drink it sooner than later to retain its fruit and freshness.

6,556 Views

Tasted

Aug 19, 2011