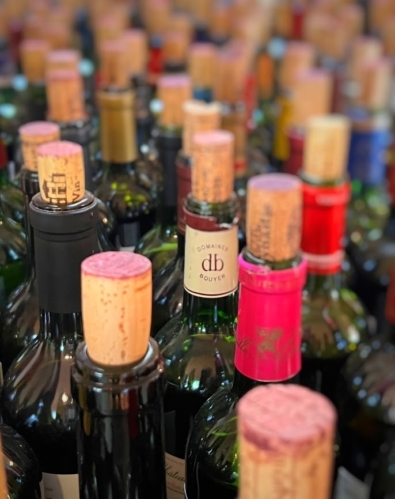 2019 Cotes de Bordeaux. Savvy wine lovers should know about these wines. Some of the best values in the entire wine world are found here. 2019 Cotes de Castillon, 2019 Cotes de Francs, 2019 Cotes de Blaye, 2019 Cotes de Bourg and 2019 Cadillac Cotes de Bordeaux are all packed with superb wines. Round, soft, luscious, and already easy to drink with immense pleasure. Right Bank wine lovers seeking high-quality wines that can be purchased for a song should get to know all of the Right Bank wines listed below.
For a review of the vintage conditions or to look at tasting notes and ratings for more than 750 wines The Complete Guide To all the Best 2019 Bordeaux Wines
The following 2019 Cotes de Bordeaux wines were all tasted in non-blind conditions in my home office.
2019 dAiguilhe – Castillon Côtes de Bordeaux – Dark red fruits, coffee bean, flowers, licorice and chocolate are found in the nose. Fresh and silky on the palate, with a gorgeous purity to the fruits and silky textures in the cherry packed finish, this is going to take a few years before it starts to deliver its true essence. The wine is made from 88% Merlot and 12% Cabernet Franc. Drink from 2023-2035. 93 Pts
2019 dAiguilhe Querre – Castillon Côtes de Bordeaux – Medium-bodied, fruity, chewy, earthy and floral, with nuances of espresso, cherries and plums, showing better in the bottle than it did in the barrel, this is going to be quite easy to enjoy on release. 90 Pts
2019 dAiguilhe Seigneurs d'Aiguilhe – Castillon Côtes de Bordeaux – Medium-bodied, lighter styled, fresh, red berry filled, floral charmer that is perfect for early drinking pleasure. 87 Pts
2019 dArce – – Castillon Côtes de Bordeaux – Medium-bodied, soft, silky, fresh and forward with a core of dark cherries, wet earth, flowers, licorice and espresso, this is already just delicious to drink and will deliver for the next 12 years or so. Drink from 2022-2034. 91 Pts
2019 Alcee – Castillon Côtes de Bordeaux – Flowers, chocolate, cinnamon spice, truffle and red pit fruits are found in the complex aromatic profile. On the palate, the wine is all about the dark chocolate coated plums with just a hint of espresso on the palate and in the supple textured finish. This is already so good and it is going to get even better with just a few years of age. Drink from 2022-2034. 93 Pts
2019 Ampelia – Castillon Côtes de Bordeaux – Earthy, savory, medium-bodied wine with a core of spicy, fresh plums, olives, earth and herbs. The finish ends with ripe, round, savory fruits and a touch of tapenade. Drink from 2022-2030. 89 Pts
2019 Beaulieu Côtes de Bourg – Côtes de Bourg – Medium-bodied, fresh, vibrant and chewy with a core of earthy, olive tinged, salty red fruits and a chalky, chewy textured, red fruit finish. 89 Pts
2019 Cap de Faugeres Mouleyre – Castillon Côtes de Bordeaux – Dark chocolate, truffle, black plums and espresso create the nose. On the palate, the wine is soft, medium-bodied, fresh and fruity, with an earthy, cocoa, licorice and espresso-tinged, plum and cherry finish. Drink from 2023-2034. 92 Pts
2019 Clarisse Cotes de Bordeaux – Castillon Côtes de Bordeaux – The debut vintage from their new Cotes de Castillon estate provides a nose with flowers, chocolate and black cherries. Soft, supple, medium-bodied and fresh, the wine will show well on release. Drink from 2022-2032. 90 Pts
2019 Clos Puy Arnaud – Castillon Côtes de Bordeaux – A bit reserved, so it will take a few years in the cellar or decanting to bring out its character. When that happens you will find load of fresh, soft, mineral driven red fruits, herbs and licorice to accompany all the sweet red berries. More stoic than showy, give this a few years of aging before popping a cork. Drink from 2022-2033. 90 Pts
2019 Cote Montpezat – Castillon Côtes de Bordeaux – Tobacco leaf, smoke, spice, cocoa and dark red fruits show quite nicely on the nose. On the palate, the wine is soft, round, polished and earthy, with a touch of grilled meat, plum, spice, earth and black cherry on the mid-palate and in the finish. Not only does this sell for a song, it will also be ready to drink on release. Drink from 2022-2033. 90 Pts
2019 de Francs Francs – Côtes de Bordeaux – Earthy notes with herbs, tobacco leaf, cedar and salty, chewy red fruits form the core of this wine. I like the freshness and mineral edge to the fruit here. 2022-2032. 90 Pts
2019 Dubois-Grimon – Castillon Côtes de Bordeaux – Lush, silky, fresh, ripe and fun to drink, this is already showing such a nice character packed with ripe, sweet, plums, black cherries, licorice, cocoa and spice. You can enjoy this now with pleasure or age it for a few years for more secondary complexity. Drink from 2022-2033. 91 Pts
2019 Fougas Maldoror – Côtes de Bourg – Flowers, spice, forest leaf and red fruits come through on the nose with ease. The wine is fresh, fruity, spicy and packed with loads of crunchy deep, red fruits, green olives and a touch of vanilla in the finish. Give it a year or two to soften. Drink from 2023-2033. 90 Pts
2019 Haut Coulon – Cadillac Côtes de Bordeaux – Savory red fruits, spice. cedar and leafy tobacco notes show through on the nose and medium-bodied, soft, round fruity, earthy palate. There is a nice savory, earthy note on the backend. You can enjoy this on release. Drink from 2022-2028. 87 Pts
2019 Joanin Becot – Castillon Côtes de Bordeaux – The nose opens with flowers, espresso, cocoa, licorice and plums. The wine is soft, silky, fresh and polished on the palate allowing all of its sweet, ripe, black raspberries, plums, cherries coffee and licorice to shine through. The wine was made from a blend of 75% Merlot and 25% Cabernet Franc. Drink from 2023-2034. 92 Pts
2019 La Brande – Castillon Côtes de Bordeaux – Smoke, black cherries, blueberries, flowers and espresso aromas get this off to a nice start. On the medium bodied palate, the wine is soft, fresh and fruity with layers of sweet, dark cherries, plums and licorice with a touch of cocoa in the finish. Give it a year or two in the bottle and it promises to be even better. 90 Pts
2019 La Prade – Côtes de Francs – Peppery red fruits, truffle, flowers, cocoa and red berries create the nose. On the palate, the wine is round, rich, full, and fleshy with a wealth of ripe, sweet red fruits with dark chocolate with a touch of spice in the finish. If you are seeking value Bordeaux and you're not familiar with La Prade — get to know this wine, which is made from 88% Merlot and 12% Cabernet Franc. 92 Pts
2019 Lagarosse Cuvee Les Comtes – Cadillac Côtes de Bordeaux – Medium-bodied, soft, forward and savory with a touch of olives and herbs in the cherry oriented finish. This will be best in its youth. Drink from 2022-2026. 86 Pts
2019 Laussac Cuvee Sacha – Castillon Côtes de Bordeaux – The nose opens with licorice, espresso, cocoa and dark red berries. Lusciously textured, with loads of plush dark cherries, a touch of oak and wet earth, the wine is soft, supple and with a year or two in the cellar, ready to go. This is a well-priced, nice hedonistic styled wine. Drink from 2022-2033. 91 Pts
2019 Le Doyenné – Cadillac Côtes de Bordeaux – Medium-bodied, light, sweet and fresh with a nice core of ripe, bright red plums. This will be best in its youth allowing you to capture all its fresh red berries. Drink from 2022-2027. 87 Pts
2019 Le Rey Les Argileuses – Castillon Côtes de Bordeaux – Flowers, wet earth, mushroom, crushed rock and plums form the core of this wine. Soft, round, polished, fresh and already a treat to imbibe, the wine finished with a minerality driven, vibrant red plum and cocoa end note. It is hard to find a better in Bordeaux today. Drink from 2022-2033. 91 Pts
2019 Le Rey Les Rocheuses – Castillon Côtes de Bordeaux – Quite floral on the nose, the wine is also nuanced with notes of wet earth, cherries, plums and a hint of smoke. Elegant, soft textured, medium-bodied, bright and already open, the fruits are sweet, ripe, soft and vibrant with a solid blast of juicy cherries and crushed rock in the finish. The wine was produced from 80% Merlot and 20% Cabernet Franc. Drink from 2022-2032. 91 Pts
2019 Les Charmes-Godard Blanc – Côtes de Francs – Vanilla, tropical fruits, flowers, white peach and citrus create the core of the nose and palate here. Fully ready to go, there is freshness, pure, yellow fruits and an energetic, citrus endnote. Drink from 2022-2028. 91 Pts
2019 Les Tours des Verdots – Côtes de Bergerac – Savory red fruits, herbs, olives with a chunky, chewy, peppery character that will be best in its youth. Drink from 2022-2025. 84 Pts
2019 Marsau – Côtes de Francs – Medium-bodied, elegant, fresh, soft and floral, with a focus on its core of sweet red fruits, licorice and wisp of smoke, finishing with an intriguing sensation of salty tannins and plums. This will be even better after a few years of bottle age. 92 Pts
2019 Montlandrie – Castillon Côtes de Bordeaux – Chocolate, licorice, forest leaf, flowers and plum nuances are all over the place in the nose and in the medium-bodied, silky, vibrant palate. The energetic finish expresses earthy red pit fruits and chocolate notes that linger. Drink from 2022-2035. 92 Pts
2019 Paloma – Castillon Côtes de Bordeaux – A gentle touch of oak, espresso, flowers and cherries can be found in the perfume and on the palate. Medium-bodied, soft, sweet, fresh and silky, the finish delivers all those sweet, ripe, red fruits with light touches of cocoa with ease. You can enjoy this charmer on release. Drink from 2022-2032. 90 Pts
2019 Pitray – Castillon Côtes de Bordeaux – A touch of oak comes along with the smoky, sweet, polished red fruits with their earthy, Soft, forward and built for early drinking pleasure, you can enjoy this on release. 88 Pts
2019 Prieure Sainte Anne – Cadillac Côtes de Bordeaux – Medium-bodied, bright, crisp and floral, the wine offers tart red berries, hints of licorice and a peppery, savory, herbal edge. You can drink this on the young side. 87 Pts
2019 Puygueraud – Côtes de Francs – Earthy with truffle accents along with flowers, cocoa and sweet cherries and tobacco leaf, the wine is medium-bodied, salty fresh and vibrant with a sweetness to the spicy red fruits in the finish. This is the finest vintage of Puygueraud I have ever tasted. Drink from 2022-2034. 92 Pts
2019 Reynon – Cadillac Côtes de Bordeaux – Medium-bodied with a few, fruity, savory core of peppery red fruits. Crisp and juicy with a peppery edge to the red fruits in the finish. You can drink this on release. Drink from 2022-2029. 88 Pts
2019 Reynon Blanc – Cadillac Côtes de Bordeaux – Showing much better today than the sample I tasted, now, you find a honeysuckle, orange rind, flower and lemon curd nose, with good freshness on the palate and a yellow citrus finish with a nice bite of green apple in the endnote. Drink from 2022-2025. 89 Pts
2019 Roquevielle – Castillon Côtes de Bordeaux – Light, bright, red berries with a touch of citrus and herbs are already easy to enjoy. This will be best in its youth. Drink from 2022-2026. 86 Pts
2019 Roquevielle Excellence – Castillon Côtes de Bordeaux – Black cherries, licorice, plums, and a hint of cocoa come through on the nose and palate. The wine is soft, round and polished with silky, fresh, fruity, red berry finish. Drink from 2022-2032. 90 Pts
2019 Réaut – Côtes de Bordeaux – Black cherries, licorice, espresso and spice come through easily on the nose and palate. Round, forward, fruity and fresh, the medium-bodied, easy to charmer will be easy to imbibe on release. Drink from 2022-2029. 88 Pts
2019 Réaut Carat de Réaut – Cadillac Côtes de Bordeaux – Smoky plums, currants, spice box and coffee bean notes come through easily on the nose. Medium-bodied, soft, polished and fruity, the cherries and sweet plums on the palate and in the finish are already just great to taste. Drink from 2022-2028. 89 Pts
2019 Sainte Marie Alios – Côtes de Bordeaux – Earthy, medium-bodied, forward wine with a touch of oak and a savory edge to the soft, ripe, sweet, polished fruits. Drink this on the young side to get the most from all the ripe, red berries. 87 Pts
2019 Suau Cadillac – Cadillac Côtes de Bordeaux – A touch of oak adds to the soft textured, medium-bodied, flowery, red plum filled wine. Bright and fresh, with a red cherry-filled finish, this will best on the young side. Drink from 2022-2027. 87 Pts
2019 de Taste – Côtes de Bourg – Bright, fresh, fruity, floral and savory, the large percentage of Malbec adds a nice meaty, spicy, firm touch to all the black cherries in the wine. Medium-bodied, fresh, vibrant and chewy, you can enjoy this on release. Drink from 2022-2033. 90 Pts
We are posting the 2019 Bordeaux articles as fast as we can. Up next, Guide to all the best 2019 Sweet White Bordeaux