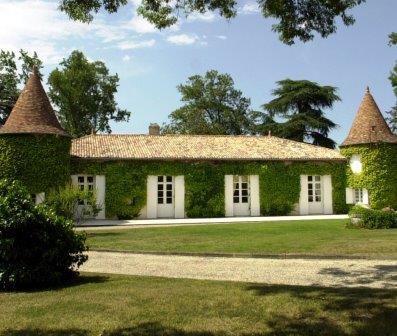 Learn everything about Chateau Suau Sauternes, Deuxiemes Crus with wine tasting notes, wine, and food pairing tips, best vintages, a history of the property, information on the vineyards and winemaking]. If you want to read about other important, Bordeaux Chateaux: Links to all Bordeaux Wine Producer Profiles
Chateau Suau History, Overview
Chateau Suau, before it earned fame for producing Sauternes was better known as a hunting lodge in its early years. The chateau was restored in the 16th century and in 1687, the Sauternes estate was obtained by the Suau family, for whom it was named.
Chateau Suau was owned by the Lur Saluces family in the mid-1800s Of course, the Lur Saluces is best known for owning Chateau d'Yquem.
Chateau Suau is one of the more obscure producers from Sauternes that was classified in the 1855 Classification. Jumping ahead a hundred years, Monique Bonnet purchased Chateau Suau in 1986. In 2014, Bacchus Investments, under the direction of Alejandro P. Bulgheroni, purchased Chateau Suau.
Bacchus Investments maintains interests in other vineyards in regions as diverse as California, Tuscany, Argentina, and Uruguay. In 2015, Olivier Bernard of Domaine de Chevalier entered into a long-term, 18-year leasing agreement for the vineyards.
Today, Chateau Suau is ably managed by Olivier Bernard.
Chateau Suau Vineyards, Terroir, Grapes, Winemaking
The 6.5-hectare vineyard of Chateau Suau in Sauternes is now planted to 100% Semillon. The Muscadelle and Sauvignon Blanc have been removed. This is probably the highest percentage of Muscadelle found in any Sauternes vineyard, if not in all of Bordeaux.
At only 6.5 hectares, Chateau Suau is the smallest of all the 1855 Classified Growths. It is probably the most obscure Classified wine from the entire Sauternes region as well.
The vineyard has a terroir of gravel and clay soils is in one, large single, vineyard block. The vines are planted to a density of 6,000 vines per hectare. Today, the wine of Chateau Suau is vinified in French oak barrels. But that was not always the case.
In the past, the wine was vinified in tanks and aged in a combination of vat and used barrels. Bottling was done to order making the wines often inconsistent. Older vintages should probably be avoided.
Today, the wine is completely vinified in French oak barrels. 25% of those barrels are 100% new, French oak. The remaining barrels are one year, old.
The estate no longer makes a dry, white Bordeaux wine. Previously known as Suau Blanc, those vines are now what goes into producing Clos des Lunes.
Since 2008, Chateau Suau has practiced 100% organic, farming techniques as required by Ecocert for certification. Chateau Suau earned its official certification in 2012.
Chateau Suau also owns vines in other Bordeaux appellations planted to red wine varietals that are typical for the Right Bank at 60% Merlot, 30% Cabernet Sauvignon and 10% Cabernet Franc. Those vines are located in the Cotes de Bordeaux appellation and are used to produce red wine and white wine under the name Chateau Suau and Chateau Maubert.
The best vintages of Chateau Suau are: 2022, 2021, 2020, 2019, 2018, 2017, 2016 and 2015.
During the 2013 Bordeaux harvest, a bizarre crime took place, which was probably a first for the Bordeaux wine region. During the night, thieves stripped close to 10% of the vines belonging to Chateau Suau of their grapes.
The grapes were picked correctly implying the thieves knew what they were doing and would soon vinify the grapes, making the crime close to impossible to solve. The grapes were said to be worth close to 20,000 Euros.
When to Drink Chateau Suau, Anticipated Maturity, Decanting Time
Chateau Suau can be enjoyed on the young side with no decanting. In fact, it is delicious and quite a treat young, even on release! However, like all great wines, Chateau Suau is much better with age and does not reach full maturity until it's between 7-18 years of age, or in some years, perhaps even longer in the best vintages.
Of course, the wine is sweet, but there is so much, incredible, racy acidity, the wine always feels fresh, and never cloying, which makes it quite fun to enjoy young. With Chateau Suau and frankly, all Sauternes, the temperature is more important than decanting.
Serving Chateau Suau with Wine and Food Pairings
Chateau Suau is best served at 14 degrees Celsius, 57 degrees Fahrenheit. The cool, almost cellar temperature gives the wine more freshness and lift. The wine will naturally warm in the glass, while it develops more aromatic complexities and fleshes out.
Chateau Suau can be served with seafood dishes, especially shellfish, lobster, crab, and oysters on the half shell. Foie gras is a perfect pairing with its natural sweet, salty and savory characteristics. Chateau Suau can also be paired with roasted chicken, veal, and pork dishes that are either spicy or prepared with a touch of sweetness.
Spicy Asian cuisine, raw fish, like sushi or sashimi, and cheese, both hard and soft also make great pairings with Chateau Suau.
Château Suau Wine Tasting Notes
6 Vintages 14,675 Views Sort by Vintage-Rating
2020
Château Suau (Cadillac Côtes de Bordeaux)

Medium-bodied, bright, red savory fruit, herbs, and tobacco are what you find here. The finish leaves you with some tartness as well as a dry endnote that will please some tasters more than others. Drink from 2023-2028.

1,071 Views

Tasted

Mar 21, 2023

Savory fruit, herbs, tobacco, spice and bright red fruits are found on the nose and palate. Medium-bodied, soft and forward, this early drinking charmer will show well on release and over the next 7-9 years or so. 86-88 Pts

1,914 Views

Tasted

May 20, 2021

2019
Château Suau (Sauternes)

Candied apricot, flowers, pineapple upside-down and honeyed orange rind creates the perfume. The wine balances its sweetness with ample acidity giving you lift on the palate that makes all the layers of dried pineapple and spice a true, sweet treat. Drink from 2022-2040.

745 Views

Tasted

Mar 29, 2022

A nice juicy blast of pineapple upside-down cake hits you on the nose. On the palate, the wine is loaded with crème de caramel, more of that up delicious pineapple upside-down cake and caramel. You should be able to enjoy this sweet treat on release. 90-92 Pts

3,368 Views

Tasted

Jun 9, 2020

2019
Château Suau (Cadillac Côtes de Bordeaux)

A touch of oak adds to the soft textured, medium-bodied, flowery, red plum filled wine. Bright and fresh, with a red cherry-filled finish, this will best on the young side. Drink from 2022-2027.

691 Views

Tasted

Mar 29, 2022

Smoky, dark chocolate covered cherries and licorice pop with no effort. Bright and fresh, with a red cherry-filled finish, this will best on the young side. 86-88 Pts

2,106 Views

Tasted

Jun 8, 2020

2018
Château Suau (Sauternes)

White peach and honeyed tropical fruit work together to provide a medium-bodied, sweet, juicy, savory, tropical fruit filled wine with a touch of spice in the endnote. This is the third vintage made from 100% Semillon.

993 Views

Tasted

Mar 9, 2021

2017
Château Suau (Sauternes)

On the nose, I imagine a gourmet granola bowl from a chic West Village café. This wine is intense with tropical fruits, honey and vanilla with hints of apricot and handpicked roasted nuts. On the palate, the wine is indulgent and sexy, fat and lush and the climax is wrought with pineapples and honey being fed to you while you're fanned with a palm frond. This is the second vintage made from 100% Semillon.

1,548 Views

Tasted

Apr 26, 2018

2009
Château Suau (Sauternes)

Developed, medium bodied, lighter style of Sauternes with a pleasant, pineapple, apricot, honey and floral character, that works well as an aperitif.

2,239 Views

Tasted

Feb 20, 2017