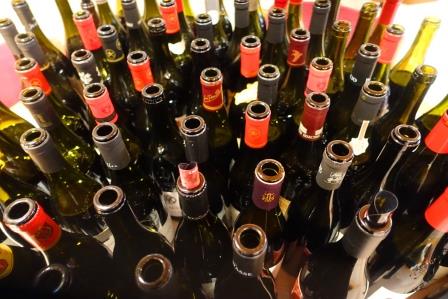 The 2014 Chateauneuf du Pape Report
I do not agree with some tasters that feel riper vintages like 2010, 2009 and 2007 were over the top in Chateauneuf du Pape. My view is quite the opposite. I find those years to have produced some of most exciting Southern Rhone wines ever made. But I am aware there are tasters with different points of view, when it comes to the riper vintages. And that's fine. That's why there are more than 31 flavors! Wine tasting is a funny thing. There is no right, or single way to look at wine. It is all about personal taste. There are vintages for everyone. The 2016 harvest is about to take place and the 2015 vintage is said to be rockin'! This is a great time to be a lover of Chateauneuf du Pape.
For those wine lovers preferring lower alcohol and reduced levels of concentration, 2014 Chateauneuf du Pape is your kind of vintage. Overall, 2014 Chateauneuf du Pape wines are forward, with great, soft, supple, elegant, textures. There is good purity of fruit, sweetness and a spicy personality that shines in this vintage. Generally speaking, in this vintage, the wines are medium bodied and while some 2014 Chateauneuf du Pape wines are truly on the light side, if not dilute, there are quite a few charming, early drinking wines produced this year as well. In fact, the best examples of 2014 Chateauneuf du Pape will offer delicious drinking at a young age.
Clearly, this is a better year than 2013 for Chateauneuf du Pape. The wines are not long term agers. Most of the wines can be enjoyed on release and in a few cases, can be aged for a bit as well, for those that prefer more secondary development.
Several producers did not make special cuvees this vintage, choosing to add the grapes that would normally create their reserve or single vineyard wines to their standard Chateauneuf du Pape wine. Please do not make the mistake of missing some of these delicious wines, as they really feel great on your palate. But do not lay them down for decades. Drink them young for their vibrant fruits. 2014 Chateauneuf du Pape wines are perfect for near term drinking pleasure while waiting for the more powerful, tannic, riper 2015 Chateauneuf du Pape wines to come around.
The 2014 Chateauneuf du Pape vintage turned out to be quite a demanding year for producers. But it didn't start out that way. Temperatures during the winter months were perfect. According to Philippe Cambie, this was perhaps the best winter in a decade. 2014 Chateauneuf du Pape had the right amount of rain and reasonable temperatures. Everything was going great. By the beginning of the summer, growers were already thinking it would be an early and easy vintage.
Things changed in June. Cold temperatures and excessive rain led to fears arising from potential rot. There were issues with too large a crop set. There was more rain as well. The first 3 weeks in September saved the vintage according to Philippe Cambie. With 2014 Chateauneuf du Pape, growers in the sandy soils with good drainage were able to produce the best wines. The white grape varieties were harvested starting in the beginning of September over close to a 2 week period. The red wine grapes were harvested starting from about September 15 until the start of October. One interesting point with 2014 Chateauneuf du Pape is that the Syrah was picked before the Grenache in several estates.
2014 Chateauneuf du Pape red wines show a lot of Grenache in the blend. Syrah and Mourvedre were not as successful. The white 2014 Chateauneuf du Pape wines are quite strong this year, with ample concentration, freshness and complexity.
Several growers remarked that the wine they produced in Gigondas, Rasteau and Plan de Dieu are quite strong in 2014.
On to the wines:
I tasted the following 2014 Chateauneuf du Pape wines in late June. The majority of wines had already been bottled. The wines were tasted in non-blind conditions over 2 days.
2014 3 Cellier Chateauneuf-du-Pape Alchimie – Fresh, sweet, bright, peppery, spicy kirsch and garrigue pop right away. Medium bodied, and produced in a lighter, forward style for tasty, early drinking. – 88 Pts
2014 3 Cellier Chateauneuf-du-Pape Marceau – Medium bodied, herb tinged red fruits, soft textures and a forward character create an early drinking, kirsch filled charmer. – 87 Pts
2014 Alain Jaume Vieux Terron – Soft, stylish and medium bodied, with a peppery, fresh ripe, black cherry center, and a blast of garrigue and blackberry to round things out. – 88 Pts
2014 Andre Mathieu Chateauneuf-du-Pape – Medium bodied, forward, light, early drinking, spicy wine with ample freshness to give all the sweet kirsch in the finish lift and energy. Dominated by Grenache, the blend contains 13 different grape varietals. – 88 Pts
2014 Andre Mathieu La Centenaire – Made from old vine Grenache that averages 100 years of age, blended with 12 other assorted grape varieties, the wine is elegant, polished, fresh, spicy and loaded with juicy, ripe, sweet, peppery kirsch on the nose and the palate. – 90 Pts
2014 Anne Hugues La Royere – Light, easy drinking, soft textured charmer that keeps its focus on getting the most from its raspberry and cherry core. – 86 Pts
2014 Paul Autard Chateauneuf-du-Pape – With a kiss of oak, delivering a fresh espresso character coupled with fresh, juicy cherries, thyme and spice, the wine is round, open, polished and ready to go. This is a modern styled wine that is not for everyone. – 90 Pts
2014 Paul Autard Cuvee Juline – Juline, takes it name from the names of Jules and Pauline Autard, is a modern styled Chateauneuf. Round, fat and forward, there is a distinctive oaky profile along with the fleshy, black raspberry and cherry tones. Lushly textured, the wine really works this year due to its blend of 50% Syrah and 50% Grenache. – 91 Pts
2014 Juliette Avril – Medium bodied, finesse styled, forward, easy drinking wine with polished, sweet fruits and a kirsch end notes that is perfect for early drinking pleasure. – 87 Pts
2014 Juliette Avril Cuvee Maxence – Fresh, silky, and packed with ripe kirsch and spicy black raspberries, the wine is forward, medium bodied, polished and clean. – 89 Pts
2014 Domaine la Barroche Cuvee Pure – The floral nose, with its kirsch, thyme and cherry essence really gets you going. Elegant and refined, sweet and forward, this 100% Grenache based wine is quite silky on the palate with a good purity of fruit that's easy to see from start to finish. – 93 Pts
2014 la Barroche Signature – Luscious, lusty and fresh, with sweet, ripe kirsch, cherries and licorice that feels great on the palate from start to finish. – 91 Pts
2014 La Bastide Saint-Dominique Chateauneuf-du-Pape – Silky, soft and polished, with layers of sweet, ripe red fruits, thyme and spice, the wine displays an elegant charm in its forward character. The wine was made from a blend of 80% Grenache, 10% Syrah, 7% Mourvedre and 3% Cinsault. – 90 Pts
2014 La Bastide Saint-Dominique Les Hesperides – Dark, lush, fat, ripe, juicy black cherries are all over the place. The wine is polished, opulent and serves up a long, sweet, ripe, fruit filled finish with density, polish and length. This is a really strong wine for the vintage. – 93 Pts
2014 La Bastide Saint-Dominique Les Secrets de Pignan – Polished, pure and pretty, with a sweet core of juicy kirsch, herbs and pepper, the wine is made using 100% old vine Grenache. This is going to be delicious on release. – 92 Pts
2014 Beaucastel – Wild, peppery berries, complicated by the earthy, animalistic aromatics kick things off in the right direction. The palate enjoys a blast of juicy, fresh, spicy, peppery, earthy fruits. This is quite concentrated for the vintage, finishing with the olive tapanade, dark, red fruits and black pepper. Give this at least a few hours for everything to come together and for more complexity as well. – 93 Pts
2014 Beaucastel Blanc – Honeysuckle, lemon, hazelnut, white peach and floral notes pop from the glass. Concentrated, luscious and fresh, there is a good purity of fruit and ample acidity in the finish to keep this fresh and lively. – 92 Pts
2014 Beaucastel Blanc Cuvee Roussanne Vieilles Vignes – From low yields of only 12 hectoliters per hectare, the wine blasts off with honeyed citrus, orange, marzipan, crushed rock and herbs. The wine is fat, rich, lush and opulent, yet there is ample acidity keeping it fresh and lively on the palate. The finish really lingers and expands on the palate. – 97 Pts
2014 Beaucastel Hommage a Jacques Perrin – With a nose of truffle, blueberry, charcoal, smoke and spicy black plums, the wine is powerful, lush, silky and concentrated. The crushed rock and stone quality really comes through. There is good freshness, purity of fruit and length in the finish. This is a definite contender for wine of the vintage. The wine was made from a blend of 70% Mourvedre, 10% Syrah, 10% Grenache and 10% Counoise. – 96 Pts
2014 Beauchene Grande Réserve – Early drinking, medium bodied, kirsch filled wine from a Grenache dominated blend, along with Syrah and Mourvedre. The wine is correct, focused on its red berries and garrigue but it is light on its feet and should be best in its youth. – 87 Pts
2014 Beauchene Vignobles de la Serriere – Medium bodied, early drinker with a sweet red cherry, kirsch and herbal character, soft textures and a forward personality that will make this best in its youth. – 88 Pts
2014 Beaurenard (Paul Coulon et Fils) Chateauneuf-du-Pape – Elegant, lighter. forward style of wine with freshness and soft textures that will drink well on release with its sweet, strawberry, kirsch, spice and peppery charm – 88 Pts
2014 Beaurenard (Paul Coulon et Fils) Boisrenard – Smoky, spicy, soft and loaded with sweet, red fruits, black raspberries, thyme, earth and a bit of dark chocolate in the end note that adds to its round textures. – 90 Pts
2014 Louis Bernard – Forward, simple, easy drinking charmer with a fresh, sweet kirsch, thyme and peppery profile that is meant to be enjoyed during its youth. – 85 Pts
2014 Biscarelle Chateauneuf-du-Pape – Medium bodied, light, forward, fresh, easy to like wine, with sweet, soft, strawberries, kirsch and raspberry notes on the nose and palate from the start to the finish. – 87 Pts
2014 Biscarelle Les Anglaises – Medium bodied, and already approachable, with a peppery kirsch, black raspberry, thyme, Provencal herb and spicy profile. – 88 Pts
2014 du Bois de Saint-Jean – Made from 100% Grenache, the wine is medium bodied, soft, polished and silky, with freshness and a blast of spicy plums, garrigue and cracked black pepper in the sweet, elegantly textured finish. – 90 Pts
2014 Jean-Pierre Boisson Domaine du Pere Caboche – Elegant, finesse styled, medium bodied, fresh and forward, with a silky textured finish and a big dose of Provencal herbs and kirsch. – 89 Pts
2014 Jean-Pierre Boisson Vieilles Vignes Cuvee Elisabeth Chambellan – Medium bodied, with a fresh, sweet, polished, strawberry, herbal, floral and spice profile. On the palate, the already open wine offers soft tannins and a forward, fruity, red berry approach for tasty, near term drinking pleasure. – 90 Pts
2014 Bosquet des Papes Chante Le Merle Vieilles Vignes – One of the more consistent, high quality producers in the appellation, the wine is medium bodied, supple textured and serves up its smoky, charcoal, kirsch, earthy, peppery, raspberry profile quite willingly. A few years in the bottle should add more softness and complexity to the delicious wine. – 92 Pts
2014 Bosquet des Papes Tradition – Black licorice, spice, sweet, ripe plums and cherries are all over the place. Soft, elegant and refined, with a fresh, spicy note in the medium bodied finish that really helps keeps it going. – 91 Pts
2014 Maison Bouachon La Tiare du Pape – Medium bodied, this Grenache dominated blend is soft textured, fresh and easy to drink, with its sweet, cherries and spicy charm. This will be fine to drink on release. – 87 Pts
2014 Boutiniere Chateauneuf-du-Pape – Forward, light and already easy to taste, this blend of Grenache with Syrah and Mourvedre, along with other varietals shows off a spicy, kirsch filled charm with a fresh, peppery, medium bodied, herb tinged finish. – 87 Pts
2014 Brotte Chateauneuf du Pape Domaine Barville – Nice wine here, while it is light in color, there is ample, lushly textured red berries, licorice and spice. The wine is forward finishing with a core of soft, sweet, spicy red berries and thyme. – 89 Pts
2014 Brotte, Chateau de Bord – Light in color, medium bodied, forward and meant for early drinking, the wine offers a light, red cherry and spicy finish. – 87 Pts
2014 Cabrieres Chateauneuf-du-Pape – Supple textured on the palate with loads of fresh, sweet red fruits, packed with garrigue, kirsch and black raspberries. The end notes carry through with a spicy, black raspberry, clean sweet finish. The wine was made from a blend of 50% Grenache, 20% Syrah, 20% Mourvedre and 10% Cinsault. – 89 Pts
2014 Le Clos du Caillou Chateauneuf du Pape Tradition – Earthy, fresh and sweet, with a silky, soft textured palate presence, finishing with ripe, plums, thyme, earth and juicy kirsch. – 90 Pts
2014 Le Clos du Caillou Les Quartz – Medium/full bodied with a blast of sweet, kirsch liqueur, wild strawberry, cracked pepper and fresh herbs. Silky, elegant and forward, this lusty wine will be delicious on release. – 91 Pts
2014 Le Clos du Caillou La Reserve – The 2014 is all about the finesse and elegance in the wine. The fruit has a beautiful sense of purity and the acidity keeps it fresh. Made from a blend of 60% Grenache and 40% Mourvedre, the wine is lusty, luscious and sensuous. Clearly, this is a contender for the wine of the vintage. – 94 Pts
2014 Le Clos du Caillou Les Safres – Spicy, fresh, polished, sweet, peppery black raspberries, kirsch, cherries and herbs are in your face. Sweet, fresh, forward and already delicious. – 92 Pts
2014 Les Cailloux (Lucien et Andre Brunel) Chateauneuf-du-Pape – Light in style, the wine is fresh, elegant and easy to like. There is freshness and purity in the red berries along with a spicy component that adds to the wines early drinking pleasure. – 89 Pts
2014 Caves Saint-Pierre Châteauneuf-du-Pape – Sweet, ripe cherries, a bit of spice and freshness, without much depth in an east drinking style. – 86 Pts
2014 Celestiere Tradition – Light in color, medium bodied, with a forward, peppery, olive tinged, kirsch character for delicious, elegant, early drinking. – 88 Pts
2014 Cellier des Princes Domaine le Mourre – From 100% Grenache, the wine is light in color and in fruit, but there is a sweet cherry essence making this easy and uncomplicated to drink. – 85 Pts
2014 Chante Perdrix – Peppery, fresh, sweet and silky, with a forward, easy drinking, black raspberry charm and good freshness in the medium bodied finish. – 89 Pts
2014 Chapoutier Barbe Rac – There is a good purity of fruit here, with soft, silky tannins and freshness. This 100% Grenache based wine is produced in an elegant, fresh, forward, sensuous, kirsch dominated style. Drink this young while waiting for the 2015 to come around. – 93 Pts
2014 Chapoutier Croix de Bois – Fresh, sweet, soft and spicy, with an elegant charm to all the spicy red fruits. The wine is medium bodied, and polished with a finish filled with peppery, kirsch fruits. – 91 Pts
2014 Charbonniere Chateauneuf-du-Pape – Black cherries, fennel and stone notes get things going. The wine is medium bodied, forward and leaves with polished, spicy black raspberries in the finish. – 91 Pts
2014 Charbonniere Chateauneuf-du-Pape – Earthy red fruits, with a fresh thyme accent and loads of ripe sweet cherries create a silky, medium bodied wine of pleasure. – 90 Pts
2014 Charvin – Sensuous red fruits, silky textures and fresh, red berries with a spicy note that sticks with you from start to finish. Polished and pure, this is already quite tasty to drink. – 90 Pts
2014 Clos de l'Oratoire des Papes Chateauneuf-du-Pape – Medium bodied, soft, silky, and spicy, this is a forward, charming wine with freshness, energy and peppery, sweet cherries. The wine was made from a blend of 80% Grenache, 8% Syrah, 7% Mourvedre and 5% Cinsault. – 90 Pts
2014 Clos des Brusquieres – Light, straight forward, medium bodied, red berry dominated easy drinking charmer with a core of kirsch and wild strawberries. – 88 Pts
2014 Clos des Papes Blanc – Elegance, purity of fruit, freshness and energy are at a very level for this semi difficult vintage. The wine serves up ripe, sweet, pure red fruits and spicy berries in suave, polished, sexy finish. – 94 Pts
2014 La Compagnie Rhodanienne – Forward, light, easy drinking wine with a soft cherry core meant to drink over the next couple of years. – 84 Pts
2014 Cristia Chateauneuf du Pape – Red fruits, licorice and kirsch aromatics paired with supple textures and a sweet, plush finish. – 91 Pts
2014 Cuvee du Vatican – Medium bodied, correct, forward, clean and focused on fresh, red fruits and spice for early drinking. – 87 Pts
2014 Delas Freres Chateauneuf-du-Pape Haute Pierre – Loads of spicy, red fruits, kirsch, olives, flowers and garrigue. There is decent concentration and freshness in the kirsch finish. – 90 Pts
2014 Fines Roches – Medium bodied, soft, forward, already approachable, with a core of black raspberries and herbs made for early drinking pleasure. – 87 Pts
2014 Jean Deydier Les Clefs d'Or – Elegant, medium bodied, fresh, forward, silky wine, with a polished, sweet, spicy, cherry, floral and licorice personality with a chalky finish. – 88 Pts
2014 Jean Deydier Les Clefs d'Or Selection – Forward in style, the sweet, ripe, cherries, medium body and peppery finish, coupled with its soft textures works quite nicely for tasty, near term drinking pleasure. – 89 Pts
2014 Lou Frejau – Soft textured, easy drinking charmer, with an herbal tint to the sweet, ripe, medium bodied, red fruits. – 87 Pts
2014 Duseigneur Catarina – Sweet, peppery fruits, medium bodied, with a luscious texture and good freshness in the kirsch and black raspberry lined finish. – 91 Pts
2014 La Fagotiere – Spicy, with a blast of garrigue to compliment the kirsch core of fruit. Medium bodied, forward and ready to drink tonight. – 86 Pts
2014 Ferrando Colombis – Made from 100% Grenache, the wine is silky, sensuous and fresh, with symmetry and a poised, elegant, ripe, sweet, cherry dominated finish. This is a really solid effort for the vintage. – 93 Pts
2014 Fontavin Terre d'Ancetres – Medium bodied, soft, polished, forward, early drinking wine with a tasty, black raspberry and peppery core of fruits. – 88 Pts
2014 Gardine Chateauneuf du Pape – With a kiss of oak at the start, the nose quickly moves to a cherry liqueur and Provencal herb profile. Polished, clean and made in an approachable style for near term drinking. – 90 Pts
2014 Gardine Cuvee de Generations – Black raspberries with a saline quality to the minerality, fresh herbs and plums, the wine has a richness to the texture and much of the oak has already integrated. Modern in style, for sure, but that seems to really work in this vintage, giving the wine an extra element and additional roundness. – 91 Pts
2014 Giraud Cuvee les Grenaches de Pierre – Purity of fruit is the star here, with its mineral driven, smoky, kirsch profile, Supple, polished and long the sweet, fresh, red fruits really keeps the finish going. The wine was made from 100% old vine Grenache. This is one of the starts in this mixed vintage. – 93 Pts
2014 Giraud Tradition – With a blast of garrigue, kirsch and licorice, complicated by floral notes, the wine is polished, suave, spicy and fresh, with good purity of fruit and an elegant, sweet, strawberry and kirsch filled finish. – 91 Pts
2014 Grand Tinel Chateauneuf-du-Pape – With a blast of olive tapenade, kirsch and black raspberry on the nose, the wine is medium bodied, sweet, soft and smooth, with freshness and finesse in the finish. This should deliver quite nice, near term drinking. – 90 Pts
2014 Grand Veneur Le Miocène – The second vintage for this cuvee delivers a nice blast of dark, juicy plums, spice, garrigue and black raspberries. I like the freshness in the peppery finish, especially as it is coupled with the wines polished textures. – 91 Pts
2014 Grand Veneur Les Origines – Black cherries, green olives and herbs, with a polished, fresh, forward, round, modern style. The wine is completed by the luscious, thyme and kirsch filled finish. – 91 Pts
2014 Grand Veneur Vieilles Vignes – Good depth of color for the vintage, the wine shows a spicy, black cherry essence, lush, polished textures and a sweet, spicy, fresh finish. Clearly, this is best wine in the 2014 line up from Grand Veneur. It's a real accomplishment in this difficult vintage. – 92 Pts
2014 Les Grandes Serres La Cour des Papes – Medium bodied, soft, elegant, early drinking charmer with fresh, light red fruits to get things started and a blast of dark, black cherries in the finish as it builds up steam. – 89 Pts
2014 Les Halos de Jupiter – Medium bodied, fresh, round, polished, stylish Chateauneuf du Pape that is filled with ripe, juicy, sweet, cherries, kirsch and licorice in the rich finish. Even though this is already drinking well, you can easily keep this for several years. The wine was made from a blend of 85% Grenache, 10% Syrah and 5% Mourvedre. A top wine for the vintage from Philippe Cambie. – 92 Pts
2014 Janasse Chateauneuf du Pape – An elegant charmer that delivers a blast of fresh, sweet, kirsch and spice in a, round, forward style that was produced from a blend of 60% Grenache, 15% Mourvedre and 15% Syrah. – 90 Pts
2014 Janasse Cuvee Chaupin – Made using 100% Grenache, the wine is forward, fresh and fun to drink with its sweet, juicy, kirsch and wild raspberry profile, polished, round, textures and spicy finish. – 92 Pts
2014 Janasse Vieilles Vignes – Richly textured, with juicy, dark, red berries, spice, a hint of oak, smoke and pepper. There is a refined quality that adds to the elegant nature of the wine. – 93 Pts
2014 Jas de Bressy Chteauneuf-du-Pape – Medium bodied, soft, polished, peppery sweet, red fruits with a dab of licorice to complicate things. The wine is forward and will show its best characteristics in its up-front youth. – 89 Pts
2014 Jean Royer Cuvee les Sables de la Crau – Silky, supple and polished, there is a sexy style here, with the polished, opulent textures, sweet red fruits and floral accents. The finish is long, clean and fresh, – 92 Pts
2014 Jean Royer Prestige – Freshness, minerality, sweet, wild strawberries and juicy, ripe kirsch notes create the profile. The wine is supple and sensuous in texture and will offer nice drinking pleasure on release. – 90 Pts
2014 Jean Royer Chateauneuf-du-Pape – Medium bodied, sweet, fresh, vibrant, peppery, spicy cherries, wild strawberries and black raspberries are easy to find on the nose, and on the palate. The soft, sweet, fruit filled quality carries through to the finish. – 89 Pts
2014 Domaine Julien Masquin Memora – Light, medium bodied, red fruits, with good freshness for uncomplicated, early drinking. – 86 Pts
2014 Domaine Julien Masquin Montplaisir – Fresh, elegant and floral, with sweet kirsch and spicy notes to keep it interesting and fun to drink. This is already showing well, so it should be delicious on release. – 89 Pts
2014 La Nerthe Chateauneuf-du-Pape – A little oaky, but once past the wood, the sweet, raspberry and tart cherry notes kick in. Soft, smooth and already approachable, this round, polished, lush, modern styled wine will be nice to drink on release. – 90 Pts
2014 la Sousto Lucien Gabriel Barrot – Licorice, Provencal herbs and fresh, bright cherries make up the nose. Medium bodied, soft, forward and fruity, the wine ends with a wild strawberry and herb tinged finish. – 87 Pts
2014 LAbbe Dine – Garrigue, spice, black cherry and incense on the nose moves you to a wine with sweet, red fruits, elegant, soft textures and an already open, peppery finish. – 89 Pts
2014 Lafond Roc Epine – Animalistic, garrigue, olive and red berry notes get you going. On the palate, the wine has a lush, silky, polished, medium bodied texture. The fresh, cherry quality in the finish is made even better with a blast of thyme and peppery spice. – 91 Pts
2014 L'Arnesque – Medium bodied, soft, light, forward, elegant style of wine, with a spicy, olive tinged, cherry note in the finish. This will be ready to drink on release. – 87 Pts
2014 Lavau Chateauneuf-du-Pape – Medium bodied, uncomplicated, easy drinking, fresh, red fruit filled wine that offers great pleasure for near term enjoyment. – 85 Pts
2014 LePlan-Vermeersch Chateauneuf-du-Pape GT-1 – Stylish, with a very modern leaning, the wine is full bodied, polished, silky, round and loaded with smoky, ripe, dark, red spicy fruits, licorice and olive tapenade. If the oak manages to fully integrate, this will be even better. – 91 Pts
2014 lOr de Line Chateauneuf-du-Pape – Red fruits and herbs are nicely blended together. The medium bodied wine offers soft textures and a strong olive, tapenade note in the finish that carries through. – 87 Pts
2014 Chateau de Manissy – Medium bodied, lighter, forward style, elegant style of wine for early drinking pleasure. Ripe, fresh red fruits in an open style is the name of the game here. Chateau de Manissy is one of the better producers of Rose' in Tavel. – 87 Pts
2014 Mas de Boislauzon Chateauneuf-du-Pape – Light in style, elegant and refined, with freshness and sweet, pure, clean, spicy, red fruits are all perfectly wrapped up in a forward style. In 2014, only one wine was produced here. All the other wines normally released by the domaine were blended into their Chateauneuf du Pape. – 91 Pts
2014 Mas Saint Louis Chateauneuf du Pape – Forward, easy drinking style of wine that delivers, great, uncomplicated, early drinking, kirsch and strawberry focused pleasure. – 86 Pts
2014 Mas Saint-Louis Chateauneuf-du-Pape Les Arpents des Contrebandiers – Medium bodied, sweet and tart focused nose and palate are found here. This forward wine shows an olive and herb twist paired with the strawberries in the finish. – 87 Pts
2014 Mas Saint Louis Grande Reserve – Smoky cherries and just picked herbs are easy to discern, The wine is medium bodied, forward, open and ready to drink, with a light, fresh, ripe, red berry note in the finish. – 88 Pts
2014 Maucoil Chateauneuf-du-Pape – Medium bodied, early drinking, forward, crowd pleaser with fresh, lively, crisp, spicy red fruits and an energetic, peppery, finish. – 89 Pts
2014 Maucoil Privilege – Perhaps it was the addition of the white wine grape varieties that gave the wine more depth and body in this difficult year. Soft, smooth and delicious, the finish is packed with sweet, blackberries, kirsch and black pepper. This could use a year or two in the bottle while will make it even better and more fun to drink. – 90 Pts
2014 Mayard Clos du Calvaire – Medium bodied, soft, forward, fresh, sweet, round, textured wine that is going to be ready to drink on release. The red berry filled wine leaves you with a spicy, black raspberry note in the finish. – 89 Pts
2014 Mayard Domaine du Pere Pape – A success for the vintage, the wine is medium bodied, finesse styled, and shows a strong kirsch note, spicy red fruits and pepper in its already open and drinkable character. The wine was made from a blend of 60% Grenache, 20% Syrah, 15% Cinsault and 5% Mourvedre. – 90 Pts
2014 Gabriel Meffre Saint-Theodoric – Medium bodied, oaky, and early drinking in its style, the wine offers an approachable, round, sweet red fruit center at the core of its personality. – 87 Pts
2014 Mont Thabor – Medium bodied, forward, open, red berry filled, spicy wine that will offer fine, early drinking pleasure with a fresh floral character. Drink this tasty wine young, as it is not going to make old bones. The wine was made from a blend of 80% Grenache, 10% Syrah, 5% Cinsault and 5% Mourvedre. – 88 Pts
2014 Mordoree Chateauneuf-du-Pape Cuvee de la Reine des Bois – One of the top wines in this vintage, but that should come as no surprise to long time readers. Showing a good depth of color, the wine delivers an earthy, smoky, truffle, espresso and cherry filled core, with elegant, polished, round textures and freshness in the fruit filled, smoky finish. I'm sure this vintage was helped by the recent addition of a second wine to their lineup. The wine was produced from a blend of 75% Grenache, 14% Mourvedre, 7% Syrah, 2% Vaccarese and 2% Counoise. – 93 Pts
2014 Mordoree Chateauneuf-du-Pape La Belle Voyageuse – For a second wine, this is a beauty. The fruit is ripe, sweet, fresh and vibrant. Medium bodied and forward, this is quite a charmer, in all the right ways with its lush, kirsch and smoke filled character. – 90 Pts
2014 Moulin Tacussel Chateauneuf-du-Pape – Light, fresh, easy drinking, forward, spicy, kirsch and red berry filled wine with a nice pepper driven component in the bright finish. – 87 Pts
2014 Nalys Chateauneuf du Pape – Medium bodied, smooth, lighter, refreshing, style of wine with an elegant, sweet, polished core of fresh cherries in the center that is already delicious to drink. – 88 Pts
2014 Antoine Ogier Heritages – Medium bodied, forward, easy drinking style, with a soft, cherry profile, elegant, supple textures, and a polished, silky kirsch finish. – 89 Pts
2014 Olivier Ravoire Chateauneuf-du-Pape – Medium bodied, fresh, soft and polished, with an elegant, charm and loads of sweet, ripe, peppery cherries, kirsch and strawberry that are already showing their character. – 88 Pts
2014 Pegau Chateauneuf-du-Pape Blanc Cuvee A Tempo – Citrus peel, crushed stone and fresh lemon peel, aromatics lead to a silky, fresh, richly textured, lemon, grapefruit and orange marmalade filled wine that combies richness. There is opulent textures, a sweet, ripe fruit and mineral center and freshness. This is the debut vintage for this new white wine from Laurence Feraud. – 96 Pts
2014 Pegau Blanc Cuvee Réservee – White peach, floral, citrus and orange scents, with a sweet, citrus and lively, oily, grapefruit core of fruit that will offer pleasure early. – 89 Pts
2014 Pegau Reservee – Full bodied, spicy, fresh, peppery and already showing off its smoky, earthy, barnyard, plum, herb and kirsch profile. A few years in the cellar will help add depth, complexity and softness to this wine, allowing it to flesh and expand. – 92 Pts
2014 Pignan Chateauneuf-du-Pape – Medium bodied, light in color, forward in style, with sweet, fresh, black raspberries, cherries, wild strawberry, ground black pepper and spice from start to finish. This is already fun in your glass. It is not a wine to make old bones, so drink it on the young side. – 88 Pts
2014 Porte Rouge Chateauneuf-du-Pape – Light in color and in fruit, the wine is dominated by its red berry center. Soft and forward, the ripe, bright kirsch and wild strawberries are already accessible. This will definitely be best in its youth. – 86 Pts
2014 Chateau Rayas – With supple textures, ripe, sweet red fruits, thyme, pepper and fresh herbs, the wine is medium bodied, refined and silky, with a beautiful, bright, purity of fruit, and a supple textured finish. This should drink well on release. – 94 Pts
2014 Roger Sabon Cuvee Prestige – The opulent, sexy textures are a knock out. The fruit is fresh, sweet and pure with a finish that is truly generous, spicy and silky. This should be a pleasure to drink young and it can age a bit as well. – 92 Pts
2014 Roger Sabon Le Secret des Sabon – The floral notes really come out at the start, quickly followed by cherry liqueur and black pepper scents. Fresh, supple, medium bodied and silky, there is more than enough going here to make this a contender for the best wine of the vintage. – 94 Pts
2014 Roger Sabon Les Olivets – Polished, soft, silky layers of bright, red fruits, spice and fresh herbs in a forward, medium bodied, light textured, easy to like and enjoy style. And it sells for a fair price too. – 88 Pts
2014 Roger Sabon Réserve – Smoky, soft, silky, fresh, sweet, red fruits, elegant textures and a polished, kirsch, silky filled finish is already fun to taste is what you'll find here. Made from a blend of 80% Grenache, 10% Mourvedre and 10% Syrah, this is ready to go. – 91 Pts
2014 Saint Prefert Chateauneuf-du-Pape – Polished, soft, fresh and pure, with a silky texture and sweet, kirsch and anise filled character. The wine is medium bodied, forward will drink well on the young side, while you wait for the 2015 to age and come into its own. – 90 Pts
2014 Saint Prefert Collection Charles Giraud – There is more than ample, rich, fresh, sweet, fruit with vibrant acidity, silky, lush, polished textures and a fruit filled, peppery finish, with length that sticks with you. The wine was made from a blend 55% Grenache, 40% Mourvedre and 5% Syrah. This is one of the best wines of the vintage. You can drink it young for its energy, or age it a few years for more secondary complexity. – 93 Pts
2014 Saint Siffrein Chateauneuf-du-Pape – Medium bodied, with a mineral driven, spicy, fresh, herbal infused, peppery, red berry charm. A few years in the bottle should add more softness and complexity to the wine. – 89 Pts
2014 Saint Cosme Chateauneuf-du-Pape – Fresh, peppery, polished and expressive, the wild red fruits and spice mixture comes through from start to finish on the nose and on the palate. This is a solid effort in a mixed vintage. – 90 Pts
2014 Saint-Roch Chateauneuf-du-Pape – Polished, and sweet, the wine is medium bodied, fresh and loaded with lush, cherries and olives. Forward, round and ready to go, this is already fun to drink. – 90 Pts
2014 Domaine Santa Duc Les Saintes Vierges – This is a wine I normally see from Gigondas, so it was fun to taste their Chateauneuf du Pape. Medium bodied, light in style, elegant, fresh and on the forward, bright, red berry side of the style range with a blast of thyme that comes though in the finish. – 88 Pts
2014 Serguier Chateauneuf-du-Pape – Light in fruit, with an earthy, barnyard, tart, red berry, personality that will be best in its up front, crisp youth. – 85 Pts
2014 Simian Le Traversier – Medium bodied, forward, lighter, elegant, fresh style of wine for early drinking pleasure with a forward, cherry and strawberry center. This is not a wine to lay down, but a wine of pleasure. – 88 Pts
2014 Sixtine Chateauneuf-du-Pape – Medium bodied, lush, polished, sensuous and elegant style of wine with a ripe core of peppery red berries and thyme. – 90 Pts
2014 Solitude (Lançon Pere et Fils) Chateauneuf-du-Pape – Light, fresh, forward, silky, open, and dominated by all the sweet kirsch that fills the wine in the nose and on the palate, this will be best tasted on the young side. It is not a wine for long term aging. – 88 Pts
2014 Solitude (Lançon Pere et Fils) Cuvee Barberini – Medium bodied, elegant, fresh, kirsch and juicy, spicy red, silky fruits are all over the place. Forward in style, this is already open and delivering its pleasures. – 90 Pts
2014 St. Paul Chateauneuf-du-Pape – Jammy black cherries and licorice form the basis of the sweet, fresh, medium bodied, forward, polished wine. You should drink this on the young side. – 88 Pts
2014 Domaine de St. Paul Châteauneuf-du-Pape L'Insolite – The second vintage for this unique 100% Syrah. Peppery, spicy, stony and tannic, this is going to need time to soften its tannins and allow all of its smoky, red fruits and oak to come together. – 90 Pts
2014 Pierre Usseglio Chateauneuf-du-Pape – Elegant, spicy charmer, with a forward personality that shows off its black raspberry, kirsch, and white pepper core quite nicely. Forward in style, this is already quite fun to drink. – 89 Pts
2014 Pierre Usseglio Cuvee de mon Aieul – One of the top wines in this mixed vintage, the wine shows good color, layers of sweet, lushly textured, dark, cherries and a spicy, fresh, peppery finish that sticks around on your palate. – 92 Pts
2014 Vaudieu Chateauneuf-du-Pape – Elegant, silky, fresh, sweet, and with some tannic that will take a few years before the wine is at peak. Made from 100% old vine Grenache, there is depth, freshness and the ability to age, which is saying a lot for this wine, considering it is from a difficult vintage. – 93 Pts
2014 Vaudieu Chateauneuf-du-Pape – Domaine de Vaudieu is really making some great, delicious, affordable Chateauneuf these days. Incense, kirsch, garrigue and soft, polished, luscious, fresh, sweet cherries are all over the place on both the nose and the palate. – 90 Pts
2014 Vaudieu Val de Dieu – Fresh thyme, jammy black raspberry, rocks and stone scents power the wine. On the palate, the wine is fresh, medium bodied, elegant and refined, with a sweet kirsch, finesse driven finish. – 92 Pts