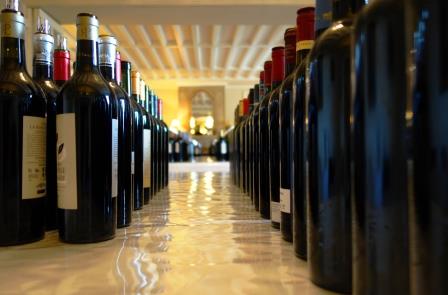 While the week of the official 2014 Bordeaux En Primeur tastings is of course, focused on the tasting the wine from the newest vintage, there are numerous chateau that have just finished, or are close to completing massive renovations and state of the art modernizations. In the Left Bank, some of the chateaux you do not want to miss are: Chateau Margaux and Chateau Marquis d'Alesme also in the Margaux appellation. Chateau Pedesclauxin Pauillac. In the Right Bank, Chateau Fonplegade in St. Emilion is ready for its debut and close up as well.
If you've never been to the En Primeur tastings in Bordeaux, there is nothing else like it in the wine world. Regardless of the all hype and beating of the drums that take place before the annual tastings, it's important to keep an open mind and focus on what's in your glass and not in your ears. It is the responsibility of professional tasters to actually taste the wines before rendering an opinion on a wine and rating them. At that point, it is then up to the market to decide if the wine represents a good, reasonable or poor value for the money,
That being said, things are going to be different for this campaign. Robert Parker, the world's most popular and important wine critic has abdicated his position and stepped back. For the first since 1978, Robert Parker will not be coming to Bordeaux to taste the wines. More importantly, this is the first Bordeaux vintage since 1982 where Robert Parker did not influence the demand and price for the wines. While Neal Martin is not the official Bordeaux critic for The Wine Advocate, his dominance in the field will have to be earned. Neal Martin is a talented writer and good taster, but his ability to influence will need to be earned and that will come with time.
Bordeaux remains the world's most important wine region in dollars and volume. There is a lot at stake for the chateaux, negociants, wine buyers and even journalists, all of whom hope to get a larger piece of the pie. 2014 Bordeaux is going to be quite an interesting campaign.
Another major factor that will come into place is the power of the US Dollar and Swiss Franc. If the wines are good, and the chateaux pay attention to true pulse of the marketplace, it's possible there will be a good campaign.
For all the chateaux reading this article, and I know many are, just because the dollar is strong, please do not take that as an incentive to raise prices. Demand is moderate. There is a lot of wine in the marketplace waiting to be sold. Robert Parker is not there to help you sell your wine. It's a brave new world out there.
Time to jump off my soapbox and tell you where you can taste the 2014 Bordeaux wines. As always there are an endless array of options to taste wine in Bordeaux during En Primeur. I prefer to set my own pace and schedule. On average, over a two week period, I visit about 70 different chateaux and attend about a dozen large tastings hosted by negociants, consultants and appellations. This allows me the opportunity to taste at least 500 different wines. It's hard work, but someone has to do it. I try tasting wines from all ends of the spectrum, from the First Growth chateau on down to numerous small chateaux. However, most people do not taste as many wines, they usually pick and choose the wines they are most interested in tasting.
If you are going to be in Bordeaux to taste the 2014 Bordeaux vintage, these are some of the better, more comprehensive tastings you can attend. If you know of other En Primeur tastings, please post or contact me with the information so I can add it to this page.
The official start of the yearly En Primeur Bordeaux tastings is slated for Monday, March 30. However, a few early birds seeking the worm will have the chance to get a jump on the tastings. For those few intrepid wine loving souls, (And yes I am one of them) a few tastings will take place as early as Saturday, March 28.
Primeurs week the Union des Grands Crus de Bordeaux 2014 Bordeaux En Primeur tastings
The following chateau will be open to taste 2014 Bordeaux for professionals in the wine trade from Monday, March 30 until Thursday, April 2. The UGC tastings for the 2014 Bordeaux vintage in the Left Bank are being held at the following Chateaux:
Chateau Lynch-Moussas – Pauillac and St. Estephe
Chateau Leoville Poyferre – St. Julien
Chateau Dauzac – Margaux
Chateau de Lamarque Haut Medoc, Moulis, Listrac, Medoc
Chateau Smith Haut Lafitte Pessac Leognan, Graves
Chateau Clos Fourtet St. Emilion
Chateau Petit Village Pomerol
Chateau La Lagune Sauternes and Barsac
Tasting Association Grand Cru Classe Classified wines of St. Emilion Monday March 30 Bordeaux Grand Theater and Tuesday March 31 to April 2 – April 3 Chateau Villemaurine St. Emilion
Contact and registration: Virginia Larramona virginie.larramona @ agccse.fr
Tasting Saint-Emilion – Pomerol – Fronsac Starting Tuesday, March 31 to April 3. Contact www.vins-saint-emilion.com/
Cercle Rive Droite tasting 2014 Bordeaux En Primeur tastings
Tastings are being held at Chateau Bellefont Belcier in St. Emilion, Saturday, March 28. There will also be tastings held March 30 to April 1 at Chateau Barde Haut in St. Emilion for the Right Bank wines. For the Left Bank wines, they will also be available March 30 to April 1 at Chateau d'Agassac in the Haut Medoc.
For more information, contact@cerclerivedroite.com
Pessac-Leognan 2014 Bordeaux En Primeur tastings March 30 to April 3. Contact and registration: contact@pessac-leognan.com
Ulysse Cazabonne Sunday, March 29 – Friday, April 3, located next to Rauzan-Segla in Margaux
Contact – www.ulysse-cazabonne.com
THE GRAND VINTEX TASTING Sunday, March 29 – April 3, located at Restaurant "Le Carré du Lac" – Camping de Bordeaux – Boulevard Jacques Chaban-Delmas For registration or information, please send Email to: vintex@vintex.fr
Dourthe is hosting their annual trade only tasting at Chateau Belgrave, Monday, March 30 to Friday April 3, 9am – 6pm. For more information, marie-helene.inquimbert@dourthe.com
Stephane Derenoncourt 2014 Bordeaux La Grappe En Primeur tastings Chateau La Gaffeliere – Saint Emilion. From Monday, March 30 to Thursday, April 3, 10am to 7pm. Contact: isabelle@derenoncourtconsultants.com – www.derenoncourtconsultants.com
Michel Rolland Team 2014 Bordeaux En Primeur tastings Wines produced by the team of Michel and Dany Rolland and the Michel and Dany Rolland owned wines, better known as The Rolland Collection will also be available for tasting along with Les Cles de Chateau. Contact: The Rolland Collection: contact@rollandcollection.com
Hubert-de-Bouard 2014 Bordeaux En Primeur tastings March 30 to April 3, for a few hours Friday morning at Chateau Angelus for the de Bouard owned wines, Chateau Angelus, Chateau Bellevue and Chateau La Fleur de Bourd, and for the de Bouard consulted wines. For additional information, e.fulchi@chateau-angelus.com
Jean-Luc-Thunevin 2014 Bordeaux En Primeur tastings The wines of Jean Luc Thunevin and Murielle Andraud, Valandraud along with wines from various estates they work with as consultants and negociants for in Bordeaux and in other wine regions takes place, March 30 to April 2 from 9am to 6pm, 3-7 rue Vergnaud Saint Emilion. Contact: thunevin@thunevin.com
The wines of Stephan von Neipperg and Silvo Denz Starting Monday, March 30 to April 3 at Chateau Canon La Gaffeliere St. Emilion. Contact info@neipperg.com
Bordeaux Oxygene March 31 and April 1 at Clos des Jacobins in St. Emilion.
Vignobles Garcin Monday, March 30th through Friday April 3rd 2015 from 9.00 a.m. to 18.00 p.m at Chateau Barde Haut in St. Emilion. The entire lineup of wines from St. Emilion, Pomerol, Pessac Leognan, Cotes de Castillon and Mendoza Argentina will be available.
The wines of Bernard Magrez 2014 Bordeaux En Primeur tastings March 30 to April 3 at Chateau Fombrauge St. Emilion from 9 am to 19 pm. Also you can taste their wines March 30 to April 3 Chateau Pape Clement 9 am to 7 pm. Registration reserved for professionals www.bernard-magrez.com
Jonathan Maltus The wines of Jonathan Maltus will be showing the full slate of his portfolio. The tastings will be held starting March 30 and be available during the entire week at Chateau Teyssier in St Emilion by appointment. The wines of Jonathan Maltus will also be available in St. Emilion at Le Pavillon Villemaurine starting March 29. For information, Contact Myriam Carrre myriam@maltus.com
Lalande de Pomerol tasting March 30 to April 3 Grand Hotel de Bordeaux. Contact Nathalie Diffi: secretariat@lalande-pomerol.com
Tasting Bordeaux and Bordeaux Superieur Futures Starting March 33 – Contact invitation: Planet Bordeaux .
Tasting Cotes de Bourg Starting Monday, March 30 Contact Didier Gontier info@cotes-de-bourg.com
Wine tasting Union Graves More than 50 different producers of red and white wine will be presenting their wine. Contact contact@vinsdegraves.com
Sweet white Bordeaux Wine Tasting Contact Maitena IDIART m.idiart@agencehemispheresud.com
Listrac Medoc 2014 Contact: syndicatlistracmedoc@gmail.com
Biodynamic-Tasting Monday, March 30 to March 31 at Chateau Fonroque in Saint Emilion.
The Syndicat des Vignerons en Culture Bio-Dynamique will be showing 2014 Bordeaux as well as older vintages and in addition, close to winemakers from Alsace, Champagne, Bordeaux, Corse, Sud-Ouest, Loire et Cotes du Rhone will also be showing their wine. For more information: www.biodyvin.com
Crus Bourgeois tasting Alliance From Monday, March 30. Contact: alliance@crus-bourgeois.com
Wines of CA Grand Crus From Monday 30th March to Friday 3rd April, between 9.30am and 6.00pm daily at Chateau Meyney.
Biturica Sunday, March 29, Vignerons du Sud-Medoc Chateau Cambon La Pelouse
Pomerol Seduction Tuesday, March 31 to April 2, 10am-6pm at Clos du Clocher Pomerol
Vinaria Thierry Jouan Bernard Crebassa At Chateau Pindefleurs in St. Emilion. March 31 to April 2. For more information, Contact thierry@jouan-crebassa.fr
Hors Classement Tuesday March 31 to Thursday April 2 at Chateau Du Glana St. Julien.
Collection d'Oenoconseil Tuesday, March 31 to April at Chateau de Malleret Haut Medoc.
Stephane-Touroundji and Thomas-Duclos
Starting Monday, March 30, close to 40 wines will be presented. Contact: info@labo-oeno.com
Tasting Futures Bio d'Aquitaine
The Castel Group will be hosting a tasting at Chateu Montlabert in St. Emilion, March 31.
There are also numerous chateau that are not available at various public tastings. Please contact the chateaux you wish to taste to make sure where the wines are available.
Please, if you know of other 2014 Bordeaux En Primeur wine tastings, please either add them to the comments box, or send me an Email and I will add the information to the post.