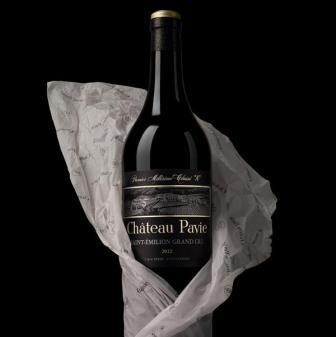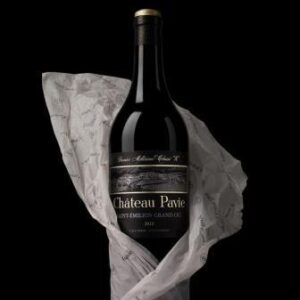 The famous 1855 Classification of the Medoc for all intents and purposes is set in stone and will never change. That is not the case with the Classification of St. Emilion wines.
In the most recent classification of St. Emilion wines, 2012 Saint Emilion Classification Chateau Pavie was promoted to the coveted position of Grand Cru Classe A status. The Right Bank appellation of St. Emilion is the only region in Bordeaux to change its status every ten years.
This upgrade to Grand Cru Classe A status, which is only given to 4 Bordeaux chateaux in total, Chateau Pavie, Chateau Ausone, Chateau Cheval Blanc and Chateau Angelus, inspired Gerard and Chantal Perse to change the label of Chateau Pavie for one vintage, to celebrate this accomplishment.
Instead of the standard green label consumers are more than familiar with, the design has been changed to a more regal looking, black and silver, monogrammed appearance. The bottle shape has also been altered for the 2012 vintage. 2012 Chateau Pavie will be released at 250 Euros per bottle. We scored 2012 Chateau Pavie 93-95 Pts as a barrel sample.
If that was not enough, there are a few, numbered magnum sets produced that take opulence to an entirely new level. The magnums are numbered, produced using a serigraphed process and they are placed in a custom made, wood case, which as you can see from the image in this article, the bottle is placed in an "A shaped space, celebrating their incredible accomplishment.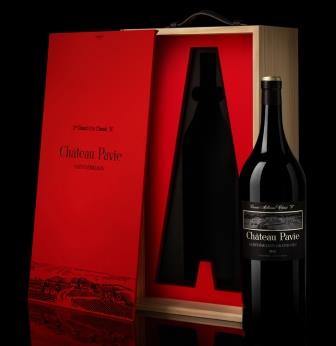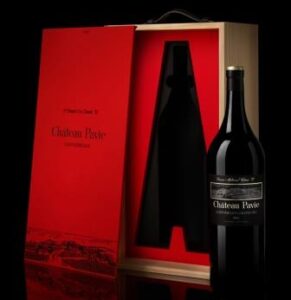 Chateau Pavie and Gerard Perse has their share of fans. The continuing escalation of prices for maturing vintages, and new releases shows that. So does the high scores given to Chateau Pavie by Robert Parker, us and numerous other writers. On the other hand, like many successful people, Chateau Pavie and Gerard Perse has their detractors as well.
Regardless of where you stand on Pavie and Perse, it's difficult, no make that impossible to argue that everything Gerard and Chantal Perse does is not first class, which is part of the reason Chateau Pavie earned their promotion to Grand Cru Classe A status. In St. Emilion, Gerard and Chantal Perse also own Chateau Pavie Decesse, Chateau Bellevue Mondotte and Chateau Monbousquet.