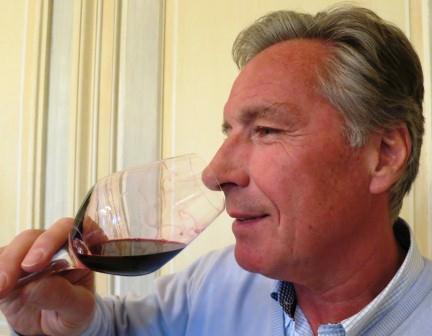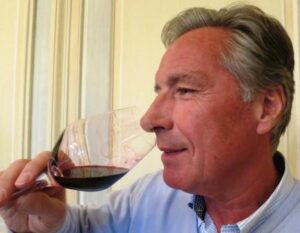 Learn everything about Esprit de Pavie with wine tasting notes, wine and food pairing tips, best vintages, a history of the property, information on the vineyards and winemaking. If you want to read about other important, Bordeaux Chateaux: Links to all Bordeaux Wine Producer Profiles
The Right Bank Bordeaux wine of Esprit de Pavie is the creation of Gerard Perse and Chantal Perse. Esprit de Pavie made its debut with the 2008 Bordeaux vintage.
Esprit de Pavie replaced several wines in the Perse portfolio and also included portions of the grapes that used to be placed into the second wine of Chateau Pavie, Aromes de Pave.
However, there are many things that separate the wine of Aromes de Pave from Esprit de Pavie, especially the variety of fruit sources. Esprit de Pavie is produced from a myriad of Right Bank grape sources from Perse owned estates located in St. Emilion and Cotes de Castillon.
As I mentioned earlier, some of the fruit comes from what would have been used to produce Aromes de Pavie along with grapes previously used in the production of the second wine of Monbousquet, Clos L'Eglise (Cotes de Castillon) and Sainte Colombe.
Both Clos L'Eglise (Cotes de Castillon) and Saint Colombe ceased to exist after the 2008 vintage as all their fruit is now placed into Esprit de Pavie.
The wine of Esprit de Pavie is produced from a variety of different grapes that are mostly a blend of Merlot, Cabernet Franc and a small amount of Cabernet Sauvignon from St. Emilion and Cotes de Castillon.
Vinification takes place in vat. The wine is aged in French oak barrels previously used by Pavie and other Perse owned wines. On average, close to 3,500 cases of Esprit de Pavie are produced in each vintage.
The best vintages of Esprit de Pavie are: 2022, 2021, 2020, 2019, 2018, 2017, 2016, 2015, 2014, 2012, 2010, 2009 and 2005.
When to Drink Esprit de Pavie, Anticipated Maturity, Decanting Time
Esprit de Pavie is delicious on release. Though it is better with at least 1-2 years of aging in good vintages. Young vintages can be decanted for up to 1 hour, helping the wine soften to help develop the aromatic character.
Older vintages might need very little decanting, just enough to remove the sediment. Esprit de Pavie offers its best drinking and should reach peak maturity between 2-7 years of age after the vintage.
Serving Esprit de Pavie with Wine, Food, Pairing Tips
Esprit de Pavie is best served at 15.5 degrees Celsius, 60 degrees Fahrenheit. The cool, almost cellar temperature gives the wine more freshness and lift. Esprit de Pavie is best paired with all types of classic meat dishes, veal, pork, beef, lamb, duck, game, roast chicken, roasted, braised and grilled dishes. Esprit de Pavie is also good when matched with Asian dishes, hearty fish courses like tuna, mushrooms and pasta.
Esprit de Pavie Wine Tasting Notes
7 Vintages 18,098 Views Sort by Vintage-Rating
2018
Esprit de Pavie (Bordeaux)

Flowers and licorice with dark red berries on the nose and palate. The wine is medium-bodied and vinified for early drinking appeal, which works, due to all the ripe, fleshy, sweet, fruits. 87-89 Pts

1,964 Views

Tasted

Apr 19, 2019

2017
Esprit de Pavie (Bordeaux)

Medium-bodied with early drinking appeal, round, soft textures and sweet, ripe red berries. If you enjoy earthy, fruity pleasures drink this on release but expect little, if any, length or depth.

1,568 Views

Tasted

Apr 26, 2018

2016
Esprit de Pavie (Bordeaux)

Floral, red cherry and licorice with hints of chocolate in a sweet, forward style made for early, drinking charm.

2,040 Views

Tasted

Apr 29, 2017

2015
Esprit de Pavie (Bordeaux)

Smoky cherries and licorice on the nose, medium bodied, with sweet, red fruits and dusty tannins in the finish.

3,110 Views

Tasted

Apr 29, 2016

2014
Esprit de Pavie (Bordeaux)

Bright red cherries, with red licorice, spice and cocoa in its personality. The wine is made in a medium bodied forward, fresh, early drinking style. 85-87 Pts

2,247 Views

Tasted

May 1, 2015

2012
Esprit de Pavie (Bordeaux)

The wine is light in color with a soft, plush, spicy, red fruit-dominated and forward personality. 86-88 Pts

3,582 Views

Tasted

Apr 26, 2013

2008
Esprit de Pavie (Bordeaux)

Pleasant, easy drinking, uncomplicated, quaffing wine with red plums and coffee bean notes that is meant to drink young.

3,587 Views

Tasted

Mar 17, 2014