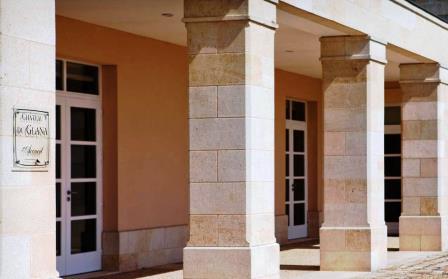 Learn everything about Chateau du Glana St. Julien, with wine tasting notes and wine with food pairing tips. Learn the best vintages, a history of the property, information on the vineyards, and winemaking. If you want to read about other important, Bordeaux Chateaux: Links to all the best Bordeaux Wine Producer Profiles
Chateau du Glana History, Overview
Chateau du Glana dates back to 1870 when the Saint Julien estate was created. Prior to 1870, some of the vineyards were once a part of the neighboring Chateau Saint-Pierre. However, the modern era for the estate is more recent. That starts in 1961 when it was purchased by Gabriel Meffre. At the time of the purchase, Chateau du Glana was in a sad state of dilapidation.
Only three hectares of vines remained planted. Everything needed a complete renovation, from the vineyards to the chateau, the cellars, and all the wine-making facilities. The renovations were completed in 1968. Chateau du Glana is not the only vineyard controlled by the owners, the Meffre family also owns Chateau Lalande in St. Julien as well as Chateau Bellegrave in Pauillac.
With the start of the 21st century, the Meffre family made a new commitment to improve the quality and image of their Bordeaux wine. Prior to 1999, the top wine was sold under the name of Chateau du Glana Vieilles Vignes. That was shortened to just Chateau du Glana in 2000.
In 2003, Chateau du Glana once again began a complete renovation, bringing the estate up to the standards of modern times in its wine-making and vineyard management techniques. The renovation they completed in 2003, included much replanting in the vineyard as well as a complete modernization of the vat rooms, grape reception area, and barrel cellars.
Today, Chateau du Glana remains one of the last remaining, non-classified growths in the appellation. Chateau du Glana once again modernized its cellars and wine-making facilities in 2015. Chateau du Glana remains a family-owned and managed estate.
Jean-Paul Meffre, the son of Gabriel Meffre is in charge of the property. His children, sons, Julien Meffre and Ludovic Meffre are also involved with managing the estate.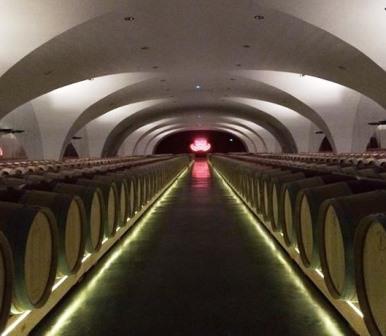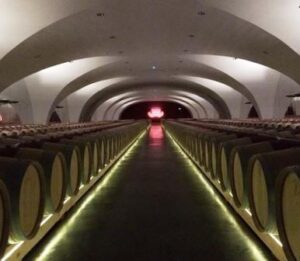 Chateau du Glana Vineyards, Terroir, Grapes, Winemaking
The 59 hectare Left Bank vineyard of Chateau du Glana is planted to 65% Cabernet Sauvignon and 35% Merlot. This marked a change in the vineyard for the estate, as 5% of the vineyard was previously planted with Cabernet Franc. Those vines were removed and replaced with Merlot.
The large vineyard is well-placed inland, not far from Chateau Talbot and Chateau Lagrange. In fact, Chateau du Glana purchased several hectares of vines from Chateau Lagrange. Most of the vineyard is in one large single block of vines, with the exception of one parcel of vines, which is located close to the chateau.
On average, the vines are 25 years of age. The terroir is gravel-based soils, typical of what you will find in that part of the Medoc. The vineyard is planted to a vine density of 7,000 vines per hectare. Picking is conducted using a combination of machine harvesting and manual picking.
To produce the wine of Chateau du Glana, the wine is vinified in large, traditional cement vats. Malolactic fermentation takes place in tank. The wines are aged in 40% new, French oak barrels for 12 months. The production is on average close to 24,,000 cases of wine per vintage. There is a second wine, Pavillon du Glana.
The best vintages of Chateau Du Glana are: 2022, 2021, 2020, 2019, 2018, 2017, 2016, 2015, 2014, 2010, 2009, 2005 and 2000.
When to Drink Chateau du Glana, Anticipated Maturity, Decanting Time
Chateau du Glana can be enjoyed on the young side with decanting. Young vintages can be decanted for an average of 1 hour or so. This allows the wine to soften and open its perfume. Older vintages might need very little decanting, just enough to remove the sediment.
Chateau du Glana is usually better with at least 5-7 years of bottle age. Of course, that can vary slightly, depending on the vintage character. Chateau Du Glana offers its best drinking and should reach peak maturity between 7-12 years of age after the vintage.
Serving Chateau du Glana with the Best Wine, Food, Pairing Tips
Chateau du Glana is best served at 15.5 degrees Celsius, 60 degrees Fahrenheit. The cool, almost cellar temperature gives the wine more freshness and lift.
Chateau du Glana is best served with all types of classic meat dishes, veal, pork, beef, lamb, duck, game, roast chicken, roasted, braised, stewed, and grilled dishes. du Glana is also good when served with Asian dishes, hearty seafood, or richly textured fish like tuna, mushrooms, pasta, and cheese.
Château du Glana Wine Tasting Notes
13 Vintages 45,233 Views Sort by Vintage-Rating
2022
Château du Glana (St. Julien)
Medium-bodied, elegant, fresh, supple, and blackberries, leafy tobacco, and herbs with a touch of smoke are on the nose, and on the creamy, fresh, fruit-filled, elegant palate. This is a nice step-up with more concentration than you normally see in du Glana. Drink from 2025-2037. 90-92 Pts.
1,560 Views
Tasted

May 8, 2023
2021
Château du Glana (St. Julien)
Flowers, currants, spice and underbrush show in the nose. On the palate, the wine is fresh, crisp and bright, with a lean to the savory, red currant side of the style range. Drink from 2023-2031. 88-90
1,130 Views
Tasted

May 20, 2022
2019
Château du Glana (St. Julien)
Medium-bodied, soft, silky, forward, early-drinking charmer with a black and red currant core of fruit complicated with nuances of cocoa, herbs, fennel, and peppery spice in the endnote. Drink from 2022-2035.
2,026 Views
Tasted

Nov 25, 2022
2018
Château du Glana (St. Julien)
Medium bodied, elegant, soft and fresh with a lovely tobacco, currants and red berry character. Give this 2-4 years and it will be even better. 89-91 Pts
2,884 Views
Tasted

Apr 19, 2019
2017
Château du Glana (St. Julien)
Medium bodied, forward and approachable, here you'll find a cassis, earth, cedar and licorice-filled wine with a sweet and tart, bright red berry finish.
2,607 Views
Tasted

Apr 26, 2018
2016
Château du Glana (St. Julien)
Fully-mature, this medium-bodied, elegant, soft, earthy, red currant loaded wine offers tobacco, cedar, and forest nuances adding complexity to the nose and refined palate. This is not a wine to hold for more development. Drink from 2022-2027.
2,665 Views
Tasted

Aug 23, 2022
One of the few remaining non-classified growths in the St. Julien appellation, this wine serves up fresh, abundant cassis, tobacco and cedar. Medium body with soft textures and a berry-filled finish, the wine needs a few years to develop more complexity.
3,662 Views
Tasted

Apr 29, 2017
2015
Château du Glana (St. Julien)
Forward open and ready to start showing off its sweet, ripe, red fruits with ease, the wine is medium-bodied, refined, fresh and already easy to like 2-3 years of age will make it even more enjoyable.
3,948 Views
Tasted

Sep 23, 2019
A soft, forward, medium-bodied, elegant charmer with fresh, sweet, red fruits and soft tannins in the finish. 86 - 88 Pts
3,202 Views
Tasted

Apr 20, 2016
2014
Château du Glana (St. Julien)
With coffee bean, plum and earth in the nose, this fresh, medium-bodied wine has a sweet, forward personality. 86-88 Pts
3,246 Views
Tasted

Apr 16, 2015
2012
Château du Glana (St. Julien)
A nice value from the St. Julien appellation, medium bodied, with fresh, cherries and plums, softness and an easy to drink character.
2,880 Views
Tasted

Jul 6, 2015
2011
Château du Glana (St. Julien)
Lighter styled, fully mature, early-drinking wine with tobacco and green herb accents to the bright red fruits. This should be consumed over the next year or two.
2,135 Views
Tasted

Aug 19, 2021
2010
Château du Glana (St. Julien)
Medium bodied, soft, already approachable with its open, black cherry, earth, red plum, oak and tobacco profile. This is a nice example of a Left Bank value wine.
4,291 Views
Tasted

Nov 24, 2013
2009
Château du Glana (St. Julien)
Easy to like, easy to taste and easy to drink. Forward, soft, plums and black cherries, with hints of tobacco, earth and licorice. Drink this on the young side.
4,442 Views
Tasted

Feb 12, 2014
2005
Château du Glana (St. Julien)
A real crowd pleaser from St. Julien. Soft, forward, with nice dark red fruits, earth, tobacco and spice. This open, value Bordeaux wine is more than ready to go. I would not age it further.
4,555 Views
Tasted

Aug 14, 2013