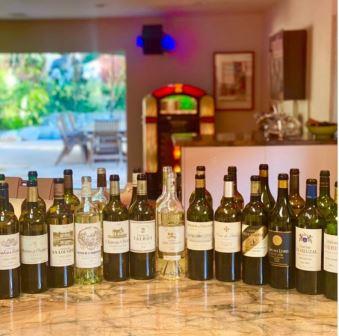 2018 White Bordeaux wines are the product of a warm, very dry summer. At the end of the summer, temperatures remained warm and dry. While this was perfect for the red wine grapes, it was a little too hot and dry for the white wine grapes. Picking of the white wine grapes began in August, allowing the fruit to retain as much freshness as possible.
2018 White Bordeaux wines are mixed. There are clearly some very fine white wines produced in 2018. But that is not the case for every chateau. At their best, the wines are ripe, luscious, fruity, round and sweet, with creamy tannins with touches of tropical fruits and honeysuckle in the nose. But due to the heat and lack of water, several wines do not show the racy acidity I seek in white Bordeaux.
Numerous 2018 white Bordeaux wines are already quite enjoyable to drink. But many will not make old bones. It is interesting to note that 2018 white Bordeaux from the Left Bank and Saint Emilion were often quite good. Fans of these wines should definitely check them out.
If you want to read tasting notes for other 2018 Bordeaux wines 2018 Complete Guide to All the Best Wines of the Vintage
The following 2018 white Bordeaux wines were all tasted in my home office in early 2021 in non-blind conditions. Sweet white Bordeaux is covered in a separate report.
2018 – Bonnat Blanc-Graves – Light, fresh, sweet citrus with hints of orange and pineapple for early drinking pleasure. 85 Pts
2018 – Bonnet Blanc-Bordeaux – Creamy, juicy, sweet lemon curd and grapefruit filled wine with a dab of honeysuckle in the finish. 87 Pts
2018 – Bouscaut Blanc-Pessac-Léognan – Creamy, sweet, juicy and lush with layers of ripe Meyer lemons, tropical fruits, pears and spice. It is rich, lively and offers ample lift all the way to the sweet, fruit filled finish. 92 Pts
2018 – Bouscaut Les Chenes Blanc-Pessac-Léognan – Light, easy drinking, yellow citrus dominated early drinker. This is perfect for uncomplicated summer drinking around the pool while waiting for the Grand Vin to develop. 85 Pts
2018 – Brondelle Blanc-Graves – Light, easy drinking, forward with a fresh, yellow citrus character in the finish. 84 Pts
2018 – Cantelys Blanc-Pessac-Léognan – Fruity, sweet, fresh and showing off its white peach, vanilla and citrus with little effort, you can pop and pour this well-priced white Bordeaux at your leisure. Enjoy it over the next 3-5 years. 90 Pts
2018 – Carbonnieux Blanc-Pessac-Léognan – Lemon, lime and floral aromatics come through instantly. Sweet juicy, fresh and with a creamy, yellow, citrus character on the palate, this offers a lot of up front, fresh, fruity charm.. 91 Pts
2018 – Carbonnieux La Croix de Carbonnieux Blanc-Pessac-Léognan – Fresh, light, forward citrus filled early drinker with hint so white peach in the end note. Drink this over the next few years. 85 Pts
2018 – Chantegrive Blanc-Graves – Sweet, fresh, juicy, vibrant grapefruit, lemon and white peach fruits come though on the nose and juicy, creamy textured palate. This is perfect for near term drinking. 90 Pts
2018 – Chantegrive Caroline-Graves – Lemon, pear, honeysuckle and green apple fruits are ripe, juicy and fresh. Creamy in texture with freshness and plenty of pomelo and lemon in the finish, this is really showing well. 92 Pts
2018 – Clos des Lunes Lune d'Argent-Bordeaux – Rich, lush, creamy, juicy, fruity and already fun to drink, this ready to go delight leaves you with all the just squeezed Meyer lemon, pineapple and pear you can handle. 91 Pts
2018 – Clos des Lunes Lune d'Or-Bordeaux – This is great example of a dry Sauternes. Here you find loads of white peach, pineapple, sweet lemon and Anjou pears. Creamy in texture, with the right balance between sweet and fresh, this is ready for prime time drinking. 92 Pts
2018 – Clos Marsalette Blanc-Pessac-Léognan – Flowers, green apples, lemon curd, honeysuckle and pomelo aromatics work perfectly with the fresh, juicy, palate presence. 91 Pts
2018 – Cos d'Estournel Blanc-Bordeaux – Fresh squeezed grapefruit, lemon peel, flowers, crushed rock and a sprinkle of vanilla smell just great. The wine is rich, creamy, fresh, juicy and crisp, with a blast of sweet lemon, vanilla, lime and green apple all blending perfectly together on your palate. 95 Pts
2018 – Les Pagodes de Cos Blanc-Bordeaux – Forward, fresh, fruity with sweet yellow citrus, orange rind and the perfect touch of honey to sweeten up the lush, juicy finish. This is fully ready to go. 91 Pts
2018 – Couhins Blanc-Pessac-Léognan – Creamy, lush, round and fruity, with sweet yellow citrus, pineapple, mango and other tropical nuances. Juicy and refreshing, this is showing really well and should get even better with a few years of age. 93 Pts
2018 – Couhins La Gravette Blanc-Pessac-Léognan – Lemon, spearmint and peach skin aromas bring you to forward, already drinkable, lighter style of wine that is ready for current consumption. 87 Pts
2018 – de France Blanc-Pessac-Léognan – Honeysuckle, lemons, grapefruit, lemon curd, tropical fruits and green apple pie comes across perfectly in this fresh, sweet, juicy, creamy wine. 91 Pts
2018 – Doisy-Daene Grand Vin Sec-Bordeaux – Slightly honeyed yellow citrus with green apples and mango in a round, forward, early drinking style. 89 Pts
2018 – Domaine de Chevalier Blanc-Pessac-Léognan – Round, bright, lush, creamy and juicy, with layers of fresh, crisp pomelo, waxy lemon peel, green apple, flowers and stone with a dab of honey, there is a lot to like here. Give it a few more years in the cellar and there will be even more to like as it ages. 96 Pts
2018 – Domaine de Chevalier L'Esprit de Chevalier Blanc-Pessac-Léognan – Bright, fresh, crisp and juicy yellow citrus with bits of orange peel, green apple and pear added in for complexity. I am really liking the sense of sense of mineraity in the finish. Enjoy this gorgeous second wine while waiting for the Grand Vin to develop. 91 Pts
2018 – Girolate Blanc-Bordeaux – Creamy green apples with touches of lemon peel and grapefruit that is ready for near-term drinking. 88 Pts
2018 – Grand Village Blanc-Bordeaux – Grape fruit, lemon peel, guava, green apple and banana aromas are a lot of fun to work with in the perfume. But it is the fresh, vibrant palate, with its crisp bite of yellow citrus accompanied by fresh topical accents that really makes this work. The wine was made from 75% Sauvignon Blanc and 25% Semillon. 92 Pts
2018 – Grand Village Les Champs Libres-Bordeaux – Pink grapefruit, guava, lemon curd, waxy lemon, flowers and limes on the nose really wakes you up. On the palate, all the fresh, lively, crisp, lemon centric fruits paired with green apples and creamy textures leave you feeling equally refreshed. The wine is always produced from 100% Sauvignon Blanc. 93 Pts
2018 – Haut Bergey Blanc-Pessac-Léognan – Juicy, fruity and fresh with ripe, sweet, creamy lemons, orange rind, white peach and tropical notes on the nose and palate. This is frankly disarmingly easy to taste already. It is perfect for dinner tonight! 92 Pts
2018 – Haut Brion Blanc-Pessac-Léognan – The perfume displays ripe lemon, grapefruit, green apples, waxy Meyer lemons, spice, honeysuckle and cut stone. On the palate, the wine is luscious, opulent, oily, deep and fresh, with a sensuously textured finish that lingers, which is a good thing as you can sit with all that ripe citrus and stone for even longer. Made from a blend of 80.6% Sauvignon Blanc and 19.4% Semillon, this is the highest percentage of Sauvignon Blanc in the blend for Haut Brion Blanc. 98 Pts
2018 – Haut Brion Le Clarte de Haut Brion Blanc-Pessac-Léognan – Quite floral in its nature, you also find a blend of yellow citrus fruits with tropical accents and a drizzle of orange honey served up with fresh, creamy, opulent textures. You can enjoy this young, or age it a few years for additional complexity. 93 Pts
2018 – Haut Selve Blanc-Graves – Green apple, herbs and citrus notes are found on the nose and palate. The finish has a nice, light, creamy touch to the yellow citrus. This is ready to drink now and will be at its best over the next few years. 86 Pts
2018 – Hostens Picant Cuvée des Demoiselles-Sainte Foy Bordeaux – White peach, pomelo, lemon curd and a touch of vanilla on the nose and the palate, which is also where you find sweet green apples with lemon peel in the fresh finish. This will be best in its refreshing youth. 89 Pts
2018 – Hubert de Boüard Le Sauvignon Blanc-Bordeaux – Waxy lemon grass, grapefruit, honeysuckle and lemon make this a delightful, juicy, crisp, refreshing white wine that would be perfect for any seafood dish. 90 Pts
2018 – Jean Faux Sainte-Radegonde-Bordeaux – White peach, vanilla and tropical fruits show off their lush, sweet, fruity character as soon as the wine hits your glass. This will be best over the next few years. 88 Pts
2018 – La Grande Clotte Blanc-Bordeaux – Creamy, juicy, fresh, crisp, lemon, white peach and green apple packed, floral wine with touches of mango and yellow citrus in the finish. 90 Pts
2018 – La Louviere Blanc-Pessac-Léognan – Much better in bottle, than in barrel, now you find loads of ripe, sweet, round, creamy yellow citrus, flowers, a touch of honey, crisp green apple and grapefruit. 93 Pts
2018 – La Louviere L de-Pessac-Léognan – Simple, forward, easy to like lemony wine for uncomplicated drinking pleasure. 86 Pts
2018 – La Tour Blanche Duo de la Tour Blanche-Bordeaux – Crisp waxy lemons, grapefruit, spring flowers and a touch of bright, orange tropical fruit all wrapped up in a lush, creamy, fresh and fruity finish. 89 Pts
2018 – Larrivet Haut Brion Blanc-Pessac-Léognan – This has really jumped in quality since it was in barrel. Now, the wine has taken on more weight, allowing you to experience the complex aromatic profile which shows off its flowers, lemon, white peach and vanilla. Lush, round, juicy and fruity, the finish is sweet, lively and loaded with delicious fruits. 93 Pts
2018 – La-Tour-Martillac Blanc-Pessac-Léognan – Fresh and juicy with a beautiful balance between the pineapple, pomelo, honeysuckle, lemon and crushed rock character. The wine was made blending 54% Sauvignon Blanc and 46% Semillon. 92 Pts
2018 – Laurence Blanc-Bordeaux – Honeysuckle and lemon zest with pomelo with a sweet bright citrus filled palate and finish that is ready to go. 88 Pts
2018 – Le Nardian Blanc-Bordeaux – Honeysuckle, lemon peel, vanilla and grapefruit shine nicely in this rich, creamy, lush, slightly honeyed, citrus filled wine. The wine is a blend of 70% Sauvignon Blanc, 20% Muscadelle and 10% Semillon. 92 Pts
2018 – Le Petit Cheval Bordeaux Blanc-Bordeaux – Bright, fresh, lively yellow citrus, honeysuckle, green apple, lemon peel and a touch of vanilla on the nose and palate works here. The wine is lively, creamy, fresh and leaves you with a blast of fresh, sweet citrus in the finish. The wine blends 74% Sauvignon Blanc with 26% Semillon. 95 Pts
2018 – Le Petit Haut Lafitte Blanc-Pessac-Léognan – Round, ripe, sweet and packed with spicy, yellow citrus, lemon rind, almonds and tangerine, this is ready to go. I'd opt for drinking this over the next 3-5 years. 90 Pts
2018 – Le Prelat de Pape Clement Blanc-Graves – Fresh, bright, lively shot of yellow citrus with orange, mango and a touch of tart green apple that is already for your pleasure. This is perfect for easy, summer and near-term drinking. 88 Pts
2018 – Lesparre Blanc-Graves – Light jolt of fresh citrus with balancing notes of lemon peel and a dab of honey in the finish. Drink this over the next year or two. 84 Pts
2018 – Loudenne Blanc-Bordeaux – Lemon, pears and green apples with sweetness and lift for early drinking pleasure. 87 Pts
2018 – Lussac Blanc-Bordeaux – Honeysuckle, citrus peel and grapefruit, with a creamy, juicy, sweet lemon essence on the palate 85 Pts
2018 – MagrezFombrauge Blanc-Bordeaux – The wine kicks off with a jolt of juicy lemon, white peach, vanilla and flowers. Lush, round and forward, the finish is all about its creamy lemon and green apple character. 92 Pts
2018 – Malartic Lagraviere Blanc-Pessac-Léognan – With a strong bees wax character, the wine shows off its nose of green apple, yellow citrus, lemon curd, vanilla and flower aromas with ease. Vibrant, juicy, sweet and creamy, with stony accents to its layers of fruit, the sweetness and lift in the finish comes though nicely. The wine is made from a blend of 90% Sauvignon Blanc and 10% Semillon. 94 Pts
2018 – Malartic-Lagravière La Réserve de Malartic Blanc-Pessac-Léognan – Better from bottle than in barrel, this is showing just great with its waxy lemon, flower and green apple character. Elegant, fresh and vibrant, with a sweet yellow citrus and mildly honeyed finish, this is ready for prime time drinking, while you wait for the Grand Vin to come around. 90 Pts
2018 – Malleret Blanc-Bordeaux – Fresh, fruity, easy drinking, citrus oriented wine for near term consumption. 86 Pts
2018 – Mongiron Prior Blanc-Bordeaux – Orange cream sickle, grapefruit and white peach with a touch of lemon in a ready to drink creamy style. 88 Pts
2018 – Mont Perat Blanc-Bordeaux – Green apple, white peach, vanilla, spice and grapefruit pop with their crisp, fresh, bright fruits. This is not a wine for aging, pop, pour and enjoy all the sweet, creamy citrus fruits. 90 Pts
2018 – Olivier Le Dauphin d' Olivier Blanc-Pessac-Léognan – Honeysuckle and lemons blend together to produce a light, forward, early drinking citrus oriented finish. Enjoy this over the next couple of years while the Grand Vin develops. 87 Pts
2018 – Pape Clement Blanc-Pessac-Léognan – Rich, juicy, creamy and loaded with Meyer lemon, cut grass, flowers, pomelo and Mandarin orange, the wine just simply tastes and feels great. Lush in texture, with layers of sweet, citrus, yellow tropical fruit and flowers, the dab of honey and vanilla in the finish rounds everything out nicely. The wine was made from 57% Sauvignon Blanc, 39% Semillon and 4% Muscadelle. 96 Pts
2018 – Paveil de Luze Blanc-Bordeaux – Zesty, juicy, bright lemon and honeysuckle centered wine with freshness and a nice jolt of yellow citrus with a shot of lime in the finish. This will be just great on release. 90 Pts
2018 – Pavillon Blanc du Chateau Margaux-Bordeaux – Fresh, bright, crisp and juicy, the lemons, grapefruit and green apple are made even better with a deft touch of orange rind and honeysuckle. Creamy, juicy and crisp with a lemon drenched finish, this is ready now and can age for at least 10-15 years with ease. 95 Pts
2018 – Penin Blanc-Bordeaux – Honeysuckle, citrus, grpefruit and green apple on the nose and palate for early drinking, uncomplicated, summer quaffing. 85 Pts
2018 – Perriere Blanc-Bordeaux – Light, forward mix of honeysuckle, lemon rind and green apples with a slightly honeyed, yellow citrus finish for early drinking pleasure. 84 Pts
2018 – Portets Blanc-Graves – Fresh, light blend of yellow and orange citrus with a light lemon and herb finish. Drink this over the next 2-3 years. 85 Pts
2018 – Puygueraud Blanc-Bordeaux – Juicy, crisp lemons, tropical fruit, honeysuckle and white peach create a solid perfume. The wine is fresh, creamy and lifted, leaving you with sweet, creamy, green apple, lemon and lime sensations. Drink this over the next few years. It is impossible to find a better value in white Bordeaux wine than you have here. 90 Pts
2018 – Rahoul Blanc-Graves – Fresh, grapefruit, yellow citrus and green apple packed wine with hints of vanilla and flowers that is already tasting just great. 89 Pts
2018 – Rayne Vigneau Le Sec de Rayne-Vigneau-Bordeaux – Waxy lemon with tropical fruit is crisp, fresh, creamy and ready to go for near term drinking pleasure. 90 Pts
2018 – Reignac Blanc-Bordeaux – Yellow citrus and mango with tropical notes and green apple in a lush, creamy style for near term drinking pleasure. 88 Pts
2018 – Rochemorin Blanc-Pessac-Léognan – Lemon, orange rind and green apples hits you as soon as you nose the glass. The wine offers plenty of sweet yellow citrus and pear in the finish. This is ready for prime time drinking 89 Pts
2018 – Saint-Cernin No. 1 Blanc-Bergerac – Bright, fresh, juicy, crisp yellow citrus, orange rind and white peach is a creamy style that is ready for delicious, summer drinking. 90 Pts
2018 – Sigalas Rabaud La Sémillante de Sigalas-Bordeaux – Honeysuckle, orange marmalade, lemon peel and waxy grapefruit come through with lift and crisp freshness on the palate. You can enjoy this on release for its freshness and fruit. 88 Pts
2018 – Smith Haut Lafitte Blanc-Pessac-Léognan – Flowers, white peach, yellow citrus, pears, green apples and even a touch of vanilla tinged cantaloupe are found in the aromatic complexities. Balanced on the precipice of opulent and fresh, the wealth of fruit is sweet, ripe, long, creamy and a pleasure to allow to linger on your palate. The wine blends 90% Sauvignon Blanc, 5% Sauvignon Gris and 5% Semillon. 95 Pts
2018 – Smith Haut Lafitte Les Hauts de Smith Blanc-Pessac-Léognan – Lemon fresh, with grapefruit, white peach and flowers opens as soon as the cork is popped. Fresh, sweet, bright and filled with yellow citrus and green apple on the palate, this gem is ready for dinner tonight. 91 Pts
2018 – Stella Solare Croix de Labrie-Bordeaux – The nose is quite sweet with all its honeysuckle, candied orange and white peach notes. Lush and creamy on the palate with loads of lemon and tropical fruit with a dab of honey in the finish, you can enjoy this on release. The wine is a blend of 60% Semillon, 20% Sauvignon Blanc and 20% Sauvignon Gris. 92 Pts
2018 – Suduiraut "S" de Suduiraut-Bordeaux – White peach, pears, pineapple and flowers hit your nose before discovering the combination of bitter and sweet, yellow citrus, green apple and pineapple in the finish. Medium-bodied, early drinking and with fruit and freshness, this is ready to go on release. This is best consumed on the young side. 89 Pts
2018 – Tronquoy-Lalande Blanc-Bordeaux – Ripe, fresh, sweet lemons, flowers and fresh cut grass aromas waft from the glass. The creamy, bright, yellow citrus filled wine, with its hints of green apple and dab of honey is fully ready to enjoy on release. 91 Pts
2018 – Valandraud Blanc-Bordeaux – Juicy, ripe, zesty yellow citrus, tart green apples, pink grapefruit and vanilla come alive in this fruit filled, luscious, creamy, rich Bordeaux Blanc. This is already great in your glass and it is only going to become better with a few years of age. 94 Pts
2018 – Virginie de Valandraud Blanc-Bordeaux – Bright, fresh lemons, grapefruit and a touch of yellow tropical fruit and honeysuckle combine to produce a sweet, fresh, fruity citrus oriented wine that is already delicious to drink. 91 Pts
2018 – Yquem "Y"-Bordeaux – Waxy lemons, grapefruit, lemon curd, green apple and honeysuckle all make an appearance in this fresh, mineral driven, yellow citrus and tropical orange focused wine. 94 Pts