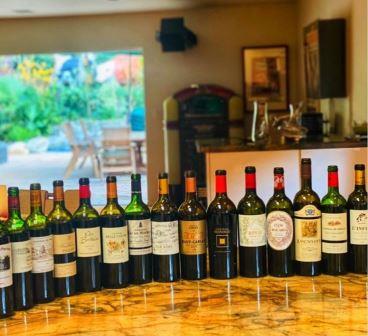 2018 Cotes de Bordeaux produced great, character driven, concentrated, lusciously textured, rich wines that sell for a song. Many of the best terroirs found in the Cotes de Bordeaux are quite similar to what you find in St. Emilion and in other top Right Bank vineyards.
Wine lovers and savvy consumers that are not focused on the big names can be quite with the wide array of fabulous, well-priced wines available in 2018. Even better, most of these wines are already drinking well, so you can start enjoying them as soon as they hit the stores. Although, a few of these can age for 10-15 or 20 years if you are seeking more secondary characteristics.
If you want to read tasting notes for other 2018 Bordeaux wines 2018 Complete Guide to All the Best Wines of the Vintage
The following 2018 Cotes de Bordeaux wines were all tasted in my home office in early 2021 in non-blind conditions. 2018 Bordeaux Superieur and other value oriented wines are covered in separate articles.
2018 – dAiguilhe-Castillon Côtes de Bordeaux- Flowers, wild cherries, licorice, crushed stone and truffle aromatics create the nose. On the palate, the wine is supple, sensuous, fresh and loaded with licorice coated, red plums and juicy cherries with dark chocolate overtones in the finish. 94 Pts
2018 – Alcee-Castillon Côtes de Bordeaux- The cornucopia of red and black fruits comes with underbrush, licorice, espresso and black with red cherries, Medium/full-bodied, fresh, supple and long, this is already showing well now and will get better with a bit more aging. Produced from 96% Merlot and 4% Cabernet Franc. 92 Pts
2018 – Ampelia-Castillon Côtes de Bordeaux- Barbecue smoke, espresso, sweet red fruits and supple textures make this effortless to taste. You can enjoy this on release. 90 Pts
2018 – Belle Coline-Blaye Côtes de Bordeaux- The fruit is ripe, clean and spicy with floral overtones, licorice and espresso notes. Soft textured, medium bodied, forward and ready to go, you can enjoy this on release. This is a solid Bordeaux value wine. 90 Pts
2018 – Bourdieu-Cotes de Blaye Côtes de Bordeaux- Licorice, espresso, cocoa and dark red fruit crop up with no effort. The wine is round, fruity, lush and packed with ripe, sweet berries and chocolate. You can enjoy this on release and over the next several years. 91 Pts
2018 – Bourdieu Absolu-Blaye Côtes de Bordeaux- Deep in color, with a healthy dose of Malbec added to the blend, the wine is packed with an array of spices, flowers, wet earth and dark red fruits. Round, lush and filled with earthy, meaty red fruits and espresso beans, it only asks for 2-3 years in the cellar before it is ready to drink. 92 Pts
2018 – Bourdieu N1-Blaye Côtes de Bordeaux- Medium-bodied, fresh, sweet and fruity, the wine offers up a juicy, fresh blend of round, red fruits and cocoa in the luscious finish. 91 Pts
2018 – Bourdon La Tour-Côtes de Bordeaux- Espresso, wet earth, red fruits and a touch of spice on the nose, the wine is medium-bodied, forward and finished with sweet, bright red fruits. Drink this over the next few years. 86 Pts
2018 – Cap de Faugeres- Cotes de Castillon Côtes de Bordeaux- Fresh and juicy, the wine pops with all its ripe, plums, cherries, licorice, coffee bean, cocoa and spice. Lush, opulent and packed with sweet, red and dark red berries, this is good now, but a few more years in the cellar will make it even better. The wine was made from a blend of 85% Merlot, 10% Cabernet Franc and 5% Cabernet Sauvignon. 92 Pts
2018 – Carignan Prima-Premières Côtes de Bordeaux- Medium bodied, forward, soft, early drinking with plums, olives, pepper, herbs on the backend. You can drink this on release. 86 Pts
2018 – Carignan-Cadillac Côtes de Bordeaux- Medium-bodied, soft, lighter styled, easy to drink wine that is fully ready to go on release. 84 Pts
2018 – Claud-Bellevue-Castillon Côtes de Bordeaux- Medium-bodied, forward, soft, round and showing off its chocolate covered, lush, cherry profile with ease. 88 Pts
2018 – Clos Lunelles-Castillon Côtes de Bordeaux- Almost opaque in color, the wine is equally dark in color. The nose, with its coffee bean, smoke, licorice, flower and black cherry liqueur is intense. On the palate the wine is equally intense with its full-bodied, rich, powerful layers of ripe blackberries red and blue fruit, dark chocolate and crushed stone character. The most powerful wine of the appellation, give it 5-8 years before pulling a cork. The wine was made from blending 80% Merlot, 10% Cabernet Sauvignon and 10% Cabernet Franc. 94 Pts
2018 – Croix Lartigue-Castillon Côtes de Bordeaux- Medium-bodied, lush, round, sweet and juicy with nice flesh, soft textures and a load of sweet, ripe red fruits, cocoa coated cherries and licorice in the finish. 91 Pts
2018 – dArce-Castillon Côtes de Bordeaux- The wine is packed with dark chocolate covered cherries and licorice with touches of smoke and flowers in the background. Opulent, lush and sweet, with concentrated layers of juicy, fresh, ripe back cherries, plum, licorice and spicy espresso beans, this is already a pleasure to enjoy. 92 Pts
2018 – de Francs Infinity-Côtes de Francs- Deeply colored, the wine kicks off with espresso, licorice, wet forest and black cherry nuances. Round, fruity, bright and sweet, with earthy overtones and espresso notes coinciding with red plums, cherries and crushed stones in the finish, this will be better with a few years in the cellar. 92 Pts
2018 – de Francs Les Cerisiers-Côtes de Francs- Medium-bodied, with a nice touch of salty minerality on top of the sweet, ripe, red berries. You also find fresh, plums, cocoa, espresso and a juicy, stony, salty finish. Give it a few years in the cellar before pulling a cork. 90 Pts
2018 – Domaine-de-lA-Castillon Côtes de Bordeaux- Full-bodied, rich, lush and silky, with layers of ripe, sweet, juicy red and black fruits, this is already a pleasure to taste. The layers of black cherries and plums offer purity, length, freshness and serious persistence in the finish. This is the best wine from the home property of Stephane Derenoncourt yet. 94 Pts
2018 – Dubois-Grimon- Cotes de Castillon Côtes de Bordeaux- Incense, spice, smoke, licorice and ripe, sweet fruits come alive nicely in this soft, fresh, sweet, creamy, medium-bodied wine that leaves you with loads of silky, polished red fruits in the finish. 90 Pts
2018 – Fougas Maldoror- Cotes de Bourg- Spicy, meaty, black fruit, herbs, wet earth and tobacco on the nose, The wine is full-bodied, soft, round, and with an earthy, leafy essence to the fresh, sweet, dark berries. 91 Pts
2018 – Gigault Cuvee Viva-Blaye Côtes de Bordeaux- With all the ripe, sweet, dark red fruits, licorice, espresso and cocoa you were hoping to find here, the wine is fresh, juicy, elegant and round, with a rich, ripe, plummy finish. Drink this young, or age it for a few years. 91 Pts
2018 – Grands Marechaux-Blaye Côtes de Bordeaux- Fresh, fruity, soft, elegant, medium-bodied, early drinking charmer with bright, red berries, spice, licorice and espresso notes. This is a wine that you can enjoy on release. 89 Pts
2018 – Guionne Cuvee Renaissance-Côtes de Bourg- Sweet, juicy, round, supple, soft and ready to go, this is loaded ripe black, red and blue fruits and silky textures. This well-priced gem is already delicious to drink. 90 Pts
2018 – Haut Bertinerie-Blaye Côtes de Bordeaux- With the kick of minerality, earthy, dark red fruits, cocoa and a touch of plum, the wine is medium-bodied, forward and chewy with a strong olive note in the finish. 87 Pts
2018 – Haut-La-Pereyre Cuvee Meste-Jean-Cadillac Côtes de Bordeaux- Forward, fruity quaffer for uncomplicated, early drinking pleasure. 82 Pts
2018 – Joanin Becot – Castillon Côtes de Bordeaux – The intriguing touch of mint that comes with all the ripe, black cherries, licorice and chocolate hits the spot. The wine offers nice richness and intensity with silky tannins and layers of ripe, sweet, round, juicy, red fruits that feel as good as they taste. 92Pts
2018 – La Brande-Castillon Côtes de Bordeaux- Forward, plush, fruity, plummy and licorice filled wine, with ripe, fresh cherries and a touch of earth in the finish. You can enjoy this on the young side. 90 Pts
2018 – La Prade- Cotes de Francs- Cocoa, black raspberries, truffle, herbs and dusty red berries are found on the nose and palate. Soft and stony, with a strong mineral essence, this needs just a couple of years before it is ready to unfurl. If you are seeking value Bordeaux and you're not familiar with La Prade — get to know this wine, which is made from 88% Merlot and 12% Cabernet Franc. 93 Pts
2018 – Lafitte-Côtes de Bordeaux- Medium-bodied, sweet and tart, juicy fruits with accents of olives, herbs, thyme along with piquant sharp red berries and a slightly drying finish. 86 Pts
2018 – lAurage-Castillon Côtes de Bordeaux- Five spice is the first thing you notice before digging into the licorice, sweet plums, coffee bean and cocoa on the nose and palate. Elegant, silky and fresh, the finish meshes ripe berries with just a hint of espresso. You can drink this now, or age it a few years. The wine is a blend of 95% Merlot and 5% Cabernet Franc. 92 Pts
2018 – Laussac-Castillon Côtes de Bordeaux- Medium-bodied, soft, fruity and with a nice, fresh, sweet, red fruit character surrounded by licorice and espresso. This will drink best in its youth for all its fruit. 89 Pts
2018 – Laussac Cuvee Sacha-Castillon Côtes de Bordeaux- Supple textured, round, lush and fruity, here you find a generous dose of plums, dark cherries, earth and the perfect amount of dark chocolate on the nose and palate making this a pleasure to drink on release. 91 Pts
2018 – Le Doyenné-Cadillac Côtes de Bordeaux- The floral touches are perfect for the medium-bodied, bright, cherry and red plums on the nose and palate. The finish is all about its crisp red berries. 86 Pts
2018 – Le Rey Les Argileuses-Castillon Côtes de Bordeaux- Smoke, spice, flowers and fresh red berries smell just great. On the palate, the wine is medium-bodied, sweet, silky and fresh, with a good sense of purity to the red fruits. Soft, supple and long, this is already a treat in your glass. It is hard to find a better value in Bordeaux today. 92 Pts
2018 – Le Rey Les Rocheuses-Castillon Côtes de Bordeaux- Spicy kirsch, espresso, plums, cherries, licorice and English breakfast tea scents get you ready for what comes next. From there you enjoy loads of silky, elegant, refined, sweet, juicy red fruits and crushed rock sensations. Fresh, energetic and long, this is one of the top values you can find in Bordeaux today. 91 Pts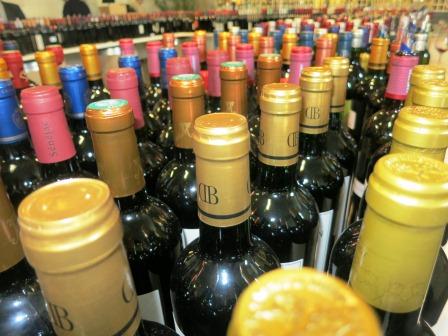 2018 – Les Charmes-Godard Blanc-Côtes de Francs- Juicy, fresh, vibrant lemon, yellow tropical fruit with green apple notes come alive nicely. The crisp finish adds white peach notes along with that all important touch of minerality. You can enjoy this on release. 92 Pts
2018 – Les Hauts de Palette-Côtes de Bordeaux- Medium-bodied, earthy, bright red fruits and leafy herbs produced in an early drinking style are what you find here. 85 Pts
2018 – Montlandrie-Castillon Côtes de Bordeaux- This is showing much better in bottle than in barrel. Now, you find more intensity, richness and complexity. The nose opens with flowers, licorice, wet earth, cherry and plum tones. Silky, rich and fresh, with layers of elegant, ripe, sweet fruits in the endnote, this is the best vintage of Montlandrie I have ever tasted! The wine is a blend of 75% Merlot, 20% Cabernet Franc and 5% Cabernet Sauvignon. 93 Pts
2018 – Prieure Saint-Anne-Côtes de Bordeaux- This Merlot dominated blend serves up its earthy, chewy, salty, earthy fruit character with ease. The finish, with its espresso, dark chocolate and cherry is a bit more savory, and herbal than sweet. 91 Pts
2018 – Puygueraud-Côtes de Francs- Flowers, black cherry, cocoa and crushed rocks on the nose. Medium-bodied, soft, fresh and fruity, with a mineral driven dusty, plummy finish. You can enjoy this now, or wait a few years for more softness and complexity to emerge. This is the finest vintage of Puygueraud I have ever tasted. 92 Pts
2018 – Réaut-Premières Côtes de Bordeaux- Bright, crisp, sweet and tart, medium-bodied red berry filled with hints of cocoa along with more of those sweet and tart red berries in the finish. 86 Pts
2018 – Réaut Carat-Premières Côtes de Bordeaux- Soft, lush, supple dark red fruits with spice corm the core of this wine. The finish is loaded with sweet juicy red fruits, licorice and a touch of chocolate. You can enjoy this on release and over the next 7-8 years or longer. 89 Pts
2018 – Renon-Cadillac Côtes de Bordeaux- Forward, medium-bodied, juicy red fruit filled wine with a touch of bright, tart red berries in the crisp finish. You can drink this on release. 86 Pts
2018 – Reynon-Cadillac Côtes de Bordeaux- A strong spicy note comes along with the black raspberry and red plummy core of fruits. A touch of smoke, tobacco leaf and herbs complete the wine quite nicely. You can enjoy this just about on release. 88 Pts
2018 – Roc de Cambes-Côtes de Bourg- The hint of chocolate, smoke, licorice, old wood, and black cherry come alive this year. The fruit has a wildness to it along with sweetness, freshness and purity. The energetic, lusty finish wraps everything nicely. 93 Pts
2018 – Roquevielle-Castillon Côtes de Bordeaux- Medium-bodied, elegant, fresh, bright, plummy, red berry centered wine with round tannins and ample red fruit in the finish. This is ready to drink on release. 89 Pts
2018 – Roquevielle Excellence -Castillon Côtes de Bordeaux- Supple, fresh, sweet, red fruits, silky tannins and loads of black with red plums in the lush finish here. This is quite nice and should drink well on release. 91 Pts
2018 – Veyry-Castillon Côtes de Bordeaux- Full-bodied, rich, opulent and layered with dark red berries and chocolate, the wine hits your palate, coating it with layers of fruit, spice, licorice and dark cocoa. This is quite nice now, but it is going to better from here. 92 Pts