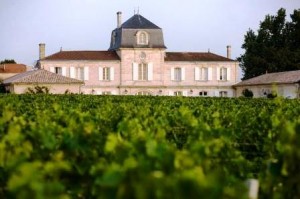 Learn everything about Chateau Gigault Cuvee Viva Cotes de Blaye with wine tasting notes, wine, and food pairing tips, best vintages, a history of the property, information on the vineyards, and winemaking. If you want to read about other important, Bordeaux Chateaux: Links to all Bordeaux Wine Producer Profiles
Chateau Gigault History, Overview
Chateau Gigault was created in 1998. The owner, Christophe Reboul Salze, named Cuvee Viva from Chateau Gigault, after his late daughter who passed away that same year in 1998. Located in the Premieres Cote de Blaye appellation, Chateau Gigault Cuvee Viva was the second purchase of a Bordeaux chateau for Reboul Salze.
His first Bordeaux vineyard purchase was Chateau Les Grands Marechaux, which is also located in the Cotes de Blaye appellation. That property was bought just one year earlier, in 1997.
Aside from being a Bordeaux winemaker, Christophe Reboul is also well known as a Bordeaux wine negociant with his company, The Wine Merchant. In 2011, they added to holdings with the purchase of Chateau Belle Coline.
Chateau Gigault Vineyards, Terroir, Grapes, Winemaking
The Chateau Gigault vineyard is planted to 90% Merlot and 10% Cabernet Franc. In total, the vineyard is 17.7 hectares in the Cotes de Bordeaux appellation. The vineyard is planted in one large, single block of vines. The terroir is clay and limestone with silica deposits in the soil.
The vineyard is planted to 5,500 vines per hectare with vines that are on average, 30 years of age. The vineyard management techniques include soils that are mechanically tilled, crop covering for every third row, deleafing, and green harvesting for low yields.
To make sure they could produce the best wines possible with Chateau Gigault Cuvee Viva, one of the first things the new owners did was to bring in the team of Stephane Derenoncourt as their consultant.
To produce the wine of Chateau Gigault Cuvee Viva, the grapes are whole berry fermented. Vinification takes place in a combination of small, cement vats and stainless steel tanks that vary in size.
To allow for precise vinification on a parcel by parcel basis, the vats range in size from as small as 35 hectoliters to as large as 114 hectoliters. Malolactic fermentation takes place in a combination of French oak barrels and tanks.
The wine of Gigault Cuvee Viva is then aged in 40% new, French oak barrels for an average of 14 months before bottling. Even though the vineyard includes 10% Cabernet Franc, Gigault Cuvee Viva is often close to 100% Merlot in the blend. On average, the production of Chateau Gigault Cuvee Viva is close to 3,800 cases per year. There is a second wine, Chateau Gigault.
The best vintages of Chateau Gigault are: 2022, 2021, 2020, 2019, 2018, 2017, 2016, 2015, 2014, 2012, 2010, 2009 and 2005.
When to Drink Chateau Gigault Anticipated Maturity, Decanting Time
Chateau Gigault is better with at least 1-3 years of aging in good vintages. Young vintages can be decanted for up to 1 hour, helping the wine soften to help develop the aromatic character.
Older vintages might need very little decanting, just enough to remove the sediment. Chateau Gigault offers its best drinking and should reach peak maturity between 2-7 years of age after the vintage.
Serving Chateau Gigault with Wine, Food, Pairing Tips
Chateau Gigault is best served at 15.5 degrees Celsius, 60 degrees Fahrenheit. The cool, almost cellar temperature gives the wine more freshness and lift.
Chateau Gigault is best paired with all types of classic meat dishes, veal, pork, beef, lamb, duck, game, roast chicken, roasted, braised, and grilled dishes. Chateau Gigault is also good when matched with Asian dishes, rich fish courses like tuna, mushrooms, and pasta.
Chateau Gigault Cuvee Viva is another candidate for one of the top Bordeaux value wines from the various Satellite Appellations.
Château Gigault Wine Tasting Notes
16 Vintages 37,181 Views Sort by Vintage-Rating
2022
Château Gigault Cuvée Viva (Blaye Côtes de Bordeaux)

Floral, fruity and fresh, with soft, supple textures, the wine is medium-bodied, finishing with sweet, creamy cherries and a touch of spice. The wine will be ready to enjoy on release. Drink from 2025-2032. 90-92 Pts.

653 Views

Tasted

May 8, 2023

2021
Château Gigault Cuvée Viva (Blaye Côtes de Bordeaux)

Bright, fresh and fruity with a medium-bodied core of sweet red cherries, licorice and a touch of mocha in the endnote. You can enjoy this on the young side. Drink from 2023-2030. 87-89

1,126 Views

Tasted

May 20, 2022

2020
Château Gigault Cuvée Viva (Blaye Côtes de Bordeaux)

Black cherries, plums, espresso, flowers and licorice, notes are easy to find in the nose. The wine is soft, supple-textured, medium-bodied and fresh, with a sweet, ripe, vibrant, cherry, plum and chocolate mid-palate and finish. This will be just great on release and over the next decade or more. Drink from 2023-2037.

435 Views

Tasted

Mar 21, 2023

2019
Château Gigault Cuvée Viva (Blaye Côtes de Bordeaux)

Licorice, espresso and lightly dusted cocoa notes on the nose, medium-bodied with a sweet, ripe, lush, round, juicy cherry mid-palate and finish. This will be just great on release and over the next decade or more. 89-91 Pts

2,814 Views

Tasted

Jun 8, 2020

2018
Château Gigault Cuvée Viva (Blaye Côtes de Bordeaux)

With all the ripe, sweet, dark red fruits, licorice, espresso and cocoa you were hoping to find here, the wine is fresh, juicy, elegant and round, with a rich, ripe, plummy finish. Drink this young, or age it for a few years.

673 Views

Tasted

Mar 9, 2021

With a floral edge, the wine is medium-bodied, round, soft and loaded with licorice, and fresh, juicy plums accompanied by a nice note of spice in the finish. You can drink this young for all its sweet ripe fruits. 89-91 Pts

1,502 Views

Tasted

Apr 19, 2019

2017
Château Gigault Cuvée Viva (Blaye Côtes de Bordeaux)

Lighter styled, leaning toward the bright, crisp cherry side, this wine is medium bodied and soft with thyme and tobacco nuances to spice things up. You can drink this on release.

1,471 Views

Tasted

Apr 26, 2018

2016
Château Gigault Cuvée Viva (Blaye Côtes de Bordeaux)

Round and loaded with juicy, dark red fruits, the wine is vibrant and juicy, with freshness and ample fruit, giving it volume and character.

2,644 Views

Tasted

Sep 21, 2019

Deep in color, with loads of deep, earthy fruit. Medium/full bodied, with ripeness, depth of flavor and complexity.

2,457 Views

Tasted

Apr 29, 2017

2015
Château Gigault Cuvée Viva (Blaye Côtes de Bordeaux)

Kicks off with juicy, ripe, sweet, fresh black cherries dipped in chocolate with black licorice and floral notes. Forward, round and lush, this is already tasty to drink. 89-91 Pts

2,176 Views

Tasted

Apr 30, 2016

2014
Château Gigault Cuvée Viva (Blaye Côtes de Bordeaux)

Red fruits and spice, with a stony, red berry and espresso finish. 86-88 Pts

2,524 Views

Tasted

May 1, 2015

2013
Château Gigault Cuvée Viva (Blaye Côtes de Bordeaux)

Simple, medium bodied, red berry dominated wine with a fresh finish. 84-86 Pts

2,045 Views

Tasted

May 1, 2014

2012
Château Gigault Cuvée Viva (Blaye Côtes de Bordeaux)

Simple, medium-bodied with a forward, spicy red berry finish. 86-88 Pts

2,682 Views

Tasted

Apr 26, 2013

2012
Château Gigault (Blaye Côtes de Bordeaux)

Fully mature, medium bodied, easy drinking crowd pleaser with a black cherry profile for current consumption.

1,684 Views

Tasted

Jan 5, 2018

2011
Château Gigault Cuvée Viva (Blaye Côtes de Bordeaux)

From 100% Merlot, the wine was whole berry fermented and aged in 33% new oak is medium bodied with a red cherry personality. 87-89 Pts

3,138 Views

Tasted

Apr 20, 2012

2010
Château Gigault Cuvée Viva (Blaye Côtes de Bordeaux)

Open for business with its espresso bean, black cherry and cocoa scented nose, the wine is soft, polished and round, with a lush textured, black raspberry finish. Produced from 100% Merlot, this is a solid Bordeaux value wine.

2,360 Views

Tasted

Mar 12, 2014

2009
Château Gigault Cuvée Viva (Blaye Côtes de Bordeaux)

2009 Gigault Cuvee Viva, from 90% merlot and 10% cabernet franc, is a supple styled, ripe wine that will give good value for the buck and drink well on release. 86-88 Pts

3,685 Views

Tasted

Aug 26, 2010

2005
Château Gigault Cuvée Viva (Blaye Côtes de Bordeaux)

Fully mature, or perhaps just a few feet past, the wine is slowly dropping its fruit. But there is some wind left in its sails, as you can still catch the remainder of its soft textured, earthy, tobacco, cherry, thyme and cocoa sensations. Drink up.

3,112 Views

Tasted

Aug 26, 2017