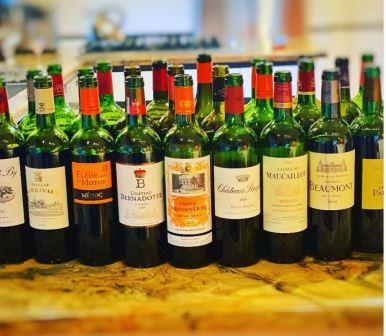 Listrac, Moulis and the Medoc can often find it difficult to produce good wines due to their terroir, which varies widely. Many of the lesser sites in those appellations require good vintage conditions to allow for the grapes to reach maturity.
At their best, in 2018, you find wines that achieved ripeness, creating good, solid, Left Bank wine tasting experiences, most of which will drink great young. And if you know where to look, there are wines that perform well-above the level of their appellation!
As I mentioned in my Haut Medoc report, tasting at home allowed me to sample numerous wines I have not tasted before. Several of those wines offer good Medoc character, drink well early and they sell for very fair prices.
Savvy wine buyers with a preference for Cabernet Sauvignon based Bordeaux should take a close look at the wines in this report.
All of the following 2018 wines were tasted in my home office in non-blind conditions.
2018-Bellerive Médoc – A touch of oak, smoke, licorice, cedar and tobacco come through easily on the nose. Medium-bodied, soft, forward and fruity, this is already drinking nicely and will be best in its youth. 87 Pts
2018-Bouqueyran Moulis en Médoc – Forward, soft, medium-bodied, red currant, cedar and tobacco filled wine with a spicy finish that will deliver pleasure early in life. 89 Pts
2018-Bournac Médoc – The herbs, tobacco leaf, cedar and cocoa work together adding more complexity and nuance to all the ripe, red berries. Chewy, bright and fresh, this is another solid value wine from the Left Bank this year. 90 Pts
2018-Branas-Grand-Poujeaux Moulis en Médoc – Aromatically the wine shoots right out of the glass with flowers, licorice, smoke, tobacco leaf, herbs and dark red fruits. And it gets even better on the palate with all its fresh, exuberant, ripe, licorice-covered red fruits, espresso and bitter chocolate. This is a top value from the Left Bank, so savvy consumers take notice. 93 Pts
2018-Cap Léon Veyrin Listrac-Médoc – Medium-bodied, early drinking, soft, forward, fruit, cedar and herb filled, bright wine that will be best in its youth. 87 Pts
2018-Caroline Moulis en Médoc – Crisp, bright fruits with a savory, earthy, cedar and tobacco character, finishing with red fruits and herbs on the mid-palate and in the end note. 86 Pts
2018-Chantemerle Médoc – Spicy with a heavy dose of greenness that accompanies the medium-bodied, four-square red fruits. 83 Pts
2018-Chasse Spleen Moulis en Médoc – Cedar and tobacco lead off the perfume before you get to the spicy, cranberry, red currants and herbs. Bright, crisp, chewy, medium-bodied, classic, and crunchy, give this at least 5 or more years in the cellar before pulling a cork. The wine blends 45% Cabernet sauvignon, 40% Merlot, 10% Petit Verdot and 5% Cabernet Franc. 89 Pts
2018-Chemin Royal Moulis en Médoc – Medium-bodied, forward, soft and fruity, with a bright, fresh, sweet core of lifted red berries, flowers and bitter chocolate on the nose and palate. This will be enjoyable on release and can age for a few years as well. This is another example of a top, Bordeaux value wine for those seeking uncomplicated drinking pleasure at a price anyone can afford. 90 Pts
2018-Clarke Listrac-Médoc – Medicinal cherries, spice and tobacco leaf aromas mesh with ripe, sweet, lush cherries, dusty tannins and black raspberries with olives in the medium-bodied finish. Chateau Clarke is one very few wines in the Medoc planted to 100% Merlot. 87 Pts
2018-Clos Manou Médoc – Dense and dark in color, the wine pops with roses, dark, brooding, red pit fruits, earth and spice. Richly textured, with layers of soft, ripe, lush, dark red fruits that resonate. There is good old-vine intensity that you can taste and feel here. The wine blends 52% Cabernet Sauvignon, 38% Merlot, 5% Petit Verdot and 5% Cabernet Franc. 91 Pts
2018-Delhomme Médoc – One of the few Left Bank wines produced from 100% Merlot, the wine sports a dark color. Round, juicy and ripe, with lush, sweet, black cherries, chocolate and soft-textures at its core, this is already a nice, fun wine to drink. 90 Pts
2018-d'Escurac Médoc – Medium-bodied, fruity, forward and already showing off its sweet red berries, freshness and chewy mid-palate with ease. This is a solid Left Bank value wine. 90 Pts
2018-Dutruch Grand Poujeaux Moulis en Médoc – Tobacco, licorice, smoke, currant and red cherry nuances are all over the nose and palate. Medium-bodied, smooth, charming and fresh, this is already delicious and it should get even better with a few years of age. 91 Pts
2018-Escot Médoc – Currants, tobacco, cedar, and spice show up easily on the nose and on the crisp, bright, fresh, medium-bodied palate. 88 Pts
2018-Fleur La Mothe Médoc – Deep garnet in color, the wine is a medium-bodied, round, spicy, peppery, robust shot of cassis and blackberry. There is good freshness and ample in the finish. Give it a year or two in the bottle and it could be even better. 89 Pts
2018-Fonreaud Listrac-Médoc – Spicy, with smoke, cedar, tobacco and red berries on the nose and palate. The wine is fresh, medium-bodied, chewy and leaves with a tangy, bright, red berry finish. 89 Pts
2018-Fourcas Hosten Listrac-Médoc – Medium-bodied, forward, light, fresh, soft and easy drinking, with a red berry and strawberry character that will be enjoyed best in its youth. 85 Pts
2018-Goulee Médoc – Medium/full-bodied, with notes of sweet cherries, licorice, cocoa and plums on the nose. Soft, round, forward and fruity, this is ready to go and will drink great for at least a decade. 90 Pts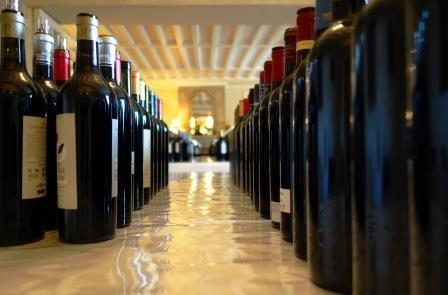 2018-La Branne Médoc – Espresso, toast, dark currants and spice create the nose on this medium-bodied, round, soft, fruity wine. The finish, with its black cherries and dark cocoa is a nice touch. Give it a few years for the wood to better integrate. 89 Pts
2018-La Cardonne Médoc – Soft textured, round, easy to like charmer with layers of sweet, ripe, elegant cherries and currants. Not the most complicated, or concentrated, but it does offer a lot of pleasure and bang for the buck. 90 Pts
2018-La Chandellière Médoc – There is a nice polish to all the sweet, ripe currants and tobacco on the palate. The wine finishes with loads of chewy, bright, sweet, lifted red berries, herbs and tobacco leaf. This is one of those great, value-priced, Left Bank wines savvy consumers should be all over. 91 Pts
2018-La Ribaud Médoc – Soft, fruit-filled, round charmer with an easy to like and easy to drink, black currant, cherry and herbal character. This is a really nice example of a value priced Medoc wine. 88 Pts
2018-Lalaudey Moulis en Médoc – Medium-bodied, forward, easy to drink, herb, olive, tobacco and cedar filled wine in a forward, lean, old-school, ready to drink, classic style. 85 Pts
2018-La-Tour-de-By Médoc – Easy drinking blast of sweet, ripe, juicy cassis, earth, herbs and spice on the nose and on your palate that is already fun to have in your glass. 89 Pts
2018-Les Grands Chenes Médoc – Round, lush, juicy, sweet and fresh, the ripe cherries come through loud and clear. The oak is close to fully integrated, now, you find smoke, flowers, earth and licorice with a touch of espresso to accompany all the ripe, sweet fruits. This is one of the finest vintages of Les Grands Chenes. The wine was made from 60% Merlot and 40% Cabernet Sauvignon. 91 Pts
2018-Les-Ormes-Sorbet Médoc – Medium-bodied, earthy wine with note of tobacco, cedar and currants that are already coming together nicely. Juicy with good concentration and a nice chewy mouthful of Cabernet Sauvignon from start to finish. This is the best vintage of Les Ormes Sorbet I recall tasting. 89 Pts
2018-Lestage Listrac-Médoc – Medium-bodied, fresh, chewy, cherry and currant filled wine with an herbal and olive accented nose and finish. 87 Pts
2018-Lestruelle Médoc – Medium-bodied, bright, red berry and olive filled wine for early consumption. 85 Pts
2018-Loudenne Médoc – Medium-bodied with a charred currant character. Chunky with olives and herbs on the endnote in the finish. 87 Pts
2018-Lousteauneuf Médoc – Fresh red currants, with a nice tannic structure and a mineral salty complexity along with leafy forest and cedar accents work to make this an outstanding example of a solid Bordeaux value play. 90 Pts
2018-Maison-Blanche Médoc – Sweet red and black fruits with a background hint of licorice and tobacco start the wine off. Soft, juicy and filled with ripe, sweet, fresh, red berries, you can enjoy this now, or give it few years of age. This is a solid Bordeaux value wine with great Medoc character deserving a look from savvy wine buyers not looking for big names. 91 Pts
2018-Malmaison Moulis en Médoc – Elegant, soft, refined, medium-bodied, value priced, Left Bank wine focusing on its silky, fresh, succulent cherry core of fruit. 88 Pts
2018-Maucaillou Moulis en Médoc – Round, creamy, sweet, red fruits with hints of cocoa, tobacco and earth, the wine offers freshness, fruit and charm at a value price. And it will drink well in its youth. 90 Pts
2018-Mauvesin Barton Moulis en Médoc – Better from the bottle than the barrel, the wine shows spice, fresh red fruits, cedar and tobacco leaf on the nose. Soft, juicy medium-bodied and energetic on the palate, the wine leaves you with a sweet, crisp jolt of red pit fruits. 90 Pts
2018-Mayne Lalande Listrac-Médoc – With a touch of salt to the medium-bodied, round, red fruits, the wine is bright with an herbal, olive accent in the finish. 88 Pts
2018-Moulin à Vent Moulis en Médoc – Reticent at first, a bit of coaxing is needed before you find the ripe, dark fruits, wet earth and cigar box notes. Medium-bodied, chewy and fresh, with round textures and a crisp, red pit fruit finish, you can enjoy this with just a year or two of aging. 90 Pts
2018-Noaillac Médoc – Black cherry, dark cocoa, licorice and a touch of cocoa get the wine going. On the palate the wine is sweet, fresh and juicy and blend of dark cocoa, currants and black cherry in the finish. This is a nice value wine from the Medoc. 91 Pts
2018-Patache dAux Médoc – With a nice floral quality on the nose, medium bodied wine moves to a core of black currants and thyme. Round, soft and fruity, with an olive tint in the finish, the wine is already easy to like and it should improve over the next few years. 89 Pts
2018-Poitevin Médoc – Medium-bodied, fresh, sweet, bright currant and red plum filled charmer with a light, bright, lifted finish. You can drink this shortly after release. 87 Pts
2018-Potensac Médoc – The ripe nose exudes fresh, juicy, sweet fruit, cedar, smoke, spice and tobacco notes. Full-bodied with ripe, soft, round tannins and finish filled with sweet, ripe, fresh red berries that linger with flavor. For Potensac this is forward, so you will be able to enjoy this within a few years. This is the finest wine made in the history of Pontensac. The wine was produced from blending 45% Merlot, 36% Cabernet Sauvignon, 18% Cabernet Franc and 1% Petit Verdot, 14.5 ABV 92 Pts
2018-Poujeaux Moulis en Médoc – Ripe black cherries and cassis, along with tobacco leaf and herbs create the nose. On the palate, the wine offers a full-body, layers of ripe, round, rich fruit. The finish is packed with more of those ripe, spicy, fresh, sweet, black and red berries with licorice, espresso and dark cocoa coming in at the end of the finish. 93 Pts
2018-Preuillac Médoc – A light touch of espresso, cigar box, earth, cedar, tobacco and red fruit pop up with ease. Soft, round and a bit creamy, this is a fine example of what can be made in a good vintage in the Medoc. Give it a few years to develop and it will be even better. 90 Pts
2018-Ramafort Médoc – Soft, forward, fresh, fruity, medium bodied, early drinker with loads of easy to like, refined, sweet, red currant charm. 89 Pts
2018-Roquegrave Médoc – Round, soft, forward, red berry filled wine that is best for early drinking. 85 Pts
2018-Rose Sainte-Croix Listrac-Médoc – Forward, soft and sweet, this medium-bodied, early drinking currant and dark cocoa filled charmer with a fruit-filled finish. 87 Pts
2018-Saransot-Dupre Listrac-Médoc – The complex set of aromatics filled with black raspberries, currants, gentle smoke and leafy tobacco is quite pleasing. On the palate the wine is round, generous and fruity with ample sweetness and lift. This is one of the better Cru Bourgeois Superieur from the vintage. 92 Pts
2018-Segue Longue Monnier Médoc – Medium-bodied, soft, fresh, forward lighter styled, fresh, leafy red berry and olive filled wine for early drinking consumption. 84 Pts
2018-Tour St Bonnet Médoc – Olives, tobacco leaf, currants and blackberry are on the nose and palate of this medium-bodied, soft, round, forward, fruity wine. This is a sold bargain priced Left Bank wine that can be enjoyed on release. 88 Pts
2018-Vieux Robin Médoc – Straight forward, medium-bodied, chunky, herbal, red berry wine with a peppery touch to the crisp red fruit in the finish. 83 Pts
2018-Villa Carmin Médoc – Medium-bodied, forward, fruity and easy to drink with a sweet cherry and herb personality. This value Bordeaux wine Forward, early-drinking, fruity, round, fresh wine with sells for a song. 85 Pts