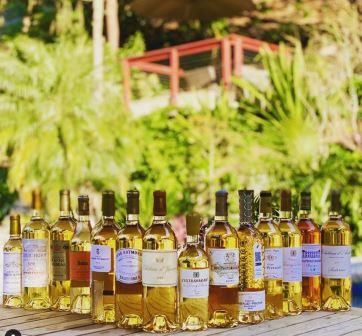 2018 Sauternes and Barsac are not at the same level of quality found in the red wines. The issues are are a lack of intensity and botrytis. Yields were low, so the quantity is also smaller than usual in this vintage as well. Do not get me wrong. There are some nice wines, but they are not riveting. Technical Director, Pierre Montegut of Chateau Suduiraut compares 2018 Sauternes with 2008 in style and intensity.
2018 Sauternes and Barsac, like other appellations experienced problems with mildew. But here you also had hail storms. Add to that the long, hot, sunny and dry summer with the late-arriving onset of botrytis, (which did not allow enough time for the noble rot to fully develop), and you do not have the recipe Sauternes needs for greatness.
Making the 2018 Sauternes growing season even more challenging was the need to harvest quickly, because the noble rot arrived so late in the year. Aline Baly, owner of Chateau Coutet recalls the 2018 vintage. "A very capricious forecast makes 2018 Sauternes a year that we will remember for its challenges, testing our expertise and our patience with a late on-set of Botrytis."
If you want to read tasting notes for other 2018 Bordeaux wines 2018 Complete Guide to All the Best Wines of the Vintage
The following 2018 sweet white Bordeaux wines were tasted in non-blind conditions in my home office in early 2021.
2018 – dArche – Light in color, the wine offers sweet, citrus and yellow tropical fruits with a touch of honey, but without much depth of flavor. This lighter-styled sweet wine would be best served as a chilled aperitif and served on the young side. It can also make a nice pairing with savory dishes during a meal. 87 Pts
2018 – Bastor Lamontagne – Vanilla bean, flowers, candied orange tropical fruits and spicy apricots are served up in this forward, lighter styled sweet wine that would be enjoyable as a chilled aperitif. 90 Pts
2018 – Cantegril – Honeyed pineapple with lemon curd and candied orange rind come through on the nose. A bit cloying on the palate but still, you find more than enough candied orange and pineapple on the palate and finish to make this quite nice. This makes a perfect aperitif or pair it with savory courses. 90 Pts
2018 – Clos Haut-Peyraguey Symphonie – Flowers, orange rind and sweet yellow citrus with a light touch of orange honey creates the core of this lighter styled, sweet wine. 87 Pts
2018 – Clos-Haut-Peyraguey – A lighter, forward styled, sweet wine focusing on its Christmas spice, honeyed tangerine, mango and pineapple fruits on the nose and palate. I really like the nutty spice character with the cinnamon and orange sickle notes in the finish. 92 Pts
2018 – Coutet – With a dark honey colored hue, right off the bat the wine opens with honey, roasted nuts, over ripe tangerine, spice and perfectly ripe pineapple. With all the sweetness you need, buttressed by refreshing acidity, the orange centered tropical fruit and honey coated finish is just great. This is so good now, it is impossible not to be loving it. But wait at least 5 years as it is going to be even better with age. 94 Pts
2018 – Doisy Daene – On the orange range of the fruit side, with tropical nuances, there is ample honey and vanilla as well as mango and papaya. Sweet, with a jolt of overripe pineapple and marmalade in the finish, you can enjoy this young, or age it for more nuances. 93 Pts
2018 – Doisy Daene L'Extravagant – Incredibly rich, sweet, lush and opulent, the wine is loaded candied lemon peel, pineapple, apricots, vanilla and orange rind all slathered in honey. This is the most intense, powerful sweet wine of the vintage. The finish really lingers. 96 Pts
2018 – Filhot – Medium-bodied with sweet, candied apricots, orange, pineapple and lemon meringue pie with a hint of mint leaf on the nose and on the honeyed, sweet, fruit and spice filled palate. Forward, fresh and with honeyed orange cream with a touch of all spice in the finish, this is good to go. 92 Pts
2018 – Haut-Bergeron – Candied citrus, honeyed tropical fruits and orange rind are found on the nose and in the savory, sweet, honeyed, herbal palate. 89 Pts
2018 – La Tour Blanche – With a strong floral character, the wine exudes candied orange rind, tangerine, lemon curd and pineapple on the nose and palate. Sweet, fresh and with macadamia nut honey riding on top of all the fruits, this is a solid sweet treat. 93 Pts
2018 – Lafaurie-Peyraguey – Honeyed yellow and orange tropical fruits with beautiful notes of vanilla, flowers, spice and candied citrus are just great. On the palate, all the sweet, fresh, honeyed tropical fruit with touches of white peach and marmalade in the endnote hits all the right spots if you are craving something sweet. 93 Pts
2018 – Lamothe Guignard – Oranges, apricots and mango with honey are served up in this forward, lighter, early drinking styled sweet wine. Here you find a nice note of key lime pie in the candied finish. This would pair well with savory courses or as a chilled aperitif. 91 Pts
2018 – Rabaud Promis – Sweet, honeyed Meyer lemon, candied orange rind, pineapple and floral notes. Medium bodied, round and sweet, with a nice spicy touch in the finish. You can enjoy this on release. Also, it should be noted that the special bottle used is absolutely gorgeous. 91 Pts
2018 – Raymond Lafon – Medium-bodied, sweet, pure, fresh, juicy pineapples, candied lemon, mango and roasted orange with a nice dollop of honey and apple jam slathered on top. This is a nice combination of sweetness meshed with lift. 92 Pts
2018 – Rayne Vigneau – Kicking off with strong floral notes followed by With a range of flowers and orange fruits, you also find vanilla bean and honey notes. A bit light, you can enjoy this young with savory dishes. 92 Pts
2018 – Sigalas Rabaud – Mandarin orange, sweet pineapple, lemon chiffon, honey, vanilla and mango notes are find on the nose and on the sweet, oily, creamy, orange centric palate. 92 Pts
2018 – Suau – White peach and honeyed tropical fruit work together to provide a medium-bodied, sweet, juicy, savory, tropical fruit filled wine with a touch of spice in the endnote. This is the third vintage made from 100% Semillon. 90 Pts
2018 – Suduiraut – From incredibly low yields of only 5 hectoliters per hectare, the wine offers a mélange of ripe, tropical fruits, mango, pineapple, apricot, licorice and orange rind along with vanilla, honey and floral aromas. The wine is medium-bodied, fresh and sweet, with tones of orange tropical fruits, nuts, vanilla and honey on the palate and in the sweet, albeit subtle finish. This is the only vintage of Suduiraut produced from 100% Semillon. 94 Pts
2018 – Suduiraut Lions de Suduiraut – Early drinking, lighter styled sweet wine focusing on sweet, honeyed pineapple, white peach, spice and orange notes. This can be enjoyed as a chilled aperitif, or with savory dishes and salty cheese quite easily. 90 Pts
2018 – Yquem – Elegant, creamy, fresh, sweet charmer. While this lacks the density and verve found in the very best vintages, there is more than enough ripe and overripe pineapple, vanilla, roasted apricot, mango, candied orange rind and honey to keep any taster busy. Luscious textured, rich and opulent, this will be delicious in its youth, and it also has the ability to age for decades. 97 Pts