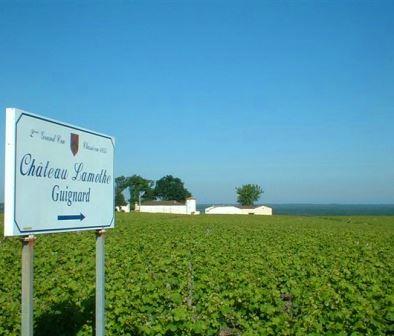 Learn everything about Chateau Lamothe Guignard Sauternes, Deuxiemes Crus with wine tasting notes, wine and food pairing tips, a history of the property, information on the vineyards, and winemaking. If you want to read about other important, Bordeaux Chateaux: Links to all Bordeaux Wine Producer Profiles
Chateau Lamothe Guignard History, Overview
Chateau Lamothe Guignard is located on one of the highest elevations in all of Sauternes. The view from the top of the vineyard looks over the entire, picturesque Ciron river valley. For that reason, until 1814, the property was known as Chateau Lamothe d'Assault.
The estate of Chateau Lamothe Guignard was acquired by Philippe Guignard and Jacques Guignard in 1981. Hence the name change. The Guignard family also owns vineyards in the Graves appellation.
If the name Chateau Lamothe Guignard sounds familiar, that is because it was once part of a much larger Lamothe estate. The massive Lamothe vineyard also gave birth to Chateau Lamothe Berget, Chateau Lamothe Despujols and of course, Chateau Lamothe Guignard.
Chateau Lamothe Guignard Vineyards, Terroir, Grapes, Winemaking
The 18 hectare Sauternes vineyard of Chateau Lamothe Guignard is planted to 90% Semillon, 5% Sauvignon Blanc and 5% Muscadelle.
The Sauternes vineyards of Lamothe Guignard are planted on two unique terroirs. On the plateau, there is more gravel in the soil. The remainder of their terroir is made of gravel and chalk soil. Both areas are planted to 90% Semillon, 5% Sauvignon Blanc and 5% Muscadelle.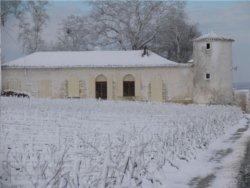 To produce the wine of Chateau Lamothe Guignard, vinification takes place in a combination of tanks and 25% new, French oak barrels. The wine is aged in 25% new, French oak for 12 to 15 months, depending on the character of the vintage.
The best vintages of Chateau Lamothe Guignard are: 2022, 2021, 2020, 2019, 2018, 2017, 2016, 2015, 2014, 2013, 2011, 2010, 2009, 2007, 2005 and 2001.
Chateau Lamothe Guignard produces close to 2,500 cases of sweet, white Bordeaux wine every year. There is a second wine, l'Ouest de Lamothe-Guignard.
When to Drink Chateau Lamothe Guignard, Anticipated Maturity, Decanting Time
Chateau Lamothe Guignard can be enjoyed on the young side with no decanting. In fact, it is delicious and quite a treat young, even on release! However, Chateau Lamothe Guignard is better with age and does not reach full maturity until it's between 9-20 years of age, or in some years, perhaps even longer in the best vintages!
With Chateau Lamothe Guignard, and frankly, all Sauternes, the temperature is more important than decanting.
Serving Chateau Lamothe Guignard with Wine and Food Pairings
Chateau Lamothe Guignard is best served at 14 degrees Celsius, 57 degrees Fahrenheit. The cool, almost cellar temperature gives the wine more freshness and lift. The wine will naturally warm in the glass, while it develops more aromatic complexities and fleshes out. Chateau Lamothe Guignard can be served with seafood dishes, especially shellfish, lobster, crab, and oysters on the half shell.
Foie gras is a perfect pairing with its natural sweet, salty and savory characteristics. Chateau Lamothe Guignard can also be paired with roasted chicken, veal, and pork dishes that are either spicy or prepared with a touch of sweetness. Spicy Asian cuisine, raw fish, like sushi or sashimi, and cheese, both hard and soft also make great pairings with Chateau Lamothe Guignard.
http://chateau-lamothe-guignard.fr
Château Lamothe Guignard Wine Tasting Notes
7 Vintages 15,738 Views Sort by Vintage-Rating
2018
Château Lamothe Guignard (Sauternes)

Oranges, apricots and mango with honey are served up in this forward, lighter, early drinking styled sweet wine. Here you find a nice note of key lime pie in the candied finish. This would pair well with savory courses or as a chilled aperitif.

951 Views

Tasted

Mar 9, 2021

2015
Château Lamothe Guignard (Sauternes)

Fresh, clean candied lemon, orange rind, honey and floral notes permeate the nose and palate. Not very dense, instead it is focused on its medium-bodied, lighter, honeyed citrus profile. This will work well as a chilled aperitif or with spicy and savory foods.

1,982 Views

Tasted

Aug 13, 2020

2013
Château Lamothe Guignard (Sauternes)

Yellow and orange candied citrus with a top note of honeyed apricot, vanilla and orange rind are on the nose and bright, sweet palate. You can drink this on the young side for its forward, fresh approach. It will also pair well with spicy foods.

2,613 Views

Tasted

Dec 9, 2019

2011
Château Lamothe Guignard (Sauternes)

Lighter-styled, sweet wine with a strong lean to the orange, mango, and marmalade side of the style range that is already fully developed. This will be at its best over the next few years. Drink from 2022-2027.

1,483 Views

Tasted

Nov 21, 2022

2010
Château Lamothe Guignard (Sauternes)

Bright, honeyed citrus fruits, with orange and marmalade accents, medium bodied, ending with a fresh, sweet, taut, lemon custard, honey and pineapple finish.

3,193 Views

Tasted

Dec 10, 2014

2009
Château Lamothe Guignard (Sauternes)

This is a nice, well priced, value Sauternes with ample pineapple, apricot, vanilla and honey, lush, round textures and a sweet, ripe and overripe, tropical fruit filled finish.

2,218 Views

Tasted

Aug 12, 2013

2007
Château Lamothe Guignard (Sauternes)

Light in color, with scents of pineapple, orange, nuts and honey, this medium bodied sauternes features one of the highest percentages of Muscadelle in the appellation. The wine finshes with spicy, sweet, ripe tropical fruit. This lighter syle of sweet Bordeaux wine will pair well with food and should be enjoyed young.

3,298 Views

Tasted

Feb 21, 2012