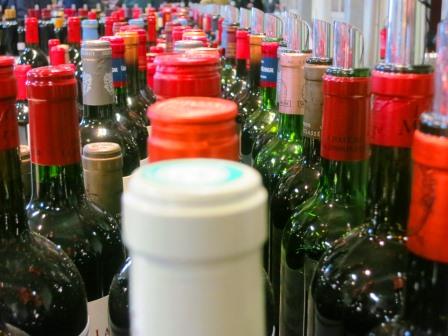 I'm putting this list together as I head across the pond. With all the news and chatter about the 2016 Bordeaux vintage, I admit, I am truly excited to taste the wines. With the Euro continuing to slip against several, major currencies, with luck, 2016 Bordeaux might be a vintage to buy. You can read a detailed report on the 2016 Bordeaux growing season, harvest and vintage.
The buzz that has been circulating has tasters and consumers interested and that means that for the second year a row, people are flocking to Bordeaux to taste 2016 En Primeur. While there are close to 7,500 different chateaux making wine today in Bordeaux, the estates that will probably sell a good portion of their harvest as futures dwindles each year. In part, it is the pricing, as well as a general sense of ennui from consumers who have grown tired of losing money buying wine 2 years before delivery.
2016 Bordeaux could have the potential to once again gain market share for numerous growers, provided they listen to the market, instead of their neighbors, when it comes to setting prices.
At least as I see it, many wines are fairly priced in the marketplace, when compared to other wine regions competing for money in the same class, but the problem comes in when consumers are asked to pay a long, 24 months prior to delivery. The chateaux run a business, and they should charge what they the market will bear. But prices end users are willing to pay, when compared to the cost of available stock in the marketplace today, coupled with the ease of access to current and historic price information has amputated much of the excitement or the appearance of the necessity to purchase even the great vintages as futures.
If Bordeaux wants to breathe life into buying En Primeur, especially for more than 20-30 brands, the wines must be priced at levels reasonable consumers are truly willing to pay.
Time to jump off the soapbox and taste the 2016 Bordeaux vintage. With so many wines, and countless places to taste, the official week of tastings is going to be one crazy week! If you are going to be in Bordeaux to taste the 2016 vintage, these are some of the better, more comprehensive tastings you can attend. If you know of other En Primeur tastings, please post or contact me with the information so I can add it to this page.
The official start of the annual En Primeur Bordeaux tasting is slated for Monday, April 3. However, if you're in Bordeaux as early as Saturday, April 1, you should be able to keep quite busy tasting wine. The majority of the 2016 Bordeaux tasting opportunities will terminate Thursday, April 6. But for those remaining in the region, there will a few tastings open early in the day, Friday, April 7. There are tastings all over Bordeaux with various negociants, appellations, trade groups, consultants and organizations.
It is also important to note that several chateaux only allow you taste at the property in every appellation. For example, you can only taste the First Growths at the chateau. The list of estates that insist you taste at the property continues expanding. While I understand the logic behind it, and admittedly, it does benefit the chateau, it's not a good trend for the Bordeaux region at large because most people can only stay 3-4 days, making it more difficult to taste as many wines as they would like. Also, when planning your schedule, while there are numerous tastings that do not require a set appointment, to avoid being turned away, you might want to make sure of their requirements to avoid any issues, especially for a vintage that is attracting more people than usual. In other words, it helps to make an appointment in advance.
If tasting all that 2016 Bordeaux makes you hungry and you're wondering about where to go for dinner in Bordeaux, in the vineyards or the city, our Guide to Where to Eat in Bordeaux should tell you what you need to know with some great tips for dining in Bordeaux ranging from small cafes to high-end, Michelin starred restaurants. If you have not booked where you're staying yet, Where to Stay in Bordeaux is filled with tips on hotels in all price ranges in the city and in the vineyards.
What are my plans for tasting 2016 Bordeaux? As a guess, I'll taste over 600 different wines at all price points from the majority of the appellations over 2 weeks. This includes wines from all the top chateaux as well as hundreds of small value Bordeaux wines and petits chateau. We will publish detailed tasting notes and ratings on the wines by late April.
While I did not list negociant tastings that take place in Bordeaux in this article, most of the top negociants provide great tastings for the wine they sell. Also, almost every chateau hosts tastings of their wine from Monday through Thursday. While most chateau hold open tastings that do not require appointments, that is not always the case. If you plan on going to some of the top estates, you will be much better served if you book your visit in advance.
The guide for where to taste 2016 Bordeaux wines En Primeur.
Union des Grands Crus de Bordeaux 2016 Bordeaux En Primeur tastings UNder the direction of Olivier Bernard of Domaine de Chevalier, the UGC is trying the find the right formula to satisfy the needs of close to 140 chateaux, and countless journalists and wine buyers. For the 2015 tastings, the UGC held the trade tasting at the Stade de Bordeaux. Results were mixed, so this, they are trying once again to make this work. The UGC 2016 Bordeaux tastings are being held in the negociant district, on the waterfront better known as the Quai des Chartrons at Hangar 14. The tastings will be divided over days.
Monday, April 3 has 2 tastings, a large overview of the entire 2016 Bordeaux vintage, with the majority the chateau in the UGC showing their wine, and there is also a 2016 Sauternes and Barsac tasting. This is at Hangar 14.
Tuesday, 4 April Pessac Leognan, Graves, Saint Emilion and Pomerol..
Wednesday, April 5 features Pauillac, St. Estephe, Margaux, Medoc and Haut Medoc in Hangar 14
During the week, the UGC will also hold daily tasting for the public and the professional trade.
Chateau Carbonnieux, Graves et Pessac Leognan
Chateau Cantemerle, Medoc, Haut Medoc, Moulis and Listrac
Chateau Batailley Pauillac and St. Estephe
Chateau La Couspaude St. Emilion Grand Cru
Chateau Talbot St. Julien
Chateau Kirwan – Margaux
Chateau La Pointe Pomerol
Chateau La Lagune Sauternes and Barsac
Association Grand Cru Classe Classified wines of St. Emilion Tuesday April 5 – Thursday, April 7 Chateau Villemaurine St. Emilion.
Tasting Saint-Emilion – Pomerol – Fronsac Starting Tuesday, April 4 to Thursday, April 6. Contact www.vins-saint-emilion.com/
Cercle Rive Droite tasting has moved to Chateau Montlambert. Tastings are being in St. Emilion, Saturday, April 1. For more information, [email protected]
Pessac-Leognan 2016 Bordeaux En Primeur tastings April 3 to April 6. Contact and registration: [email protected]
Ulysse Cazabonne Sunday, April 2 – Friday, April 7, located next to Rauzan-Segla in Margaux. Contact – www.ulysse-cazabonne.com
THE GRAND VINTEX TASTING Sunday, April 2 only at the Restaurant "Le Carré du Lac" – Camping de Bordeaux – Boulevard Jacques Chaban-Delmas For registration or information, please send Email to: [email protected]
Dourthe is hosting their annual trade only tasting at Chateau Belgrave, Monday, April 3 to Friday April 7, 9am – 6pm. For more information, [email protected]
Stephane Derenoncourt 2016 Bordeaux La Grappe En Primeur From Monday, April 3 to Thursday, April 6, 10am to 7pm at La Gaffeliere in St. Emilion Contact www.derenoncourtconsultants.com
Michel Rolland Team 2016 Bordeaux En Primeur tastings Wines produced by the team of Michel and Dany Rolland and the Michel and Dany Rolland owned wines, better known as The Rolland Collection will also be available at Chateau La Dominique in Saint Emilion, Monday, April 3 to Thursday, April 6. [email protected]
Hubert-de-Bouard 2016 Bordeaux En Primeur tastings There is a trade only tasting, beginning Saturday, April 1. But the official start date is Monday, April 3 to Friday, April 7 at Chateau Angelus in St. Emilion. However, Friday is a short day as they will only be open a few a few hours Friday morning. The tasting features Chateau Angelus, Chateau Bellevue and Chateau La Fleur de Bourd, and the continually increasing portfolio of wines consulted by Hubert de Bouard consulted wines. For additional information, [email protected]
Jean-Luc-Thunevin 2015 Bordeaux En Primeur tastings The wines of Jean Luc Thunevin and Murielle Andraud has and the other family owned wines along with wines from all various estates they work with as consultants and as negociants. The comprehensive tasting has not only wines from Bordeaux, but really good wines from the Rhone Valley, especially Chateauneuf du Pape, Spain and other wine regions as well. The tastings are from Monday April 3 to Thursday, April 6 from 9am to 6pm, 3-7 rue Vergnaud Saint Emilion. Contact: [email protected]
The wines of Stephan von Neipperg and Silvo Denz Starting Monday, April 3 through Thursday, April 6 at Chateau Canon La Gaffeliere St. Emilion.
Wines of ETS Moueix are available for tasting by appointment only at their offices in Libourne, Monday, April 3 to Friday, April 7.
Lettres de Chateaux Sunday, April 2 at Chateau Guiraud you can taste the wines of Canon La Gaffeliere, Domaine de Chevalier and Chateau Guiraud. By invitation only.
Bordeaux Oxygene April 4 and April 5 at Clos des Jacobins in Saint Emilion.
Nicolas Thienpont consulted wines are being shown at Pavie Macquin in Saint Emilion, April 3 to April 6.
AXA Group All the wines in the AXA group will be available April 3 to Friday, April 7 at Pichon Baron in Pauillac.
Vignobles Garcin Monday, April 3 to Friday April 7 from 9.00 a.m. to 6 p.m at Chateau Barde Haut in St. Emilion. The entire lineup of wines from St. Emilion, Pomerol, Pessac Leognan, Cotes de Castillon and Mendoza Argentina will be available.
The wines of Bernard Magrez 2016 Bordeaux En Primeur tastings April 3 through Thursday, April at Chateau Chateau Pape Clement 9 am to 7 pm. Registration reserved for professionals www.bernard-magrez.com
Jonathan Maltus The wines of Jonathan Maltus will be will be available April 3 through Thursday, April 6 at Chateau Teyssier in St Emilion by appointment. The wines of Jonathan Maltus will also be available in St. Emilion at Le Pavillon Villemaurine the same dates. For information, Contact Myriam Carrre [email protected]
Lalande de Pomerol tasting Monday, April 3 to Thursday, April 6 at the Grand Hotel de Bordeaux. Contact Nathalie Diffi: [email protected]
Tasting Bordeaux and Bordeaux Superieur Futures Starting April 3 – Contact Planet Bordeaux.
Tasting Cotes de Bourg Starting Monday, April 4 Contact Didier Gontier [email protected]
Wine tasting Union Graves More than 50 different producers of red and white wine will be presenting their wine. Contact [email protected]
Sweet white Bordeaux Wine Tasting Contact Maitena Idiart [email protected]
Listrac Medoc 2015 Contact: [email protected]
Crus Bourgeois tasting Alliance From Monday, April 3 to Thursday, April 6. Contact: [email protected]
Wines of CA Grand Crus From Monday April 3 to Friday April 7, between 9.30am and 6.00pm daily at Chateau Meyney in St. Estephe.
Biturica Vignerons du Sud-Medoc Sunday, April 2 at Chateau Cambon La Pelouse in Haut Medoc.
Pomerol Seduction Tuesday, April 4 – April 5, 10am-6pm at Chateau Nenin in Pomerol.
Vinaria Thierry Jouan Bernard Crebassa At Chateau Pindefleurs in St. Emilion. Tuesday, April 5 – April 7. For more information, Contact: Right Bank Wines At Chateau Siaurac in Lalande de Pomerol, the wines of the Artemis Group and Goldschmidt Family, Saturday, April 2 and Sunday, April 3.
Hors Classement Tuesday April 5 to Thursday April 7 at Chateau Du Glana in Saint Julien.
Jeffrey Davies Signature Selections The wines of Jeffrey Davies Signature Selections can be tasted in Bordeaux by appointment.
Stephane Toutoundji, Thomas Duclos, Julien Belle, Oenoteam Consultants From now to April 15 at their lab in Libourne by appointment.
Jean Philippe Janoueix Wines are available to taste at Chateau La Confession from April 3 to April 7.
Cru Artisians du Medoc April 3 – April 6 at Chateau des Graviers
There are also numerous chateau that are not available at various public tastings. Please contact the chateaux you wish to taste to make sure you know where the wines are available.
Please, if you know of other 2016 Bordeaux En Primeur wine tastings, please either add them to the comments box, or send me an Email and I will add the information to the post.