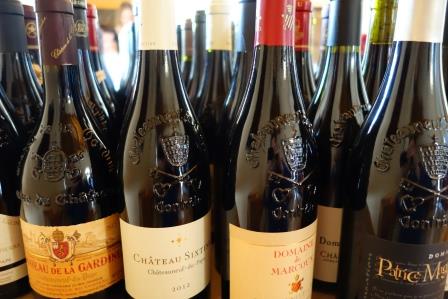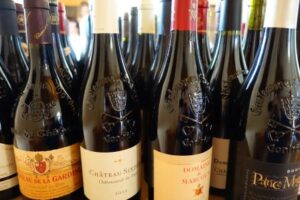 2012 Chateauneuf is a good, but not great vintage. The style of wines however, is a turn on. They are not massive, super ripe, highly alcoholic or intensely tannic, concentrated wines. Instead, they are lush, elegant charmers with good color that will drink well young. There is a freshness and purity in the fruit that really comes through. You can enjoy them while you wait for the 2010's to come around.
The first wine of any tasting gets you going. To some, it gets the juices flowing like the smell of napalm in the morning. This is a good thing because unbeknownst to me, ona warm day in June, I was faced tasting close to 200 Chateauneuf du Pape wines in one day. If that sounds like a lot of wine to you, trust me on this, it looks even scarier when the corks are popped and that army of bottles stands in front of you. By 9:30 in the morning, after my one and only espresso kicked in, I dug in and started tasting wine.
I have close to 75 more 2012 Chateauneuf du Pape wines to report on. Those are the high end, cuvee especiale wines. I should have that published in a few days. There are some very nice wines in that report and a few outstanding wines that 2012 Chateauneuf du Pape wines that transcend the vintage.
2012 DOMAINE LA BARROCHE SIGNATURE – Peppery kirsch, with good freshness, juicy fruits and a supple textured, spicy, black raspberry finish. From a blend of 65% Grenache, 16% Mourvedre, 13% Syrah, 5% Cinsault and 1% other varietals, the wine reached 15% alcohol. 92 Pts
2012 BARVILLE BROTTE – Soft and sweet, there is a spicy quality to the lush black raspberry filled wine that keeps you focused. 90 Pts
2012 Bastide Saint Dominique – Soft, elegant and approachable, there is good freshness to the sweet, ripe cherry core. From a blend of 80% Grenache, 10% Syrah, 5% Mourvedre and 5% Cinsault, the wine reached 14.5% alcohol. 90 Pts
2012 Beaucastel – Earthy with dark red berries, luscious textures and dense, ripe, fresh fruits. There is a blast of cocoa with juicy, spicy black and red fruits on the back end. This has length, character and the ability to age. 94 Pts
2012 DOMAINE DE BEAURENARD – Blending 70% Grenache, 10% Syrah, 10% Mourvedre, 5% Counoise and 5% Cinsault, the wine reached 14.5% alcohol. With a complex nose of herbs, fennel and earthy red fruits, the wine is soft, plush and round, ending with a sweet, juicy, red fruit. 91 Pts
2012 MAISON LOUIS BERNARD – Candied licorice and cherry tones, medium bodied and ending with a short, but sweet kirsch note. 87 Pts
2012 DOMAINE BERTHET-CAPEAU ELIXIR DES PAPES – From 100% Grenache, the wine is supple, soft and filled with black raspberries and garrigue. The peppery kirsch tasted in the end note is a treat. 90 Pts
2012 DOMAINE Berthet Rayne – With the essence of wild strawberries, this finesse styled wine is packed with freshness and pure cherries in the finish. 89 Pts
2012 DOMAINE DE LA BISCARELLE – Spicy red fruits, with a peppery core, this forward styled zippy, wine will drink best young. 88 Pts
2012 BLAGDEN & GONNET LE BOIS POINTU – Spicy red berries with licorice overtones, dried cherry and dusty tannins are found in this wine. 86 Pts
2012 DOMAINE LA BOUTINIERE – Finesse styled, with bright red fruits that finishes with light, sweet cherries. 87 Pts
2012 DOMAINE BOIS DE BOURSAN – 5 spice, incense and black cherries led off the wine. There is good freshness and intensity in the mid palate and finish. Give it a few years to develop more complexity. From a blend of 70% Grenache, 10% Syrah, 10% Mourvedre and 10% Counoise, the wine reached 14.5 alcohol. 91 Pts
2012 DOMAINE DU BOIS DE SAINT JEAN – This 100% Grenache wine is medium bodied and finesse styled with an open, easy going red berry character. 90 Pts
2012 DOMAINE DU BOSQUET DES PAPES TRADITION -Soft, silky and smooth, the red fruits are sweet, polished and filled with spice with freshness. This is quite nice. From a blend of 75% Grenache, 12% Syrah, 10% Mourvedre and 3% Cinsault. 92 Pts
2012 MAISON BOUACHON LA TIARE DU PAPE – Medium bodied with a strong spicy quality, there is a touch of dryness in the red berry finish. 87 Pts
2012 DOMAINE LES CAILLOUX – 5 spice and red fruits are quickly followed by a medium bodied, elegantly styled, sweet, ripe, spicy, kirsch filled wine. The wine was produced from a blend of 65% Grenache, 20% Mourvedre, 12% Syrah and 3% Cinsault. 90 Pts
2012 Caves Saint Pierre – With good color, the wine serves up roasted, sweet, spicy fruits with a supple, maraschino cherry core. 88 Pts
2012 LA CELESTIERE TRADITION – Lush and lusty, sweet dark red fruits and spice are all over the place. From a blend of Blending 55% Grenache, 15% Syrah, 15% Mourvedre and 15% Cinsault. 89 Pts
2102 DOMAINE 3 Celliers ALCHIMIE – Sweet, dark red berries, silky textures and a refined, medium bodied, polished, fresh, cherry finish. 88 Pts
2012 CELLIER DES PRINCES – Medium bodied, soft and forward, the wine serves up a clean, sweet, strawberry and balsamic finish. 84 Pts
2012 CELLIER DES PRINCES DOMAINE LE MOURRE – From 100% Grenache, the wine reached 15% alcohol and delivers sweet, red fruits, spice box and peppery notes. There is good freshness to the fruit that shows from start to finish. 88 Pts
2012 Cellier des Princes LES ESCONDUDES – This medium bodied wine of pleasure delivers ample kirsch tones, hints of cocoa powder, spice and fresh herbs. 87 Pts
2012 Chante Cigale – Spicy red fruits and silky tannins finish with a dose of sweet juicy, polished, peppery fruits. The wine was made from a blend of 65% Grenache, 20% Syrah, 10% Mourvedre and 5% Cinsault, the wine reached 14.5% alcohol. 90 Pts
2012 LES CLEFS D'OR – Smooth, with sweet ripe cherries and herbs, the wine is easy to like and drink, especially if you like it on the young side. 88 Pts
2012 Clos de Brusquieres – From a blend of 60% Grenache, 15% Syrah, 15% Mourvedre and 10% Cinsault, the wine reached 15% alcohol. With fresh herbs, jam and sweet cherry scents the wine continued on that path all the way through to its soft kirsch finish. 90 pts
2012 Clos L'Oratoire des Papes – Truffle and fennel notes complicate the red fruits on the nose, before the soft, medium bodied, sweet cherry finish kicks in. The wine was produced from a blend of 80% Grenache, 8% Syrah, 7% Mourvedre and 5% Cinsault, and reached 15% alcohol. 90 Pts
2012 CLOS DES PAPES – Violets, red cherries, raspberry and spicy plum scents make up the perfume. On the palate, the wine is silky, lively and fresh, expressing sweetness in the fruit, round, voluptuous textures and purity of flavor. This is one of the best wines of the vintage. 96 Pts
2012 CLOS DU CAILLOU – Soft, ripe, sweet, spicy fruits taste good and feel even better on your palate from his Grenache dominated wine that was blended with 2% Mourvedre and reached 15% alcohol. 91 Pts
2012 CLOS DU MONT OLIVET – Black cherry liqueur in character, with peppery notes and garrigue, the wine is soft, lush and forward. From a blend 80% Grenache, 10% Syrah, 6% Mourvedre and 3% Cinsault, the wine reached 15% alcohol. 90 Pts
2012 CLOS SAINT MICHEL – Silky and lush, with loads of sweet ripe, earthy, chocolate covered cherries, the wine is plush and polished. The wine was made from a blend of 40% Grenache, 30% Mourvedre and 30% Syrah. 91 Pts
2012 DOMAINE DE LA CHARBONNIERE – From a blend of 70% Grenache, 15% Mourvedre and 15% Syrah, the wine serves a bushel of sweet ripe cherries in every sip, coupled with fresh herbs, licorice and pliant textures. 92 Pts
2012 DOMAINE COMTE DE LAUZE – Medium bodied, with good sweetness in its spicy fruits, drink this forward, round, fresh wine young. The wine was produced from a blend of 80% Grenache and 20% Syrah. 90 Pts
2012 DOMAINE LA CONSONNIERE – Fresh, sweet and lively, the wine retains its core of sweet red fruit all the way through. Produced from a blend of 90% Grenache and 10% Mourvedre the wine reached 15% alcohol. 90 Pts
2012 DOMAINE LA CRAU DES PAPES – Medium bodied, mineral driven, smooth and soft, there is good freshness in the red fruit filled finish. 88 Pts
2012 DOMAINE DE CRISTIA – With smoke, licorice and kirsch on the nose, the wine is plush, polished and ends with a rich, round, ripe wave of spicy black cherries. From a blend of 70% Grenache, 15% Mourvedre and 15% Syrah. 91 Pts
2012 DOMAINE DUSEIGNEUR CATARINA – Polished, juicy black cherries and rich plums with the right amount of sweetness, earth and spice. 89 Pts
2012 DOMAINE LA FAGOTIERE – Sweet, fresh raspberries in a lighter styled wine will show best in its youth. 85 Pts
2012 Eddie Feraud – Medium bodied, with a light fresh, cherry character, this spicy wine will drink well on release. 88 Pts
2012 DOMAINE ISABEL FERRANDO COLOMBIS – A mélange of fresh, sweet, ripe red berries and spices are at the front of this wine. It's sweet, spicy, fresh character leaves a good impression on the nose and an even better one on palate. A few years will add more to this 100% Grenache wine. 92 Pts
2012 Fines Roches – Medium bodied, easy drinking, open styled wine with fresh kirsch on the nose and palate. 87 Pts
2012 Font de Michel – Medium bodied, with garrigue and fresh, sweet red berries in the nose, the wine is soft, textured, the fruit is ripe and as it's already open, it's delicious today. From 70% Grenache and assorted varieties, the wine reached 15% alcohol with no sensation of heat. 91 Pts
2012 CHATEAU DE LA FONT DU LOUP – Peppery kirsch sensations coupled with silky textures and a spicy, black raspberry finish. From a blend of 65% Grenache, 15% Mourvedre, 15% Syrah and 5% Cinsault. The wine reached 15% alcohol. 91 Pts
2012 DOMAINE PUY ROLLAND FONT DU LOUP VIEILLES VIGNES – Strong garrigue notes mesh with red and black raspberry tones. This medium bodied, peppery wine is already serving up the goods in this 100% Grenache wine. 90 Pts
2012 CHATEAU FORTIA TRADITION -Earthy in its essence, everything is correct and in the right place, but there is a lack of excitement. 88 Pts
2012 DOMAINE LUCIEN GABRIEL BARROT LA SOUSTO – Jammy black raspberries are fond in this medium bodied wine that ends with an elegant, soft, red plum note. 87 Pts
2012 CHATEAU DE LA GARDINE – Fresh, dark, ripe berries, herbs and spice are present all the way through until the kirsch finish kicks in. Blending 65% Grenache, 15% Mourvedre, 114% Syrah and 1% Muscardine produced a wine that reached 14.5% alcohol. 88 Pts
2012 Gigonan CLOS DU ROI – Ripe black raspberries with an array of spices, freshness with a peppery finish in an early drinking style. 88 Pts
2012 DOMAINE GIRAUD PEMICES – Fresh cut herbs and crushed red fruits combine to produce a sweet, silky, kirsch filled wine of pure, forward drinking pleasure. 90 Pts
2012 DOMAINE GIRAUD TRADITION – From a Syrah heavy blend of 60% Grenache, 35% Syrah and 5% Mourvedre, there is a mineral component that comes through, along with fennel, fresh herb, plum and cherry tones. On the palate, there is a mouthful of sweet, fleshy, fresh red fruits and spice that lingers. 92 Pts
2012 DOMAINE DU GRAND TINEL – Blending 80% Grenache with 20% Syrah produced a rich, ripe and easy to drink wine with an essence of fresh, peppery, dark, lush, red berries. 91 Pts
2012 Grandes Serres LA COUR DES PAPES – Minty, with a touch of oak, this is a polished, supple textured, modern styled wine. 89 Pts
2012 LES GRANDES SERRES LE DOMAINE -Licorice, black cherry and oak on the nose, this richly textured wine serves up a juicy layer of ripe, black cherry jam in the finish. 89 Pts
2012 Husson LES SAUMADES – Medium bodied, with a floral character in the red fruit, the wine is open and accessible. 87 Pts
2012 Albin Jacumin – A juicy blast of sweet, ripe, fresh, peppery red fruit delivers from start to finish. From a blend 75% Grenache, 15% Syrah, 5% Mourvedre and 5% Cinsault, the wine reached 14.5% alcohol. 88 Pts
2012 DOMAINE DE LA JANASSE – Using 70% Grenache, 15% Mourvedre and 15% Syrah in the blend, the nose pops with garrigue, mint and kirsch. On the palate, lush, layers of fresh, sweet, ripe cherries and spice carry through. 92 Pts
2012 CHATEAU JAS DE BRESSY – Silky, smooth and polished, the fruit with its ripe, spicy qualities really stand out in this Grenache dominated blend. 91 Pts
2012 Juliette Avril – This is a medium bodied, simple, fresh red berry charmer that will be best in its youth. 87 Pts
2012 DOMAINE L'ABBE DINE – Spicy, peppery and filled with ripe red fruits, the soft, forward wine ends with a cherry griotte finish. 89 Pts
2012 DOMAINE LAFOND ROC-EPINE – More interesting on the palate than the nose with its fleshy, ripe, concentrated, jammy black cherries and spice personality. 90 Pts
2012 MAISON LAVAU -Sweet and spicy berries, medium bodied and open, the wine finishes with a blend of fresh herbs and peppery cherries. From a blend 50% Grenache, 40% Syrah and 10% Mourvedre, the wine reached 14% alcohol. 87 Pts
2012 DOMAINE PATRICE MAGNI SENSATION – Medium bodied, soft and floral in nature, this early drinking wine serves up an elegant, fresh, raspberry and spice finish. 88 Pts
2012 DOMAINE DE MARCOUX – Spicy red cherries, with a purity of fruit, elegant textures and a sweet, fresh, pure kirsch finish that is already showing their stuff. 91 Pts
2012 Mas Saint Louis – Medium bodied, sweet and spicy, this elegantly styled, Grenache dominated wine will drink best young. 88 Pts
2012 Mathieu – The earthy, animalistic nose pairs well with the round, spicy, dark fruits and jam offered in this wine. Produced from 80% Grenache and assorted other varietals, the wine reached 15% alcohol. 89 Pts
2012 CHATEAU MAUCOIL – A round blast of ripe, spicy black cherry and spice come out of this blend of Blending 60% Grenache, 20% Syrah, 10% Mourvedre and 10% Cinsault, the wine reached 14.5% alcohol. 90 Pts
2012 MAISON GABRIEL MEFFRE SAINT THEODORIC – Silky, soft ripe berries, good freshness and sweet, red fruits are tasted all the way through. 88 Pts
2012 MAISON GABRIEL MEFFRE LAURUS – Luscious in character, with ripe, sweet, spicy berries and jam, the ripe fruits really show well. 90 Pts
2012 DOMAINE DE LA MILLIERE VIEILLES VIGNES – Blending 60% Grenache, 10% Syrah, 10% Mourvedre, 10% Cinsault and 10% Counoise, the wine reached 14.5% alcohol A blast of garrigue and kirsch, with soft, sweet, ripe, juicy red fruits that stick with you. 90 Pts
2012 CHATEAU MONGIN – Oak, along with dark, sweet ripe berries and round textures are in evidence, but the oak does not fade into the fruit. 87 Pts
2012 DOMAINE DE LA MORDOREE LA REINE DE BOIS – Deep in color, with just a hint of oak along with the flowery, spicy, jammy, smoky, black raspberry filled perfume. Sweet, sexy, lush and plush, the fruit is ripe, sensuous and fresh. This will probably rise in score as the wine ages and the oak integrates. Made from a blend of 80% Grenache, 20% Mourvedre, 5% Vaccarese, 2.5% Counoise and 2.5% Syrah, the wine reached 15% alcohol with no touch of heat. 94 Pts
2012 CHATEAU MONT THABOR – Sweet cherry and garrigue filled the air. The wine offers ample richness, intensity and lush textures and ample freshness. Produced from a blend of 80% Grenache, 10% Syrah, 5% Mourvedre and 5% Cinsault, the wine reached 15.9% alcohol. 91 Pts
2012 CHATEAU LA NERTHE – Vanilla and black cherry are found in this ripe, plush, modern, creamy style of Chateauneuf du Pape. From a unique blend of 44% Grenache, 27% Syrah. 14% Mourvedre and 5% Cinsault, the wine reached 14% alcohol. 89 Pts
2012 L'Or de Line – Licorice, fresh herbs, cherry and earth make up the aromas. In the mouth the wine is fresh, open, round and lively. 89 Pts
2012 MAISON OGIER SAFRES – Earthy, with sweet, ripe fruits, round textures, spice and A forward style, this is already nice to taste. 89 Pts
2012 MAISON OGIER ECLATS CALCAIRES – Garrigue and fresh red fruit aromas open to a polished, soft, fresh, red cherry dominated wine that can be enjoyed young. 88 Pts
2012 MAISON OGIER GRES ROUGES – Earthy, rustic, ripe red fruits and spice, with a sweet core of fresh red berries in the center. Even though it's young, it's already delicious. 90 Pts
2012 Ogier Caves de PapesGALETS ROULES – Floral notes with sweet cherries, medium body and a crowd pleasing easy drinking style. 88 Pts
2012 DOMAINE DU PERE CABOCHE – Medium bodied, soft, elegant and refined, this is a Burgundian styled Southern Rhone without the acidity. 88 Pts
2012 Peres de L'EgliseLE CALICE DE SAINT PIERRE – Sweet, fresh cherries and floral notes make their way into the elegant, polished, medium bodied, cocoa and raspberry finish. 87 Pts
2012 DOMAINE PONTIFICAL – From a blend of 80% Grenache, 5% Syrah, 5% Mourvedre, 5% Cinsault and 5% Counoise, the wine reached 14.5% alcohol. With a nose of Kirsch, fennel and ripe, sweet raspberries, the wine moved quickly to its smooth, open, forward, red berry finish. 88 Pts
2012 Porte Rouge – Medium bodied, soft and accessible, the sweet red fruits are easy to find in this Grenache dominated blend. 87 Pts
2012 MAISON RAVOIRE ET FILS OLIVIER RAVOIRE – Oak, licorice and waxy red fruits combine to produce a soft, easy drinking, medium bodied wine with a kirsch finish. 88 Pts
2012 DOMAINE REVEIROLLES – The peppery black cherry essence, coupled with its forward personality makes this an easy to like, early drinking wine. 86 Pts
2012 CHATEAU DE RUTH CUVEE EMILE – From 100% Grenache, this is all about its finesse style. The wine serves up fresh kirsch and herbs and be best enjoyed in its youth. 88 Pts
2012 Saint Paul – Jammy black cherries and licorice form the basis of the sweet, fresh, polished wine. Produced from a blend of 75%Grenache, 20% Syrah and 5% Cinsault, the wine reached 15% alcohol. 89 Pts
2012 DOMAINE SAINT PREFERT CUVEE CLASSIQUE – Licorice, kirsch, flowers and peppery aromas get you ready for the soft, sweet, ripe, multiple layers of fresh, black raspberries in the mid palate and finish. 90 Pts
2012 Saint Roch – Sweet and silky, this medium bodied wine delivers freshness in its cherry and plum finish. 40% Produced from 40% Grenache and equal parts Mourvedre and Syrah, the wine reached 14.5% alcohol. 88 Pts
2012 Saumades – Medium bodied, fresh and sweet, the round, ripe cherry and cocoa center really stand out. 89 Pts
2012 DOMAINE LES SEMELLES DE VENT – From 100% Mourvedre, the wine is spicy, peppery, medium bodied and offers a nice black raspberry essence. 87 Pts
2012 DOMAINE SERGUIER – The earthy berries, medium body and elegant, fresh, kirsch are already open and showing their charms. Drink this on the young side. 87 Pts
2012 CHATEAU SIXTINE – Supple, polished and spicy, with a blast of fresh, jammy black raspberry, pepper and herbs in the finish. 40% Grenache, 35% Mourvedre and 25% Syrah make up the unique blend. 91 Pts
2012 CHATEAU SIXTINE MANUS DEI – Easy drinking, medium bodied with black peppery fruits. 87 Pts
2012 DOMAINE DE LA SOLITUDE – Garrigue and kirsch pop with little effort. This is made even better with the supple textured, peppery cherries in the finish. 89 Pts
2012 Cuvee des Sommelieres – Red fruits with a distinctive floral accent, the wine is medium bodied, soft and elegant, finishing with sweet, spicy kirsch notes. 89 Pts
2012 Tour Saint Michel CUVEE DES DEUX SOEURS – With 90% Grenache and 10% Mourvedre, the medium bodied, silky wine has a core of ripe, spicy cherries and spice that is already showing well. 90 Pts
2012 DOMAINE PIERRE USSEGLIO & FILS – Using 80% Grenache, 10% Syrah, 5% Mourvedre and 5% Cinsault produced a wine with an array of flowers, licorice, red berry and spicy scents. The wine delivers a wave of fresh cherries and fennel in the finish. 92 pts
2012 DOMAINE RAYMOND USSEGLIO – Licorice, dark cherry and spice notes open to a forward, black raspberry dominated wine with soft tannins and juicy black plums in the finish. With a blend of 80% Grenache, 10% Mourvedre, 5% Syrah, 3% Cinsault and 2% Counoise, the wine reached 14.8% This will be better with a few years of age. 90 Pts
2012 CUVEE DU VATICAN – Spicy and fresh, the kirsch flavors show off its essence of Grenache. 88 Pts
2012 CHATEAU DE VAUDIEU – Medium bodied and elegantly styled, there is a good sweetness and fresh character to the polished, peppery, ripe red fruits on the palate. Made from a blend of 75% Grenache and 15% Syrah, the wine reached 15% alcohol. 91 Pts
2012 PIERRE VIDAL- This modern Chateauneuf du Pape serves up a medium bodied, oak and raspberry center with a soft, polished finish. 87 Pts
2012 VIEILLE JULIENNE LES TROIS SOURCES – Sweet plum, spice and garrigue open to a medium/full bodied, fresh, spicy, black cherry filled wine and fresh, open, fruit filled personality that is already fun to drink and should get even better with age. 93 Pts
2012 VIEILLE JULIENNE LES HAUTS LIEUX – Juicy plum, black cherry and kirsch, with supple textures and sweet, spicy, round black cherry notes really take off in the open, plush textured, spicy finish. 94 pts
2012 DOMAINE DU VIEUX DONJON – Roses, kirsch and spice create the nose. The wine is fresh, supple and invigorating with its peppery, kirsch and spicy blackberry essence. The wine was made from a blend of 75% Grenache, 10% Mourvedre, 10% Syrah and 5% Cinsault. 92 pts
2012 LES VINS DE VIENNE LES OTELIEES -Easy drinking, soft, styled wine with a focus on ripe plum and sweet black cherry fruit. 87 Pts