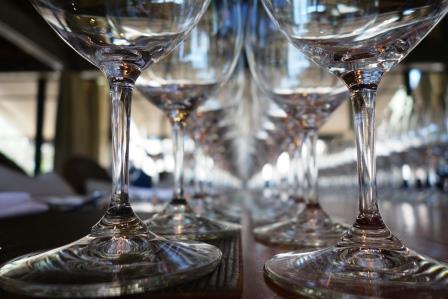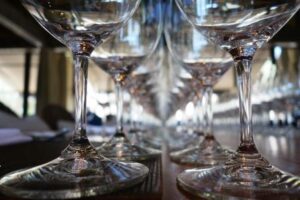 The 2014 Chateauneuf du Pape harvest is in full bloom. Growers are picking all over the Southern Rhone Valley. The conditions for picking have been good so far. It's been sunny and warm until recently in Chateauneuf du Pape. Some rain started to fall which turned into a minor rain storm as gorwoers were close to finishing their harvest. It looks like temperatures are going to drop a bit over the next few days. On the positive side, one thing we know for certain is growers will have a lot more wine with the 2014 vintage. 2014 could be the biggest cropfor the region since 2007. After 2013, this is welcome news. But, as the old saying goes, it's not over until it's over. And it ain't over yet! In other words, it's far too soon to discuss the 2014 vintage as the grapes have not even fully arrived at the cellars. While it's too early to know much about 2014, it's not too early to talk about the recently bottled 2012 Chateauenuf du Pape wines I tasted in late June.
Drinking wine is fun. Tasting wine is almost as much fun. But trust me on this, tasting a single vintage in one day is a lot of work. It's taxing on your palate and concentration. Often, it's the surprises encountered during the tasting that keep you awake and focused becuase those wines really stand out. I really like the style of 2012 Chateauneuf du Pape wines with thier freshness, clean, silky fruits and forward personality. Some domaines were not as successful as I had hoped. Others made strong wines and a vew producers turned out sublilme efforts.
With the 2012 Chateauneuf du Pape wines, alcohol levels for most producers were in the 14%-14.5% range instead of 15% and over. For tasters that did not enjoy the richer, more alcoholic wines from 2009 and 2010, this is vintage they should enjoy. The wines are easy to drink and even easier to like. While they lack the concentration of years lke 2010, they are fresh, pure and charming. My previous report from last week looked at the regular 2012 Chateauneuf du Pape wines. There were definitely some wines that merited buying. In this report, there are also wines well worth taking a look at. At their best, there are estates that made 2012 Chateauneuf du Pape wines that transcend the vintage. In fact, a few wines really stood out and made an impression, due to their supple, open style and character. As you will see, there are definitely some 2012 Chateauneuf du Pape wines worth taking a serious look at.
The following 2012 Chateauneuf du Pape wines were tasted in June during a visit to the region.
2012 3 Cellier Eternelle – A hint of wood, kirsch and spice are coupled with silky textures and the essence of fresh, sweet cherries. The wine was produced from 100% old vine Grenache. 92 Pts
2012 3 Cellier Cuvee Privilege – Produced from a blend of 54% Syrah, 29% Grenache, 11% Counoise, 4% Mourvedre and 2% Vaccarese, the wine reached 15% alcohol. Medium bodied, silky and smooth, the freshness in the red berries and soft textures carries through. 90 Pts
2012 Barroche Pure – Kirsch, kirsch and more kirsch are tasted in the waves of sweet, ripe, luscious, silky layers of fruit. From almost 100% old vine Grenache. 93 Pts
2012 Bastide Saint Dominique Secrets de Pignan – Plush, polished and pure, this spicy, fresh wine leaves a sweet, impression of concentrated kirsch on the palate. Made from 100% old vine Grenache. 93 Pts
2012 Bastide Saint Dominique Les Hesperides – Finesse driven in style, showing sweet fruits with a solid depth of flavor in the red berry dominated wine. Produced from a 50/50 blend of Mourvedre and Grenache. 91 Pts
2012 Beaurenard Boisrenard – Burnt wood, spice, incense and kirsch notes create the nose. The soft, round fruits and crisp, smoky berries on the palate make it even better. While the blend is mostly Grenache, the wine features various amounts of all 13 varietals. 93 Pts
2012 Berthet Rayne Cuvee Fut de Chene – Medium bodied, fresh filled with spicy black raspberries, the wine was produced from 65% Grenache, 30% Mourvedre and 5% Counoise. 89 Pts
2012 Berthet Rayne Cadiac – With a mineral driven core of fruit, the wine is fresh, expansive and rich in texture. 90 Pts
2012 Bois de Boursan Cuvee des Felix – Floral, black cherry and licorice notes, silky textures and a blast of ripe, sweet, fresh, polished red fruits shine through the round textured finish. From a blend of 65% Grenache, 25% Mourvedre, 5% Cinsault and 5% Syrah. 91 Pts
2012 Bosquet des Papes Chante le Merle Vieilles Vignes – Sensuous layers of sweet red fruits, spice and kirsch lay the groundwork for the elegant, ripe, spicy, round finish. Using 85% Grenache, 10% Syrah and 5% Mourvedre, the wine reached 14.5% alcohol. 95 Pts
2012 Bosquet des Papes A la Gloire de mon Grand-Pere – With a good depth of plum and kirsch on the mid palate, the spicy finish follows through. From mostly old vine Grenache, 2% Cinsault was added in for good measure. 93 pts
2012 Brotte Secrets de Barville – Medium bodied, peppery plums and garrigue deliver a fresh presence on the palate. 90 Pts
2012 Boutiniere Grande Reserve – Sweet, round, long, spicy and fresh, this bright red berry wine will be best to drink young. 88 Pts
2012 Caves Saint Pierre La Tiare Imperiale – Soft, silky, sweet and fresh, the peppery dark cherries stand out. 92 Pts
2012 La Celestiere La Croze – Fresh and fleshy, with a sweetness to the dark, peppery red fruits, the wine lingers and refreshes. Made from 100% old vine Grenache, the wine reached 15% alcohol. 90 Pts
2012 La Celestiere Les Domaines – Polished and peppery, the fruit is deep, sweet, ripe, spicy and rich. The wine was produced from a blend of 70% Grenache and 30% Mourvedre. 91 Pts
2012 Cellier des Princes Les Hauts des Coteaux – Medium bodied and easy to like, the wine was made in a soft, early drinking, open, finesse style. This is the top wine from the Chateauneuf du Pape cooperative. 88 pts
2012 Clos du Caillou Les Safres – Lots of ripe, round textured, peppery, black raspberries, kirsch and spice are found from start to finish in this rich wine. With Grenache making up most of the blend, 2% Cinsault, 2% Syrah and 1% were added for good measure. 91 Pts
2012 Clos du Caillou Les Quartz – With freshness in its character, the ripe, red and juicy black fruits stand out with their spicy qualities and polished textures. There is no sensation of heat in the 15.5% alcohol finish. The wine was produced from a blend of 85% Grenache and 15% Syrah. 93 Pts
2012 Clos du Caillou Reserve – There is a purity of fruit that leaves a long impression here. This is made even better with the freshness, length and silky tannins that push along the spice and ripe berry driven finish. This will be fun to age. The blend of 60% old vine Grenache and 40% Mourvedre reached 16% alcohol with no sensation of heat. 95 Pts
2012 Clos du Mont Olivet Cuvee du Papet – Charming in every way, the fruit has a polished texture and freshness that never seems to dissipate or lose its fresh, lush qualities. Produced from a blend of 75% old vine Grenache, 15% Mourvedre and 10% Syrah, the wine reached 15% alcohol. 93 Pts
2012 Clos Saint Michel Cuvee Reservee – Soft red fruits, medium bodied, forward and approachable. 89 pts
2012 Charbonniere Mourre des Perdrix – Soft, elegant and refined kirsch and spicy finish came from a blend of 70% Grenache, 15% Mourvedre and 15% Syrah. 92 Pts
2012 Charbonniere Les Hautes Brusquieres – Good color, with silky tannins, freshness, and ripe, zippy, pepper black and blue fruits are already open and ready for business. From 60% Grenache 39% Syrah and 1% Counoise. 92 pts
2012 Charbonniere Vieilles Vignes – Supple, soft fruits with intensity and depth, sweet, ripe tannins and a spicy, lush character in finish. From a blend of 90% Grenache and 10% Mourvedre, the wine reached 15.5% alcohol. 93 pts
2012 Cristia Vieilles Vignes – Notes of vanilla bean, juicy ripe berries and fennel create the perfume. The silky tannins and a long, spicy, black and blue fruit ending make this a treat. From 100% old vine Grenache, the wine reached 14% alcohol. 93 Pts
2012 Duseigneur Joanna – Medium bodied, polished and smooth, the wine focuses on its fresh, spicy, kirsch and fresh herb personality. 90 Pts
2012 Eddie Feraud Cuvee Les Raisins Bleus – Supple, clean and fresh, there is a sweetness in the ripe kirsch and licorice finish that stands out. With 95% old vine Grenache and the remainder of the wine coming from different varieties, the wine reached 15% alcohol. 91 Pts
2012 Fontavin Terre d'Ancetres – Medium bodied, spicy red fruits and good freshness are found in this forward styled wine that was produced from a blend of 85% Grenache and 15% Syrah. 90 Pts
2012 Fontavin David et Goliath – There is a blast of oak in the nose that is made better by the lusty, plush, supple fruits on the palate that was produced from a blend of 95% Grenache and 5% Syrah. 91 Pts
2012 Font de Michel Etienne Gonnet – Using 70% Grenache, 15% Mourvedre and 15% Syrah produced a wine with sweet red fruits, garrigue, pepper and spice, turning this into a silky, forward, charmer. 92 Pts
2012 Font de Michelle Elegance de Jeanne – From 100% old vine Grenache, the wine is balanced and elegant, with soft, layers of ripe red berries that shine through. This is very sweet and refined. 92 Pts
2012 Fortia Cuvee du Baron – Ripe kirsch, freshenss and spice continue into the peppery, cherry finish. From a blend of 44% Grenache, 44% Syrah and 12% Mourvedre. 90 Pts
2012 Gardine Cuvee des Generations – Polished and supple, with soft tannins and a rich, velvety, cherry and kirsch center. Using an almost equal blend of Grenache, Mourvedre and Syrah, the wine reached 15% alcohol. 92 Pts
2012 Gigonan Cardinalice – Spicy, candied red berries, polished silky textures and freshness leaves a solid impression. Made from a blend of 90% Grenache, 5% Mourvedre and 5% Syrah, the wine reached 14.5% alcohol. 91 Pts
2012 Grand Tinel Alexis Establet – Refined, polished and silky, with freshness in its kirsch core that really stands out in the finish. Made from 100% old vine Grenache. 92 Pts
2012 Giraud Les Grenaches de Pierre – Silky, clean and pure, the fresh peppery kirsch notes of the 100% old vine Grenache expand in the lush textured, pure finish. One of the stars of the vintage. 95 Pts
2012 Janasse Chaupin – Silky, polished and fresh, the fruit is sweet, ripe and supple in texture, with a vibrant quality. Made from 100% old vine Grenache, the wine reached 15.5% alcohol. 94 Pts
2012 Janasse Vieilles Vignes – With a serious depth of flavor, the wine is rich, long and deep, finishing with layers of ripe, sensuous, peppery, sweet black raspberries and pepper. This is a very good wine in any vintage, but it's a real superstar in 2012! From a blend of 80% Grenache, 10% Mourvedre and 10% Syrah, the wine reached 15.5% alcohol. 96 Pts
2012 Juliette AvrilCuvee Maxence – Medium bodied and all about its sweet, fresh, kirsch quality and silky textures in the forward finish. Produced from 100% Grenache. 90 Pts
2012 L'Or de Line Cuvee Paule Courtil – Silky, lush and long, there is sweetness and depth of flavor in the ripe, spicy fruit filled core. From a blend of 60% Grenache and 40% Mourvedre, the wine reached 15% alcohol. 91 Pts
2012 Marcoux Vieilles Vignes – Purity and elegance are seldom paired together as well as this. The fruit is ripe, sweet and fresh, with the right amount of spicy tannins in the mix. This stellar wine was produced from 100% old vine Grenache which reached 15% alcohol. 96 Pts
2012 Mas Saint Louis Louis Arpents des Contrebandiers – With a good depth of color, the spicy, kirsch filled wine is complicated by licorice, pepper and plum in the finish. 91 Pts
2012 Le Mas Saint Louis Grande Reserve – Spicy, clean and fresh, this modern styled cuvee delivers a blast of juicy freshness in the finish. 90 Pts
2012 Mathieu Vin di Felibre – Crisp, peppery and fresh, the deep kirsch core is really singing. 91 Pts
2012 Mathieu Marquis Anselme – Supple and polished, the wine is rich, soft and velvety in texture. With 85% old vine Grenache, 8% Mourvedre and the remainder of the wine coming from a field blend of different grape varieties, the wine reached 15% alcohol. 90 Pts
2012 Maucoil Esprit de Maucoil – Silky, fleshy, sweet and long, there is a nice quality to the melange of kirsch and dark red berries in the wine. 91 Pts
2012 La Nerthe Cuvee des Cadettes – Oaky, supple and rich, there is good sweetness, flesh and charm in the modern styled, lush, polished, smoky fruit. This should be better once the oak integrates. Produced from a blend of 39% Syrah, 37% Grenache and 22% Mourvedre. 91 Pts
2012 Ogier Heritages – Plush and polished, there is a wealth of sweet, ripe berries and jam in every sip and swallow. Blending 80% Grenache, 10% Syrah, 5% Mourvedre and 5% Cinsualt, the wine reached 15% alcohol. 91 Pts
2012 Panisse Revelation – Smoky, truffle scents, polished, rich textures and a deep, ripe, dark, sweet, fruit filled finish. From 60% Grenache and 40% Syrah, the wine reached 14% alcohol. 90 Pts
2012 Pere Caboche Elisabeth Chambellan – Sweet strawberry jam, plum and silky cherries make their presence known and remain from start to finish in this medium bodied charmer. 90 Pts
2012 Peres de L'Eglise Heritage – Fleshy fresh, clean and packed with sweet, juicy kirsch, licorice and herbs. 91 Pts
2012 Ronciere Flor de Ronce – Fresh, soft and polished, dark, red fruits and silky tannins make this a very nice wine. 90 Pts
2012 Saint Paul Cuvee Jumille – Medium bodied, forward, finesse in style with good freshness and textures in its delicate, cherry finish. 89 Pts
2012 Saint Prefert Reserve Auguste Favier – Juicy kirsch notes, silky textures and sweet, spicy fruits in the finish. Produced from a blend of 70% Grenache, 20% Syrah and 10% Cinsualt, the wine reached 15% alcohol. 93 Pts
2012 Serguier Revelation – Spicy, sweet, black raspberries are concentrated and deliver a ripe and fresh sensation. 91 Pts
2012 Solitude Barberini – Long, fresh, spicy, ripe and sensuous, with depth a flavor on the long finish. Slightly modern in style, but I liked it. 90 Pts
2012 Tour Saint Michel Cuvee du Lion – Black cherry liqueur, rich textures and a wave of licorice coated, black cherries in the sweet, finish. Made from a blend of 75% Grenache, 20% Syrah and 5% Mourvedre, the wine reached 15% alcohol. 92 Pts
2012 La Tour Saint Michel Feminessance – Deep in color, with a touch of wood and ripe dark berries, creates a fleshy, sexy, plush, concentrated wine that lingers in the finish. From 60% Grenache and 40% Syrah, the wine reached 15.5% alcohol with no touch of heat. 93 Pts
2012 Pierre Usseglio Cuvee Mon Aieul – Sweet, peppery goodness, ripe, juicy plum, kirsch and licorice notes stay with you. This 100% old vine Grenache wine is just going to get better and possibly even better from here. 94 Pts
2012 Raymond Usseglio Cuvee Imperiale – Peppery, dark red berries, kirsch and ripe, black and blue fruits on the palate deliver their luscious goods. The wine was produced from 90% Grenache and assorted other allowable grape varietals. 93 Pts
2012 Raymond Usseglio La Part des Anges – Deep in color to match the depth of flavor, this rich, concentrated wine is packed with supple, ripe and super ripe black cherries. From a Mourvedre dominated blend, the remaining 30% is made from 20% Grenache and 10% Syrah. 94 Pts
2012 Vaudieu Val de Dieu – Elegant, polished, sweet and fresh, the wine serves up a richly textured, spicy, peppery, kirsch finish. Blending 75% Grenache, 15% Mourvedre and 10% Syrah produced a wine that reached 15% alcohol. 91 Pts
2012 Vaudieu Amiral G – Earthy in character, the wine is all about the sweet, soft and spicy, fresh core of fruit and licorice. With lusty textures and layers of sweet fruits, the wine is long, clean and fresh. This 100% old vine Grenache based wine will be better with a few years of age. 93 Pts
2012 Vieille Julienne Reserve – Deep in color, with a floral, earthy, dark red berry perfume. Elegant in style, with a long, fresh, ripe finish that brings its plumy notes all the way through from start to finish. This is a compelling example of Chateauneuf du Pape that has to be a contender for the wine of the vintage. 97 Pts