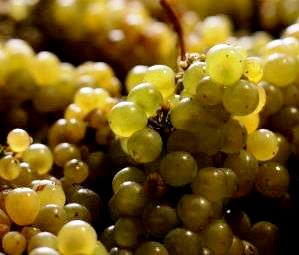 The 2014 Bordeaux vintage is off and running. The 2014 Bordeaux harvest officially started September 1 for the white Bordeaux wine grapes in Pessac Leognan, Entre Deux Mers and in other appellations as well. The start for the 2014 Bordeaux harvest for the red wine grapes is still three to four 4 weeks away. As of today, the white wine harvest in Bordeaux is in full bloom.
The 2014 Bordeaux harvest for the dry white Bordeaux wines got off to a slow start last week. As we mentioned, a few growers began working on their young Sauvignon Blanc vines September 1. September 2 saw Chateau d'Yquem begin harvesting the grapes for their dry, white Bordeaux wine, Y. The next morning, September 3, some more vintners in Pessac Leognan began their harvest as well with their young, Sauvignon Blanc vines. In fact, Chateau Haut Brion as usual was the first to start picking that day, literally, as they prefer to harvest before daybreak. Semillon, which takes more time to ripen is harvested later.
One of the first estates to start picking in Pessac Leognan is often Chateau Carbonnieux. They started harvesting September 3. Benoit Trocard is harvesting his second vintage of Chardonnay at Clos Dubreuil. Yes, you heard that right, Chardonnay.
At Valandraud in St. Emilion Murielle Andraud and Jean Luc Thunevin are picking their Sauvignon Gris.
Chateau Pape Clement just started picking their Sauvignon Blanc vines planted close to the Chateau. They are now working on their Sauvignon Gris as well. Jeanne Lacombe of Pape Clement does not think they will harvest the Muscadelle or Semillon until next week. When asked about the quality of the grapes, Jeanne Lacombe stated, "The analyses shows a good balance between sugar, acidity and pH in the berries. We should have great whites this year. That is if the weather stays with us and we can avoid rot. However, we aare a little concerned by the high temperatures and warm nights forecast for this week."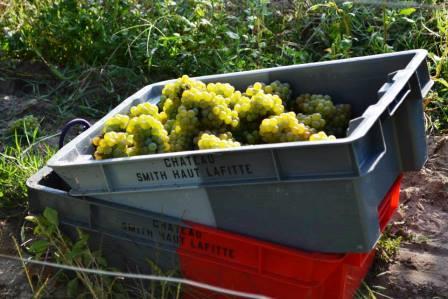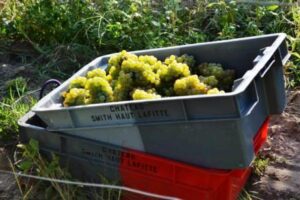 At Smith Haut Lafitte, September 4 saw some harvesting of their young Sauvignon Blanc vines. But they do not expect to really delve into picking until today or September 10. According to Fabien Teitgen, "The potential of our white Bordeaux wine at Smith Haut Lafitte in 2014 has a good base with a good level of acidity. But we need to find more maturity and more concentration."
Not everyone is harvesting their white Bordeaux wine grapes yet. Helene Garcin at Haut Bergey is still waiting for her fruit to develop more ripeness. Helene Garcin said, "At Haut Bergey we have not started picking yet. We are waiting until later in the week." When asked about the current September conditions, Helene Garcin was enthusiastic, "It's looking good with all the sun and warmth so far for our 2014 Bordeaux crop."
At Malartic Lagraviere, the white wine harvest is continuing at a good pace. They should be picking their Semillon about September 22. Jean Jacques Bonnie is happy with the crop and thinks this has a lot to do with the conditions in September. "Regarding the quality, it is showing very well. Indeed we had a quite cool month of August which preserved very well the aromas. Then the exceptional month of September made the ripeness come very fast getting to it with very good acidity. The wines should be wide and at the same time tensed by the acidity: the perfect balance!"
In Barsac, at Chateau Coutet, Aline Baly expects to start picking the fruit for her dry white wine, Opalie de Chateau Coutet by the later part of next week. We spoke with Aline Baly about the conditions and potential for botrytis for her sweet wines. "Our Semillon is of a magificient golden colors. Since yesterday the morning mist is present. This should encourage and accelerate the presence of botrytis. We estimate a start of our harvest at the end of September."
Sadly, the recent loss of three legendary figures in Bordeaux this year, Philippine de Rothschild, Jacques Boissenot, and earlier this year, Christine Valette of Troplong Mondot weighed heavily on many vintners minds
On the positive side, yields for 2014 Bordeaux are going to much higher than what we saw last year. This will please growers who suffered from some of the lowest yields in 40 years with the 2013 Bordeaux vintage and are looking forward to having more wine to sell. Conditions have been mixed for the 2014 Bordeaux vintage due to intermittent periods of cool temperatures and a bit too much rain. Even though conditions have varied, and its still too early to know how things are going to finally turn out for the 2014 Bordeaux vintage, 2014 Bordeaux is going to be a much better year than the more than difficult 2013 vintage experienced last year.
However, once September rolled in, a blast of warm sunny weather is exactly what the doctor ordered. This is certainly going to help the grapes gain greater levels of maturity. But it's always important to keep in mind that the growing season and quality of the red wine grapes and the white wine grapes in Bordeaux in any given year are often completely different.
That being said, the warm jolt of heat and sunshine that started September 1 continued for the week before cooler temperatures and more rain fell. Still, that week is going to make a difference in the quality of the fruit. The weather forcast shows warm conditions for the week.
Based on currrent conditions, many growers in the Cabernet Sauvignon dominated Left Bank expect to begin picking by the end of September. Pomerol should start harvesting close to that date as well. Depending on the producer, in St. Emilion growers could begin harvesting by the start of October.