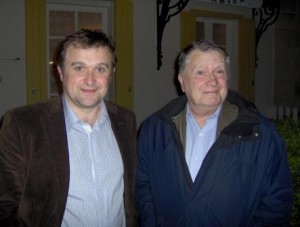 We have sad news to report. The famous Bordeaux consultant Jacques Boissenot passed away at 75 years of age. While Jacques Boissenot, his son Eric, and their company Laboratoire Oenologique Boissenot were the busiest people I know of in the Medoc, if not in all of Bordeaux, they also were extremely discreet about their efforts. It was their custom and preference to let the wines and the chateau receive all the press and adulation.
The best way to explain Jacques Boissenot is to say that he was the most famous consultant in Bordeaux you never heard of. And that is just the way Jacques Boissenot liked it.
However, a quick look at some of the chateaux they worked with tells you all you need to know. Chateau Latour, Chateau Lafite Rothschild, Chateau Mouton Rothschild and Chateau Margaux to start with. If you are counting, that is 4 of the 5 First Growth chateaux!
Some of the other estates they worked with are: Chateau Rauzan Segla, Chateau Leoville Las Cases, Chateau Cos d'Estournel, Chateau Beychevelle, Chateau Branaire Ducru, Chateau Pichon Baron, Chateau Grand Puy Lacoste, Chateau Ducru Beaucaillou, Chateau Palmer, Chateau Lagrange, Chateau d'issan. Chateau Giscours, Chateau Gruaud Larose, Chateau Pichon Lalande and numerous other estates totaling more than 150 different chateau in all! As you can see, it's clearly easy to get the picture of their massive footprint in Bordeaux. Yet, as I mentioned, they remained in the background by choice, not chance.
Jacques Boissenot was born in Beirut, September 10, 1938. While he did not set out to be an Oenologist, he was exposed to wine as a teenager. Their family owned 2 hectares of vines in the Haut-Medoc appellation, close to where they lived. The grapes were used to produce Les Vimieres, a simple wine most people have never heard of. Like many in Bordeaux at the time, gravitiated to the wine business and he studied under the legendary professor Émile Peynaud, graduating in 1972 from the Bordeaux University. Jacques Boissenot gained notice in the Left Bank when he began working with Chateau Lafite Rothschild in the early 1980's.
The quiet offices of the Laboratoire Oenologique Boissenot remain located in Lamarque, in the northern area of the Medoc. By the 1990's, Jacques Boissenot expanded his business and his team when he brought in his son Eric Boissenot to work with him. Together, they built a consultancy that provides services to over 150 of the top chateaux in the Medoc. Part of that is due to their easy going attitude. They never insist, they prefer to suggest. Also, Jacques Boissenot and his son Eric are available to consult on any aspect of the wine making process, from helping with vines in the growing season, harvesting, vinifiction and blending.
While Jacques Boissenot was not a fan of some modern wine making techniques for example; whole berry fermentation or micro oxygenation, for select clients, Laboratoire Oenologique Boissenot remains enthusiastic about co-inoculation. Co-inoculation is when alcoholic fermentation and malolactic fermentation take place at the same time. Jacques Boissenot preferred to work with the Cabernet Sauvignon based wines of the Meodc, for their freshness, vivacity, tannins and character. Sadly, Jacques Boissenot passed away just days before the 2014 Bordeaux in the Left Bank was set to begin.