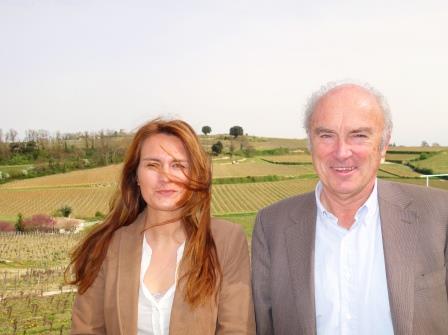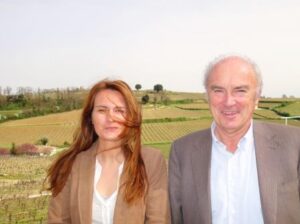 In a bit of breaking Bordeaux news, shortly before the 2014 Bordeaux harvest is set to hit full speed, it was announced that Alain Vautheir, best known as the owner of Chateau Ausone, along with Pauline Vauthier added to their portfolio of St. Emilion wineries with the addition of Chateau La Clotte. Alain Vauthier and his family already owns Chateau Fonbel, Chateau Moulin St. Georges, Simard and Haut Simard, as well as Ausone.
Chateau La Clotte is an insider's wine. It is purchased by many wine makers in the Right Bank, due to its stylish character and fair prices. However, Chateau La Clotte is a family affair, which is managed by three women, Dominique Tord, Odile Plantade and Nelly Moulierac. Even though all three women were the face of Chateau La Clotte, Nelly Moulierac was usually the most visibile of the three cousins. Nelly Moulierac has retained a minor portion of the estate as an investment and will continue to live in the house on the property, which has one of the best views in St. Emilion.
Together, the three women, who are also cousins, have been the face of Chateau La Clotte for several years. The Grand Cru Classe vineyard of Chateau La Clotte has been discreetly offered for sale for several months. While many vintners were interested in purchasing La Clotte, the owners were not willing to sell to just the highest bidder. Part of their desire was for the Chateau La Clotte brand to continue. However, at this much money per hectare, one cannot help but think that at some point, the vines would eventually be used to produce Chapelle de Ausone, which sells for close to 300% more money than Chateau La Clotte trades for today.
The property has been in the hands of the same family for more than 100 years. The Grailly family, the owners of Chateau La Clotte are also are related to the Becot family, who own Chateau Beau-Sejour Becot. The Grailly family and the Vauther family have always enjoyed a good relationship. Nelly Moulierac and Alain Vauthier are good friends and the vineyards of Chateau Ausone and Chateau La Clotte are in some sections, next to each other. So as you can see, this is a perfect fit.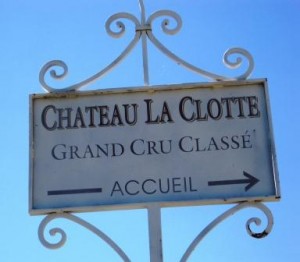 The official price was not made public. Rumors placed the transaction of this treasured estate at close to 4 Million Euros per hectare. Chateau La Clotte is situated just outside the picturesque village of St. Emilion, not far from Chateau Ausone. In fact, you can see Ausone from the cliffs where Chateau La Clotte is located. The caves of Chateau La Clotte are similar to those of Chateau Ausone, as they are also cut out of deep layers of limestone.
Chateau La Clotte is a small vineyard with 4 hectares of vines in a clay and limestone terroir with good elevation. The vineyard overlooks several famous neighbors including; Chateau Pavie Macquin, Chateau Troplong Mondot and Valandraud. In fact, part of the vineyard borders Ausone as I mentioned earlier. The vineyard of Chateau La Clotte is planted to 80% Merlot, 15% Cabernet Franc and 5% Cabernet Sauvignon. Buying Chateau La Clotte is a perfect fit for Alain Vautheir and Pauline.