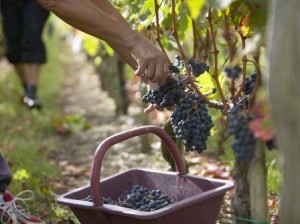 2009 Bordeaux Harvest Time
An Early Look At Potentially A Great Vintage: 2009 Bordeaux Harvest

The 2009 Bordeaux harvest was exciting. There is a constant buzz in the air. Everything is in continuous motion and commotion. Pickers, tractors, trailers, tasters, machines, and people work non-stop. There are moments during harvest when everything moves in perfect rhythm, like a tambourine feverishly banging away at a Sunday Church revival. At other times, things seem to border on utter chaos. The tension and levels of focus needed to make everything work is amazing. Growers work all year, hoping and praying this frantic, short time period delivers grapes as close to perfectly ripe as possible.
Harvesting begins when trained workers with cut fingers, tattered clothes, weathered leather like faces, and trained surgical hands strive to pick only the ripest fruit, leaving imperfect berries behind. There's a myriad of ways growers determine the exact moment to harvest. Some utilize computers and machines. Others taste the grapes, seeds, and stems, while a few rely on their trusty dog, convinced the grapes are fully ripe when their pet begins eating them off the vines.
Tasting freshly picked grapes from the vines is one of life's great pleasures for a wine lover. I did a lot of this during the 2009 Bordeaux harvest. The first tip I learned when tasting grapes was, front row is great for concerts, but the first vines are not the best to sample.  Walk into the vineyards a few rows. Vines located deep in the vineyard offer the most flavorful nuances. After biting into a grape with sweet juice exploding from the fruit, you need to chew the seeds and skins. Ripe skins deliver sweet sensations and offer textures similar to al dente pasta. Next, examine the seeds for color. Brown seeds are fully ripe and taste like wild nuts when you chew them. Unripe seeds have a hot, bitter taste that will impact the wine.
Grapes need more than just ripeness. They desire full phenolic ripeness. Phenolic ripeness occurs when the tannins, seeds, skins, and stems, which also contain tannin, ripen. Phenolic ripeness gives the tannins in your mouth a round sensation. That is what you find due to the perfect conditions and weather during the 2009 Bordeaux harvest.
Aside from sweetness and sugar, grapes need tannins and acidity to give the wine balance.  Ripe skins add to the color and perfume, while unripe seeds and stems impart green aromas and flavors. One of the reasons the fruit achieved phenolic ripeness in 2009 is the long hang time of the fruit. Hang time is the length of time the grapes remain on the vine, counting from flowering until harvest.  Because of rainy weather patterns and the marine climate of Bordeaux, full phenolic ripeness does not usually occur, which is why producers are excited about 2009. Starting in June, the season was filled with warm days and cool nights, the perfect condition for grapes. After the rains in April and May, the water table tables were replenished in most areas, giving the vines nourishment.  Furthermore, Bordeaux experienced Indian summer conditions through most of the harvest.  Growers, wine makers, and chateau owners agree, 2009 is unique.
I visited the following vineyards in order of their potential harvest for close to two weeks. I started in Pomerol moving to St. Emilion, before hitting Graves and making my way over the Left Bank, where I traveled rom north to south.
Rainy day, rain all day
Ain't no use in gettin' uptight
Just let it groove its own way
Let it drain your worries away
Lay back and groove on a rainy day

—Jimi Hendrix
The producers in Pomerol were definitely grooving to the unexpected September rains. Pomerol, with its unique clay soils and heavy merlot plantings, is usually the first major Bordeaux appellation to harvest. By early September, some Pomerol wine makers were worried about 2009 because of the lack of moisture in the soils. That changed for the better September 19 and 20 when the rains came, for that rain was perfect for the potentially stressed vines. The rain was centered in the Right Bank, with little precipitation in the Medoc. Over two days, depending on where a chateau was located, Pomerol experienced a rainfall of 1 to 4 inches that acted like a miracle cure for the vines, according to every grower I spoke with. The 2009 Bordeaux harvest was going to be one for the history books.
Clinet owner Ronan Laborde said, "The September rain came at the perfect moment for Clinet. " Laborde compared the weather in 2005 to that in 2009, saying that in 2009, they had a much colder winter. The Michel Rolland consulted property is picked block by block. If any row in a block is not completely ripe, they wait because they want to pick perfectly ripe fruit. The young merlot vines reached 13.3% alcohol. Laborde expected the older vines to hit 14%. One of the keys to making a great wine at Clinet is getting the cabernet sauvignon to ripen fully, which happened in 2009.
Clos L'Eglise owner Helene Garcin said that they started harvesting slightly earlier than usual because they wanted to preserve all the elegance and freshness possible. Garcin began picking September 24, finishing September 30. According to Garcin, in some ways 2009 Bordeaux harvest was a turning point. In previous vintages, everything was left entirely to nature. Today, since they know much more about the vineyards and about wine production, they are able to make the most of a great vintage.
La Conseillante Director Jean-Michel Laporte is thrilled with the raw materials nature delivered in 2009. Jean-Michel compared 2005 with 2009 on the basis of similar technical analysis. Laporte explained, "The seeds, skins, and evolution in both vintages are similar. 2009 was a perfect blend of stress and water cycles". La Conseillante harvested the merlot vines starting September 14, finishing September 23, one week later than in 2005.
La Croix St. Georges, owned by the able Jean-Philippe Janoueix, is on a roll. Janoueix picked his merlot on three separate dates, September 21, September 26, and September 29. Janoueix says that 2009 reminds him of 1989. He added that to avoid sensations of over ripeness, his team focused on picking at the right moment. All of this will help produce a great wine from the 2009 Bordeaux harvest.
Feytit Clinet owner Jeremy Chasseiul   remains excited about the vintage. He began picking September 18, finishing his merlot September 30. Jeremy called the vintage special, pointing to the perfect combination of warm days, cool nights, and a long growing season. For his chateau, 2009 will be better than 2005.
La Fleur de Bouard owner Hubert de Bouard is trying something new in 2009. Hubert explained that the stems are so ripe in this vintage, he's fermenting one barrel with the stems as an experiment, which should add a lot of complexity and aging ability to the wine. Bouard says that his  merlot  has great concentration, freshness, purity, and unbelievable balance.
Le Gay and La Voilette are once again poised to produce outstanding wines. Owner Catherine Pere-Verge thinks 2009 is similar to 1998 in Pomerol, but better. La Violette and Le Gay are produced at Le Gay, with a special dispensation for the moment. Jean-Christophe Meyrou and wine maker Marcelo Pelleriti recalled the harvest. Le Gay started  picking merlot on September 18, finishing October 2. La Violette, 100% merlot, is one of the latest harvesters in Pomerol. They started after October 4. Jean-Christophe says, "2009 offers great levels of acidity and fruit. Everything is in perfect harmony at both properties. The wines should be a classic, elegant style of Pomerol".
Lafleur owner Jacques Guineaudeau compared 2009 with 1989: "In 1989 the entire vineyard was picked over two days. 20 years later, things are different. The merlot was picked over three days, September 17, 18, and 23.  The cabernet franc took even longer to harvest".  Things are also different in the cellar. Through a stricter selection process, the chateau is making a lot less wine than it did in 1989. Malolactic fermentation is conducted in a combination of old and new barrels, not the policy in 1989. In fact, in '89, no new oak was used.
Petrus's Christian Moueix compares 2009 to 1989 in style, but the '09 had the long picking period of 1990. "Like 1947," he asserts, "the vintage will express a special character". As do many growers, with improved selection and technique, he expects to make better wine in from the 2009 Bordeaux harvest than they did in 1989. Petrus and some of Moueix's  other properties are experimenting with an optical sorting machine for use in sorting the grapes.
Petrus and most of the Moueix Pomerol properties began picking September 17, finishing September 29. Trotanoy started began harvesting merlot September 15 and finished September 22. They picked their cabernet franc September 30 during the 2009 Bordeaux harvest.
The September rains caused 2009 to be harvested slightly later than usual. After the rains, Moueix feared diluted grapes. That fear abated as the weather quickly shifted warmer, enabling the fruit to gain concentration and higher potential alcohol levels. Moueix got excited taking me into the vat rooms, exclaiming, "2009 is all about the fruit. The smells are more intense and complex than in previous years." When asked what he looks for in his fruit, Christian used peaches as an example. He explained, "The perfect fruit is fully ripe, never overripe".
 
Vieux Chateau Certan owner Alexandre Thienpont said, "2009 experienced a great summer and winter with ample heat, sunshine, hot days, cold nights, and a lack of humidity." He added, "Some years favor cabernet franc, while other vintages prefer merlot. In 2009, both grapes performed great".
 
St. Emilion is currently leading the way for technological advancement. To aid in harvesting, Gerard Perse, who owns a myriad of Bordeaux properties, most notably Chateau Pavie, helped develop the optical sorting machine over a 4 year period.  The machine uses image analysis allowing unwanted elements to be removed. Thus operators can set the machine to remove foreign objects, vegetation, or unripe berries by size or color. The fruit moves along a conveyor belt with a blue background while a camera takes continuous pictures, analyzing the grapes. An ejection mechanism removes unwanted objects using high frequency, pneumatic nozzles.
The optical sorting machine is a welcome advance to many growers. But not every wine maker agrees. For example, Chateau Margaux prefers conducting most of their sorting in the vineyards.  The argument against that practice is, with manual sorting, which takes longer than the optical sorting machine, growers run the risk of developing rot in the vineyards while waiting for full phenolic ripeness. That might not be the sole risk.  Manual destemming might have additional side effects which releases enzymes contained in the rot that could potentially lead to unclean fermentations and a potential loss of color.  To combat this enzyme infection, mechanical destemmers, along with optical sorters, have been created to help with the process. The devices work in tandem. Because of the newness of the machines, their expense, and their limited availability, they are being used primarily in Pomerol and St. Emilion. But they are also being tested in the Medoc at Mouton and Leoville Las Cases.
It's said that the next technical innovation could be the use of ultrasound, which might have the ability to sort fruit by color, size, and sugar content. These advances in harvesting, along with continued better understanding of the vineyards and of individual terroirs, are part of the reason for the continuing progress in wine making today.
Angelus owner Hubert de Bouard, in his pursuit to obtain the finest possible wine, added a line of 60 people to manually destem berry by berry. It's amazing watching two rows of destemmers, each 30 deep, working on the fruit, one berry at a time. Hubert believes manual destemming helps the berries remain intact, while retarding oxygenation while retaining freshness which will make for a much better Bordeaux wine.  
2009 is the first vintage being hand destemmed at Angelus. The labor intensive technique made its debut in Bordeaux during the 1997 vintage, when Michel Gracia introduced it at his eponymous property. The technique was simultaneously deployed in the Languedoc by Jeffrey Davies at Chateau de la Negly and Clos des Truffiers. Bouard, who has a much larger property than does Gracia, will be using the method for 20% of the 2009 crop.  Next year, he's moving to 50% of the harvest, but is also considering completely destemming the entire merlot crop.  Angelus began harvesting merlot on September25,  finishing with their cabernet franc on October 15, with potential alcohol levels ranging from 14% to 15%.
Bouard said, "2009 is similar to 1982". He reminded me, "This does not refer only to Angelus in '82; it's for all  Bordeaux because, in 1982, Angelus was a weak performer.  In 1982, just like in 2009, everything happened at the right time with the weather and the fruit." He added, "It's too early to tell, 2009 might be better than 2005. The skins and seeds reached better levels of ripeness in '09 than in '05. 2009 is also slightly lower in acidity and a tad higher in potential alcohol, which should result in a rounder, more atmospheric feeling in the mouth".
Ausone Proprietor Alain Vauthier, when asked about harvesting, said that they would rather pick a day too early than a day too late. Ausone started their merlot harvest September 29, a few days later than in 2005. They started picking their cabernet franc on October 9, and finished the following day. They harvested their small block of cabernet sauvignon on October 14. Vauthier spent several days in the vineyards tasting fruit, seeking the perfect moment to pick. When asked what vintage 2009 reminded him of, Vauthier replied 1982. Which as we all know, made more than one  great Bordeaux wine!
Some changes in the cellar have taken place for the 2009 vintage. Alain has acquired a number of small, stainless steel tanks that he uses as holding tanks until they have enough fruit from a given vineyard block to fill a single wooden vat. Keeping the fruit in these stainless steel tanks allows him to control the temperature and sanitary conditions. The vats can be readily moved with a forklift once there is enough fruit ready to be gently poured into — and to fill — one of the oak fermenters.
Barde Haut owner Helene Garcin stated that 2009 will be an exceptional harvest for Barde Haut, in part because of the hail damage suffered at the property earlier in the year. The hail storm reduced yields, concentrating the fruit. They will produce about 25% less wine at Barde Haut in 2009 than in normal years.  They started harvesting merlot on October 2.  "Barde Haut should be better in 2009 than in 2005", predicts Garcin.
Beau-Sejour Becot owner Juliette Becot says, "2009 is a combination of '82 and '89". She added that 2009 could be a better year than both those previous vintages, thanks to the extended time nature allowed them to pick the grapes. Things were not always looking good. In fact, Becot remembered, "Only a few weeks ago, the vines were stressed in their sandy, clay, limestone terroir. Things turned completely around with the mid September rains that could not have come at a more perfect moment. That addition of moisture gave the fruit the nourishment needed to develop fully and to achieve perfect ripeness".   Beau-Sejour Becot finished harvesting October 13.
Beausejour Duffau-Lagreosse is a property to watch. While they have not produced a great wine since 1990, that is going to change in 2009. The dynamic duo, Stephane Derenoncourt and Nicolas Thienpont, are calling the shots in the vineyards and with making the wine. Thienpont said that 2009 reminded him of 1989, but with better acidity. Furthermore, 2009 will allow for much better aging potential. Derenoncourt agreed, saying, "2009 is much fresher vintage, and the seeds, skins, and tannins are riper than in 1989". Stephane concluded with, "The vibrant green colors of the leaves and their robust condition are also strong signals this is a special harvest".  
Canon is a St. Emilion property to watch. After replanting approximately 80% of their vineyards in 1998, due to problems with their roots, the vines are now starting to express the huge levels of limestone in their terroir.  The chateau plans on adding more cabernet franc vines over the next several years. Canon began picking merlot September 23 finishing October 1. They completed harvesting cabernet franc October 5. Potential alcohol levels range from 14 – 14.5%.
 
Canon La Gaffeliere, La Mondotte,  Clos de l'Oratoire and  d'Aiguilhe owner Stephan Neipperg, when asked about picking dates for 2009, said without reservation that they could have picked early if they wanted and still produced very good wine. But by waiting for full phenolic ripeness, when everything is perfect with the seeds, skins and tannins, they can make great wines. He added: "2009 will be special. It could be a harvest for the history books. When the weather is projected to continue with warm days and cool nights, why not wait for the perfect moment"?
Picking dates varied at his different properties. La Mondotte was picked on two separate dates, October 10 and October 13, with potential alcohol levels of 14.5%. Canon La Gaffeliere began picking October 1, concluding October 10, with potential alcohol levels of 14%. Clos de L'Oratorie was harvested over 5 days, starting October 7, and D'Aiguhile from Cotes de Castillon was picked starting October 10, finishing October 14.
Cheval Blanc started picking merlot September 15. For 2009, they are harvesting over a longer period of time than usual to achieve the best possible levels of ripeness in the seeds, skins, tannins, and stems. In some ways 2009 reminds the chateau of 2005. To them, 2009 is a better vintage because the tannins are more elegant, round, and polished.
Clos Fourtet owner Mathieu Cuvelier started picking merlot September 28, finishing with cabernet franc on October 13. Step by step, Clos Fourtet continues experimenting with biodynamic techniques and striving to be more natural in their wine making approach.  According to Cuvelier, they are impressed by the work and progress that Tesseron is employing at Pontet Canet and they want to use some of those methods at Clos Fourtet.
La Confession owner Jean-Philippe Janoueix is finishing a new cellar at the property, he hopes in time for the harvest. La Confession will be picked later than La Croix St. Georges, his Pomerol estate, because of the massive levels of limestone in the La Confession terroir, which forces the grapes to ripen late.  Janoueix feels that 2009 will be the best vintage yet for La Confession.
Fleur Cardinale owner Dominique Decoster said, "Since the fierce hail storm earlier that year damaged some merlot vines, the blend in 2009 will have more cabernet franc and cabernet sauvignon than usual". Decoster describes the berries in 2009 as "tasting incredibly sweet". He added that they are picking slightly later than usual because they are waiting for everything to ripen fully. But by early October, the fruit already tasted so good, it was enjoyable to walk in the vineyards and eat the grapes for pleasure.
This picturesque property, located on clay soils in a cool terroir, began harvesting Merlot October 12. They were hoping to finish picking by early November. As a comparison, the 2005 harvest started October 8, finishing October 31.
Pavie owner Gerad Perse could not contain his excitement about the potential for 2009.  According to Perse, "We were thrilled about the extended hang time for the grapes, which allows the fruit to ripen fully. He added that the vintage was reminiscent of the best qualities found in 2000 and 2005. But since the seeds and skins are going to be in better shape in 2009 than in those earlier vintages,  they expect to make better wines this year". To assist in the sorting for 2009, Perse is using the optical sorting machine he helped create at his various properties.  He will be moving the machine from property to property.
Troplong Mondot owner Christine Valette has experienced several harvests since taking control of this chateau. She could not contain her excitement about 2009, saying, "It's still early, but it might be even better than their 2005". That says a lot, considering that Christine feels her 2005 is potentially even better than her stunning 1990.  She believes 2009 is close in style to 1989, but better. According to Valette, "In 1989, when Troplong Mondot produced its first great wine of the modern era, the final blend was 65% merlot, 15% cabernet sauvignon, 15% cabernet franc, and 5% malbec. For the 2009, the vineyard is different. The wine is expected to  be 90% merlot with even amounts of cabernet franc and cabernet sauvignon".
Troplong Mondot harvested their merlot starting in early October, finishing October 10. They began picking cabernet October 20 and finished shortly thereafter, with potential alcohol levels between 14.5% and 15.5% for their Bordeaux wine.
Valandraud owner Jean-Luc Thunevin said that 2009 reminds him of 1989. Murielle Thunevin, now in charge of making the wine, adds that they expect a better harvest at Valandraud in 2009 than in 2000. Picking started at a slow pace, on September 30,  to ensure the fruit achieved the best possible levels of ripeness in the skins, seeds, and tannins. They are expecting to finish harvest by early November.
In Graves, the situation is anything but grave.
Haut Bailly director Veronique Sanders is excited about 2009. Sanders said that they had a perfect harvest.  The long, warm, summer days, tempered by cool nights, continued through the harvest, allowing workers extra time to pick fruit at optimum levels of ripeness.
Haut Bailly began harvesting September 15 and continued for 10 half days, working on mostly merlot, and for 5 full days for the cabernet sauvignon, concluding October 14. The merlot came in at an average of 14% alcohol, while the cabernet is closer to 13%. . Haut Bailly prefers harvesting in the morning, allowing them to bring in the fruit at cooler temperatures. They think that's better for fermentation. Sanders said that they expect 2009 to express the freshness, great aromatics, and complexities associated with the best Bordeaux wines.
Le Thil Comte Clary is a contender for the best of the value wines in Bordeaux that remain largely unknown. Located on clay and limestone soil, unusual for Graves, they produce red and white wines. They are consulted by Stephen Derenoncourt. Jean de Laitre, the estate's manager, began picking the white grapes September 23. They started harvesting merlot October 1.
—
Does Chateau Cos D'Estournel in St. Estephe have the finest wine making facilities in Bordeaux today? Cos inaugurated their new cellars with the 2008 vintage. But 2009 really let them take the cellars for a test run. The stunning, architectural cellars are extremely modern and precise, much like Jean-Guillaume Prats. The facilities include 72 conical shaped, stainless steel, double skinned vats, many of which have 2 or more chambers. Those vats allow Cos to handle each block on an individual basis. According to Prats, "That allows for more perfect control of each parcel".
Cos D'Estournel, since Jean-Guillaume Prats began managing the estate, has moved  to the top of the Super Second competition. In 2009 Prats considered harvesting the young cabernet sauvignon vines first. He changed his mind and began with the older vines.  Prats explained, "The fruit was fully mature in some of the older vine blocks. The grapes would not improve. The cabernet sauvignon was already at 14% potential alcohol. The fruit could gain concentration and sugar, but you would also lose volume". The grapes are completely destemmed at Cos, but Prats stated, "The stems are so ripe in 2009  they could be included. Stems add tannins and acidity".
Once the grapes enter the gleaming new facility, they travel through a tunnel that instantly lowers the temperature to 3-5 degrees Celsius. This sudden chilling stops the loss of juice while slowing oxidation. Next, the grapes are cold macerated at 7-9 degrees Celsius for about a week. Pump overs are done by gravity recycling. The juice from the top of the vat moves to the bottom of the vat entirely by gravity. The fermentation will take place at low temperatures to avoid over extraction or harsh tannins.
Cos harvested their merlot between September 25 and September 30. Average potential alcohol levels ranged from 14.5% to 15%. Some blocks came in at even higher levels. They started picking cabernet October 1, finishing October 9, with average potential alcohol levels of 14%.
Jean-Guillaume, calling on his knowledge of previous harvests, observed that "stylistically, 2009 is a combination of the powerful 2003 and the classy 2005. He concluded that "Wines at the level of 2000, 2003, and 2005 offer stunning quality.  At that level, it's not a matter of what's better. It comes down to the style you prefer".
—
Clerc Milon previously shared both harvest teams and technical teams with Mouton. Not anymore.  Jean-Emmanuel Danjoy heads up his own team, allowing him to focus on the nuances and details needed to produce a strong effort that starts in the vineyards. Danjoy explained, "Starting with 2009, Clerc Milon picks block by block, not the case previously. Hedging is also done block by block".  Clerc Milon, located next to Mouton and Lafite, began picking merlot September 23. The cabernet harvest started October 1, finishing October 12.  Danjoy said that "They have never seen such uniformity in the ripeness of the fruit they are bringing in for what will become their 209 Bordeaux wine".
Latour harvested their merlot at an average of 14% potential alcohol. They picked cabernet from October 5 through October 10.  According to the cellar master, Pierre-Henri Chabot , 2009 is a later harvest than 2005. In 2005, they picked cabernet sauvignon September 26 through October 6, just one day after they started their 2009 harvest. Chabot commented that "Fruit reached much better levels of ripeness in 2009 than in 2005, in the seeds, skins, and tannins". Starting with the 2007 vintage, Latour introduced stringent, anti counterfeiting measures: a complicated bar coding system featuring tags placed on the bottles, capsules, and tissue paper, as well as on the wood cases. The information contains the name of the wine, the bottle size (they produce 3 sizes), the vintage, and the date of bottling.
Lynch Bages owner Jean-Charles Cazes said about 2009: "At this stage, it's no secret — we're thrilled with the harvest. The incredible weather we had throughout the season boosted the maturity to the top level, with merlot well above 13% potential alcohol and often over 14%."
Lynch Bages began picking merlot September 25, finishing September 29. Cabernet was harvested from October 5 through October 12. Lynch Bages is another chateau using satellite image photography to help with the harvesting. Jean-Michel Cazes, one of the great ambassadors for Bordeaux, was all smiles about 2009,  saying that  "The quality of 2009 reminds me of 1982, when our workers would go to the beach after the day's work".
Pichon Baron Technical Director Jean-Rene Matignon started picking cabernet sauvignon October 1. According to Jean-Rene, "Picking took longer than usual because we micro harvested within each block to obtain grapes at the perfect levels of ripeness". Pichon Baron, along with a few other chateaux, used satellite imagery to assist in the harvest. The pictures focus on the vines in each plot. The information tells the growers what sectors have vines that are done feeding, and what sectors still require nourishment. Matignon said of 2009:  "Like great Bordeaux, 2009 is a blend. It assembles the structure and tannin of 1986, the spicy ripeness of 2003, and the harmony of 2005."
Pichon Lalande director Gildas D'Ollone is excited about 2009, comparing the vintage with 1989. Thomas Do-Ch- Nam agreed: "Climatic records resemble 1989." Pichon Lalande harvested merlot from September 22 to September 26. Potential alcohol of the merlot ranged from 13%  to 13.5%. cabernet franc was picked September 30. petit verdot, 8% of their vineyards, will definitely be part of the blend for 2009. Petit Verdot has a well deserved reputation of being difficult to grow, as it seldom fully ripens. Pichon harvested their cabernet sauvignon between October 1 and October 7.

Mouton Rothschld director Philippe Dahullin compares 2009 to a trio of vintages: "1989, because of the berry size, 2003 for the degree of ripeness, and 2006 for the perfect tannins. 2009 will have higher acidity levels than 2005, but should reach the same level of alcohol".  Add Mouton Rothschild to the list of chateau working with the new Optical Sorting Machine on a trial basis.  
Mouton began harvesting merlot September 23. Because Mouton is mostly cabernet, the merlot was picked in one and a half days, coming in at a whopping 14% – 14.8% percent alcohol. The cabernet franc was harvested September 28, and the cabernet sauvignon picking began October 1. Dahullin said the level of acidity in the fruit is good, not too low, and that the sugar content is exceptionally high for Bordeaux.  They expect wines to come in between 13% and 14% alcohol, displaying the best characteristics of Mouton.
Is one of the most influential proprietors in Bordeaux today located in Pauillac? If you consider how many growers are starting to experiment with biodynamic farming in Bordeaux today, you might come to that conclusion. Especially when several of those owners cite Pontet Canet and Alfred Tesseron as the inspiration.
Pontet Canet owner Alfred Tesseron,  since 1994, has pushed the moribund estate to the forefront of the Bordeaux sweepstakes. It can be argued the success of Pontet Canet spurred the Pauillac First Growths and other top estates to take notice of his biodynamic efforts and high scores from Robert Parker. His achievements have inspired other growers to consider similar approaches in their vineyards and in their Bordeaux wine making.
Pontet Canet harvested their merlot in one week, starting September28. They picked cabernet sauvignon between October 6 and October 16. When asked about the lateness of the harvest, Tesseron replied," There was no hurry to pick the fruit. The berries were healthy and not on top of each other, so why not wait for the perfect moment"?
While many chateaux welcome new technology, Tesseron moves in the opposite direction. His mantra remains firmly in the "everything is done by hand" department. The chateau utilizes no computers to make harvesting or fermentation decisions. Tesseron knows how to find the perfect moment to pick. He said, with confidence and a knowing smile, that with healthy vineyards like Pontet Canet, he looks for deeply colored skins, brown stems, and, most importantly, no rot. Then if the fruit looks good, he tastes. When the grapes are ripe, he  picks.
In some vintages, Tesseron explains, he looks at different parcels on a daily basis. "With 2009 as perfect as it was, we only looked things over a few times a week". Picking dates are not the only decisions being made without technology. According to Alfred, "Pontet Canet doesn't perform any computer analysis until the wine is finished. That requires people to work at the cellars, watching the fermentation process, 24 hours a day".
Tesseron takes biodynamics and natural vineyard techniques seriously. In the vineyards, he uses horses instead of machinery for some of the blocks, since horses are good for the soil. Tesseron laughed when asked if there were drawbacks,  and slyly responded, "Yes, the horses eat the grapes".
—St. Julien and satellites make for an interesting pairing. St Julien was where I first had detailed conversations about using satellites to help manage vineyards.
Branaire Ducru owner Patrick Maroteaux explained what makes 2009 special: "It was the unique weather conditions. Most of the time, you need to pick earlier than you might like to avoid the rainy season. But in 2009, the Indian summer continued through October, allowing our team to pick when they wanted. This additional hang time allowed Branaire to exploit their terroir fully".  Maroteaux continued, "One of the key reasons behind the success of the 2009 growing season was the combination of hot days and cool nights, conditions perfect for the grapes". Branaire Ducru completed their harvest on October 8.
Ducru Beaucaillou owner Bruno Borie made a pertinent observation on the changing times in Bordeaux: "30 years ago, Ducru would have picked much earlier than we did in 2009. The fruit would have been ripe, but the seeds, skins, and tannins would not have achieved ripeness. Today, things are different. If the weather allows, we wait for the right moment".  Ducru picked merlot between September 26 and September 29. Borie said, "The merlot in 2009 is the ripest ever seen at Ducru".  Average potential alcohol levels ranged from 13.5% -14.5%.  The cabernet sauvignon was harvested from October 2 to October 9 under close to perfect conditions. Borie said of the fruit,  "The grape bunches resemble dark, almost deep blue, tightly clustered pinecones that will help us produce wines of elegance and balance".  
Leoville Poyferee owner Didier Cuvelier remarked, "2009 reminds him of 1982".  He added, "One of the key benefits to 2009 is the long hang time. 1990 was another vintage with a lot of hang time".  In 2009, the chateau harvested merlot from September 29 to October 1, the same day they began picking cabernet sauvignon.  Didier pointed out that they waited longer than usual to pick in 2009. "They could have started harvesting earlier because the fruit was ripe. But they waited for full phenolic ripeness of the seeds, tannins, and skins, which all needed additional hang time to ripen fully".
St. Pierre owner Jean-Louis Triaud was one of the first proprietors to use satellite technology to help determine picking dates. The images show the state of development in the vines' root structure. Understanding where the vines are in their feeding cycle allows the team insight into the optimum moment to harvest each block.  Triaud says, "2009 offers all the elements needed to produce a great vintage. Technical analysis places the quality of the raw materials between that in 2003 and 2005".
—The Margaux region enjoyed one of the best and longest harvests in decades!  In fact, Chateau Margaux employed over 300 pickers, and took over five weeks to complete their longest harvest in history.
Brane Cantenac owner Henri Lurton stated, "2009 shares similarities with 1989, although in 1989 the vines suffered more stress.  September 2009 was also hotter than that September twenty years earlier".  Lurton recalled, "In 2009, the fruit is very concentrated. The recent hot weather forced the grapes to reach higher than usual natural alcohol levels."  The estate harvested their merlot from September 23 to October 1. Lurton is a bit of a contrarian with his overall views on 2009,  saying that he prefers vintages with less alcohol. "The high levels of alcohol offer the potential for 2009 to lose the characteristics associated with Margaux".
D'Issan owner Emmanuel Cruse said without hesitation, "2009 has the best qualities found in 2000 because of the degree of ripeness, while sharing commonalities with 2005 in the round, soft tannins". He continued, "The weather patterns for the growing season resemble 2005. But during the 2009 summer, the days reached higher temperatures than in 2005, perfect for their terroir". With the help of 100 pickers, the chateau harvested merlot in one week, starting September 22. Potential alcohol levels ranged from 13.6% to 16%.  They picked cabernet sauvignon from October 5 through October 15.   Emmanuel said , "After the merlot is blended with the cabernet, which has lower alcohol levels, the wines will achieve the balance they seek".
Giscours director Alexandre Van Beek, who maintains the same duties at Du Tertre (also in Margaux),  knows the wine making process will require a lot of attention. Van Beek explains, "The key to making great wine in 2009 is not doing too much during vinification. Vintages like 2009 are best when left to nature and not to man". Alexandre added, "The job was to take care of the grapes and not mess things up". Van Beek concluded, "The year has unlimited potential".
Chateau Margaux director Paul Pontallier said, "The merlot is the ripest I've ever seen". They began harvesting merlot September 28, with alcohol levels ranging from 14% – 16%. After the final blending is completed, they expect the wine be close to 13%. Margaux harvested its cabernet sauvignon October 5 through October 12. When asked if they considered adding optical sorters, Pontallier answered, Sorting begins in the vineyard. Margaux employs over 300 people to work the harvest. That number includes 5 teams of 30 people per team to handle the job of sorting. When the fruit is brought in, they hand sort one more time with smaller teams to make sure only the best fruit is used. With all their sorting efforts in the vineyards, they don't see the need for an optical sorter at the chateau". Nonetheless, Margaux added a new gravity led reception system for the fruit, and a new barrel room to assist in more precise block by block vinifications.
2009 reminds Paul of 2005. "But 2009", Paul affirms, "offered much better conditions at harvest, which finished in dream like conditions. 2009 was also overall a hotter and dryer year than 2005". He added "They are thrilled the best cabernets will hit the same extraordinary levels of ripeness as the merlot". Based on tasting finished vats of merlot, Paul reports "The wine is expressing finesse and subtlety. 2009 also offers great levels of sugar, alcohol, tannins, and acidity that will allow the chateau to produce wines of balance, harmony, and elegance".
Palmer director Thomas Duroux was all smiles when asked about the quality of the harvest in 2009. Bernard de Laage concurs with Duroux's optimism. The chateau harvested their merlot September 28 to October 2. Average potential alcohol levels are 14.5%. They began harvesting cabernet sauvignon October 5, finishing October 14.  The berries are uniformly small, approximately 1 gram per berry. In 2005, the berries weighed almost 50% more. The smaller berries produce less, but more concentrated juice.  Palmer also grows petit verdot, notoriously difficult to ripen. But in 2009 the grape ripened properly, and could be included in the grand vin.
According to Duroux, "The fruit is ripe in 2009. There are no sensations or analysis of over ripeness. As regards weather, 2009 is close to 2005, with its long growing season and cool nights. 2009 is a vintage that fully expresses fruit and terroir". When asked about working with such ripe fruit, Duroux commented, "My previous experience with high alcohol level wines from my time at Ornellaia afforded me a greater understanding of how to handle 2009." Bernard de Laage stressed, "Palmer strives to make balanced wines".  Duroux agreed, concluding with, "We are very comfortable with what Palmer will achieve in this vintage".
Rauzan Segla director John Kolasa is one of the most outspoken people in Bordeaux. Ask him a direct question,  you'll get a direct answer. According to Kolasa, each vintage is like giving birth to a child all over again. He's always worried. "In 2009, the key to producing sublime wines is in the vinification. Care must be taken not to over extract in a ripe, high alcohol year". Kolasa added, "They are not more concerned with 2009 than with other vintages. They are always equally concerned with every harvest. But with the high degrees of ripeness in 2009, Rauzan will be exercising caution. They do not want to produce Bordeaux in the style of California wine".
Rauzan Segla began harvesting merlot September 22, finishing one week later. Potential alcohol levels are 14%. They completed their cabernet sauvignon harvest October 13 at equally ripe levels of 14% alcohol.  Petit Verdot, not often included because of its difficulty in reaching full ripeness, was picked October 2, fully ripe.
It's still early. A lot can happen before the wines are blended, which for several producers takes place before the trade tastings traditionally held in April.  My money is on 2009 becoming the next great vintage. Depending on pricing, this is a vintage that deserves serious consideration for purchasing as futures.