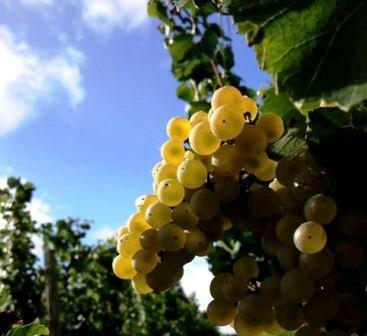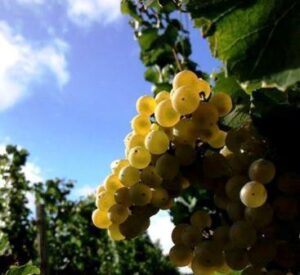 There are vintages are majestic for dry white Bordeaux. 2016 white Bordeaux wines are not going to outperform the red wine. As you can elicit from my tasting notes, these wines can be fun to drink early in life, but due to the extreme dry period during the growing season, the wines can lack acidity. By the time the rain arrived in the middle of September, most of the grapes were already harvested.
Summing up the 2016 white Bordeaux vintage, the wines are ripe, sweet, with fleshy textures and good concentration, but this is a vintage that would have Clara Peller asking, "Where's the freshness?" For more of an in-depth look at the weather for all of 2016 Bordeaux: 2016 Bordeaux Harvest and Growing Season Report
There have been two interesting trends of late when it comes to white Bordeaux wine. First, you are seeing more growers experimenting with unauthorized grape varieties. You are seeing small plantings of Chardonnay, Gros Manseng, Loset and Viognier. As those grape varieties are not allowed by AOC law in Bordeaux, the wines made with those grapes are sold as Vin de France. Another interesting trend is taking place in Sauternes and Barsac. You are seeing a lot more of the production going into making dry white wine. Due to AOC law, even though the grapes are authorized, as they do not conform to AOC law for Sauternes and Barsac, due to low sugar levels, they are sold as generic AOC Bordeaux wine. However, those wines are capturing a young segment of the market, so this is a good thing. There are also growers making white Bordeaux wine in their cooler, more limestone soils with Bordeaux grapes. But that fruit is not authorized for the appellation, so they are sold as generic white Bordeaux. For example, Cheval Blanc is now producing a dry white wine.
This is the tenth in a series of reports covering the best 600 wines from the 2016 Bordeaux vintage. Finally, we are getting close to the end of our reports. All the red wines have been written up, and now, all the dry white Bordeaux wines have been tasted and rated as well. Our final tasting note, focused article on 2016 Bordeaux will conclude with a look at the sweet, white Bordeaux wine of Sauternes and Barsac.
Before we get to the 2016 white Bordeaux wines, it is important to know Severe Frost Slammed Bordeaux April 27 and April 28 causing Massive Damage. While vineyards in most appellations saw frost damage, it was particularly devastating in the Right Bank. However, in Pessac Leognan and in the Medoc, as well as in Bordeaux and Entre Deux Mers, many vineyards took tremendous hits that resulted in losses of up to 90% of their potential 2017 white Bordeaux crop being destroyed. Due to the heavy damage to their 2017 crop, there is a good chance that many growers are going to ask higher prices to cover their loss.
2016 White Bordeaux Wine Report with tasting notes, ratings.
2016 Alto de Cantenac Brown ( Bordeaux ) – Made from a blend of 90% Sauvignon Blanc and 10% Semillon, the wine shows its floral, lemon, lime and honeysuckle quickly. Vibrant, with a green apple and citron finish. 90 Pts
2016 Blanc de Lynch Bages ( Bordeaux ) – Crisp, fresh, citrus, flowers, lime and green apple notes, with a round, sweet, appealing, crunchy, yellow citrus finish are what you'll find here. 92 Pts
2016 Blanc deValandraud ( Bordeaux ) – Produced from a blend of 50% Sauvignon Gris, 40% Sauvignon Blanc and 10% Semillon, honeysuckle and assorted flowers are the first thing you notice. The wine is round, with concentrated, fresh citrus and sweet pomelo, this is refreshing and fresh. The green apple in the finish adds a nice characteristic. 92 Pts
2016 Blanc Sec de Suduirau ( Bordeaux ) – This is the second vintage for this dry white wine from Suduiraut. Made from a blend of 51% Semillon and 49% Sauvignon, the wine offers orange, honeydew, white peach and citrus in the nose, and in the mouth. The wine is round and shows sweetness in the fruit that comes from ripeness. 85 Pts
2016 Bonnet Entre Deux Mers Blanc ( Entre-Deux-Mers ) – Forward, open, easy to like and drink style of white Bordeaux with a light, but refreshing lemon, lime and green apple character. Drink this at cellar temperature, and on the young side. 88 Pts
2016 Brown Blanc ( Pessac-Léognan ) – Ripe yellow citrus and honeysuckle, with round, sweet, green apple and notes of pomelo in the finish. 90 Pts
2016 Cantelys Blanc ( Pessac-Léognan ) – Using 50% Semillon and 50% Sauvignon Blanc, you find, pomelo, vanilla, honeysuckle and citrus aromatics. Forward, his forward styled, you get the feeling of flesh, yellow citrus fruits in the finish 85 Pts
2016 Cantenac Brown AltO de Cantenac Brown ( Bordeaux ) – Green apples, lime and lemon sensations are easy to discover. Fresh, forward and with a touch of honey to sweeten and fatten things up in the finish. 90 Pts
2016 Cantenac Brown Blanc BriO ( Bordeaux ) – Green apples, lime and lemon sensations are easy to discover. Fresh, forward and with a touch of honey to sweeten and fatten things up in the finish. 90 Pts
2016 Carbonnieux Blanc ( Pessac-Léognan ) – Light, fresh and still refreshing, the juicy mix of lemon, tart green apple, and lime rind is already easy to drink. 90 Pts
2016 Clarendelle Blanc ( Bordeaux ) – Fun, summer wine with fresh, bright, citrus and a hint of nutty flavors in the finish. 85 Pts
2016 Clos des Lunes Lune Blanche ( Bordeaux ) – Already delicious, with juicy pomelo on the nose and palate. The wine has sweetness to the fruit and a citrus finish. 88 Pts
2016 Clos des Lunes Lune d'Argent ( Bordeaux ) – Fresh squeezed grapefruit, honeysuckle and white peach scents are right where they need to be. The wine is fresh, sweet, forward, concentrated and complex. 91 Pts
2016 Clos des Lunes Lune d'Or ( Bordeaux ) – Lemon, lime and green apple are what's out in front. Sweet citrus complicated by vanilla, stone and honeysuckle, The yellow, citrus in the finish stays with you with its sweetness and vibrant character. Lune d'Or is the top wine from the trio of dry white wines Olivier Bernard makes from vines planted in Sauternes. 92 Pts
2016 Clos Marsalette Blanc ( Pessac-Léognan ) – Vanilla, pomelo, tropical fruit, lemon and honeysuckle get you going. Ripe, sweet, round with juicy, with a citrus, dominated finish. 90 Pts
2016 Cos d'Estournel Blanc ( Bordeaux ) – Pomelo and honeysuckle on the nose and palate, with fresh citrus accents and a juicy, shot of lime in the finish, with fresh, crispness. 91 Pts
2016 Croix de Labrie Blanc ( Bordeaux ) – The wine opens with a blend of 60% Semillon. 20% Sauvignon Blanc and 20% Sauvignon Gris. The wine is all about the pure, fresh, just squeezed grapefruit, lemon and lime along with its crisp, fresh finish. It's not powerful, nor should it be, but its a nice summery wine with character.
90 Pts
2016 dAiguilhe Blanc ( Bordeaux ) – Vanilla, pears, green apple and citrus aromatics come together nicely. Medium bodied, sweet, early drinking charmer, that will be fun to enjoy in the hot summer months. 89 Pts
2016 de Fieuzal Blanc ( Pessac-Léognan ) – Pomelo and assorted, citrus fruits with a splash of lime, vanilla and honeysuckle, with sweetness in the fruits from start to finish. Forward and already fun to drink. 90 Pts
2016 de France Blanc ( Pessac-Léognan ) – Crisp, bright, lemons, grapefruit and floral characteristics define this blend of 85% Semillon and 15% Sauvignon Blanc. Pts 89 Pts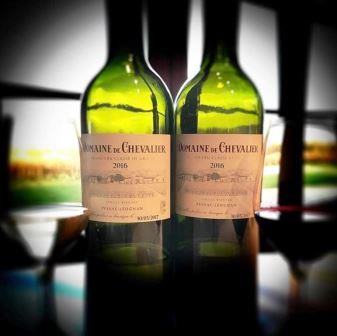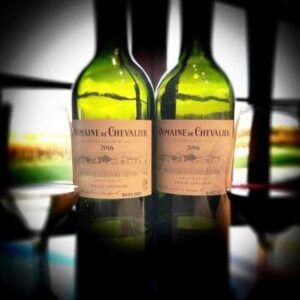 2016 Domaine de Chevalier Blanc ( Pessac-Léognan ) – Blending 75% Sauvignon Blanc and 25% Semillon produced a richly textured, fat, sweet, lush, ripe wine with a mineral and yellow citrus driven character that is on display in the finish. 94 Pts
2016 Domaine de la Solitude Blanc ( Pessac-Léognan ) – Perfect white Bordeaux wine for easy drinking, with all its yellow citrus, crushed rock and lemon freshness. 90 Pts
2016 du Tertre Blanc ( Vin de France ) – Juicy, citrus, honeydew, flowers, vanilla and spice with tropical fruit accents get the wine going. Round, sweet and with some flesh, the fresh, citrus in the end, keeps it refreshing. The wine is vinified in stainless steel tanks and barrel aged in 100% new, French oak. 89 Pts
2016 Ferrande Blanc ( Graves ) – Fresh and lively sweet lemons, grapefruit and green apple notes are in abundance. The finish is crisp and stony. This is a nice value for a white Bordeaux wine. 88 Pts
2016 Gazin-Rocquencourt Blanc ( Pessac-Léognan ) – From 100% Sauvignon Blanc, the mix of just picked grapefruit, lemon and apple is right there. Good freshness, with a nice kick at the end, this will be delicious on release. 91 Pts
2016 Grand Village Blanc ( Bordeaux ) – Just squeezed grapefruit with green apples on the nose, open you to an oily, nutty, pomelo finish. 88 Pts
2016 Grand Village Les Champs Libres ( Bordeaux ) – Back to using 100% Sauvignon Blanc, the wine delivers its fresh, lemon, lime and floral character with no effort. Fresh, fun and easy to drink, this is a really nice summer wine to have with fresh shellfish on a hot day. 90 Pts
2016 Haut Brion Blanc ( Pessac-Léognan ) – Full bodied and concentrated with sweet, polished, fresh, citrus, honeysuckle, grapefruit and lemon peel. Sweet, ripe and forward, this can be aged of course, or enjoyed in its youth, The wine was produced using 70.5% Sauvignon Blanc and 29.5% Semillon. The harvest took place from September 1 to September 13. The wine reached 13.85% alcohol with a pH of 3.23, this represents only 31% of the harvest. 97 Pts
2016 Hubert de Bouard ( Vin de France ) – Honeyed grapefruit, with hints of tropical fruit, the wine is fresh, if not peppy, there is enough volume and length to make this a fun, early drinking, summer wine. 88 Pts
2016 Hubert de Bouard ( Bordeaux ) – Orange, tangerine and passion fruit on the nose, brings you to a simple, early drinker. 87 Pts
2016 La Garde Blanc ( Pessac-Léognan ) – Waxy lemon and grapefruit on the nose is coupled with nutty pineapple notes in the round finish. Drink this on the young side. 85 Pts
2016 La Grande Clotte Blanc ( Bordeaux ) – Citrus, flowers and lemon rind, with hints of tropical fruit create the nose. Medium bodied, with a juicy, ripe, blast of citrus in the finish, the wine was made from 40% Sauvignon Blanc, 25% Semillon 20% Sauvignon Gris and 15% Muscadelle. 90 Pts
2016 La Louviere Blanc ( Pessac-Léognan ) – An early drinker here, with the right amount of just squeezed lemons, grape fruit, tart green apple and tangerine make this an appealing, summer, white Bordeaux wine. 89 Pts
2016 La Mission Haut Brion Blanc ( Pessac-Léognan ) – With effort, you find lemon peel, grapefruit and Granny Smith apples in the perfume. Full bodied, with energy, the wine displays ample, just picked, yellow citrus from start to finish. The wine was made from a blend of 62.7% Sauvignon Blanc and 37.3% Semillon. This is a first for the wine as both La Mission Haut Brion Blanc and Laville Haut Brion Blanc, as this is the first time the wine has used a preponderance of Sauvignon Blanc in the blend. The wine reached 14.5% alcohol with a pH of 3.16. The harvest took place from September 5 to September 13. The Grand Vin represents only 31% of the harvest. 95 Pts
2016 Larrivet Haut Brion Blanc ( Pessac-Léognan ) – Vanilla with a healthy dose of pomelo, lemon peel and honeysuckle are all over the place here, finishing with another blast of juicy lemons. 91 Pts
2016 La-Tour-Martillac Blanc ( Pessac-Léognan ) – Sweet aromas of honeysuckle, just squeezed citrus and vanilla bean are brought to you with a lemon filled center and semi sweet, round, citrus finish. 91 Pts
2016 Laurence Blanc ( Bordeaux ) – Debut vintage for this white, Bordeaux wine made from 100% Sauvignon Blanc from Hubert de Bouard and Philippe Nunez. The wine is fresh, filled with grapefruit, lemon and stone. Drink this young for its freshness. 89 Pts
2016 Le Clarte de Haut Brion Blanc ( Pessac-Léognan ) – Just squeezed citrus and honeysuckle on the nose and on the medium bodied, palate, with ample, sweet, lemon and green apple in the finish. The wine blends 76.3% Semillon and 23.7% Sauvignon Blanc. 93 Pts
2016 Le Lys de Lafaurie-Peyraguey ( Bordeaux ) – The second vintage for this new dry white Bordeaux wine really shows off its fresh, lively, floral and fresh green apple, grapefruit and lemon peel character with ease. Vibrant and refreshing there is a nice splash of honey, vanilla bean, tropical fruit and crushed rocks on the palate and in the refreshing finish. Similar to the bottle with the Lalique insert used for their Sauternes, this makes a stunning presentation on your table. 91 Pts
2016 Le Petit Cheval Bordeaux Blanc ( Bordeaux ) – Crisp, fresh, bright, yellow, citrus fruits, vanilla, pomelo, lime, green apple and floral scents get the wine going. There is a fresh, vibrant quality to all the citrus and green apples that comes through on the nose and palate. 92 Pts
2016 Les Charmes-Godard Blanc ( Côtes de Francs ) – Sweet grapefruit, white peach and honeysuckle make this inviting. Refreshing, with depth of flavor, citrus and a slightly honeyed, grapefruit sensation in the finish. The wine comes from blending 50% Semillon, 30% Sauvignon Gris and 20% Sauvignon Blanc. 90 Pts
2016 Les Hauts de Smith Blanc ( Pessac-Léognan ) – Honeysuckle, Vermouth, grapefruit and herbs helps open the nose and the wine. Fleshy, yellow citrus with good sweetness, but not enough quite as much acidity as I would have liked are found here. 89 Pts
2016 Lespault-Martillac Blanc ( Pessac-Léognan ) – Juicy lemon, lime, green apple and honeysuckle going on here. The wine has a sweet shot of lime and pomelo in the finish. . 90 Pts
2016 Magrez Fombrauge Blanc ( Bordeaux ) – Citrus, grapefruit, vanilla and honeysuckle notes give you a wine with richness, sweetness and a nutty flavor — though a bit more acidity would be nice. 91 Pts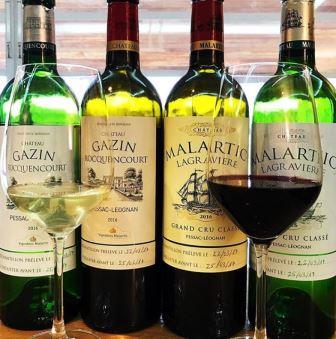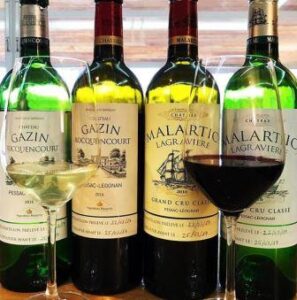 2016 Malartic Lagraviere Blanc ( Pessac-Léognan ) – Lemon lime, flowers, and vanilla with a shot of grapefruit are out in the open. Luscious, yet crisp and refreshing, there is a lot of sweet fruit here with refreshing acidity giving it lift and complexity. Harvested from September 19 to September 26. The wine was produced from a blend of 85% Sauvignon Blanc and 15% Semillon. 93 Pts
2016 Marjosse Blanc ( Entre-Deux-Mers ) – Loads of fresh, juicy citrus here, with honeysuckle and melon notes. Medium bodied, with a pomelo coated finish. Easy to drink, this is a great summer wine for seafood, or just easy drinking pleasure. 89 Pts
2016 Mouton Rothschild Aile D'Argent Blanc ( Bordeaux ) – Fresh, juicy citrus fruit, flowers, honeydew melon and mineral essences get the wine going. There is ample yellow citrus peel and a judicious hint of honey, rounding out the sweet, juicy, pomelo, pineapple, vanilla and white peach. The wine was made from a blend of 53% Sauvignon Blanc, 46% Semillon and 1% Muscadelle. 93 Pts
2016 Nardian ( Bordeaux ) – Grapefruit, lemon and vanilla is at the core here, with ripe, juicy citrus, in the medium bodied, already approachable wine. Drink this on the young side. 88 Pts
2016 Olivier Blanc ( Pessac-Léognan ) – Citrus peel notes, blended in with a hint of tropical fruit and flowers defines the wine. A touch of honeysuckle rounds things off in the finish. 91 Pts
2016 Pape Clement Blanc ( Pessac-Léognan ) – Lemon custard, grapefruit, vanilla and green apples create the bouquet. Full bodied, sweet and fleshy, this should drink well young. The wine was produced from a blend of 55% Sauvignon Blanc 45% Semillon. No Sauvignon Gris was used in the blend this year. The wine is aging is taking place in a combination of foudre, concrete egg vats and new, French, oak barrels for 16 months. 93 Pts
2016 Pavillon Blanc du Chateau Margaux ( Bordeaux ) – Just squeezed lemons, hints of flowers, tropical accents, green apple and a few drops of honey make this a delicious, round, sweet, fresh, character driven, white Bordeaux wine.
93 Pts
2016 Puygueraud Blanc ( Bordeaux ) – Made from 80% Sauvignon Blanc and 20% Sauvignon Gris, this pops with lemon and pineapple aromas. Sweet, forward and refreshing, this white Bordeaux wine will be delicious for the first few years of life. 89 Pts
2016 Rahoul Blanc ( Graves ) – Honeysuckle, citrus, and pomelo fruits are what you'll find in this forward, round, easy drinking, seemingly, slightly sweet wine. 84 Pts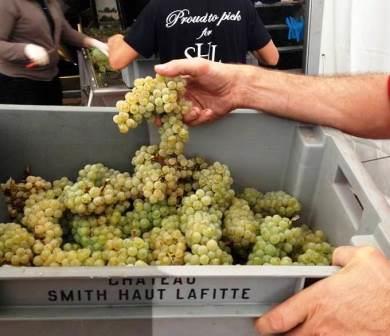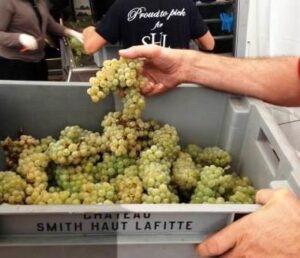 2016 Smith Haut Lafitte Blanc ( Pessac-Léognan ) – White peach, honeysuckle, pie crust and lemon curd aromatics are all over the place. The wine is concentrated, the fruit is sweet and juicy, but a but more lift would have made this really rock. The wine was produced from a blend of 90% Sauvignon Blanc, 5% Sauvignon Gris and 5% Semillon, reaching 14% alcohol with a pH of 3.2. 94 Pts
2016 Smith Haut Lafitte Le Petit Blanc ( Pessac-Léognan ) – Waxy, lemon curd on the nose leads you to a citrus filled, medium bodied, early drinking wine you can drink on release. 90 Pts
2016 Blanc Sec de Suduiraut ( Bordeaux ) – This is the second vintage for this dry white wine from Suduiraut. Made from a blend of 51% Semillon and 49% Sauvignon, the wine offers orange, honeydew, white peach and citrus in the nose, and in the mouth. The wine is round and shows sweetness in the fruit that comes from ripeness. 87 Pts
2016 Thieuley Cuvée Francis Courselle Blanc Sec ( Bordeaux ) – Easy drinking, light, refreshing character, with a focus on its yellow citrus personality. This will drink best on release and its youth. 86 Pts
2016 Tronquoy-Lalande Blanc ( Bordeaux ) – From a blend of 77% Semillon and 23% Sauvignon Gris, the wine delivers a white peach, yellow citrus and honeydew character. Fleshy, with good sweetness, this will drink well on release. 90 Pts
2016 Virginie de Valandraud ( Bordeaux ) – Loads of yellow citrus, honeysuckle and lemon peel. Sweet, round and open, with juicy, fresh citrus in the nose and on the palate. 90 Pts