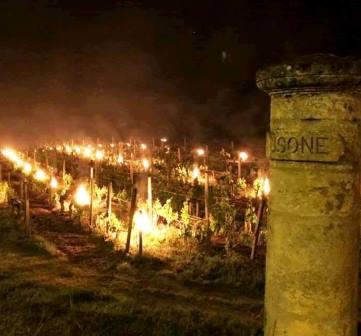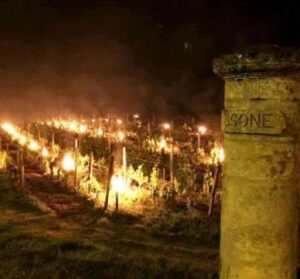 Tragic news is coming out of Bordeaux this morning. Severe frost damage is being reported all over Bordeaux. Overnight temperatures that dipped to below freezing levels were reported all over Bordeaux, Thursday, April 27.
Mother nature is not done wreaking havoc with the most recent Bordeaux frost yet. Equally frozen temperatures are possible Friday, April 28 and even April 29.
This is heartbreaking news for all vineyard owners, and wine lovers. This is not just a business. The loss of a harvest or even worse, portions of a vineyard, simply breaks their heart. It is important to remember this is an emotional loss as well as a personal loss.
Wine is an agricultural product. There is nothing worse that can happen during a growing season than frost, and hail, as they can destroy an entire crop, and even kill vines instantly.
Frost damage is at its worst, when the new buds are just starting to burst and develop, as they are infants and easily impacted from below zero temperatures. Bud break has been taking place in Bordeaux, so the Bordeaux frost could not have come at a worse time.
Temperatures as low as -4 Celsius, (24.8 degrees Fahrenheit) have been recorded in parts of St. Emilion! The Merlot and Cabernet Franc were hit hard by the 2017 Bordeaux frost.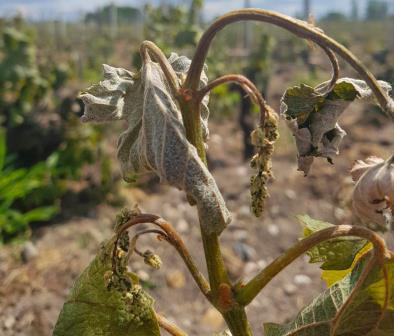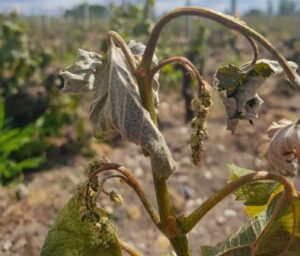 Growers in the Right Bank may have been hit the hardest. In St. Emilion, Fleur Cardinale at first thought they lost 75% of their potential 2017 crop.
Later in the day, Caroline Decoster upgraded that to say that 90% of the vines have been hit. The same percentage of devastation occurred at Croix de Labrie. Simard, Fonbel and Moulin Saint Georges have lost half of their potential 2017 harvest due to the Bordeaux frost according to Pauline Vauthier.
Pauline added that so far, they have not suffered losses at Ausone. Angelus is reporting losses. Grand Mayne has lost 25% of their crop. Jean-Luc Thunevin of Valandraud lost a large portion of his grapes for their dry white Bordeaux wine, and his Cabernet Sauvignon also suffered.
Pomerol and Lalande de Pomerol were not spared either. La Conseillante has lost at least 20-25% of their crop said Marielle Cazaux. In Lalande de Pomerol some estates report as much as 90% of their potential 2017 has been lost.
Some damage is also being reported in the Medoc. From what I've been able to learn about the effect of frost in the Medoc, the vineyards effected are in the lower parcels that are most often used to produce estates second wines.
Margaux and Pessac Leognan vineyards have the suffered loses in the Left Bank. But the level of severity is not what is being felt in Saint Emilion, Pomerol and the Cotes de Bordeaux. The Cotes de Castillon vineyards have also been particularly hard hit.
Entre Deux Mers Sauternes has also been slammed with as much as 50% of some vineyards destroyed. A few vineyards have suffered a complete loss for any potential harvest with the 2017 vintage.
However, damage from the 2017 Bordeaux frost depends on the location of the vineyard, as other growers, even in St. Emilion have informed that fortunately, their vines did not suffer.
It is going to take some time to determine the full extent of the loss suffered by all the vignerons due to the 2017 Bordeaux frost. Other vintages have been destroyed by frost in the past.
The most famous year was 1956 Bordeaux Frost, when a massive portion of Bordeaux was destroyed by frost, necessitating replanting.
More recently, 1991 Bordeaux was also damaged by the Bordeaux frost.
This loss is devastating for many growers, some of which might not be able to produce wine in 2017. This is going to alter prices for the 2016 Bordaux Vintage that is not yet priced.
The reason is, the growers will need the money to make it through the current year, when they will have very little wine to produce and sell. The degree that this will alter prices is not yet known, as there is a lot of information that goes into pricing a wine.
Aside from higher prices, you can count on the futures campaign to be slower and later this year as well, as producers are going to need time to understand the loss in their vineyards. By the time noon approached, some vintners were looking over their vineyards using helicopters to assess the damage as you can see in this image below.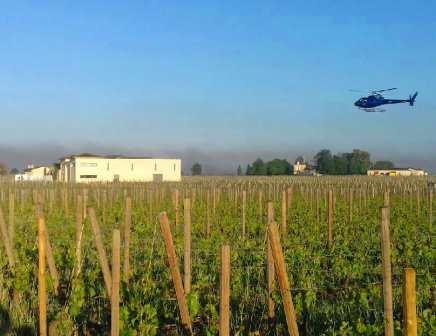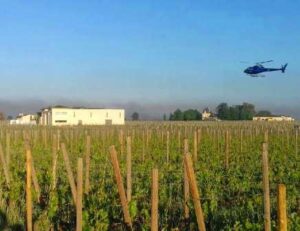 There are things that well financed growers can do to lessen the potential damage. They can rent helicopters. The helicopters help by forcing warmer air downward, which can raise temperatures up 2-3 degrees. They also rent, or own heaters and wind turbines.
Fires are sometimes lit as well. Wood shipping palates are often used as fuel. Another widely used technique is lighting large candles and placing them close to the vines. The candles add warmth and help move air. The movement helps reduce the ability of frost to attach to the vines.
The sharpest drop in temperature takes place shortly after the sun comes up, so workers were in the vineyards trying to raise temperatures starting at 3:3am. But there is only so much that can be done. Nature will always have its say.
Bordeaux is not the only region reporting frost damage this year. Champagne, Chablis, Languedoc and the Loire Valley have also been severely impacted. Frost damage has slammed more than France. German and Italian growers have suffered as well with severe losses reported in Barolo, Barbaresco, Alba, Langhe e Dogliani. It's not just the wine regions of Europe that have been hit by the frost, producers in Cognac are also reporting damage.