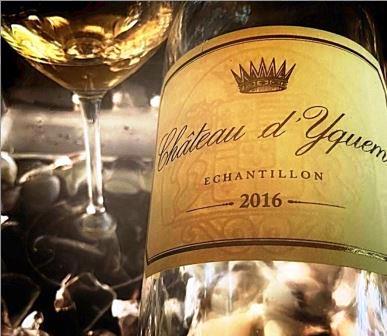 The delicious, sweet wines of Sauternes have been on quite a roll lately. Think about it. 2015, 2014, 2013, 2011, 2010, 2009, 2007, 2006, 2005, 2004, 2003 and 2001 have produced outstanding wines. For close to 2 decades, Sauternes has clearly been shown a lot of love from Bacchus. 2016 Sauternes is not at the top level of wine the appellation can make. But there are some quite fine 2016 Sauternes worth considering for lovers of decadent, sweet, white Bordeaux wine.
Why is 2016 Sauternes not at the peak level enjoyed in recent vintages like 2015, 2014, 2013 etc.? It was of course the climatic conditions experienced during the 2016 Sauternes growing season. The massive amount of rain that drenched the region until late June, and the excessive drought conditions left its mark here. The combination of the warm, extremely dry, summery conditions, high yields and late arrival of botrytis also played a part in the development of 2016 Sauternes. While the wines are good, providing ample pleasure, they lack the vibrancy, complexity and level of depth found in the top years. Most of harvest for the 2016 sweet, white Bordeaux wines took place from the middle of October until the start of November under good conditions. For an in-depth look at the weather for all of 2016 Bordeaux: 2016 Bordeaux Harvest and Growing Season Report
This is the eleventh in a series of reports covering the best 600 wines from the 2016 Bordeaux vintage. Finally, we have now covered all the appellations and wines tasted from the 2016 Bordeaux vintage. Now that futures are starting to come out, and wines are being priced, we will publish a few follow up articles in the near future on all the best 2016 Bordeaux wines to buy, along with a report on the top value wines from the 2016 vintage as well.
Also, in case you are not aware of the Severe Frost Slammed Bordeaux April 27 and April 28 causing Massive Damage, you should know that several vineyards in Sauternes and Barsac suffered tremendous losses. However, the worst frost in almost 30 years was particularly devastating in the Right Bank. In Pessac Leognan and in the Medoc, as well as in Bordeaux and Entre Deux Mers, many vineyards took tremendous hits that resulted in the destruction of up to 90% of their potential 2017 white Bordeaux crop being decimated. Due to the heavy damage to their 2017 crop, there is a very good chance that many growers are going to ask higher prices for their 2016 Bordeaux wines to help cover their losses.
In this article, you will also find a few dry white Bordeaux wines. The reason is, the interesting trend taking place in Sauternes and Barsac to produce more dry white Bordeaux wine from vines planted in Sauternes and Barsac. Due to AOC law, even though the grapes are authorized, as they do not conform to AOC law for Sauternes and Barsac, due to low sugar levels, they are sold as generic AOC Bordeaux wine. There has been interest from several vignerons in the region to create a new appellation for the expression of producing dry white Bordeaux wine from grapes planted in Sauternes. So far that has not happened, but we think it would be a good thing as many of those wines are delicious and affordable, and that makes for a good combination in today's marketplace. While some consumers chose to wait to purchase wines from Barsac and Sauternes, until they are in bottle, remember, you have a better chance of purchasing splits, 375ml bottles if you buy them En Primeur as the negociants can place your order with instructions insuring your wine will bottled in the desired format of your choice.
2016 Sauternes and Barsac report with tasting notes, ratings.
2016 Bastor Lamontagne (Sauternes) – Apricot, orange, pineapple and honeysuckle scents open the wine. On the palate, the wine is sweet, nutty, with loads of honeyed apricots, vanilla and banana custard. There is weight, and sweetness, but not too much. This wine is something to consider as it can be nicely paired with savory courses quite nicely. 89 – 91 Pts
2016 Clos des Lunes Lune Blanche ( Bordeaux ) – Already delicious, with juicy pomelo on the nose and palate. The wine has sweetness to the fruit and a citrus finish. 88 Pts
2016 Clos des Lunes Lune d'Argent ( Bordeaux ) – Fresh squeezed grapefruit, honeysuckle and white peach scents are right where they need to be. The wine is fresh, sweet, forward, concentrated and complex. 91 Pts
2016 Clos des Lunes Lune d'Or ( Bordeaux ) – Lemon, lime and green apple are what's out in front. Sweet citrus complicated by vanilla, stone and honeysuckle, The yellow, citrus in the finish stays with you with its sweetness and vibrant character. Lune d'Or is the top wine from the trio of dry white wines Olivier Bernard makes from vines planted in Sauternes. 92 Pts
2016 Clos-Haut-Peyraguey (Sauternes) – Tropical fruits galore, with vanilla custard, honey and apricot. Medium/full bodied, with a juicy, over ripe, pineapple and honey accented finish. 91 – 93 Pts
2016 Coutet (Barsac) – Pineapple, candied orange rind, vanilla, and apricots with sweet, honey and floral notes create the nose. The wine is lush, sweet and fresh, with a tropical fruit and decadent, honey coated finish. 92 – 94 Pts
2016 Doisy Daene (Sauternes) – Flowers, white peach, apricot and honeyed pineapple are all over the place. Rich, sweet, juicy, fruits, roasted nuts, tropical fruits and apricot are enjoyed in the finish. 92 – 94 Pts
2016 de Fargues (Sauternes) – Opulent, lush, sweet, honeyed fruit coasts your mouth. The acidity gives all that, sweet, ripe and over ripe fruits just about enough lift to make it interesting and delicious. 93 – 95 Pts
2016 Guiraud (Sauternes) – Juicy pineapple, apricot, peach and vanilla blend to create the nose. Rich, lush and sweet, the wine finishes with overripe tropical fruits coated with honey. 92 – 94 Pts
2016 La Tour Blanche (Sauternes) – Flowers, vanilla, buttered pineapple and assorted tropical fruits drizzled with honey gets you going. Sweet, rich and lush in the mouth, with an apricot and honey oriented finish. 91 – 93 Pts
2016 Lafaurie-Peyraguey (Sauternes) – Take a jar of honey and drop in all the juicy, ripe and over ripe pineapple, orange and apricot fruits you can squeeze into the jar and you're close. All you need is a bouquet of flowers, vanilla bean and some acidity and you get the picture. 93 – 95 Pts
2016 Le Lys de Lafaurie-Peyraguey ( Bordeaux ) – The second vintage for this new dry white Bordeaux wine really shows off its fresh, lively, floral and fresh green apple, grapefruit and lemon peel character with ease. Vibrant and refreshing there is a nice splash of honey, vanilla bean, tropical fruit and crushed rocks on the palate and in the refreshing finish. Similar to the bottle with the Lalique insert used for their Sauternes, this makes a stunning presentation at the table. 91 Pts
2016 Myrat (Sauternes) – Luscious, sweet, honeyed pineapple, apricots mango and vanilla bean start off the wine. Loads of ripe, very ripe and over ripe tropical fruit coated with honey and nuts in the finish which comes with the right amount of acidity to keep this vibrant. 90 – 92 Pts
2016 Raymond Lafon (Sauternes) – Over ripe pineapple, apricot, mango and candied orange rind with loads of sweet honey and macadamia nuts make an appearance. Delicious, sweet, fresh and honey coated, this is going to be tasty young and get even better as it ages. 91 – 93 Pts
2016 Suduiraut (Sauternes) – With a deep yellow color, the wine is perfumed with honeyed pineapple, orange, apricot and nut aromas. The full bodied wine is sweet, rich, lusciously textured and loaded with honey and nuts. The wine was produced from blending 94% Semillon and 6% Sauvignon Blanc. 93 – 95 Pts
2016 Chateau Suduiraut "S" de Suduiraut (Sauternes) – Pomelo, lemon peel, green apple and flowery in character. The wine is richly textured, with sweetness to the yellow citrus, and white peach in the finish. 88 Pts
2016 Le Blanc Sec de Suduiraut (Bordeaux) – This is the second vintage for this dry white wine from Suduiraut. Made from a blend of 51% Semillon and 49% Sauvignon, the wine offers orange, honeydew, white peach and citrus in the nose, and in the mouth. The wine is round and shows sweetness in the fruit that comes from ripeness. 87 Pts
2016 Yquem (Sauternes) – Fat, sweet, tropical fruits, apricots and Mandarin oranges slathered in honey, vanilla and flowers. This is quite rich, powerful and concentrated. It has more freshness than the 2003, but not as much freshness as you find in 2013. Still, this is complex, deep, long and intense, yet remarkably light on its feet. This will age much longer than I will. 96 – 98 Pts