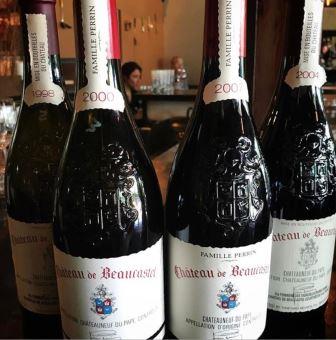 I know I have not been keeping up with posting the Wine of the Week. But I have been busy. I did add tasting notes for the top 600 wines from the 2016 vintage. Plus, our coverage has also increased in the Rhone Valley. In fact, I'll be in Chateauneuf du Pape in June tasting the very good, 2015 vintage. Back to what else has been taking place on the site. New winery profiles have been published and several new tech features that make The Wine Cellar Insider more fun, faster and easier to use have also just come online. Plus, even though I might not have been adding new Wine of the Week articles, on the positive side, I am almost 100% caught up on recent tasting notes from the past several months. In fact, we should cross more than 15,000 unique, searchable tasting notes on the site this year! So as you can see, we have been busy.
What goes into a Wine of the Week anyway? Generally speaking it is a wine that moved me. It could be a value wine, for example a Bordeaux Superieur, or a chateau from the Right Bank satellite regions. Value wines are great. It's always fun to taste and discover wines that blend value, character and drinkability. A Wine of the Week could also be an older, mature bottle, or even a young wine that rocked me. Or the wine might be one of those time machine bottles that captured a memory because it was shared on a special occasion. And let's not forget, a Wine of the Week might just be something that was frankly, delicious! This wine of the week is clearly in the delicious category.
2007 Beaucastel Chateauneuf du Pape is the Wine of the Week, and with just cause. If you had to pick one wine from all of Chateauneuf du Pape that is known the world over, perhaps it's Beaucastel. The wines are great. They age well. They have a uniqueness and character, plus, because they are made in large quantities, the wines are also easy to find.
At a Southern Rhone lunch last week, people were just asked to bring a myriad of bottles. Fortunately, 2007 Beaucastel, along with other vintages of Beaucastel were part of the mix!
2007 Beaucastel at 10 years of age is already great in your glass, due to its ripe, sexy style. Round, supple, even opulent, this wine make no pretense to offering pleasure in every sniff, swirl and sip. Jammy fruits galore, with a big dose of barnyard, pepper and kirsch, this blend of Grenache, Mourvedre, Syrah and all the other allowable red wine grapes, plus 5% white wine grapes is ready for prime time drinking. I suspect it will not make multi-decade old bones, but things like ageing potential can always surprise you. 95 Pts