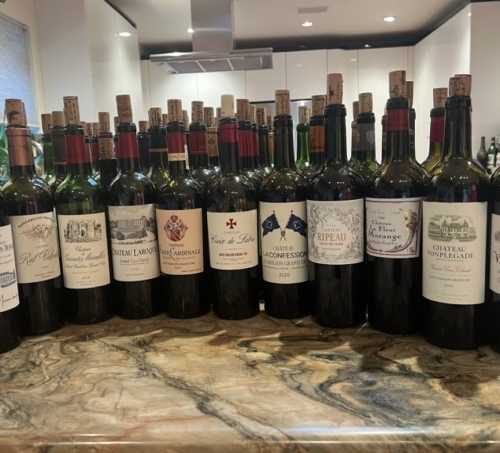 This is our final article covering 2020 St. Emilion. With over 200 wines tasted from just the 2020 Saint Emilion appellation, we needed to publish the tasting notes in 4 articles.
As we wrote previously, because we tasted over 200 St. Emilion wines, our 2020 Saint Emilion is divided into 4 separate articles. This article, Pt 3 covers wines L-N. For the rest of 2020 Saint Emilion, please read:
2020 St. Emilion, PT 1 Wines A-C with Vintage and Harvest Report, Producer Quotes
2020 St. Emilion, PT 2 Wines D-K
2020 St. Emilion, PT 3 Wines L-N
To read reports on the 2020 Bordeaux vintage in every appellation, as well as a 2020 Bordeaux vintage summary and analysis, please see The 2020 Bordeaux Complete Guide
All of the following 2020 Saint Emilion wines constituting Part 4, wines P-Z were all tasted in my home office in non-blind conditions.
2020 Palatin – St. Émilion Grand Cru – Medium-bodied, fresh, fruity, and loaded with sweet, pit fruits, chocolate, and espresso, the wine is vibrant, bright, and juicy with a creamy finish that will clearly drink well on the young side. Drink from 2023-2037. 90 Pts
2020 du Parc – St. Émilion Grand Cru – Medium-bodied, soft, round, ripe, fresh, and polished, the wine displays its center of chocolate-coated fruits, espresso bean, licorice, and Indian spices with little effort. You can enjoy this in its youth, or age it if you prefer more secondary notes. Drink from 2023-2037. 90 Pts
2020 Paradis – St. Émilion Grand Cru – Lush, plush, and polished, the wine offers layers of sweet, black plums, dark cocoa, licorice, and espresso. Rich, full, deep, and lively, the salt-tinged finish adds more nuance to the wine. Drink from 2024-2040. 92 Pts
2020 Pas de l'Ane – St. Émilion Grand Cru – With a strong sense of flowers in the opening note before finding all of the fresh, vibrant, red fruits in the perfume, the wine is medium-bodied, elegant, lifted, and fruity with a chewy, oaky accent to all the sweet red berries in the finish. Drink from 2023-2038. 90 Pts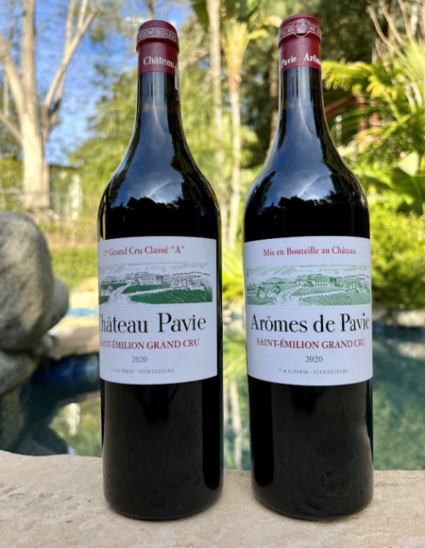 2020 Pavie – St. Émilion Grand Cru – With a hue so dark, it is impossible to see through, the wine grabs your senses with its aromatic profile consisting of flowers, black plums, blackberries, black cherries, crushed rocks, licorice, smoke, blue fruits, espresso, mocha, and oceanic fragrances. The wine is full-bodied, concentrated, mouth-coating, and palate-staining, as well as vibrant, pure, and intense. The practically seamless, opulent finish with its layers of sensuous, salty fruits sticks with you for close to 60 seconds. This is one of the great vintages of Pavie! Drink from 2026-2060. 99 Pts
2020 Pavie Aromes de Pavie – St. Émilion Grand Cru – With a distinctive floral edge, the wine quickly shifts to its nuances of espresso, licorice, crushed rocks, plums, and dark chocolate on the nose. The wine is poised between its richness, freshness, and vibrant layers of plums, cherries, and cocoa with its edge of sea salt. What really makes this work is the new blend of 50% Cabernet Franc, and 50% Merlot, both harvested from specific parcels. Aromes de Pavie is no longer the second wine of Pavie, it is a unique wine of its own creation. Drink from 2024-2040. 94 Pts
2020 Pavie Macquin – St. Émilion Grand Cru – Deeply colored with a showy nose packed with smoke, espresso bean, flowers, licorice, black cherries, plums, and chocolate. The wine is rich, full-bodied, deep, and concentrated with layers of sensuous, flamboyant, silky fruits that express purity, depth, and complexity. The lingering finish builds in intensity finishing with intriguing touches of citrus peel, red pit fruit, and dark chocolate. In a few years, this could be even better. Drink from 2025-2055. 98 Pts
2020 Pavie Macquin Les Chenes de Macquin – St. Émilion Grand Cru – Herbs, olives, spice, flowers, and red fruits are all over the place here. On the palate, the wine is even better with all of its ripe, soft, sweet, red pit fruits, freshness, and silky tannins. There is a hint of chalk, and cocoa in the finish, which adds to the complexity. Drink from 2023-2032. 90 Pts
2020 Pavie-Decesse – St. Émilion Grand Cru – Opening with a strong floral bouquet, the wine soon adds nuances of fennel, black cherries, plums, chocolate, oceanic influences, coffee beans, and spice. Full-bodied, silky, fresh, vibrant, and polished, the finish delivers a complex ending packed with crushed rocks, dark chocolate, deep red pit fruits, and a touch of licorice, and sea salt on the sensuously textured, backend. Drink from 2025-2050. 96 Pts
2020 Peby Faugeres – St. Émilion Grand Cru – Almost completely opaque in color, the wine is fully-packed with countless layers of perfectly ripe, opulently textured, deep, dark fruits. Powerful, yet balanced, with a palate-staining, seamless finish loaded with perfectly ripe, dark red, velvet-textured, pit fruits with a gorgeous sense of purity that builds, expands and lingers for over 50 seconds. This is already stunning, but its best days are yet to come. Drink from 2025-2050. 97 Pts
2020 Petit Faurie deSoutard – St. Émilion Grand Cru – Floral in nature, you also find nuances of espresso, mint, wet earth, black cherries, and strawberry in the perfume. On the palate, the wine is medium-bodied, lush, and polished, with freshness, sweet fruits, and silky tannins in the finish. Drink from 2023-2040. 93 Pts
2020 Petit Gravet Aine – St. Émilion Grand Cru – With one of the highest proportions of Cabernet Franc in Bordeaux at 80%, the nose jumps with nuances of dried flowers, spice, savory red fruits, espresso, incense, orange rind, crushed rocks, and mint. The wine is fresh, lively, and pure on the palate with a massive blast of oceanic influences, giving you a strong salty accent to the layers of plums, and cherries. Give it time in the cellar to develop, and it will be an even better wine. This is clearly the finest vintage of Petit Gravet Ainé produced yet. Drink from 2025-2050. 95 Pts
2020 Petit Val – St. Émilion Grand Cru – Medium-bodied, forward, soft, and supple with a core of red pit fruits, espresso, and cocoa in the nose, and on the medium-bodied, round-textured, palate. Sweet, lush, soft, and fruity with loads of juicy fruit on the mid-palate, and in the finish, this will be delicious with just a year or two of age. Drink from 2023-2038. 92 Pts
2020 Pierre 1er – St. Émilion Grand Cru – Flowers, licorice, spice, espresso, crushed rocks, and spicy red fruits take over the perfume. On the palate, the wine is lush, fresh, long, and vibrant with a touch of orange citrus before getting to all the sweet, ripe red fruits that resonate. Give it a year or two in the cellar, and is going to be even better. Drink from 2023-2038. 92 Pts
2020 Poesia – St. Émilion Grand Cru – Black plums, chocolate, licorice, flowers, and espresso create the nose. From there you find a rich, fresh, vibrant, creamy-textured, concentrated, and mineral-driven wine with a long, intensive, refined finish with layers of mineral-driven, dark red fruits, spices, cocoa, and savory herbs in the chalky endnote. Drink from 2023-2050. 94 Pts
2020 Pressac – St. Émilion Grand Cru – Medium-bodied, elegant, soft, and fresh with a core of ripe, sweet, vibrant red fruits, silky tannins, and a finish ending with chalk, cocoa, espresso, and cherries. Drink from 2023-2045. 93 Pts
2020 Pressac Tour de Pressac – St. Émilion Grand Cru – Medium-bodied, soft, forward, fruity charmer with sweetness to the cherries, and a touch of chocolate on the palate. Drink this while waiting for the Grand Vin to develop. Drink from 2023-2027. 87 Pts
2020 Quinault LEnclos – St. Émilion Grand Cru – Black cherries, flowers, chocolate, and espresso with a hint of blue fruit pop in the nose. Rich, lush, plush, and polished, the wine is fresh, silky, and packed with all the ripe, lush, chocolate-coated cherries with a sprig of refreshing mint that shows up at the end of the finish. Drink from 2023-2045. 93 Pts
2020 Quintus – St. Émilion Grand Cru – Supple, fresh, and vibrant with layers of silky fruits, accents of salty rocks and stones, flowers, spice, and red pit fruits, the wine is sensuous, polished, and energetic on the palate and in the finish. There is a beautiful purity and refinement in the finish that makes your want to take another sip. The wine blends 62.5% Merlot with 37.5% Cabernet Franc, 15.2% ABV. Drink from 2025-2047. 96 Pts
2020 Quintus – St. Émilion Grand Cru – Fresh, soft, supple, sweet, and vibrant, you can sense the minerality on the palate, which adds to the complexity and verve in all the ripe, polished dark, red fruits and spice. Drink from 2023-2031. 91 Pts
2020 Le Dragon de Quintus – St. Emilion de Quintus – St. Émilion Grand Cru – Early drinking, soft, creamy wine with sweet, ripe, earthy, savory plums and cherries on the nose and palate. Light, fresh, bright and easy drinking, earthy, savory, red berry filled wine. 86% Merlot and 14% Cabernet Franc. This is the new 3rd wine from Quintus. Drink from 2023-2028. 89 Pts
2020 Ripeau – St. Émilion Grand Cru – Flowers, and licorice pop with espresso, and ripe cherries in the perfume. Fresh, supple, and rich, with ample layers of ripe, red, and black fruits, that provide a lusciously textured, polished, and plush finish with length, and hedonistic pleasures. Under the new owners, the wines here keep improving vintage after vintage. Drink from 2023-2040. 94 Pts
2020 Rochebelle – St. Émilion Grand Cru – Flowers, pine trees, spice, and black cherries pop in the nose. On the palate, the wine is opulent, polished with a core of ripe, sweet, fresh, black plums, blueberry, and mint that hold your attention from start to finish. As I wrote when tasted this from the barrel, this is clearly a new level of quality at Rochebelle. Much of that credit deservedly goes to their new consultant, Thomas Duclos. Drink from 2024-2040. 93 Pts
2020 Rocheyron – St. Émilion – Dried flowers, crushed rocks, red, and black pit fruits, dark chocolate, licorice, and espresso notes frame the perfume. On the palate, the wine combines lift, finesse, silky tannins, and layers of sensuous, ripe, deep, red fruits, with a serious dose of minerality that you can really sense in the lingering finish. Drink from 2025-2045. 96 Pts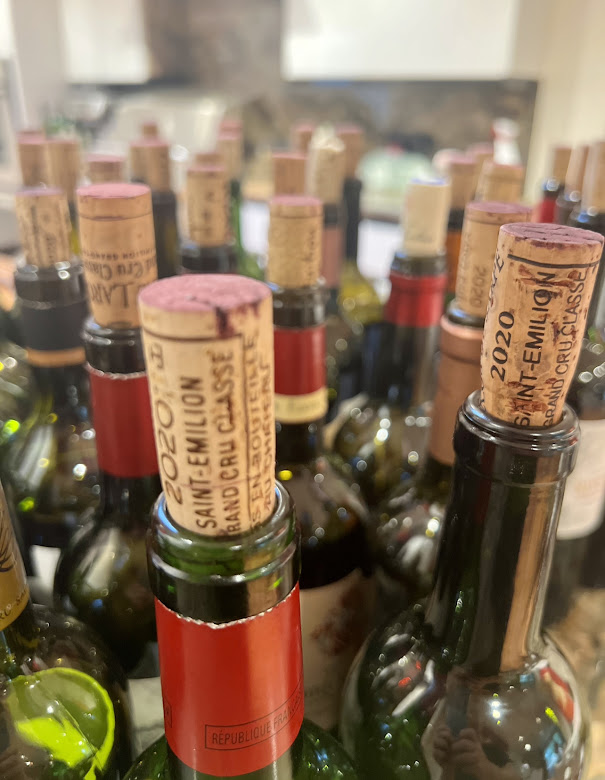 2020 Rol Valentin – St. Émilion Grand Cru – Flowers, black raspberries, licorice, black cherries, and plum scents are out in front here. Medium-bodied, silky, fresh, pure, and vibrant, as well as refined in texture, the wine offers ample, sweet, ripe, red berries, and a touch of cocoa in the finish. Drink from 2024-2040. 92 Pts
2020 Rolland-Maillet – St. Émilion Grand Cru – Round, lush, black cherry, and chocolate-filled wine that is medium-bodied, earthy, fresh, vibrant, easy-to-like wine, and finishes with a blast of chocolate-coated re fruits, and espresso beans. Produced from blending 80% Merlot, and 20% Cabernet Franc, this is going to be good to go on release. Drink from 2023-2033. 90 Pts
2020 Roylland – St. Émilion Grand Cru – Round, lush, and supple, the wine is packed with black cherries, espresso, dark chocolate, licorice, and spice from start to finish. This rich wine will be delicious on release, and over its first decade of life. Drink from 2023-2037. 91 Pts
2020 Réves – St. Émilion Grand Cru – Fresh, elegant, soft, polished, and floral, the wine offers sweet, ripe, fresh red pit fruits with a nice touch of crushed stone, licorice, and toasty oak. The wine is a blend of 85% Merlot, and 15% Cabernet Sauvignon. Drink from 2024-2038. 90 Pts
2020 Saint-Pey – St. Émilion Grand Cru – Medium-bodied, fruit-filled wine with accents of crushed stones, and savory, red with black fruits with hints of licorice, and cocoa. There is freshness and energy here in the chalky finish. Drink from 2024-2035. 91 Pts
2020 Saintayme – St. Émilion Grand Cru – This is the finest vintage of Saintayme I have ever tasted. Medium-bodied, finesse styled, elegant, fresh, and vibrant, produced from 100% Merlot, the wine is all about showing off its sweet, red, earthy pit fruits, flowers, smoke, truffle, and plums in the nose, palate, and elegant finish. Drink from 2023-2038. 92 Pts
2020 Sansonnet – St. Émilion Grand Cru – Dark in hue, the wine opens with espresso, black cherries, dark chocolate, and flowers in the perfume. Full-bodied, creamy, concentrated, silky, and fresh, the finish strives to coat your palate with its layers of polished, ripe, black, and blue fruit, espresso, licorice chocolate, and smoke. Drink from 2024-2050. 95 Pts
2020 Simard – St. Émilion – Kirsch, cherries, flowers, spice, and plums open the perfume. Medium-bodied, the wine is soft, fresh, fruity, and forward with sweetness, and lift in the almost, crisp finish. You can enjoy this on release, or age it a bit for more complexity. Drink from 2023-2032. 90 Pts
2020 Soutard – St. Émilion Grand Cru – Flowers, 5 spice, herbs, smoke, and licorice blend with the red berries, and pit fruits perfectly in the bouquet. On the palate, the wine is concentrated, and rich, yet light on its feet, elegant, balanced, and fresh. The finish lingers with an array of ripe, red, black, and blue fruits, licorice, and salinity on the backend with just a hint of cocoa that seals the deal. This is the finest vintage of Soutard I have ever tasted! Drink from 2025-2045. 94 Pts
2020 Soutard-Petit-Soutard – St. Émilion Grand Cru – Fresh, an early-drinking charmer with loads of sweet, ripe, cherries, plums, and strawberries, and a bit of a cocoa accent that shows on the palate, and in the finish. This is fully ready to go and is perfect for enjoyment over the near term while waiting for the Grand Vin to develop. Drink from 2023-2030. 89 Pts
2020 SoutardCadet – St. Émilion Grand Cru – Rich, unctuous, full-bodied, and intense, the wine wants to coat your palate with its layers of sweet, supple, polished, dark red fruits, chocolate, and licorice. There is intensity, freshness, length, and hedonism in every sniff, swirl, and sip from start to finish. Drink from 2022-2045. 95 Pts
2020 Tauzinat L'Hermitage – St. Émilion Grand Cru – The ripe dark, red fruits show their supple side in this medium-bodied, round, lush, and polished wine, finishing with chocolate-coated cherries, plums, and French roasted coffee beans in the mid-palate, and in the finish. Drink from 2023-2037. 90 Pts
2020 Tertre Roteboeuf – St. Émilion Grand Cru – Opulent, exotic, and sensuously-textured, the perfectly ripe, deep fruits are intense, sweet, fresh, long, spicy and earthy and opulently textured. There is intensity along with opulence and purity in every sip. This uniquely styled wine stands out in a crowd and should age and evolve for at least 2 decades or more with little effort. Drink from 2026-2048. – 98 Pts
2020 Teyssier – St. Émilion Grand Cru – Cherries, licorice, flowers, and a background note of cocoa come to the nose easily. The wine is soft, polished, and medium-bodied, with a fresh, red plum, and dusty cocoa finish. This is already delicious. You can enjoy this with pleasure on release. Drink from 2023-2032. 90 Pts
2020 Tour Baladoz – St. Émilion Grand Cru – Medium-bodied, fresh, sweet, and vibrant with a core of sensuously textured, red fruits, chocolate, licorice, espresso, and smoke that starts off in the nose, and continues through to the elevated finish. Drink from 2024-2039. 91 Pts
2020 Tour Perey – St. Émilion Grand Cru – Dark cherries, and even darker chocolate fill out the wine. Fruity, juicy, and dark, with a kick of roasted Espresso beans on the backend, you can enjoy this with ease on release. Though a year or two should help the wine to better integrate. Drink from 2023-2037. 90 Pts
2020 Tour Peyronneau Cabernet Franc – St. Émilion Grand Cru – Medium-bodied, fresh, bright, vibrant, chalky, floral, savory, and spicy, the wine is unusual in Bordeaux as its produced from 100% Cabernet Franc. Drink from 2023-2030. 89 Pts
2020 Tour Peyronneau Merlot – St. Émilion Grand Cru – Forward, early-drinking, uncomplicated, but pleasant red pit fruit-filled, crowd-pleasing wine for early drinking pleasure. Drink from 2022-2028. 87 Pts
2020 Tour Saint Christophe – St. Émilion Grand Cru – Dark black fruit, licorice, chocolate, espresso, smoke, and wet earth nuances create the complex aromatics. On the palate, the wine is lush, fresh, fruity, and layered with black, red, and blue fruits that feel as good as they taste while nuances of chocolate and spice show up in the finish. Drink from 2025-2045. 95 Pts
2020 Touzinat Prieure – St. Émilion Grand Cru – A fruity wine with loads of strawberry, black cherry, flowers, and licorice in the nose, the wine is medium-bodied, soft, and polished with a touch of chalk, and vanilla in the cherry-filled finish. You can enjoy this on release. Drink from 2023-2032. 89 Pts
2020 Trapaud – St. Émilion Grand Cru – An interesting wine, due to this blend, 60% Cabernet Franc, and 40% Merlot, the pops aromatically with nuances of flowers, espresso, seaweed, licorice, spice, and black cherries. Medium-bodied, silky, and fresh, with a supple-textured tone to the fruits, polished tannins, good energy, and sweetness to the berries. There is a touch of dark chocolate and sea salt that comes at the end that rounds everything out. Drink from 2023-2037. 91 Pts
2020 Trianon – St. Émilion Grand Cru – Initially you notice the floral bouquet before moving on to the touches of mint, and leafy herbs surrounding the ripe red berries. On the medium-bodied, the wine is refined, fresh, and silky, with ample, sweet, ripe, red pit fruits in the finish. Drink from 2023-2038. 90 Pts
2020 Trimoulet – St. Émilion Grand Cru – Dried flowers, cocoa, cherries, and black plums rule the day here. On the palate, the wine is medium-bodied, soft, sweet, vibrant, and approachable with a black cherry and cocoa-filled finish. Drink from 2023-2036. 91 Pts
2020 Troplong Mondot – St. Émilion Grand Cru – Flowers, cherries, plums, licorice, and an array of spices greet your nose. The wine is rich, full-bodied, concentrated, seductive, and packed from start to finish with layers of crushed rocks, licorice, blackberries, currants, and cocoa, ending with light touches of chalk, along with sweet red, and black pit fruits that build as they linger. Similar to what I found with the barrel sample, even with all its richness, the wine remains light on its feet with its strong sense of minerality, and lift. Drink from 2027-2055. 97 Pts
2020 Trotte Vieille – St. Émilion Grand Cru – With a serious depth of color, the wine pops from the glass with its array of flowers, black, red, and blue fruits, chocolate, licorice, Indian spices, and oceanic fragrances. The wine is full-bodied, rich, concentrated, and intense, with lusciously-textured layers of perfectly black, and red fruits, crushed rocks, chocolate, and espresso on the mid-palate that stick with you through to the finish. This is simply stunning from start to finish. With all of its ripe fruits, it will be fabulous in its youth, but it has serious aging potential. Drink from 2025-2050. 97 Pts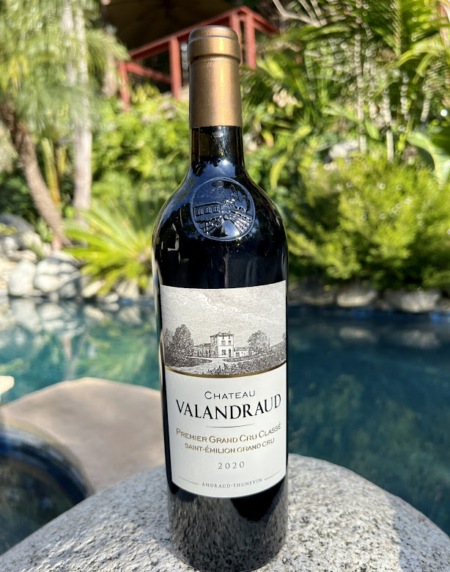 2020 Valandraud – St. Émilion Grand Cru – Completely opaque in color, the nose explodes with chocolate, espresso, smoke, blackberries, black cherries, truffles, smoke, and licorice. Full-bodied, opulent, and intense, this hedonistically-textured thrill ride coats your palate with layers of velvety, dark red, black, and blue fruits, mocha, espresso, and Asian spices. The array of sensations here is exactly what the doctor ordered. This is a sublime tasting experience that while it is superb to enjoy young in its primary state, the best is yet to come with some age that will allow the wine to build, expand, and gain secondary nuances. Drink from 2026.2055. 98 Pts
2020 Valandraud Virginie de Valandraud – St. Émilion Grand Cru – Crushed rocks, licorice, black plums, smoke, espresso, truffle, and flowers create the nose. The palate is rich, full-bodied, supple, and packed with waves of sweet, creamy, black, and dark red fruits finishing with a blast of milk chocolate, and spice. With length and intensity, it is hard to believe this is a second wine. Drink from 2024-2035. 93 Pts
2020 Vieux Chateau Mazerat – St. Émilion Grand Cru – Flowers, crushed rocks, black cherries, and spice, and leafy herbs form the nose. On the palate, the wine is medium-bodied, soft, supple, and fresh, leaving you with a touch of chalk, savory, leafy herbs, licorice, and chewy, red plums with a touch of salty cocoa that hits you in the backend of the finish. Drink from 2024-2042. 93 Pts
2020 Villemaurine – St. Émilion Grand Cru – Flowers, dark cherries, plums, chocolate, and licorice create the perfume. On the palate, the wine is medium-bodied, vibrant, silky, and packed with ripe, polished, red fruits, chalky tannins, a red plum, and an espresso finish. This is the last vintage for Justin Onclin as the owner. The estate was sold the following year. Drink from 2023-2042. 93 Pts
2020 YonFigeac – St. Émilion Grand Cru – Medium-bodied with a bit too much oak in the nose. Still, there is a lot to like here with all of its ripe, vibrant, sweet cherries, plums, and dark chocolate that are on full display in the round-textured, fruity finish. This is a nice step up from previous vintages, which is nice to see. Drink from 2023-2037. 90 Pts
This concludes our coverage of the 2020 Bordeaux vintage in the Right Bank and of course, 2020 Saint Emilion. As you have hopefully noticed was so voluminous, with over 200 wines tasted, we divided it into 4 articles. The remaining 2020 Saint Emilion wines can be read here:
2020 St. Emilion, PT 1 Wines A-C with Vintage and Harvest Report, Producer Quotes
2020 St. Emilion, PT 2 Wines D-K
2020 St. Emilion, PT 3 Wines L-N
We will begin wrapping everything up with our final reviews from the Left Bank with 2020 Pauillac, 2020 Margaux, 2020 St. Julien, 2020 St. Estephe, and of course, 2020 Sauternes and Sweet Bordeaux Wine