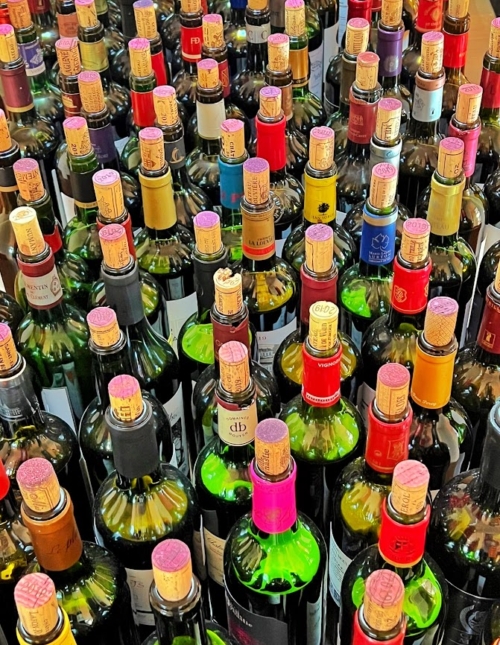 2020 Bordeaux is simply, a fabulous vintage. It is the perfect crescendo to an unsurpassed trio of incredible vintages, 2018, 2019, and 2020. Of course, each vintage is unique with its own style and character.
Overall, 2020 Bordeaux is the most consistent of the trio, with stunning wines produced in every appellation and at all price points. Though, I find there are some wines with higher peaks in 2018 and 2019. Another point regarding 2020 Bordeaux. This is vintage where you do not need to spend a lot of money to buy great wine. Check out some of the wines from the Cotes de Bordeaux, Fronsac, or Bordeaux Superieur on the Right Bank, or the Haut Medoc on the Left Bank. Remember, one of the hallmarks of a great vintage is the number of small, petit chateaux that produce outstanding wines.
2020 Bordeaux Character and Style
2020 Bordeaux is a blend of 2018 for its sensual, opulent, concentrated character, and 2019, with its fresher, elegant, lean to a modern classic style. But, clearly, 2020 Bordeaux has its own identity. Being slightly lower in alcohol, at their best, they offer vibrancy, with silky tannins, length, beautiful purity, and creamy textures. 2020 Bordeaux is the most precocious of the trio, making the wines approachable in their youth, yet make no mistake, they will age and evolve for decades.
2020 Bordeaux is unique for a number of reasons. It was the first vintage of the modern age produced during the pandemic, which came with its own set of trials and tribulations. Yet, vignerons called up the spirit of Gloria Gaynor, shouting "I will survive!" Not only did they survive, but as you can see from my wine tasting notes, several estates from both the Right Bank and the Left Bank made the best wines in the history of their estate!
2020 Bordeaux New Trends and Changes
There are always new trends in Bordeaux. Some are better than others. Today, it is not uncommon to see estates reducing the use of new, French oak barrels as well as including amphora, wine globes, and other aging vessels that while not adding wood aromas tannins and textures, also do not allow for the transfer of oxygen. To a degree, this is positive, as it allows for more purity and perhaps elegance in the fruits. But I find Bordeaux wines aged without any oak lacking ample richness in the texture.
Wider acceptance of organic and biodynamic farming is a continuing positive trend that benefits vineyards, vineyard workers, and the wine.
The continued acceptance of composite corks is a positive trend. Corked wines have broken far too many hearts.
Low levels of sulfur handled correctly is another positive trend. But, I taste a lot of wines with no sulfur that are reductive, rendering them undrinkable.
The worst trend is the wider usage and acceptance of oversized, overweight bottles. I am aware they look imposing and important on the table, at least according to focus groups. But, they are not practical. They do not fit in all cellar racks. The cases do not stack. They are heavy. They are bad for the environment and they add a cost that not all consumers are willing to pay for.
Second wines are no longer second best. Today, the care and attention to placing the best possible grapes not used in the Grand Vin into an estate's second wine shows in their quality. Numerous 2022 Bordeaux second wines were truly a pleasure to taste. In the best examples, they are a clear representation of a baby Grand Vin, perfect drinking in bistros and cafes.
While this last trend has nothing to do with 2020 Bordeaux, in fact, it is more concerning regarding 2022 Bordeaux and beyond, it is troubling. More and more estates are no longer showing their wine to consultants, the UGC, or negociants, insisting on critics coming to the property if they want to taste the wines. Why is this a problem? Simple.
I only have so many hours in a day and a limited amount of days to taste as well. And keep in mind, I am in Bordeaux for 3 weeks, which is already longer than most critics. I physically cannot go to every estate. Perforce, I am not going to be able to taste and wrote about every wine. I cannot speak for others, but I am willing to bet, it is the same for every non-Bordeaux-based critic. If you are a chateau and you want your wines tasted, please make some effort to see that your wines are available to taste.
While sweet white Bordeaux wine continues to be an increasingly difficult sell, the push to help consumers understand these wines have a place at the dinner table with select savory courses needs to continue. Personally, I would like to see dry wines produced from Sauternes awarded their own appellation, "Dry Sauternes" as it would make them more saleable than Bordeaux Blanc.
Entre Deux Mers has agreed to allow red wines from the appellation to be sold as emanating from Entre Deux Mers. The move in Entre Deux Mers appellation status for red wines is probably inconsequential. I wonder how many producers will give up Bordeaux Superieur for Entre-Deux Mers on their label? On the other hand, I hope that Medoc Blanc does become an appellation as there are several very good white wines from the Medoc that might become more commercially viable as Medoc Blanc.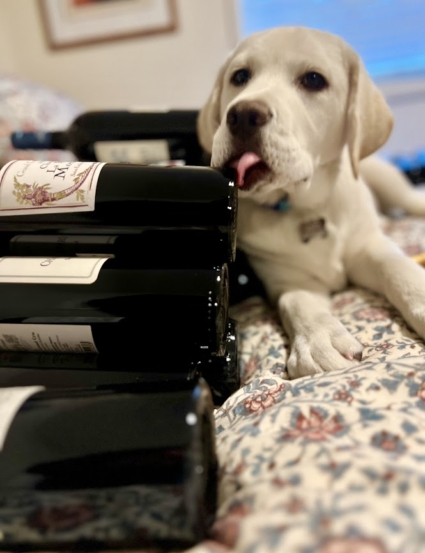 On the personal side, as you can see in this image, we have a new addition to the family. Meet Auggie the doggie! If you follow me on Instagram, you will see loads of pictures of him as he grows up. It is clear he is already a Bordeaux Lover!
2020 Bordeaux Vintage and Harvest Report
On to the shortest growing season report. As you can see below, all the articles are published by appellation with each report providing a detailed look at the vintage and its growing season on an appellation-by-appellation basis. Each appellation also includes quotes from producers, providing you with a solid understanding of the vintage. The bottom line, 2020 Bordeaux is a warm, sunny, and drought-created vintage that was saved by the August rains. Bacchus must love Bordeaux because he has really come through lately. You can read about the 2020 vintage, growing season, and harvest in detail For a detailed report on the 2020 Bordeaux growing season and harvest
With 2020 Bordeaux you have more success stories than I can count. But, if I had to pick the appellation of the 2020 Bordeaux vintage, it is Pomerol. There is a race to quality here as several estates are making the best wines in their history!
How 2020 Bordeaux Wines were tasted.
Glad you asked. The only positive thing to come out of Covid is that today, Chateau, negociants, consultants, and trade groups send wine to be tasted. This is for bottled wines only. Barrel samples were only shipped during the pandemic. On an ongoing basis, this is for bottled wines only. The wines in most cases are shipped by FEDEX, or other air shipping companies. The wines are sent in the late fall, until about the end of January. They arrived safe, sound, and cool to the touch.
The wines are all tasted by appellation, served in the same glasses, and at the same temperature. They are not tasted blind. But, as I am able to taste at my own pace, they each have ample time in my glass. The best wines are re-tasted later that day, often with wine-loving friends, so they never go to waste.
It is important to note that my 2020 Bordeaux tastings covered almost 950 wines! This level of coverage was never possible previously. At best, I would taste 150-200 bottled wines. This is an incredibly positive trend that is good for consumers and wineries.
Most importantly, when it comes to tasting the 2020 Bordeaux vintage, I could not have done it without the help of a tasting team. Thank you to Lauren McPhate, Michelle Em, and Annette Solomon!
I am also grateful to all the chateau, consultants, trade groups, and the UGC for sending me all the bottles to taste. It is much appreciated. Now, let's get on to the wines!
There are several ways to read about the 2020 Bordeaux wines you are interested in. You can click on any of the links below. You can use the Search for Wine Tasting Notes which works by entering the wine and vintage, or in the Advanced Search, where you have an array of choices and sorting. You can also use the article search tab to look for a specific chateau.
2020 Bordeaux appellation reports are published from north to south, in the approximate order the wines from each appellation were tasted.
2020 Saint Estephe Wine Guide
2020 Pauillac Wine Guide
2020 St. Julien Wine Guide
2020 Margaux Wine Guide
2020 Pessac Leognan Red/White Wine Guide
2020 Graves Red and White Wine Guide
2020 Haut Medoc Wine Guide
2020 Listrac, Moulis Wine Guide
2020 Medoc Wine Guide
2020 Saint Emilion Pt 1, A-C Wine Guide
2020 Saint Emilion Part 2, D-K Wine Guide
2020 Saint Emilion Part 3, L-N Wine Guide
2020 Saint Emilion Part 4, P-Z Wine Guide
2020 Pomerol Wine Guide
2020 Lalande de Pomerol Wine Guide
2020 Cotes de Bordeaux Wine Guide
2020 St. Emilion Satellite Appellation Wine Guide
2020 Fronsac Wine Guide
2020 Bordeaux Superieur Wine Guide
2020 AOC Generic Red and White Bordeaux Wine Guide
2020 Dry White Bordeaux Wine Guide
2020 Sauternes Barsac, Sweet Wine Wine Guide
This completes our wine tasting notes and reviews for 950 wines from the 2020 Bordeaux vintage. Now that this is wrapped up and put to bed, I am getting ready to be back in Bordeaux to taste the 2022 vintage which kicks in starting April 6!!!