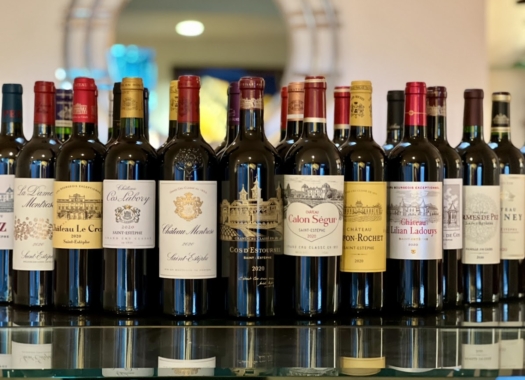 If you are already a fan of St. Estephe, you are going to love the 2020 Saint Estephe vintage. If you are not yet in love with the appellation 2020 St. Estephe is going to seduce you.
There was a time, not that long ago when Saint Estephe was a bit behind the other top appellations of the Medoc, as far as consistency goes. But today, clearly, that is not the case. What makes 2020 such a fabulous vintage for the appellation is the remarkable level of consistency among the estates. From the top Second Growth wines to the Cru Bourgeois, and even non-classified vineyards, just about every producer made great wine!
At their best, 2020 Saint Estephe wines are deeply colored, concentrated, opulent, lushly-textured, and aromatic. The cool, clay soils played a big part in the vine's ability to deal with the intense summer heat and drought conditions, allowing the Cabernet Sauvignon and Merlot to achieve phenolic ripeness.
Though, it was not an easy vintage. In fact, 2020 St. Estephe wines are, as you will see, the result of a difficult growing season that came with three dangers: Frost, intense spring rains, and drought conditions during the long, hot summer.
Stepping back just a bit, following a mild winter, March brought heavy rains, followed by a spring frost. Conditions changed rapidly with a surprisingly hot April, accelerating the vintage. With a warm May, flowering took place 10 days faster than usual, making the 2020 Bordeaux vintage a candidate for a precocious growing season, capped by an early harvest.
The summer saw drought conditions brought about by hot, sunny, and dry weather. But the terroir in St. Estephe, with its water-retentive clay soils, was able to deliver moisture to the vines at just the right moments, when the vineyards were suffering water stress, allowing the vines to reach maturity.
The difficult 2020 growing season in the Saint Estephe appellation demanded a lot of attention according to Dominique Arangoits of Chateau Cos d'Estournel.
"2020 Bordeaux required constant vigilance on our part and a readiness to adapt to changing conditions at every moment, while our vines once again demonstrated an uncommon ability to transcend unusual conditions."
At the end of the summer, the rains in August were similar to what happened with the 2015 vintage. Some vineyards received over 110 mm, (4.3"). Temperatures also dropped allowing the harvest to occur under moderate to cool conditions with periods of rain starting in the middle of September, and continuing through much of the harvest, which finished by the end of September. To read reports on the 2020 Bordeaux vintage in every appellation, as well as a 2020 Bordeaux vintage summary and analysis, please see The 2020 Bordeaux Complete Guide
The following 2020 St. Estephe wines were tasted in non-blind conditions in my home office.
2020 Beau-Site – St. Estèphe – Black, and red currants, coffee bean, licorice, and smoke create the nose. Medium-bodied, creamy, and fresh, with soft textures, and chalky red fruits with a background note of chocolate on the mid-palate, and in the finish, this is going to be delicious in its youth, and age for over a decade. Drink from 2023-2038. 90 Pts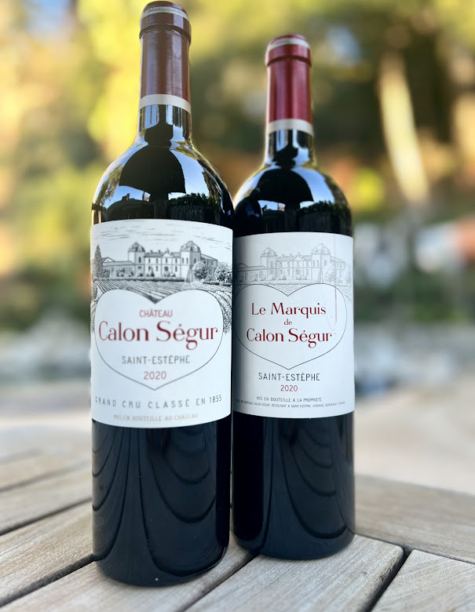 2020 Calon Segur – St. Estèphe – Powerful, rich, deep, long, and packed with layers of dark, red, and black fruits, Asian spice, boysenberry, black currants, cedar, licorice, cocoa, tobacco leaf, lead pencil, and a refreshing hint of mint in the nose. The wine offers intensity, depth of flavor, power, ripe tannins, vibrance, blackberry, and a currant lingering finish with nuances of spice, chocolate, and creme de cassis on the back end. Give it a few years in the cellar, and enjoy it for up to 3 decades after that. Drink from 2026-2055. 98 Pts
2020 Calon Segur Le Marquis de Calon Segur – St. Estèphe – This baby Calon Segur, with all of its spice, leafy tobacco, currants, and herbs is already hitting the spot. Medium-bodied, vibrant, and fresh with layers of sweet, ripe, red pit fruits, and a touch of spicy cocoa is perfect to enjoy while waiting for the Grand Vin to develop. Drink from 2023-2040. 93 Pts
2020 Capbern – St. Estèphe – Flowers, dark cherries, chocolate, spice, wet forest, and black currants create the perfume. On the palate, the wine is equally fresh as it is ripe, sweet, lush, and creamy with layers of rich, ripe, polished earthy fruits that linger. This a vineyard to keep an eye on as it gets better and better. Drink from 2023-2038. 93 Pts
2020 Clauzet – St. Estèphe – Medium-bodied, soft, fresh, fruity, and sweet, with a nice layer of sweet, ripe, savory red fruits on the mid-palate, and in the creamy, fruity, chalky finish. Drink from 2023-2034. 90 Pts
2020 de Come – St. Estèphe – Medium-bodied, soft, fruity, creamy, and already easy-to-like, the wine is loaded with sweet, ripe, spicy, red currants, and plums with a nice endnote of freshness due to its minty accent. Drink from 2023-2032. 89 Pts
2020 Cos Labory – St. Estèphe – Flowers, black raspberries, red, and black currants, licorice, oak, and spearmint create the perfume. On the palate, the wine is ripe, round, and loaded with sweet, vibrant, clean, red berries that taste, and feel just great! As I wrote earlier, Cos Labory has really upped their game lately. This makes three solid vintages in a row! Give it just a year or two in the cellar, and it promises to be even better. Drink from 2025-2040. 93 Pts
2020 Cos dEstournel – St. Estèphe – A gorgeous, stylish wine, here you find a series of waves packed with blackberries, black plums, black cherries, smoke, licorice, dark chocolate, soy, and an array of spices. Rich, deep, and intense, the wine hits all the right notes as it melds power, fruit, freshness, and elegance to create an opulent, velvety, silky finish that builds, and expands as it hangs with you. This is so good now; it will be hard to wait to pull a cork. But its best days are all in the future. So, wait a bit, and you will be amply rewarded with incredible wine. It is also important to note that the 2020 vintage sports a gorgeous, one-time-only special, black and god design collectors will want to save. Drink from 2028-2060. 99 Pts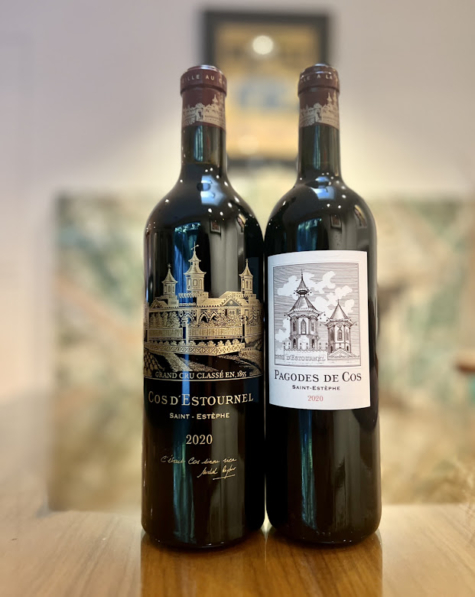 2020 Cos d'Estournel Les Pagodes de Cos – St. Estèphe – Spicy, smoky, currants, espresso, flower, and licorice create the perfume. On the palate. the medium-bodied, soft, plush, and polished wine is almost ready to go., and that's a good thing because you are going to want to dig into all of its layers of ripe, fresh, creamy, lush dark red fruits, and its spicy, chocolate edge. For a second wine, this is a fabulous effort. Drink this young while waiting for the Grand Vin to develop. Drink from 2023-2038. 93 Pts
2020 Cos dEstournel Blanc – Bordeaux – White peach, honeysuckle, green melon, lemon peel, flowers, and pineapple show up with little effort in the nose. On the palate, the wine is sweet, creamy, vibrant, and complex, leaving you with its tea-like, infusion of white peaches, orange blossom, and lemon chiffon. Drink from 2023-2032. 94 Pts
2020 Cos d'Estournel Pagodes de Cos Blanc – Bordeaux – White peach, orange rind, honeysuckle, and green apples show in the nose, and on the creamy, pear, lemon rind, and white peach-filled palate. Drink from 2023-2029. 91 Pts
2020 Cossieu-Coutelin – St. Estèphe – Forward, medium-bodied, dusty, and crisp, the wine leans to the savory side with nuances of herbs, and olives sitting side by side with its red fruits, and dusty tannins in the finish. Drink from 2023-2033. 87 Pts
2020 Domeyne – St. Estèphe – This is quite nice with its tobacco, dried flower, cedar, and red currant-oriented perfume. On the palate, the wine is medium-bodied, soft, creamy, and forward, so on release you can expect to enjoy all of its sweet, ripe, soft, red fruits. Drink from 2023-2032. 89 Pts
2020 Haut Marbuzet – St. Estèphe – Deeply colored, the wine pops with its showy nose of espresso, truffle, smoke, licorice, cocoa, blackberry, and black cherries. Medium/full-bodied, with soft, silky, polished textures, lift, and multiple layers of ripe, sweet, polished, lusciously-textured fruits that linger. This scored much higher in bottle than it did in barrel as the is close to fully integrated. This is clearly the best vintage ever produced at Haut Marbuzet! Give it a few more years in the cellar, and you are going to have a gem in your cellar. Drink from 2025-2045. 95 Pts
2020 La Croix de Pez – St. Estèphe – Earthy, medium-bodied, blackberry, currant, and cocoa-filled wine with an approachable style that will deliver a nice mouthful of sweet, red berries with a touch of citrus, and hints of herbs in the finish. Drink from 2023-2035. 90 Pts
2020 La Haye – St. Estèphe – Flowers, and herbs blend perfectly with the red, and black fruits on the nose. The wine offers chewy red fruits, freshness, and lift in the crisp, finish. This will be easy to like young, yet, it will age for over a decade as well. This is showing much better in the bottle than it did in the barrel. Drink from 2023-2037. 90 Pts
2020 Laffitte-Carcasset – St. Estèphe – Forward, savory, herbal, fresh, currant, and blackberry-oriented palate with a savory edge to the red fruits in the vibrant finish. Drink from 2023-2035. 89 Pts
2020 Lafon Rochet – St. Estèphe – Flowers, cigar wrapper, wet earth, smoke, chocolate, blackberries, and red pit fruits open the nose. But, it is on the palate, where the wine really shines with all of its layers of full-bodied, concentrated, long, dark, round, energetic, creamy, plush, ripe, fruits. The finish is long, clean, and vibrant with a creamy textured endnote that will be even better once the minor amount of oak remaining has fully integrated. This is the final vintage from the Tesseron family who brought in the harvest and vinified the wine. The new owner, Jacky Lorenzetti, along with Emmanuel Cruse finished the wine. Starting with the 2021 vintage, the new owners were fully in charge. Drink from 2024-2045. 95 Pts
2020 Lafon Rochet Les Pelerins – St. Estèphe – Medium-bodied with a blackberry, cocoa, herb, and currant-oriented nose, the wine is forward, open, and direct, with bright, fresh, peppery red currants with a lingering note of olives in the finish. Drink from 2023-2032. 89 Pts
2020 Le Boscq – St. Estèphe – Dried flowers, toasty oak, currants, licorice, smoke, and cocoa come in strong in the perfume. On the palate, the wine is medium-bodied, fresh, chewy, and vibrant, with nuances of mint, and chocolate that comes through on the back end. Drink from 2025-2040. 91 Pts
2020 Le Crock – St. Estèphe – Medium-bodied, soft, creamy, and fresh, with layers of ripe, polished red currants, blackberries, spice, chocolate, and a sprig of fresh mint at every turn, this is going to be delicious on release, and it also offer additional levels of complexity with a few years of age. This is the best vintage of Le Crock I have ever tasted. Drink from 2023-2038. 92 Pts
2020 Lilian Ladouys – St. Estèphe – Fresh espresso, blackberries, flowers, spice box, chocolate, and spearmint create the complex nose. On the palate, the wine really shines with its layers of ripe, sweet, fresh, and vibrant cherries, and blackberries, creamy tannins, and a hint of cocoa in the finish., and as good as this wine is, it sells for a song. Fans of Left Bank Bordeaux should be all over this gem. Drink from 2024-2040. 93 Pts
2020 Lilian Ladouys a Devise de Lilian – St. Estèphe – Medium-bodied, forward, fresh, early drinking, soft, fresh, bright, red berry, and spearmint-filled wine with a touch of spice in the endnote. Enjoy this while waiting for the Grand Vin to develop. Drink from 2022-2029. 88 Pts
2020 Martin – St. Estèphe – Medium-bodied, bright, chewy, fresh, and peppery with a blend of currants, olives, and herbs on the nose, and on the palate. This is going to be easy to taste on release. Drink from 2023-2030. 85 Pts
2020 Meyney – St. Estèphe – Flowers, dark cherries, blackberries, Asian spices, and espresso is what you find right off the bat on the nose. Rich, ripe, supple, and lush, the wine is polished, and fresh, and offers layers of fruit-filled pleasure with every sip. Give this a few years of age, and it promises to really hit the spot. Drink from 2025-2045. 93 Pts
2020 Meyney Prieur de Meyney – St. Estèphe – Soft, forward, fruity, medium-bodied, round-textured wine that is ready to serve up all of its delicious layers of creamy, dark red fruits. Drink from 2023-2032. 89 Pts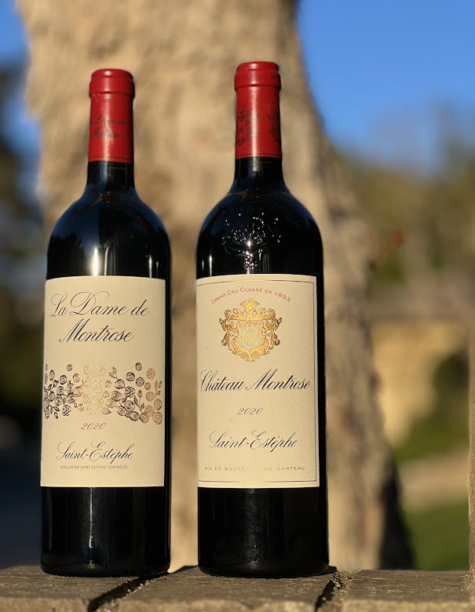 2020 Montrose – St. Estèphe – This is just about off the charts, and could hit triple digits in a few years if it keeps developing. Inky black in color, the wine explodes aromatically with its blackberries, blueberries, boysenberries, and tobacco, and that's before you get to its deeper nuances of Indian spice, chocolate, and cigar box scents. But the real fireworks are when the wine coats your palate with its multiple layers of dark red fruits, blackberries, and cocoa. Even with all of its richness, there is ample lift, making it easy to get lost here with all the depth, and concentration. The wine is just about seamless on the palate, lingering, building, and expanding for close to 60 seconds. One of the great vintages of Montrose is the swansong of Herve Berland at the helm of the estate. Drink from 2029-2065. 99 Pts
2020 Montrose La-Dame-de-Montrose – St. Estèphe – Earthy, blackberries, herbs, licorice, and roses are found in the nose. On the palate, the wine is packed with layers of dark red, and black fruits, round, creamy tannins, and a touch of roasted, leafy herbs in the mid-palate, and in the finish. This baby Montrose is perfect to enjoy while waiting for the Grand Vin to develop. Drink from 2023-2038. 93 Pts
2020 Ormes-de-Pez – St. Estèphe – Nuances of smoke, chocolate, and spice along with a bushel of ripe blackberries, and currants offer up their fragrance with no effort. On the palate, the wine is even better with its layers of ripe, sweet, creamy, black, and red fruits, olives, and cocoa that hold your interest. This is going to be delicious with only a modicum of aging. Drink from 2024-2038. 92 Pts
2020 Petit-Bocq – St. Estèphe – Cedar, herbs, currants, and cigar wrapper create the core of the wine. There are ample red fruits, round textures, and a sweet, blackberry, and chewy currant finish with a savory edge that will be even better with a year or two of aging. Drink from 2024-2040. 90 Pts
2020 de Pez – St. Estèphe – Black currants, cedar, mint, and cocoa show right off the bat in the nose. On the palate you find intense, ripe, sweet, creamy blackberries, lift, and length with a soft, engaging finish that delivers a lot of bang for the buck. This is probably the best vintage of Chateau de Pez I have ever tasted. Drink from 2024-2045. 93 Pts
2020 de Pez 2nd Pez – St. Estèphe – Black, and red fruits, cedar, and spice combine on the nose, and palate. The wine is medium-bodied, vibrant, and chewy, with a nice hit of crunchy red berries in the finish. Drink from 2023-2032. 89 Pts
2020 Phelan Segur – St. Estèphe – Chocolate, espresso, cedar, spice, currants, and incense aromatics are all over the place here. On the palate, the concentrated, deep wine offers, lift, lush, sensuously-textured., multiple layers of sweet, ripe, dark red fruits with a touch of polish to the tannins. The wine lingers and expands on your palate, which only makes you want to taste it again for the pleasure of it. This is the finest vintage ever produced by Phelan Segur. Fans of the estate should be all over this gem! Drink from 2025-2045. 95 Pts
2020 Plantier Rose – St. Estèphe – Forward, medium-bodied, fresh, soft, sweet, lively red fruits with a savory edge, and a touch of chalk in the finish that is already, delicious in your glass. Drink from 2023-2031. 88 Pts
2020 Segur de Cabanac – St. Estèphe – With its bright, red fruit-oriented perfume, and its medium-bodied, crisp, red cherry, red plum, and red currant core of fruits on the light, mildly, creamy palate, this is going to be at its best in its youth. 85 Pts
2020 Serilhan – St. Estèphe – A bit reticent at the moment, so it takes a little effort to find all of the dried flowers, herbs, and red fruits in the nose. Medium-bodied, vibrant, creamy, and fresh, the wine finishes with layers of red fruits, and a touch of orange peel that hangs with you. Drink from 2024-2040. 92 Pts
2020 Tour Saint-Fort – St. Estèphe – With touches of toasty oak, smoke, herbs, and black currants in the nose, the wine is medium-bodied, soft, and vibrant, with layers of blackberries, and chocolate, along with a touch of chalk in the finish. Drink from 2023-2038. 90 Pts
2020 Tour de Pez – St. Estèphe – Medium-bodied, ripe, dark, fresh, creamy, red, and black currants with cedar, and tobacco leaves are what you find on the nose and palate. Forward, and on the easy-to-like on the young side, you can enjoy this with ease on release. Drink from 2023-2036. 90 Pts
2020 Tour des Termes – St. Estèphe – Dried flowers, cedar, tobacco leaf, espresso, blackberries, and currants create the engaging perfume. The palate offers a nice blast of ripe, sweet, round, and fresh, chewy. black currants, ripe tannins, and a touch of sea salt with cocoa in the finish. This is a very nice wine that savvy Bordeaux lovers should take a serious look at. Drink from 2024-2040. 92 Pts
2020 Tronquoy Lalande – St. Estèphe – Medium/full-bodied with an attention-seeking nose packed with espresso, dark chocolate, spice, smoke, blackberries, currants, and licorice. Dark in color, and deep in character with layers of ripe, plump, round, lush, dark red fruits, creamy tannins, and just a hint of cocoa, and mint in the endnote. This is already simply delicious in your glass. Drink from 2023-2037. 91 Pts
2020 Tronquoy-Lalande Blanc – Bordeaux – Flowers, spice, orange rind, almonds, and lemon zest show easily on the nose. The wine is forward, lush, fruity, and oily, with a spicy, creamy, lemon finish. Drink from 2023-2029. 90 Pts
We will wrap everything up with luck by tomorrow with the final reviews from the Left Bank with 2020 Pauillac, and
Up next, we are getting close to our last reports on 2020 Bordeaux with 2020 Margaux Wines