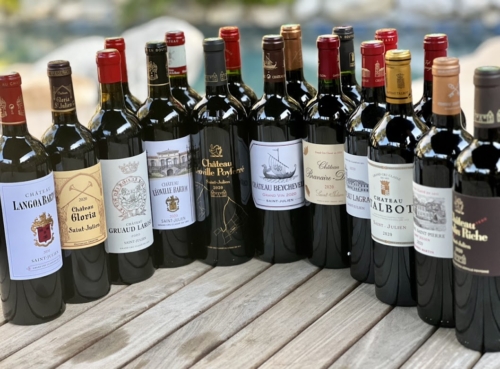 2020 St. Julien wines are beautiful expressions of their vineyards. It is important to note that consistently, every wine I tasted from the appellation was gorgeous to experience, even at this young stage of their development. Across the board, 2020 Saint Julien wines are deeply colored, concentrated, elegant, and aromatic. Plus, as the wines show a bit less alcohol than you find in 2019, the wines are slightly more vibrant.
The 2020 St. Julien vintage is the product of a drought-stricken, growing season brought about by a dry, sunny, summer. Of course, the 2020 Saint Julien growing season is much more complicated than that, but the hot extremely, dry summer formed the character of the vintage. Those conditions, coupled with an early flowering, a precocious growing season, and an expeditious harvest made the vintage paradoxical, according to Philippe Blanc of Chateau-Beychevelle.
"2020 St. Julien is an early vintage because of the hot, dry conditions. Hot and dry should mean high alcohol, but 2020 is lower in alcohol than 2018. Also, drought vintages are usually lower in acidity. The wine can be flabby. With 2020 Saint Julien, even though the pH is around 3.80, clearly, there is freshness, which brings elegance and length."
It wasn't just the summer that was warm, spring saw thermometers rise as well. In fact, May entered the record books as the 4th warmest month in eight decades! At its peak, temperatures rose to 30 Celsius, 86 Fahrenheit, hastening the pace of the vintage. Temperatures cooled down in early June, which was a good thing, as that decelerated the growth rate.
The remainder of the summer was hot, sunny, and extremely dry. In fact, almost 30 days saw temperatures of 30 Celsius, (86 Fahrenheit), and at least 6 days endured temperatures of 35 Celsius, (95 Fahrenheit.) July was marked by drought conditions, which continued through to August.
Here is where the differences in terroir came into place. Water-retentive clay and limestone soils were able to nourish the vines. Vineyards with dry, warm gravelly soils suffered from vines that stopped their growth cycle. Young vines as you would expect suffered the most. Lilian Sartorius Barton of Chateau Leoville-Barton remembers the heat during the harvest.
"With 2020 Saint Julien, it was an early harvest with a lot of heat. The grapes were coming in very hot so we needed to place dry ice in our vats before putting the grapes in. The result is surprising! Some lovely wines with dark colors and black fruit with freshness, long tannins, and not too much alcohol."
Vine stress was potentially a serious issue. Young vines were clearly suffering. Another heatwave hit the region in August. Fortunately, Bacchus loves Bordeaux because just when the vines needed it the most, the region experienced much-needed rains which fell from August 9 to August 14. As the moisture was delivered following véraison, the vines reignited their growth cycle.
While rain fell all over Bordeaux, on average, vineyards to the north experienced more rain than St. Julien which saw roughly 86mm, (3.85″), which was less than St. Estephe and Pauillac. But, more than their neighbors to the south in Margaux and Pessac Leognan.
By the end of September, things were looking up. September started hot, sunny, and dry. But because the nights were cool, the grapes maintained freshness. These good conditions remained until September 20, when the weather cooled down with temperatures in the daytime dropping to almost 12 Celsius, (54 Fahrenheit!) in the northern Medoc. The unseasonably cool temperatures continued through the harvest period.
For 2020 Saint Julien, picking began for young Merlot vines in the early part of September, which is quite early for the appellation. For the most part, Cabernet Sauvignon was picked after the Merlot. But that was not always the case. Many Left Bank vineyards were picking Cabernet while Merlot was still being harvested starting in early to mid-September. For some vignerons, 2020 turned out to be the earliest vintage since 1989.
Even though 2020 St. Julien was an early harvest, because the vintage got off to an early start, the grapes remained on the vine with an extended hang-time, which Jean-Michel Laporte of Chateau-Talbot credits as playing a role in the success of the vintage.
"The main point in 2020 for me is the length of the physiological cycle of the vines. Flowering was 2 weeks early, but we finally harvested with an average of 5-6 days in advance only. That permitted us to get a wonderful maturity, especially for the Cabernet Sauvignon."
The vinifications required a light touch and steady hand in the cellars says Francois-Xavier Maroteaux of Chateau Branaire-Ducru.
"As you can imagine, the extraction period was a particularly important moment this year! We needed to really be careful in order to keep all these elements at the perfect levels."
Sara Lecompte-Cuvelier of Chateau Leoville-Poyferre said 2020 is a memorable vintage for several reasons, not just due to the quality of the wine, but for their historic family celebration.
"2020 bookmarks the 100 years of the estate in my family. As for 2020 St. Julien, it is a great vintage that offers the depth of 2018 and the charm of 2019, along with more freshness and lower alcohol levels." To read reports on the 2020 Bordeaux vintage in every appellation, as well as a 2020 Bordeaux vintage summary and analysis, please see The 2020 Bordeaux Complete Guide
All of the following 2020 St. Julien wines were tasted in non-blind conditions in my home office.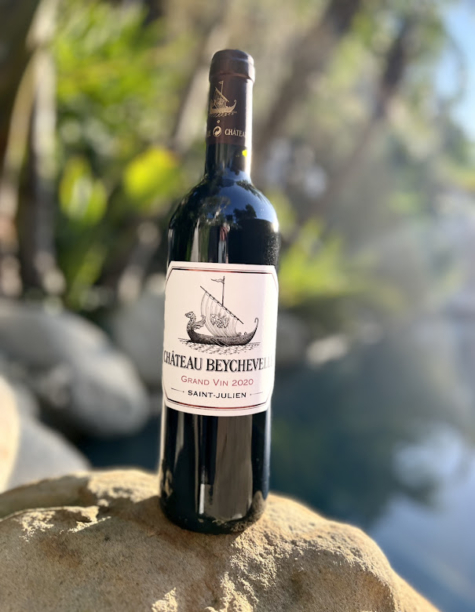 2020 Beychevelle – St. Julien – The nose opens with a gorgeous display of flowers, chocolate, tobacco, black currants, blackberries, licorice, wet forest floor, and espresso. As good as the perfume is, the wine is all about its layers of creamy, fresh, sweet, ripe, dark red pit fruits on the palate. The wine is full-bodied, elegant, lifted, and refined, with length, and purity to top it all off. The wine should age effortlessly for 3 decades, yet drink well, relatively early. Drink from 2025-2060. 96 Pts
2020 Branaire Ducru – St. Julien – Quite perfumed, the complex nose offers cigar box, tobacco, spearmint, wet earth, mocha, spice, black currants, and dark cherry aromas to get things going. Medium/full-bodied with a silky, fresh, refined character to its layers of ripe, sweet, mildly-spiced, red pit fruits on the palate, the finish is complex, as well as refined, and currently discreet. Clearly, this is one of the top vintages from Branaire Ducru that fans of the estate should definitely have in their cellar. Drink from 2026-2055. 95 Pts
2020 Finegrave – St. Julien – Medium-bodied, crisp, lively, short,, and savory, with a strong herb, and olive accent to the chewy red berries in the finish. Drink from 2023-2029. 86 Pts
2020 Gloria – St. Julien – Showing even better in the bottle than it did in the barrel, this is a stunning vintage for Gloria which kicks off with a gorgeous display of flowers, currants, espresso, tobacco, and cedar. The wine is medium-bodied, with ample layers of fresh, vibrant red, and black fruits, soft tannins, and a savory edge to the elegant, supple finish. If you have not tasted Gloria for a while, this is a great place to start as it competes with many Classified Growths today. Drink from 2025-2045. 94 Pts
2020 Gruaud Larose – St. Julien – Cigar box, smoke, herbs, cassis, espresso, and blackberries with a savory edge open the wine aromatically. The palate offers freshness, layers of ripe, spicy currants, and peppery blackberries with chewy tannins that really hang with you, providing length, vibrancy, and refinement in the finish. This is going to age, and evolve for decades. Drink from 2027-2060. 94 Pts
2020 La Bridane – St. Julien – Tobacco leaf, cedar, leafy herbs, and earthy red fruits open the nose. Medium-bodied, fresh, soft, and forward, you can enjoy the chewy red currant finish with its chalky tannins, and light touch of sweet oak in the finish. La Bridane is clearly the best of the lesser-known, non-classified Saint Julien vineyards. Drink from 2023-2035. 90 Pts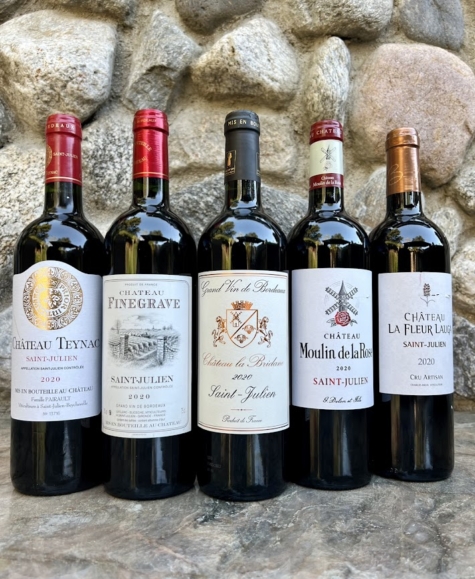 2020 La-Fleur-Lauga – St. Julien – Tobacco, and currants combine to create the perfume. On the palate, the wine is soft, medium-bodied, fresh, and sweet with a nice, fruity, savory, accented finish. Drink from 2023-2034. 88 Pts
2020 Lagrange – St. Julien – The perfume kicks off with mint, cigar box, black, and red currants, black cherries, and tobacco leaves., and with all that, the wine is just getting started because it is even better on the palate with its multiple-layers of supple, fresh, vibrant, sweet, ripe fruits, elegant silky tannins, length, and purity. Starting with the 2016 vintage, Lagrange has been on a hot streak, and 2020 could be their best vintage yet. If you haven't tasted what they are doing, you need to grab a bottle, and pull a cork! Drink from 2027-2055. 95 Pts
2020 Lagrange Les Fiefs de Lagrange – St. Julien – Flowers, black raspberries, cherries, and cedar for the core of this bright, fresh, crisp, medium-bodied, forward, vibrant, red pit fruit-filled wine. Drink from 2023-2033. 90 Pts
2020 Langoa Barton – St. Julien – Here you find a powerful, fresh blast of ripe, dark currants, blackberries, mint, cedar, tobacco, herbs, and spice that meld perfectly with the powerful, ripe, long, waves of red fruits. The chewy finish offers more refinement than usual in its lingering fruits and tannins. Clearly, all the work they have been doing at Langoa Barton has paid off, as this is the best vintage of Langoa I have ever tasted! Drink from 2027-2050. 94 Pts
2020 Leoville Barton – St. Julien – Deeply colored, this is a powerful wine with all the fresh, ripe, black, and dark red fruits you could hope for, along with nuances of tobacco leaf, cedar, flowers, cigar box, espresso, smoke, and creme de cassis to boot. This is the perfect blend of classy, and classic, with ripe, elegant, tannins, length, purity, vibrancy, and complexity that insures this is going to offer fabulous drinking for decades. Drink from 2027-2060. 96 Pts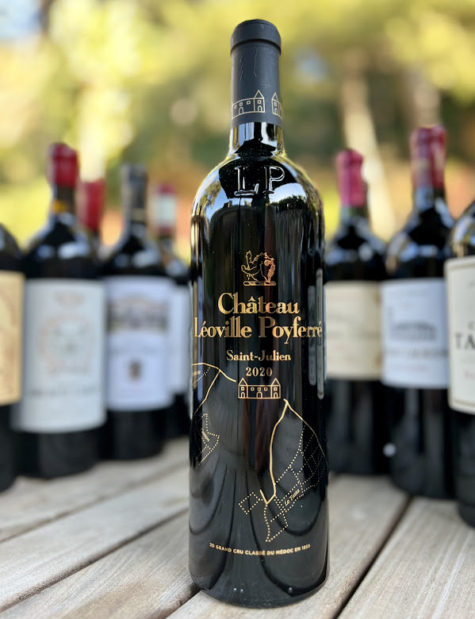 2020 Leoville Poyferre – St. Julien – Even better in the beautiful, black and gold bottle celebrating 100 years of ownership, than it was from the barrel, the wine instantly grabs your attention with its dark color and its equally dark-fruited profile centered on its core of blackberries, black cherries, black plums, spices, espresso, and dark chocolate. The wine is deep, rich, concentrated, and lush, as well as fresh, silky, vibrant, long, and focused. The finish leaves you with layers of sweet, ripe, black and blue fruit, chocolate, espresso, and a touch of spice that comes in at the end of the silky finish. The wine blends 64% Cabernet Sauvignon, 31% Merlot, 3% Cabernet Franc and 2% Petit Verdot. Drink from 2026-2055. 97 Pts
2020 Leoville Poyferre Pavillon de Léoville Poyferré – St. Julien – Even better in the bottle than it was from the barrel, the wine opens with chocolate, black raspberries, flowers, spice, and plums. Medium-bodied, soft, lush, and polished with freshness, fruit, silky tannins, and a gorgeous finish. Enjoy this beauty while waiting for the Grand Vin to develop. Drink from 2023-2035. 92 Pts
2020 Moulin de la Rose – St. Julien – With touches of spice, and tobacco along with its core of red fruits, the wine is medium-bodied, soft, and fresh, with an upfront, creamy, sweet, cherry-packed finish. I like the light touch of cocoa that sneaks in at the end too. This will be at its best over the next decade or so. Drink from 2023-2033. 88 Pts
2020 Moulin-Riche – St. Julien – Medium-bodied, energetic, savory-edged, currant-filled wine with loads of cedar, tobacco leaf, chalky tannins, and freshness, from start to finish. It is going to need a year or two to open up, and display its full essence. This is a superb vintage for Moulin Riche. Drink from 2024-2038. 91 Pts
2020 Saint-Pierre – St. Julien – The nose, with its notes of espresso, smoke, tobacco, incense, spice, and red currants creates the perfume. On the palate, the wine is soft, seductive,, and long, with a focus on its core of ripe, polished, earthy, black, currants, chocolate, and coffee beans. The finish is soft, polished,, and fresh. Drink from 2024-2050. 94 Pts
2020 Talbot – St. Julien – Classy, and classic, the wine pops with aromatics consisting of flowers, tobacco leaf, currants, spearmint, and peppery blackberries. On the palate, the wine is medium/full-bodied, lively, and loaded with layers of sweet, juicy, fresh black, and red currants, savory herbs, wet earth, and dark cocoa. Give it just a few years in the bottle, and it will offer over 2 decades of pleasure. Things continue improving here under the direction of Jean-Michel Laporte. Drink from 2025-2050. 93 Pts
2020 Talbot Connetable – St. Julien – Floral in nature with the addition of chalky red currants, and cherries in the nose, the wine is medium-bodied, fresh, vibrant, silky, and a real charmer. This has really popped up during the barrel aging. Drink from 2023-2035. 90 Pts
2020 Talbot Caillou Blanc – Bordeaux – Yellow citrus, orange rind, almonds, and honeysuckle show up in the nose and on the creamy, round, lush, palate. The color seemed quite dark, so while I liked the wine, I would opt for drinking it over the next few years. Drink from 2023-2026. 91 Pts
2020 Teynac – St. Julien – Medium-bodied, soft, fresh, bright, sweet, cherry, and currant-filled wine with an easy-to-like, savory-edged finish. This will be simply delicious on release. Drink from 2023-2032. 87 Pts
Up next, we are getting close to our last reports on 2020 Bordeaux with 2020 St. Estephe Wines From there, we conclude with our final articles on the Left Bank with 2020 Margaux, and 2020 Pauillac and a vintage wrapup.