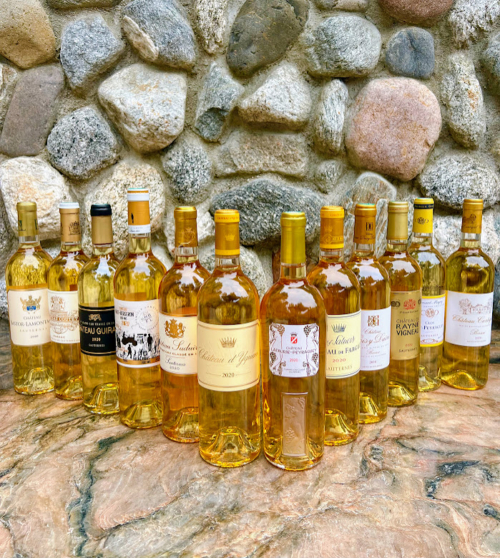 I am a huge fan of sweet, white Bordeaux. Frankly, I wish I drank it more often. And tasting these 2020 Sauternes and 2020 Barsac wines reminded me of how great these wines are. The issue with 2020 sweet white Bordeaux wine is not the quality, it is the quantity, as yields for many estates were devastatingly low.
2020 Sauternes is the product of a difficult growing season as you will see. The 2020 Sauternes growing season began with a mild, but very wet spring, with some vignerons having to fight off spring frost which reduced yields. Many vineyards experienced smaller than usual bunches during the flowering, which further reduced potential yields. The weather then settled into a hot, dry summer, with August being particularly hot.
Even though growers expected low quantities, the weather was at this point, quite conducive for a quality vintage. Picking dates and the ability to conduct multiple passes during the 2020 Sauternes harvest was going to be even more important than usual with such small quantities.
Pierre Montegut is Chateau Suduiraut credits the choice of picking dates and multiple passes in the vineyards for the success of Suduirat. "We waited to start October 19. Because we still had grapes in the vineyard, we bet the weather could improve after rain at the end of October. The sunny week at the beginning of November allowed us to enjoy a Botrytised harvest."
However, the main issue and perhaps defining point for the 2020 Sauternes vintage is that Botrytis did not develop until quite late in the growing season, and by that time, with fear of October rains that could dilute the harvest, the grapes needed to be picked. So in many cases, Botrytis did not have enough time to fully develop and concentrate its flavors and characteristics. Selection was vital at this point.
To read reports on the 2020 Bordeaux vintage in every appellation, as well as a 2020 Bordeaux vintage summary and analysis, please see The 2020 Bordeaux Complete Guide
All of the following 2020 Sauternes wines were tasted in non-blind tasting conditions.
2020 d'Armajan des Ormes – Sauternes – With a nose of honeyed orange fruits, flowers, and candied citrus, the wine is creamy, forward, and ready for near-term enjoyment. Drink from 2023-2032. 87 Pts
2020 Bastor Lamontagne – Sauternes – Lemon chiffon, honeysuckle, white peach, and candied orange rind create the nose. There is ample sweetness to the honeyed tropical fruits on the palate, with good lift that is perfect for this fresh, tropical orange, leaning sweet wine. Drink from 2023-2037. 91 Pts
2020 Cantegril – Barsac – Flowers, white peaches, honeyed pineapple, and a touch of marmalade show on the nose. But the real treat here is all of the sweet, ripe, honeyed, tropical fruits, vanilla, honey, and zest on the palate. This is a sweet wine I would like to see more of. Drink from 2023-2035. 92 Pts
2020 Clos-Haut-Peyraguey – Sauternes – Yellow, and orange, candied-citrus filled wine with nuances of pineapple, and white peach coated with honey aromas get the wine off to a good start. Balanced between sweet, fresh, and racy, the finish is all about its sweet, yellow tropical fruits, and vanilla covered with honey, and roasted nuts. Drink from 2023-2040. 92 Pts
2020 Coutet – Barsac – The attention-seeking nose grabs you due to all of its honeysuckle, candied pineapple, orange blossoms, apricots, and mango drizzled with honey, and spice. The wine is perfectly balanced between all of its sweetness and vibrancy, leaving you with ample freshness to provide lift and cut to all of its honeyed, tropical fruits. Drink from 2023-2050. 94 Pts
2020 Doisy Daene – Sauternes – The perfume with its array of ripe, and overripe tropical fruits, yellow plums, white peach, and candied orange rind with an array of spices hits the spot. The palate, with all of its layers of zesty, sweet, honey-coated, and yellow fruits is even better. The jolt of racy acidity, giving the white peach, yellow tropical fruit, and candied orange rind in the endnote seals the deal! Drink from 2023-2055. 95 Pts
2020 de Fargues – Sauternes – Concentrated, lush, and intense, the wine is already serving up its layers of pineapple, white peach, mango, tangerine, and vanilla with honey-covered nuts in every sniff, and sip. The palate is coated with sweetness, but the racy acidity cuts through, so you never tire of all the pleasure on your palate. Drink from 2024-2060. 96 Pts
2020 Guiraud – Sauternes – With a lean to the orange side of the style range you find a wealth of candied mangos, roasted tangerine, orange rind, and apricots with nuances of roasted nuts, flowers, spice, and honey. The racy, vibrant finish provides a balance between its decadently sweet, orange tropical fruits, pineapples, and white peaches topped with honey, spice, and racy freshness. Drink from 2023-2050. 94 Pts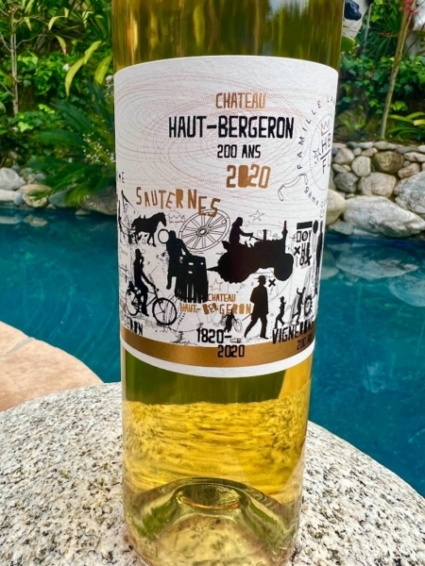 2020 Haut-Bergeron – Sauternes – I loved the label commemorating two hundred years of winemaking! And the wine was equally fun to drink with all of its sweet, candied, orange rind, overripe pineapples, white peaches, and vanilla on the nose, and palate. There is a nice balance between sweetness, and acidity here with loads of candied fruits, and honey in the finish. Drink from 2023-2035. 91 Pts
2020 La Rame – Sainte Croix du Mont – Light, aperitif-styled, sweet wine with a lean to its orange, mango, and apricot side. This is perfect for easy enjoyment with a touch of sweetness. Drink from 2023-2027. 84 Pts
2020 Lafaurie-Peyraguey – Sauternes – The key to sweet wines is the balance between its luscious sweet fruits and acidity, Here, you find all that and more. With a core of roasted apricots, honeysuckle, spice, candied tangerines, mangos, honey and vanilla that coat your palate, it is the attention-grabbing, racy quality of the fruits, due to all of its fresh acidities that makes this an effortless, treat to taste. Drink from 2023-2055. 96 Pts
2020 Lafaurie-Peyraguey La Chapelle – Sauternes – Forward, medium-bodied, candied citrus, and lemon curd-filled wine with touches of honeyed orange rind, white peaches, and flowers on the nose, and palate. Chill this down, and it is a perfect wine for an aperitif or spicy cuisine. Drink from 2023-2030. 89 Pts
2020 Rayne Vigneau – Sauternes – Layers of sweet, spicy, white peaches, tangerine, mango, and pineapple all coated with honey hit all the right pleasure buttons. Sweet, refined, fresh, and creamy from start to finish, this is already a treat in your glass. Drink from 2023-2045. 93 Pts
2020 Suduiraut – Sauternes – Intensely concentrated, the wine coats your palate with its multiple layers of honey-slathered pineapples, apricots, candied tangerine rind, spice, marzipan, and vanilla bean. The palate-coating richness is balanced with zesty acidity that offers, cut, raciness, and vibrancy from start to finish. Made from 100% Semillon for only the second time in the history of the estate, this is a seriously sweet treat that is going to be close to impossible to find as the yields were a scant 8 hectoliters per hectare, reducing the production by more than 70%. Drink from 2024-2060. 97 Pts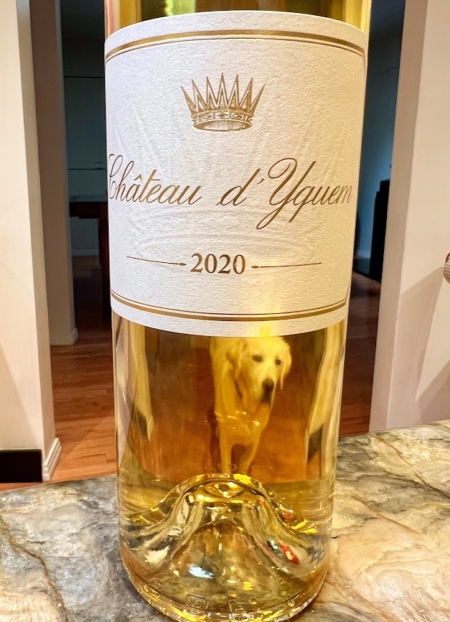 2020 Yquem – Sauternes – On the fresh, bright vibrant, racy side of the style range with a focus on its complex core of honeysuckle, dried oranges, apricots, lemon curd, saffron, marzipan, pineapple, vanilla, and just the right drizzle of honey to top everything off. It is cut, and defined, with length, purity, lift, and ample acidities giving lift, length, and vibrancy, as well as richness, balance, and complexity. I love this style of d'Yquem because it works as a sweet wine that can be enjoyed either on its own or with a myriad of savory courses. So, if you cannot keep your hands off it, enjoy it on the young side for all its luscious, sweet, ripe, overripe, racy fruits, or age it for decades as it gains secondary nuances. Drink from 2025-2065. 98 Pts
After St. Julien, we only have a few more reports to go. 2020 Pauillac, 2020 Margaux, and 2020 St. Estephe before we conclude our tastings of the 2020 Bordeaux vintage. Just in time to get ready to start tasting the 2022 Bordeaux vintage! Ain't life grand?