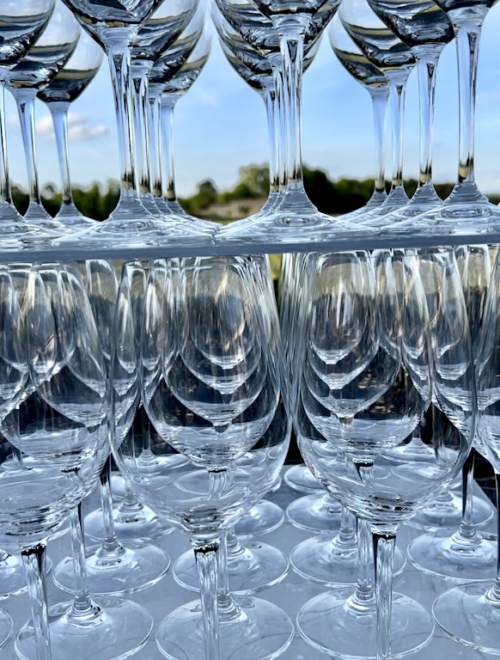 2022 Bordeaux Wine and Vintage Overview
2022 Bordeaux is one of the more interesting vintages in ages. While the vintage is the result of extreme climatic conditions, the wines cannot be called extreme. In fact, they are the opposite end of the spectrum, as the wines express ripe fruits, silky textures, freshness, balance, harmony. Personally, I love the 2022 vintage, The style and character of the wines are everything that is great about modern Bordeaux.
2022 Bordeaux adapting to hot, dry, conditions…
Today, Bordeaux is able to excel in these types of hot, dry, years. It is important to note how much improvement has taken place in the way Bordeaux handles, how, alcoholic vintages. Frankly, there is no comparison between 2022 and previous, extreme, hot years like 2003.
With 2022, it is imperative to understand that the heat waves came in 4 short bursts and the nights were cool. If you take a step back and look at 2003, clearly, that was also a vintage of extremes. But that is where the similarities begin and ends between 2003 and 2022 Bordeaux. 2003 was was also hot, and extremely dry, but temperatures never cooled down, it was hot, morning, noon and night. More importantly, how vignerons handled 2003 has nothing in common with how producers are managing vineyards today.
In those days, growers sought maximum sun, ripeness, and concentration. With 2022, the goals and practices of vignerons were different. In the vineyards, most growers sought to protect their grapes without deleafing, they removed cover crops, to retain moisture and they utilized bigger canopies to protect the grapes from sun.
Not only have growers adapted to increasingly hot, dry vintages, it looks increasingly likely that the vines have learned to adapt to the new normal in Bordeaux as well. Their new found ability to ripen and thrive with less water is another key to the 2022 Bordeaux vintage, and to future climatically extreme years as well.
The following links provide detailed appellation reports with wine tasting notes for over 650 of the best wines of the 2022 Bordeaux vintage. You can either use the search function for specific wines, or peruse the appellation reports in the links below for detailed analysis of the vintage, and harvest as well as tasting notes with ratings from each appellation for the 2022 Bordeaux vintage.
2022 Left Bank Appellation Reports…
2022 Saint Estephe – 2022 Pauillac – 2022 Saint Julien – 2022 Margaux – 2022 Pessac Leognan, Graves – 2022 Haut Medoc, Listrac, Moulis, Medoc
2022 Right Bank Appellation Reports…
2022 St. Emilion Pt 1, Wines A-E – 2022 St. Emilion Pt 2 Wines F-L – 2022 St. Emilion Pt 3 Wines M-Z – 2022 Pomerol – 2022 Lalande de Pomerol – 2022 Cotes de Bordeaux, 2022 Fronsac – 2022 Bordeaux Superieur – 2022 St. Emilion Satellite Appellations – 2022 AOC Bordeaux – 2022 Dry White Bordeaux – 2022 Sauternes
With 2022 Bordeaux, as you can see from the tasting notes, the wines are historically high in alcohol when compared to the past several decades. This is a clear example of climate change at work. But, with 2022 Bordeaux, very few wines feel alcoholic. They do not exert sensations of heat, or offer jammy characteristics. Instead, most of the wines are elegant, offering freshness.
Jean Phillipe Delmas Chateau Haut Brion – "It is difficult to explain, but this is not a by the numbers vintage. Reading the data, you find high alcohol. And yet you also enjoy freshness, and no jam or over ripeness in the fruits. The wines are quite energetic."
That view is shared by many growers, including Thomas Duroux, Chateau Palmer – "After the weather we had during the summer, by August, I feared we would end up with hot, jammy wines, but that is clearly not the case, as you can see."
You are going to read a lot about the conditions, alcohol and pH, but wine tasting is not about the numbers. It is about tasting the wine. In the glass, 2022 Bordeaux provides opulent, sensuous textures, with no signature of over ripeness. Instead, you find vibrancy, length and purity. Climate change is perhaps here to stay.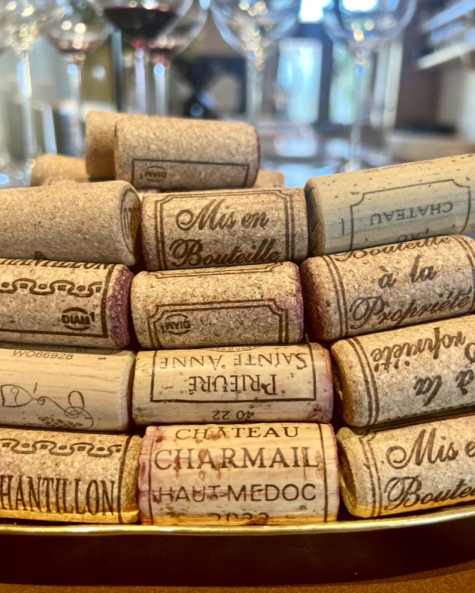 With that in mind, is it possible that 2022 Bordeaux is the roadmap to what's in-store for future generations? Philippe Bascules, Chateau-Margaux – "Perhaps 2022 shows the future of Bordeaux with higher IPTs higher alcohol and low pH, and yet, the wines are perfectly balanced."
Comparing 2022 Bordeaux with Previous Vintages
In many ways, 2022 Bordeaux can be compared with previous vintages with related, opulent styles from hot, dry vintages that drank well early. For example, 1921, 1929, 1947, 1959, 1982, 1989, 1990, and 2009. That does not mean they shared the exact same climatic conditions. Instead, I am referencing the style and character of the wines. But of those previous vintages, 2022 is probably better than all of those previous vintages.
Michel Rolland – "For me, 2022 Bordeaux is the archetype of a great vintage. There is ripe fruit, density and elegant tannins, and lift. There is a beautiful brightness to the fruit. In some ways, stylistically, it reminds me of 1989 and 1982."
2022 Bordeaux, the New Normal…
With the heat and the intensity of the dry conditions, the success of 2022 Bordeaux is due to growers learning to deal with the extreme weather patterns. But it is also the vines which can be credited for their ability to adapt to lack of water and high-temperatures. While heat, sunshine and drought were extreme with 2022 Bordeaux, to understand the wines and the vintage, it is imperative to keep in mind that not only is the vintage the product of what happened, but when it happened, and the knowledge vignerons have today about dealing with extreme vintages that shaped the wines.
Saskia de Rothschild – Chateau Lafite Rothschild – "20 years ago, a vintage like 2022 would not have been successful. But today, with how we manage the vineyards, the vines have learned to adapt to the climate, allowing us to produce wines with this style."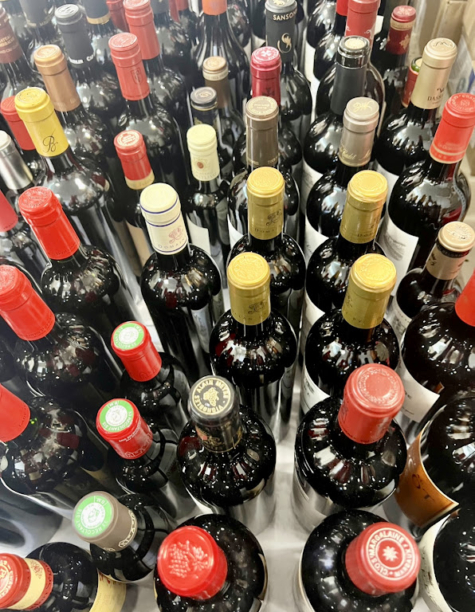 In the Right Bank, the consideration of vines and their ability to adapt to the new normal was also a topic of discussion. Neomie Durantou – Chateau L'Eglise Clinet – "It is evident that the vines are learning to adapt to warmer and drier, drought conditions."
Of course, you also need to take into account the willingness of the chateaux to undergo draconian selections, the ability to harvest, and vinify on a parcel-by-parcel basis, and much deeper knowledge of how to handle extremely, hot, dry vintages.
2022 Bordeaux and Irrigation
2022 Bordeaux will also be remembered due to the allowance of irrigation. It was not widespread, and there were rules in place making it not for everyone. But some vineyards in Pessac Leognan, St. Emilion and Pomerol were allowed to irrigate on a limited basis. 2022 was also the first vintage that wildfires struck Bordeaux, though the fires did not alter the crop, or burn any vineyards. Still, it is important not to underestimate the change in the climate in creating the uniqueness of character discovered in the wines.
In the cellars, less movement of the wine, fermentations were conducted at much cooler temperatures, than before, along with less movement and fewer pumpovers gave the wines a light touch that helped maintain balance and freshness with 2022 Bordeaux.
Jose Sansifis Chateau Cantenac Brown – "Temperatures during the extractions were done at cooler temperatures than usual. Normally, we are at 28 degrees. But with 2022, we cooled down to 25 degrees with shorter macerations."
2022 Bordeaux, Vintage and Harvest Report…
What was the growing season like for 2022 Bordeaux? Precocious, sunny, warm and dry. Growers knew fairly early that the vintage was going to be early, due to the hot, dry, conditions. 2022 Bordeaux is marked by the lack of water, which experienced almost 50% of the normal water the region had become used to over the past decade. These conditions produced a high-quality, concentrated, low-yielding vintage with fabulous, unique characteristics.
Ronan Laborde – Chateau Clinet – "2022 wines are incredibly silky. They are aromatic, and gentle, with freshness, and length. It is a style of wine we have never experienced in Bordeaux before."
But there is more to the story than heat and drought as you might expect. The 2022 vintage got off to an ordinary start. April was exactly average. This is part of the reasons for the vintages success as vine growth did not accelerate in the spring. The berries were able to achieve phenolic maturity.
Climatic conditions changed rapidly by May when temperatures began heating up bringing the first of 4 heatwaves with several record setting warm days between May 8 and May 22 making this the hottest May on record since 1950. This brought about an even and rapid flowering. From there, hail hit several appellations, though the damage was fairly localized.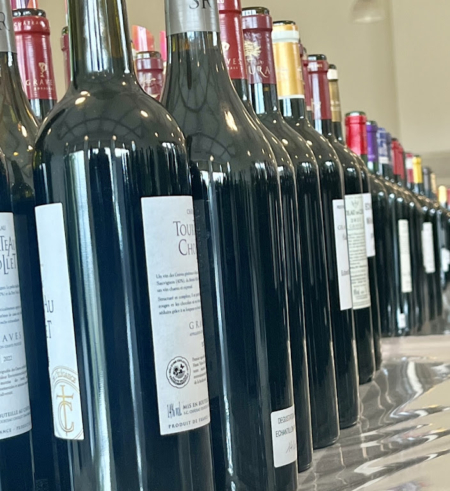 June took on an important, if not pivotal role combining rain with intense heat becoming the hottest June on record since 1947. Fortunately, there was also rain in June which nourished the vines and softened the blow of the initial, summer heat-wave with its peak temperatures topping 40˚C, (104 Fahrenheit.)
Though it should be noted that the rains were not equal in every appellation, or bank. For example, in the Left Bank, some parts of the Medoc received as much as 135mm while other appellations and vineyards remained quite dry. Pierre Graffeuille Chateau Montrose – "It was the lack of water during the summer which created a unique climatic condition that we have not experienced before."
In the Right Bank, some parts of St. Emilion received closer to 70mm. This is where the water retentive, limestone and clay soils play an important role. Those June rains, coupled with water tables from the 2021 vintage saved, or made the vintage.
The rains and their dispersal helped each appellation and vineyard cope with the oncoming summer draught. 2022 Bordeaux experienced it second round of heatwaves in mid-July. Some vineyards experienced vine-stress, depending on their ability to retain moisture. You could see the stress in the young plants as their leaves were yellowing, while the older vines retained healthy, green colors.
The intense heat and lack of water advanced growing conditions so that 2022 Bordeaux was on its way to being an early vintage. July was hot, sunny and very dry.
August continued with the heat, sun and drought. But one of the 2022 Bordeaux vintages saving graces was, while daytime temperatures were quite hot, sunny and dry, the nights were cool, refreshing the grapes and helping to add much-needed acidities to the berries.
With the extreme conditions, the extremely-high-level level of quality found in 2022 Bordeaux came as a surprise to many growers. Nicolas Glumineau Chateau Pichon Lalande – "2022 was not expected to be such a great result. I was a bit shocked to find that the vintage is such a classically styled year."
2022 Bordeaux was an early vintage. The white Bordeaux wine grape harvest began taking place in early to mid-August with the Sauvignon Blanc followed by the first Semillon being brought in about one week later. The red wine grapes began being picked in early September, with most vineyards brining in all of their fruit by the beginning to the early part of October under close to perfect conditions of moderately warm, sunny and dry weather.
Frederic Faye Chateau Figeac "This is the first vintage where the seeds were already brown by October. That is a first me. The picking dates helped determine the style of the vintage. We started harvesting September 1, which is the earliest start to harvest in the history of the estate."
2022 Bordeaux is a small vintage due to low yields which are the product of the combination of the extreme climatic conditions which brought about small berries that offered very little juice. Vineyard yields varied as you would expect. Overall, 2022 Bordeaux produced roughly 4.6 million cases of wine. Less than normal, and lower than growers would have liked. But other vintages have produced lower yields.
Vineyards with gravel soils provided some of the lowest yields, averaging 25-25% less fruit than normal, while growers with limestone and moisture-retentive clay terroir enjoyed better, just slightly less than normal yields. Aymeric de Gironde Chateau Troplong Mondot – "For us, the key to the vintage was the ability of the vines to dig deep into the limestone and clay to find the moisture they needed."
With the hot, dry conditions, on the surface, it is obvious that the Cabernet Sauvignon turned out beautifully. But surprisingly other grapes were also harvested at very high levels of quality. Vincent Millet – Calon Segur – "2022 is special in large part due to the perfection of the Merlot grape. You can see it in our blend with 24% Merlot in the blend. That is the highest proportion of Merlot in our blend in 50 years."
Not only did the small berries provide rich wines, but vineyards with old vines were even more intense, as their roots had the ability to dig deep into the soils. All of these conditions helped produce wines of beautiful, characteristics as well as the ability to age and evolve for decades. Bruno Borie Ducru Beaucaillou – "2022 is a glamorous, long-aging vintage that will provide pleasure for generations."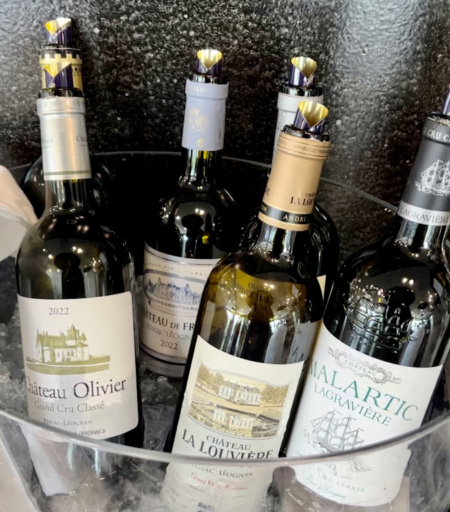 2022 Dry White Bordeaux Wine
While it is the red wines that create the most excitement with 2022 Bordeaux, there are some interesting dry white Bordeaux wines as well. That being said, while I liked the early-drinking, ripe, opulent, and aromatic characteristics enjoyed in the white wines, many lacked the necessary levels of acidity to allow for long-term aging for most of the wines. Especially those coming from the traditional areas for white wines, like Pessac Leognan and Graves. Interestingly, the 2022 Bordeaux white wines from the Medoc and some of the other AOC Bordeaux Blancs will offer a lot of high-quality drinking.
2022 Sweet White Bordeaux
2022 Sauternes at their best are exciting, even thrilling sweet-treats! The vintage allowed for the development of Botrytis, though the much-needed noble-rot did not come until late in the growing season. The dates of harvest mattered as vignerons that picked early produced bright, fresh, sweet wines without the complexities of Botrytis.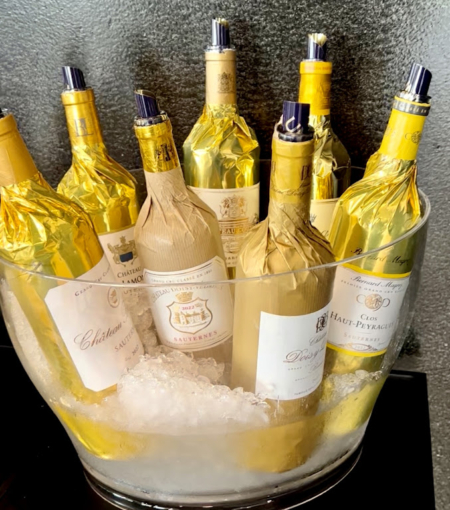 The growers that waited for the magic in the vineyard to happen, (mid-to-late October) were rewarded with outstanding wines offering intensity, richness, concentration, length and enough vibrancy to bring smiles to every sweet, white wine lovers faces.
Tasting 2022 Bordeaux Wine
To taste the 2022 Bordeaux vintage, I spent slightly more than 3 weeks in the region. For those of you keeping score, I visited over 100 different chateaux, as well as tasted with most of the top consultants and at some negociant offices as well. Whenever possible, I tasted wines on multiple occasions. Tastings are not blind. Blind tasting barrel samples is silly.
It is imperative to talk to producers and understand what took place in the vineyards, and cellars. A track record of aging and development is also fundamental in assessing the future of wines lifecycle. I have made one change however. I no longer taste wines that are not offered as futures. There is no real need to taste wines that are not for sale. I prefer tasting them in bottle when they are available to purchase.
What's new in Bordeaux? with the 2022 vintage?
The more things change, the more they stay the same. I like some of the experimenting that is going on. While I seldom find Bordeaux produced from single varietals wholly satisfying, they are intellectually interesting to taste. The move to alternative vessels for aging has potential with more chateaux utilizing amphora, wine globes, foudres, large oak barrels and eggs instead of oak barrels.
I remain unconvinced by wines produced with no sulfites, finding most to be reductive, rather than interesting. Low sulfites can produce to cleaner wines, no sulfites, not so much. The continued move to organic and biodynamic farming is a positive trend. Healthy, ripe grapes from clean, living soils makes good wine.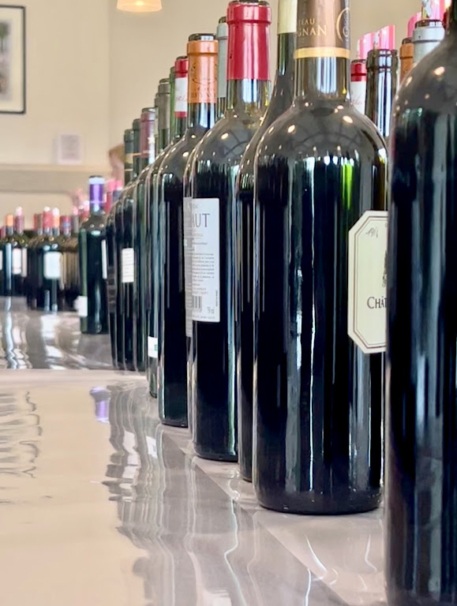 To buy 2022 Bordeaux En Primeur as Future, or not, that is the question…
Buying wine, any wine requires thought, regardless of the wine being in the barrel, or bottle. With 2022, these are unquestionably great wines. But purchasing 18-24 months is not without risk, or potential reward.
A moderate number of 2022 Bordeaux wines have already been released. The floodgates will open wide and quick by early June. On average, wines are priced between 15%-25% over 2021. That is an acceptable margin as quantities are lower, and more importantly, the wines are markedly better.
Once past the most difficult decision, which wines do you really covet, buyers need to consider currency fluctuations against the Euro, the potential economic issues still bubbling over, interest rates and where to buy from, as you want a merchant that is going to be in business when your wines arrive.
On the one hand, early buyers deserve a reward for risking their money. So, this requires thought and a little research. Do the wines you are considering have a track record of rising on price on release. If so, then yes, it is worth considering. A few wines have already moved up in price since they were initially offered. On the other side of the coin, an equal number of wines have already declined moderately in price. So, do a little homework.
Keep in mind, you are probably not going to be opening these wines for 5-10-15-20 years, so the few dollars you might save, make, or lose will probably not matter to you. If you are buying to invest, hoping to make a reasonable profit, there is a high level of risk, and your money could probably do better in a traditional investment.