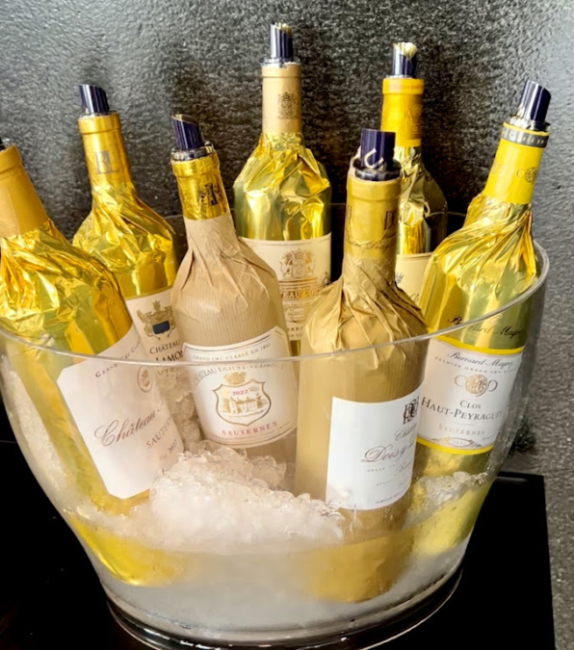 2022 Sauternes, Barsac Report…
2022 Sauternes at their best are exciting, even thrilling sweet-treats! The 2022 Bordeaux vintage for sweet wines allowed for the development of Botrytis, though the much-needed noble-rot did not come until late in the growing season. The dates of harvest mattered as vignerons that picked early produced bright, fresh, sweet wines without the complexities of Botrytis.
By the end of August, when the majority of estates were finished picking their 2022 Bordeaux grapes for dry white Bordeaux wine, vignerons in Sauternes, even though the fruit was ripe, they were still waiting for the onset of Noble Rot.
Sandrine Garby Chateau Guiraud – "I was really surprised by the relative freshness of the vintage, particularly on our terroirs from Sauternes. I think that the deep clay soils of Sauternes have kept just enough humidity to feed our vines, and to avoid any water stress. We started the harvest of the dry wines very early, on mid-august with a moderate alcohol potential (between 12 to 13% ABV) and good acidity, which we didn't expect."
By the second and third week in September growers began picking ripe berries, but without Botrytis. Fortunately, the rains that came September 24 helped to start the development of Noble Rot.
Aline Baly Chateau Coutet – "Patience was key during the 2022 vintage. The magical Botrytis cinerea took its time — waiting for light rainfall at the beginning of October to arrive and to proliferate throughout the vineyards."
It took nerves of steel to wait until late October, as the best Botrytis infected berries were not harvested until the middle to the end of October.
By that time, the fruit in the vineyards had gained complexity, serious levels of concentration, and most importantly, ample Noble Rot. This awarded the producers with patience what they needed to work with to make great sweet Bordeaux wine. With 2022 Sauternes when you picked was just as important as what you picked.
Pierre Montegut Chateau Suduiraut – We did our first picking, which brought in around 10% of the total crop. This brought in the fruits that added acidity and freshness. The second picking took place in mid October, which added Botrytis and a lot of elegance. Our final picking at the end of October brought in fruits that were very rich, tasty, spicy and more. 2022 is a true example of concentrated Botrytis.
With 2022 Sauternes, the challenge did not end with the harvest. Perhaps, with 2022 Bordeaux, the blending of all the different elements took on even more importance than usual.
Sandrine Garby Chateau Guiraud – "The challenge for blending with all the concentration was to produce a wine that an intense, deep expression of noble rot or to make a wine with balance and drinkability. We (at Guiraud) chose to preserve a beautiful balance, fresh aromatics and length on the palate, with an expression of Botrytis."
Clearly, with 2022 Sauternes, the growers with patience were rewarded with some of the best sweet Bordeaux I have tasted in a while. In fact, one estate, as you will see in my notes below made the best wine in the history of the property!
For a complete, detailed overview and analysis of the 2022 Bordeaux vintage and harvest with producer quotes… 2022 Bordeaux Vintage, Harvest Report
All of the following 2022 sweet white Bordeaux wines from Sauternes and Barsac were tasted in non-blind conditions in Bordeaux in April.
2022 Sauternes Wine Tasting Notes…
2022 Bastor Lamontagne – Sauternes – Candied lemons, pineapple, marmalade, and white peaches with honey on the nose and medium-bodied, fresh, sweet, palate. This lighter, fresher, Sauternes is a nice wine to pair with savory courses. Drink from 2025-2040. 89-91 Pts
2022 Broustet – Sauternes – Bright, light, zesty, sweet, wine with pineapple, apricot, and honey with a candied, citrus finish. This will work well as an aperitif or with spicy, and savory courses. Drink from 2025-2035. 90-90 Pts
2022 Cantegril – Barsac – Pineapples, candied lemons, apricots, almonds and roasted nuts in a sweet, fresh, vibrant style. The honey-soaked, apricot and pineapple and vanilla-tinted finish hits the spot. Drink from 2025-2040.
2022 Clos-Haut-Peyraguey – Sauternes – Pineapples, mango, vanilla, orange blossom, spice, and apricots work together to create the attention seeking perfume. On the palate, the wine is viscous, sweet, and intense. You find a wealth of honey-coated pineapples, apricots, mangos, marzipan, vanilla, and spice that are as creamy, and unctuous, as they are fresh, and vibrant. The wine blends 80% Semillon with 20% Sauvignon Blanc. Drink from 2025-2047. 94-96 Pts
2022 Coutet – Barsac – Flowers, pineapples, mango, apricot and candied lemon notes get the wine going. The palate, with its layers of sweet, ripe and overripe, honeyed yellow, and orange fruits is fresh, long, intense, balanced, and most importantly, delicious! And isn't that the purpose of a wine? Drink from 2025-2055. 94-96 Pts
2022 De Fargues – Sauternes – Layers of ripe, pineapples, sweet, lemon curd, and apricots are sweet, bright, fresh, and rich, as well as long, intense, and fresh. Drink from 2025-2055. 94-96 Pts
2022 Doisy Daene – Barsac – Vibrant, sweet, mineral-accented, pineapples, vanilla, lemon curd, yellow plum, and honey are on fire here! Perfectly balanced between its sweet and fresh side, this is a serious, sweet treat! Drink from 2025-2050. 94-96 Pts
2022 Doisy Vedrines – Sauternes – Lush, sweet, ripe, yellow tropical fruits with pineapples, apricots, and candied orange all coated with honey are in the nose and palate. Drink from 2025-2045. 93-93 Pts
2022 Guiraud – Sauternes – The first vintage with Sandrine Garaby, formerly of Chateau d'Yquem in charge is the winner you knew it would be. The wine is intense, rich, deep, and manages to balance its layers of roasted, ripe, and over ripe pineapples, mango, candied orange, vanilla, almond, and apricots perfectly. The fruits are slathered with honey, yet they retain that all important freshness as well. Drink from 2025-2050. 94-96 Pts
2022 La Tour Blanche – Sauternes – Candied lemon, pineapple, and honey with floral accents, apricots, and hints of white peach on the nose, and on the sweet, medium/full-bodied, fresh, mango, and pineapple-infused palate. Drink from 2025-2045. 92-94 Pts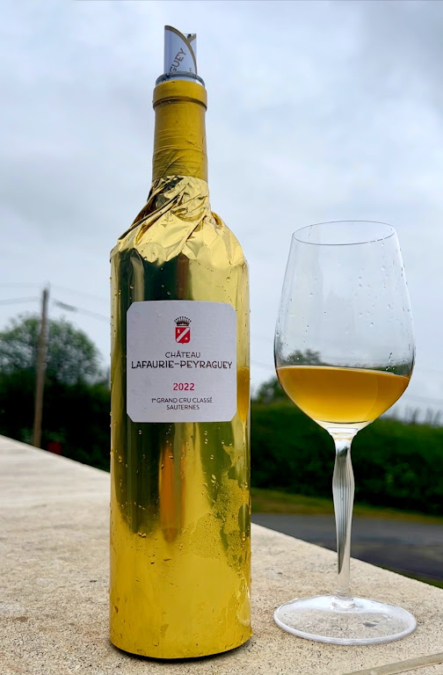 2022 Lafaurie-Peyraguey – Sauternes – Ripe, very ripe, and over ripe pineapples, mangos, candied oranges, apricot, flowers, honey, and marmalade create the intoxicating perfume. Perfectly perched between its decadently, sweet side, and its raciness on the other side, this is sublime. The roasted passion fruits, mangos, apricots, pineapple, roasted cashews, and saffron on the palate are all slathered with honey. This has the potential to be a future legendary sweet wine. If this is your thing, grab it as only 1,200 cases were produced. It is going to be stunning on release. But if you prefer your sweet wines with age, this will evolve for 3 or more decades. The wine blends 95% Semillon with 5% Sauvignon Blanc. Drink from 2025-2055. 97-99 Pts
2022 Lafaurie-Peyraguey Blanc Sec – Bordeaux – Creamy, sweet and fresh lemons, green pears, green apples and white peach and a nice hit of pineapple on the nose and on the fruity palate. The wine blends 60% Sauvignon Blanc with 40% Semillon. Drink from 2024-2030. 92-92 Pts
2022 Raymond Lafon – Sauternes – Honey-slathered pineapples, apricots, vanilla, roasted nuts, candied lemon and orange peel nuances are all over the place in the nose and on the palate. The wine is viscous and fresh with more of those ripe, very ripe and over ripe pineapples, papaya and mango on the mid-palate and in the finish. Perched by sweet and energetic, this is a gorgeous, sweet treat. Drink from 2025-2050. 94-96 Pts
2022 Rayne Vigneau – Sauternes – Layers of sweet, spicy, white peaches, tangerine, mango, and pineapple all coated with honey hit all the right pleasure buttons. The wine is sweet, refined, fresh, and creamy from start to finish. In fact, this is already a treat in your glass. Drink from 2025-2045. 92-94 Pts
2022 Sigalas Rabaud – Sauternes – Candied white peach, pineapple, apricot, vanilla, and honey show up instantly on the nose and palate. The wine finishes with sweetness, and ample lift to the honeyed apricots along with a nice touch of vanilla as well on the creamy, sweet, fresh palate. You can enjoy this early as well as age it. Drink from 2025-2045 91-93 Pts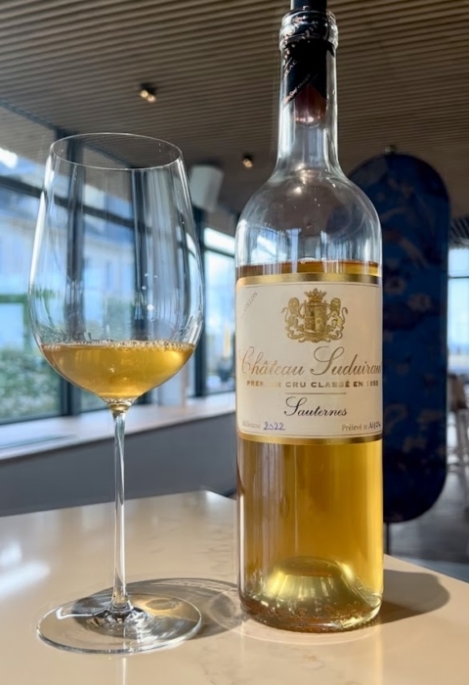 2022 Suduiraut – Sauternes – The roasted nut profile and strong sense of botrytis is all over the place here. With another sniff and swirl, you discover roasted apricots, pineapples, tangerine, vanilla, and a plethora of spices all soaked in honey. Concentrated, fresh, spicy, chalky, and long, the orange, mango, and pineapple finish delivers its pleasures with racy assurance. The wine was made from 100% Semillon for only the third time in the history of the estate. Drink from 2025-2060. 97-99 Pts
2022 Suduiraut Pur Semillon Grand Vin Blanc Sec – Bordeaux – The complex nose offers citrus, smoke, hazel nuts, green apples, pears, flowers, pineapple, and honeysuckle in its perfume. The wine is elegant, energetic, and creamy, with sweetness, and lift in the lemon, grapefruit, and pear oriented finish. The wine is only made in special vintages and is as the name implies, produced from 100% Semillon. The wine is not easy to find as only 3 barrels 75 cases are produced. Drink from 2024-2034. 94-94 Pts
2022 Suduiraut Vieilles Vignes Grand Vin Blanc Sec – Bordeaux – Sweet juicy lemons, white peach, spice, mango, and honeysuckle on the nose get this started. But it is on the palate, with its sweet citrus, orange pith, and touch of honey where the wine shows its best. The wine blends 55% Semillon and 45% Sauvignon Blanc. Drink from 2023-2029. 92-92 Pts