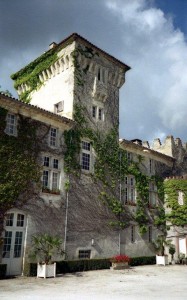 Learn everything about Chateau Doisy Vedrines Sauternes, Deuxiemes Crus with wine tasting notes, wine, and food pairing tips, best vintages, a history of the property, information on the vineyards, and winemaking. If you want to read about other important, Bordeaux Chateaux: Links to all Bordeaux Wine Producer Profiles
Chateau Doisy Vedrines History, Overview
Chateau Doisy Vedrines was once part of the vast Doisy estate which also included Chateau Doisy Daene and Chateau Doisy Dubroca. The original property, founded in 1704 was divided into three parts in 1851. Of the three estates, with its 27 hectares of planted vines, it's the largest of the Doisy estates.
The property takes its name from one of its early owners, the Vedrines family, who sold the vineyard just prior to the 1855 Classification.
Today, the vineyard is owned by the well-known Casteja family, who own numerous estates in the Right Bank including; Chateau Trotte Vieille in St. Emilion, Domaine de L'Eglise, and La Croix du Casse in Pomerol. In the Medoc, they own Chateau Batailley in Pauillac as well as a massive negociant company, Borie-Manoux.
Interestingly, while Doisy Vedrines is located in Barsac, they use the Sauternes appellation on their label, which is allowed under AOC appellation regulations. The other two Doisy estates prefer to include Barsac on their label.
Chateau Doisy Vedrines Vineyards, Terroir, Grapes, Winemaking
The 35 hectare vineyard of Chateau Doisy Vedrines is planted to 80% Semillon, 15% Sauvignon Blanc and 5% Muscadelle. Although there are a few Sauvignon Gris vines still remaining in the vineyard as well. On average, the vines are 30 years of age.
The vines are planted to a vineyard density of 6,500 vines per hectare. The terroir is a mix of limestone, sand, and clay with iron soils. Over the years, since being purchased by the Casteja family. Their recent vineyard addition was with the purchase of 6 hectares of vines.
To produce the wine of Chateau Doisy Vedrines, vinification takes place in a combination of tank and French oak barrels. Fermentation starts in tanks before the wine is transferred and finished aging in French oak barrels.
The best vintages of Chateau Doisy Vedrines are: 2022, 2021, 2020, 2019, 2018, 2017, 2016, 2015, 2014, 2013, 2011, 2010, 2009, 2007 and 2005.
The wine is aged in 60% new, French oak barrels for an average of 18 months. Located close to Chateau Climens, the large estate produces an average of close to 4,000 cases of Doisy Vedrines per year. There is a second wine, Le Petit Vedrines. They also make a dry, white Bordeaux wine, Chevalier de Vedrines.
When to Drink Chateau Doisy Vedrines, Anticipated Maturity, Decanting Time
Chateau Doisy Vedrines can be enjoyed on the young side with no decanting. In fact, it is delicious and quite a treat young, even on release!
However, like all great wines, Chateau Doisy Vedrines is much better with age and does not reach full maturity until it's at least 8-12 years of age, or in some years, perhaps even longer in the best vintages. But that is unrealistic for 99% of the world's wine drinkers. So, enjoy it on any special occasion that calls for it.
Serving Chateau Doisy Vedrines with Wine and Food Pairings
Chateau Doisy Vedrines is best served at 14 degrees Celsius, 57 degrees Fahrenheit. The cool, almost cellar temperature gives the wine more freshness and lift. The wine will naturally warm in the glass, while it develops more aromatic complexities and fleshes out.
Chateau Doisy Vedrines can be served with seafood dishes, especially shellfish, lobster, crab, and oysters on the half shell. Foie gras is a perfect pairing with its natural sweet, salty and savory characteristics.
Chateau Doisy Vedrines can also be paired with roasted chicken, veal, and pork dishes that are either spicy or prepared with a touch of sweetness. Spicy Asian cuisine, raw fish, like sushi or sashimi, and cheese, both hard and soft also make great pairings with Chateau Vedrines.
Château Doisy-Védrines Wine Tasting Notes
13 Vintages 48,363 Views Sort by Vintage-Rating
2022
Château Doisy-Védrines (Sauternes)
Lush, sweet, ripe, yellow tropical fruits with pineapples, apricots, and candied orange all coated with honey are in the nose and palate. Drink from 2025-2045. 93-93 Pts.
1,769 Views
Tasted

May 8, 2023
2020
Château Doisy-Védrines (Sauternes)
Lemon chiffon, ginger, flowers, vanilla, honey and orange cream are on the nose. Sweet, juicy, and focused on honey-coated yellow tropical fruits and candied yellow citrus, there is ample freshness to balance the sweetness here. 91-93 Pts
1,476 Views
Tasted

May 20, 2021
2019
Château Doisy-Védrines (Sauternes)
Fresh, vibrant, yellow tropical fruits, candied tangerine skin, flowers, and honeysuckle create the aromatic profile. On the palate, there is ample sweetness to the tropical fruits and apricots with an edge of vanilla and spice in the finish. Drink from 2022-2045.
2,423 Views
Tasted

Nov 3, 2022
2018
Château Doisy-Védrines (Sauternes)
Assorted flowers, honeysuckle, white peach, lemon curd, yellow tropical fruits, vanilla and honeyed overtones work here. Lush, show, rich and sweet, with loads of candied apricots, pineapple and honey in the finish.
2,298 Views
Tasted

Mar 14, 2022
2016
Château Doisy-Védrines (Sauternes)
Fresh, lifted, energetic, candied orange, pineapple, apricot, vanilla, honey and floral notes appear on the nose and in all that sweet, ripe and overripe fruit, balanced with a jolt of acidity on the palate. Give it time for the secondary notes to appear, if you can wait. Else, it's already a delicious, sweet treat.
2,483 Views
Tasted

Aug 29, 2020
2015
Château Doisy-Védrines (Sauternes)
Elegant, fresh, lifted, tropical fruits and apricots coated with honey, vanilla bean and roasted nuts. The wine is rich, but also energetic, giving it the right balance between its natural sweetness and acidity,
4,811 Views
Tasted

Nov 8, 2019
2014
Château Doisy-Védrines (Sauternes)
Luscious, sweet, ripe and overripe tropical fruit, candied orange and dried apricot all coated with honey and a touch of marzipan. There is good weight and enough racy acidity keeping this wine on the fresh and refreshing side.
3,931 Views
Tasted

Feb 6, 2017
2011
Château Doisy-Védrines (Sauternes)
Just a super wine, with honey slathered, white peaches, pineapple, apricot and mango, with vanilla custard caramel and floral notes that are impossible to avoid. Fresh, vibrant, sweet and luscious, with a melange of apricot, pineapple and honey in the finish. This should age and develop for at last anppther 20 years with little effort.
5,415 Views
Tasted

Jan 8, 2018
2010
Château Doisy-Védrines (Sauternes)
Medium bodied, with a focus on juicy, fresh, sweet, candied, tropical fruits and orange rind, with a blast of honeyed apricots. There is lift, sweetness and freshness, all in the right proportions.
4,114 Views
Tasted

Dec 10, 2017
2009
Château Doisy-Védrines (Sauternes)
Perfect on a hot summer night with cheese, instead of dessert, this medium bodied, forward, sweet, unctuous wine delivers a lot of fresh, honeyed pineapple, apricot, vanilla, orange rind and white peach on the nose. The fruit maintains a balance of sweetness and freshness, ending with honeyed pineapple and candied citrus rind.
3,661 Views
Tasted

Sep 12, 2015
2007
Château Doisy-Védrines (Sauternes)
With a showy nose of orange blossoms, apricots, pineapple and honey, the wine is fresh, medium bodied and ends with lush wave of honey coated, tropical fruit and citrus.
5,318 Views
Tasted

Oct 27, 2012
2001
Château Doisy-Védrines (Sauternes)
Light, pleasant, fresh and easy to drink, this could work equally well as an aperitief or as a meal accompaniment. But it lacks the depth to satisfy as a dessert wine.
3,708 Views
Tasted

May 14, 2016
The nose was all about the honey coated orange, apricot, pineapple and candied lemon peel perfume. Smooth, sweet and easy on the palate, the fruit in the endnotes had peppy acidity and a melange of honeyed orange, tropical fruit and apricot flavors, even if it was a bit on the lighter side.
3,608 Views
Tasted

Feb 6, 2015
1988
Château Doisy-Védrines (Sauternes)
This is drying out and losing its fruit. Medium bodied, with only moderate levels of sweetness remaining in the citrus and tropical flavored finish. Drink up before it continues to decline.
3,348 Views
Tasted

Jun 15, 2013