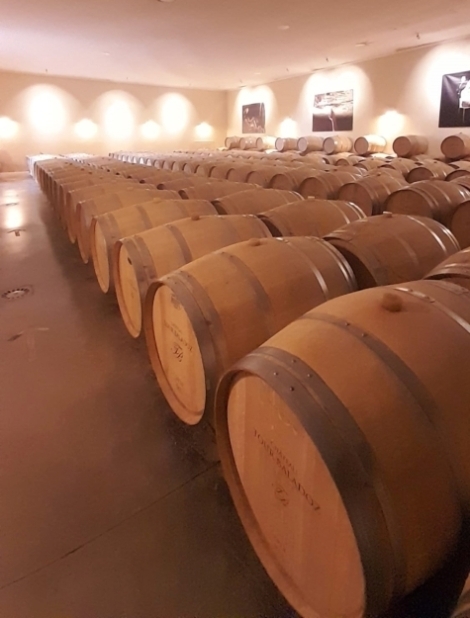 Learn everything about Chateau Tour Baladoz St. Emilion with wine tasting notes and wine-with-food pairing tips. Learn the best vintages, a history of the property, information on the vineyards, and winemaking. If you want to read about other important, Bordeaux Chateaux: Links to all Bordeaux Wine Producer Profiles
Chateau Tour Baladoz History, Overview
The owners of Tour Baladoz, the de Schepper family got their start in the wine business in, when they formed a family company to produce liqueur and spirits in Belgium in the 1930s. In 1950, they expanded their holdings with the purchase of Chateau Tour Baladoz, followed by the purchase of Chateau Haut Breton Larigaudiere in the Margaux appellation. In 1970, they formed a negociant company, De Mour and Sons. A family company, today, Olivier DeSchepper is in charge of most of the aspects of the business.
Chateau Tour Baladoz Vineyards, Terroir, Grapes, Winemaking
The 9-hectare vineyard of Chateau Tour Baladoz is planted to 70% Merlot, 15% Cabernet Franc, 10% Cabernet Sauvignon and 5% Petit Verdot. The terroir is clay over limestone. The average vine density of 6,000 vines per hectare. The vines are maintained at close to 20 years of age.
The vineyard is basically one contiguous parcel located in the Right Bank, in the Saint-Laurent des Combes commune. 70% of their vines are planted on the plateau, that at its peak, rises to almost 100 meters in elevation. The remaining vines are planted on the slopes. Tour Baladoz has very good neighbors as they are not far from Chateau Bellefont-Belcier, and Chateau Larcis Ducasse to the south, while Tertre Roteboeuf is just to the east and Chateau Troplong Mondot is due west.
The vinification takes place in a combination of stainless steel tanks and concrete vats. The wine is aged in 70% new, French oak barrels for between 15 to 20 months before bottling.
The best vintages of Chateau Tour Baladoz are: 2022, 2021, 2020, 2019, 2018, 2017, 2016, and 2015.
There is a second wine, Dame de Baladoz. On average the production is close to 4,000 cases of wine per year.
In addition, the De Schepper family owns Chateau Haut Breton Larigaudiere in the Margaux appellation, Chateau Lacombe-Cadiot, Bordeaux Superieur, Chateau Tayet, Bordeaux Superieur and Chateau La Croizille, also situated in the Saint Emilion appellation. Plus they are also the owners of De Mour negociants.
When to Drink Chateau Tour Baladoz, Anticipated Maturity, Decanting Time
Chateau Tour Baladoz is better with at least 3-5 years of bottle age. Of course, that can vary slightly, depending on the vintage. Chateau Tour Baladoz is best enjoyed in the first 4-18 years of life.
Young vintages can be decanted for up to 1 hour or so. This allows the wine to soften and open its perfume. Older vintages might need very little decanting, just enough to remove the sediment.
Serving Chateau Tour Baladoz with Wine, and Food Pairing Tips
Chateau Tour Baladoz is best served at 15.5 degrees Celsius, 60 degrees Fahrenheit. The cool, almost cellar temperature gives the wine more freshness and lift.
Chateau Tour Baladoz is best served with all types of classic meat dishes, veal, pork, beef, lamb, duck, game, roast chicken, roasted, braised, and grilled dishes. Chateau Tour Baladoz is a perfect match with Asian dishes, hearty fish courses like tuna, mushrooms, and pasta as well as cheese.
Château Tour Baladoz Wine Tasting Notes
7 Vintages 14,060 Views Sort by Vintage-Rating
2022
Château Tour Baladoz (St. Émilion Grand Cru)

Chocolate, and espresso-tinted red fruits with a zesty, citrus edge provides the medium-bodied wine with lift, freshness, and layers of sweet, ripe, red berries with a touch of espresso, cocoa, and salt at the back end of the finish. Drink from 2026-2040. 91-93 Pts.

880 Views

Tasted

May 8, 2023

2020
Château Tour Baladoz (St. Émilion Grand Cru)

Medium-bodied, fresh, sweet and vibrant with a core of sensuously textured, red fruits, chocolate, licorice, espresso and smoke that starts off in the nose and continues through to the elevated finish. Drink from 2024-2039.

936 Views

Tasted

Mar 21, 2023

Chocolate-coated blackberries, espresso, plums and savory herbs fill the perfume and palate. Round, lush, forward and fruity, the spicy endnotes come along with ripe red pit fruits, spice and oak. So give this a few years in the cellar to fully come together. 89-91 Pts

1,984 Views

Tasted

May 20, 2021

2019
Château Tour Baladoz (St. Émilion Grand Cru)

Much better in bottle than in barrel, the medium-bodied, soft, open wine offers flowers, spice, thyme and cherries on the nose. Soft, fresh, polished and already good to go, with its fresh, plum, cocoa and black raspberry packed palate, you can enjoy this on release. Drink from 2022-2032.

1,633 Views

Tasted

Mar 29, 2022

Medium-bodied, soft, open, spicy red fruit dominated wine for early drinking, fresh, fruit-filled pleasure. 86-88 Pts

2,559 Views

Tasted

Jun 28, 2020

2018
Château Tour Baladoz (St. Émilion Grand Cru)

Dark in color, the nose with its smoke, oak and ripe plums is easy to find. Medium-bodied, round and already open, this forward styled, easy drinking fruity wine is ready for consumption.

1,184 Views

Tasted

Mar 9, 2021

2016
Château Tour Baladoz (St. Émilion Grand Cru)

Medium-bodied, forward, ready-to-go black cherry and licorice-filled, round wine with a touch of cocoa in the end note. Drink from 2022-2028.

1,387 Views

Tasted

Sep 15, 2022

2015
Château Tour Baladoz (St. Émilion Grand Cru)

Lush, creamy, dark chocolate-covered plums and black cherries are all over the place, in the attention-seeking nose, and on the rich palate. This is ready to go. Drink from 2022-2035.

1,750 Views

Tasted

Oct 12, 2022

2014
Château Tour Baladoz (St. Émilion Grand Cru)

Fully-developed, bright, crisp, red berry character with a bit too much freshness to all of its strawberry and red plum fruits. Time is not going to add anything positive here, so if you have a bottle, drink up before the fruit continues to fade. Subsequent vintages, starting with 2015 have all been better. Drink from 2023-2025.

1,747 Views

Tasted

Dec 23, 2022