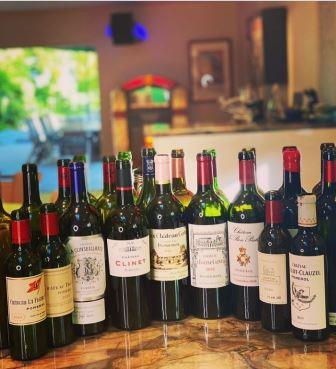 2020 Pomerol in some ways can be seen as a modern-day version of 1998, even if that is an oversimplification, there are parallels. Like you find in 1998, the true stars of the vintage are in the Right Bank, especially in Pomerol. And this is not solely because of the Merlot, it has more to do with the terroir.
With 2020 Pomerol, the success is due to the terroirs that retained moisture during the summer drought. The deep clay and gravel with clay soils worked best.
Chateau Clinet – Ronan Laborde – "Our terroir expressed its resilience to the extreme with intensely hot and dry weather conditions which ended up producing grapes with balance and intensity."
Two periods proved to be difficult, starting with the warmth and humidity in the spring, which for some growers created conditions ripe for mildew. At the end of March, for two nights, growers had to deal with extreme cold, dangerous frost conditions. This was followed by a dry summer that saw no rain from June 20 to August 17.
As you can see, the summer was quite sunny, hot, and very dry. In fact, July was marked by drought which continued through to August. Here is where the differences in terroir came into place. The water retentive clay soils and gravel terroirs were able to nourish the vines, allowing the grapes to reach a beautiful state of maturity.
However, that would not have happened without the rain that fell from August 9 to August 14, coming just after véraison, which unblocked the vines. This helped produce small Merlot berries with thick skins, and good sugar levels along with seeds and skins that were ripe allowing producers to make exceptional wine.
Chateau La Conseillante – Jean-Valmy Nicolas "With 2020, under the leadership of Marielle Cazauxm we have gained in precision and tension in the wine."
The 2020 Pomerol harvest began with the young Merlot vines in the early part of September, which is quite early.
Chateau L'Evangile – Olivier Tregoat "In this hot and dry context, we needed to avoid harvesting overripe Merlot. The harvest date was essential. On the 2nd and 3rd, we harvested vines that had suffered from drought. From September 5 to 13, we picked up the Merlot grapes on our great terroirs."
By early to mid-September, harvesting for Merlot in the Right Bank was taking place at a rapid pace under picture-perfect conditions with warm, dry, sunny, days and cool nights. The freshness that comes with the cool night allowed for what will eventually be seen as a modern version of classic wine. The Cabernet Franc was also harvested in sublime conditions by the end of September.
Chateau Trotanoy – Edouard Moueix "2020 in Pomerol is a wonderful vintage combining not only ripeness and freshness but more importantly, Tradition and Modernity."
At their best, 2020 Pomerol show deep, dark color. They are extremely aromatics with gorgeous, floral profiles, depending on the terroir. The wines are rich, full-bodied, and opulent. They are silky, flamboyant, and attention-seeking. In other words, 2020 is almost a perfect vintage for Pomerol, as can see by my tasting notes below.
The following 2020 Pomerol wines were all tasted in my home office in non-blind conditions.
2020 Beauregard – Deep garnet in color, the wine quickly shows off its floral aromatics along with spice, licorice, and black plums. Soft and silky, polished, fresh and elegant, the chocolate-centric finish with all its ripe, dark red pit fruits tastes as good as it feels. Beauregard has really been upping their game the last couple of years. 92-94 Pts
2020 Bel-Air-Pomerol – Chocolate-covered black cherries and plums with a truffle accent greet your nose. The wine is medium-bodied, soft, chewy, round, and dark with more of those cocoa-covered plums in the finish. 89-91 Pts
2020 Bellegrave – Soft, silky, fresh, medium-bodied, with stewed plums, cherries and wet earth on the nose and palate. The wine is soft, sweet, open and already delicious to taste. 88-90 Pts
2020 Bon Pasteur – Deep and dark in color, the wine delivers a fabulous floral perfume buttressed with notes of cherry, blackberry, kirsch, cocoa and licorice. On the palate, you find opulently-textured layers of perfectly ripe, spicy, earthy, dark red pit fruits. The tannins are soft, silky and polished. This is going to age and evolve for at least 25 years. 93-95 Pts
2020 L'Etoile de Bon Pasteur – Medium-bodied, forward, silky, fresh, early-drinking charmer with a polished core of plums and touch of cocoa. You can enjoy this on release. 88-90 Pts
2020 Bonalgue – Medium-bodied, elegant, fresh, ripe and already expressing its spicy plum, espresso, earthy, smoke and cocoa-filled nose. Round, polished, and earthy, the red fruits in the finish are ripe, fresh and vibrant. Give the wine 2-4 years of cellaring and it should be a better tasting experience. 90-92 Pts
2020 Bourgneuf – With a dark hue the wine is silky, rich, lush and supple. Medium-bodied with an earthy, cocoa-infused, ripe, deep plum character, the long finish is already displaying its chocolate-tinged, black cherries, plum, spice, espresso and licorice character. Give it some time to develop additional complexities in the cellar before pulling the cork. 91-93 Pts
2020 Cantelauze – The nose is reductive and takes a lot of aeration before you get to the bright red fruits. Medium-bodied, soft, early-drinking with an herbal, tart, crisp finish, the wine will be best in its youth. 82-84 Pts
2020 Certan de May – The first thing you notice is the pronounced note of cinnamon followed by toast, plums, wet earth, violets and dark cocoa. Deeply colored, the wine is medium-bodied, soft, silky, fresh, lifted and polished. The spicy finish, with its refined cherries and plums is long, vibrant and sensuous. This will age and evolve for at least 2 decades or more with little effort. 94-96 Pts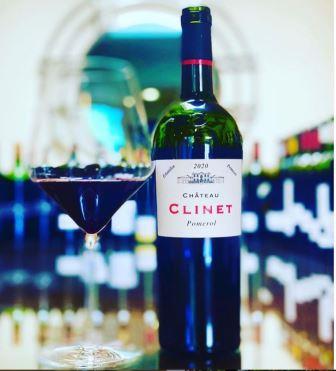 2020 Clinet – Deep and dark in color, the perfume instantly shoots out its notes of flowers, spearmint, licorice, plums, black cherry, smoke and espresso. Full-bodied, velvety, opulent, sensuous and sexy, the wine is dense, long and silky on your palate. The finish really sticks with you, which is a good thing because you never want this voluptuous stunner to end. The fruits show a remarkable sense of purity, leaving you with over 50 seconds of hedonistic pleasure. This is the best Clinet since 2010. The wine is a blend of 80% Merlot and 20% Cabernet Sauvignon, 15% AVB, 3.7 pH, with no touch of heat. The harvest took place September 14, finishing September 23. 97-99 Pts
2020 Clos 56 – Dark in color, the smoky, black and blue fruits, chocolate and licorice at its core are lush, polished fresh and long. The finish, with its earthy touch and silky tannins finishes everything off nicely. The wine is made from 100% Merlot. 91-93 Pts
2020 Clos Beauregard – Medium-bodied, soft, fresh and fruity, this forward, styled, early-drinking charmer focuses on its easy-drinking core of soft, red fruits and a strong touch of oak on the back end. 89-91 Pts
2020 Clos du Clocher – Almost opaque in color, the perfectly ripe fruit is made better with its sexy, silk and velvet textures. Full-bodied, rich, sensuous and packed with layers of sweet, fresh, vibrant, hedonistic fruits, this is probably the best vintage of Clos du Clocher produced yet. 93-95 Pts
2020 Clos Grangeneuve – Medium-bodied, with a focus on its chocolate-covered cherry profile, soft textures and bright, fresh, fruity, red plum finish. You can enjoy this on release. 88-90 Pts
2020 Clos LEglise – Almost opaque in color, the wine jumps from the glass with its showy display of black cherries, Valrhona chocolate, ripe plums, smoke, licorice and wet earth. Full-bodied, rich and concentrated, the wine is lush, velvety and opulent in texture, leaving you with an array of chocolate-covered red pit fruits and silky, sensuous textures. This could be my favorite vintage of Clos L'Eglise produced yet. 95-97 Pts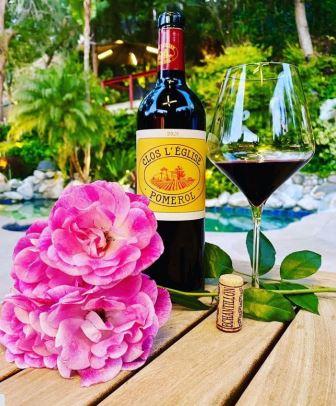 2020 Clos Rene – Medium-bodied, with a smoky, ripe, earthy, fresh, bright approach to the fruit. The wine is lifted and energetic, finishing with touches of savory herbs and wet earth in the endnotes. Give this 5 years or so of aging before pulling a cork. 89-91 Pts
2020 ClosVieuxTaillefer – Espresso, spice, plums, licorice, smoke and cherries are found on the nose and on the core of this soft, forward, medium-bodied, earthy, plummy, chocolatey, Merlot-based Pomerol. 88-90 Pts
2020 Clos-de-la-Vieille-Eglise Pomerol – Deeply colored, the wine opens with black plums and cherries, oak, wet earth, anise and flowers. Medium-bodied, soft, silky and polished, with a nice sweetness to the elegant fruits and freshness in the finish. This will be even better with a few years of aging. 89-91 Pts
2020 Compostelle – Medium-bodied, softly textured, early-drinking plummy wine with notes of red fruits and herbs that will be at its best in its forward, fruit-filled, exuberant youth. 88-90 Pts
2020 Croix du Casse – Floral in nature, the wine displays cocoa-infused cherries and plums on the nose. Medium-bodied, silky and fresh, there is a nice polish to the tannins and loads of juicy sweet, plums, spice, espresso and chocolate in the finish. You can drink this on release. But it will be even better if you age it for a few years. 91-93 Pts
2020 Domaine-de-LEglise – Licorice, black plums, flowers, dark chocolate, smoke, espresso and wet earth create the attention-seeking perfume. The wine is concentrated, full-bodied and intense. The fruit is sensuous, velvety and flamboyant, finishing with layers of opulent, silky, perfectly ripe plums, blackberries and cherries, Asian spice and dark chocolate that expands as it lingers for at least 50 seconds. This could be the best deal for high-quality Pomerol today. Give it at least 7-8 years in the cellar and enjoy it for 2 decades after that. 95-97 Pts
2020 Enclos Tourmaline – Dark in color, the wine shows off its black, blue and red fruits infused with flowers, smoke, licorice, truffle, cigar box and dark chocolate. Lush, supple, fresh and with a gorgeous sense of purity, the wine is concentrated, silky and rich. Made from 100% Merlot, this is a gorgeous, stylish Pomerol. Produced from 100% Merlot this will be outstanding with 5-7 years of age. The production is low in 2020 with about 200 cases produced. 95-97 Pts
2020 Ferrand – Medium-bodied, soft, forward and on the light side, with a core of cherries, plums and oak on the nose and palate. Drink this on the young for its red pit fruits. 84-86 Pts
2020 Feytit-Clinet – Dark in color, the wine opens with flowers, truffle, boysenberry, blackberry, cherry blossoms and licorice. Lush, long and sensuous, there is a new-found polish to the fruit and tannin giving you much more definition and silky textures than experienced in previous vintages. The chocolate finish really sticks with you, which is a good thing because you will want to spend time enjoying its finesse, flavor, length, freshness and opulence. 95-97 Pts
2020 Fugue de Nenin – Bright, fresh, juicy, lifted and fruity, the wine focuses on its core of lifted, sweet, ripe red fruits, savory herbs and flowers. Drink this with pleasure while waiting for the Grand Vin to develop. 89-91 Pts
2020 Gazin – Medium/full-bodied, elegant, fresh and luscious, the earthy, spicy plums, cherries and cocoa notes are all over the place in the nose and on the plush, albeit reserved palate presence. Give this 4-6 years of aging and it should be an even better wine. 92-94 Pts
2020 Gouprie – Dark in color, the nose is earthy and floral, with licorice, spice, plum and espresso notes. Medium-bodied, polished and silky, with a nice sweetness to the refined fruits, and a touch of spice with menthol in the finish. This is going to age nicely for at least 2 decades. 90-92 Pts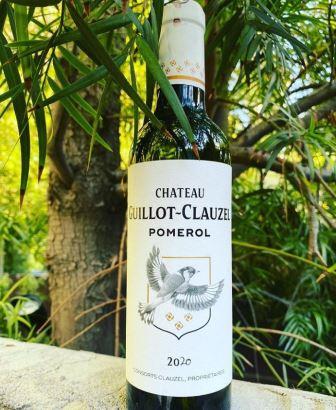 2020 Guillot Clauzel – The third vintage of Guillot Clauzel with Guillaume Thienpont in charge is clearly their best yet. The wine is deep in color with a showy aromatic of chocolate, truffle, forest leaf, fresh espresso and black plums. The wine is rich, supple, silky, full-bodied, deep and sensuous. The velvety tannins, freshness, and layers of dark red fruits on the palate stay with you, expanding in the finish. The wine blends 85% Merlot with 15% Cabernet Franc. 95-97 Pts
2020 Haut Ferrand – Round, soft, medium-bodied and focused on its core of sweet plums, licorice, smoke and espresso, the wine is showing a bit too much oak on the nose and palate. 85-87 Pts
2020 Haut-Maillet – Flowers, plums, espresso and plums start off the nose. But here, it is on the exotically textured, supple, palate where the wine really shows its stuff. Polished, plush and earthy, with black plums and savory herbs in the endnote. This is a big step up in quality here. 91-93 Pts
2020 Hosanna – Dark in color, the wine is loaded with truffle, flowers, black and blue fruits and spice. Full-bodied with a serious depth of flavor, the wine is rich, supple, silky, long and intense. With the texture of velvet, the perfectly ripe, sweet, plums, cherries, blackberries, blueberries and dark cocoa holds on to your palate for at least 50 seconds. The purity here is just great. Give it a decade in the cellar and this will be a beauty. Clearly, this is the finest vintage of Hosanna ever produced. 97-99 Pts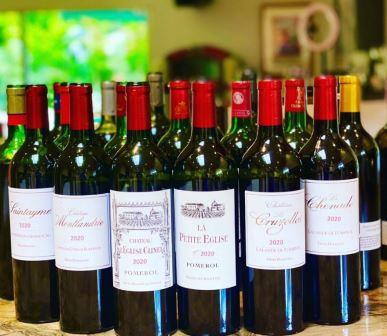 2020 LEgliseClinet – Everything you would expect from L'Eglise Clinet is here in spades. The nose shoots from the glass with its truffle, spicy plum, wet earth, herb, smoke, tobacco, cocoa and cherry liqueur scents. Full-bodied, concentrated, focused and fresh, the wine perches on the border between opulence and classic. From a blend that mirrors the vineyard at 80% Merlot and 20% Cabernet Franc, the wine packs layers of dark chocolate-covered ripe plums that coat your palate, linger and expand. This will age gracefully for 3 decades easily. It is great to see so much continuity here from the Durantou family. 98-100 Pts
2020 LEglise Clinet La Petite Eglise – Truffles, flowers, chocolate and plums are all over the wine on the nose and palate. Medium-bodied, finesse-driven in style, with an exotic touch of spice in the finish, this is a perfect example of a baby L'Eglise Clinet. Enjoy this while waiting for the Grand Vin to develop. 92-94 Pts
2020 LEnclos – Plummy, silky, fresh, medium-bodied and already focusing on its core of chocolate-covered plums, licorice and espresso. You should be able to enjoy this on with just a year or two of age. 89-91 Pts
2020 L'Evangile – Dark garnet in color, initially you notice all the truffle, flowers, dark cocoa and plums with a touch of licorice in the aromatics. On the palate, the wine is rich, lush, velvety and full-bodied. There is a beautiful richness to the texture on the mid-palate and in the opulent finish with its wealth of chocolate, espresso, black plum and sweet Morello cherries. The endnote lingers, which is what you need, as this tastes and feels so good, you want more of it. If you can, give this a decade of age this will really be singing. The wine blends 88% Merlot with 12% Cabernet Franc, 14.5% ABV. Yields were low at 32 hectoliters per hectare. The Grand Vin was made from 50% of the harvest. 96-98 Pts
2020 La Cabanne – Floral in character, with additional nuances of earth, cherries, plums, licorice and kirsch start things off nicely. The wine is sexy, silky, soft and sweet, with a refined textural finish. Since 2015 La Cabanne has been upping their game and 2020 is no exception. 91-93 Pts
2020 La Clemence – Deep in color, the wine is round, plump and fruity, with a liberal dose of oak, ripe, dark red fruits and espresso on the palate and in the finish. 89-91 Pts
2020 La Commanderie Pomerol – Medium-bodied, soft, fresh, bright and forward, with a core of red cherries and flowers on the nose and soft, silky, fresh palate. You can enjoy this lighter-styled, cherry and cocoa-filled Pomerol on release. 88-90 Pts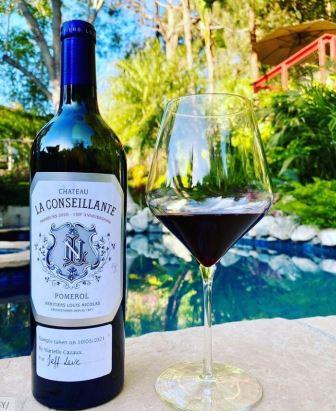 2020 La Conseillante – Dark garnet in hue, the wine explodes from the glass with its showy display of lilacs, violets, spice, chocolate, truffle, espresso and black plum liqueur. On the palate, the wine is incredibly sexy with its silk and velvet-textured fruits. The wine is showy, ostentatious, opulent and frankly decadent. In other words, this is everything you want in a great Pomerol. Full-bodied, rich and with length, purity and energy, the wine deftly balances density with lift, remaining with you for over 60 seconds in its seamless finish. Different in style, this could be at the same level of quality found in the perfect 2016! The harvest took place September 9-September 30, making this one of the longer harvests in the history of the estate. The wine blends 87% Merlot with 13% Cabernet Franc, 14% ABV, 3.67 pH. 98-100 Pts
2020 La Croix St. Georges – Dark garnet in color, the wine is plush, round and polished. The black plums, licorice, smoke, tobacco and dark chocolate on the nose and palate get your attention. Richly textured with a long blast of black cherry, plum and oak on the palate and in the finish. Let the wine age for 6-7 years allowing enough time for the oak to integrate, as there is more than enough supple textured fruit to soak it all up. 93-95 Pts
2020 La Croix de Gay – Soft, silky, forward, medium-bodied, elegant chocolate-covered, cherry-filled wine that is going to be delicious shortly after release. 89-91 Pts
2020 La Fleur Ferrand Cuvee Reserve – Polished, soft and silky with layers of ripe plum, licorice and chocolate, the wine is elegant, forward, medium-bodied and fresh, with a nice display of ripe, luscious, polished plums on the mid-palate and in the finish. This is the top wine of Chateau Ferrand. 89-91 Pts
2020 La Grave Pomerol – Floral, fresh, vibrant, lively red plums are found in the perfume. The wine is lush, round, ripe and silky. Medium-bodied with a finish that packs in sensuously textured plums on the mid-palate that carries through to the finish. This is a big step up in quality here. It should age and develop for at least 2 decades. 92-94 Pts
2020 La Patache – Soft, silky, fresh, bright, medium-bodied, forward, accessible. The wine is refined, easy to like and quickly focuses you on its cocoa-infused plums and red cherries on the nose and palate. The wine was made from blending 85% Merlot and 15% Cabernet Franc. 90-92 Pts
2020 La Pointe – Lush, round, soft, silky and fresh, the wine is supple and sexy. There is a depth of flavor, opulent textures and richness to the finish that holds your attention. This is a big step up in quality for La Pointe. The wine should age for 2 decades with ease. 92-94 Pts
2020 La Renaissance – Quite floral, from there you find plums, licorice, smoke and cherry liqueur notes on the nose. Medium-bodied, fresh, soft, and polished, with lift and energy to the plummy, ripe fruits on the palate, the wine finishes with chocolate and spicy dark cherries. 90-92 Pts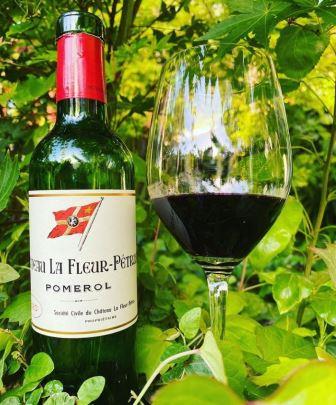 2020 La-FleurPetrus – Dark in color, the nose, with its bouquet of flowers, truffle, wet earth, licorice, Asian spice and red with black fruits let you know this is special. However, if you were not convinced yet, once the wine hits your palate with its silk and velvet textures, you'll be hooked. Rich, full-bodied, sensuous and sexy, the array of fruits and their purity is spell-binding. The finish lingers, expands and inspires you to take another sip to experience it all over again. One of the wines of the vintage, this stunning Pomerol will age and develop for at least 3 decades. 97-99 Pts
2020 Lafleur-Gazin – Richly colored, elegant, silky, fresh, ripe, refined and plummy, the wine is fresh with strong floral accents that come along with truffle, cocoa and thyme in the perfume. Soft, vibrant and with finesse to the texture, this is an exciting vintage here, if not the best ever. Give it 5 years or so bottle before pulling a cork. 91-93 Pts
2020 LatourPomerol – Dark garnet in color, the wine is all about its truffle-infused perfume that comes along with deep chocolate, licorice, black plums, tobacco leaf and espresso. On the palate, this is where the action really takes place with its silk and velvet-textured mouth-feel. Sexy, sensuous and rich, the perfectly ripe, dark basket of plums is drenched in chocolate, wet earth and spices. This stunner will age and evolve for 20-30 years with ease. 94-96 Pts
2020 Le Caillou – Spice, flowers, wet earth and sweet, dark cherries on the nose entice you. But it is the soft, silky, refined, medium-bodied palate, with its freshness, ripe, red pit fruits, and elegant finish that seals the deal. 89-91 Pts
2020 Le Chemin – Sweet and savory, the wine is lush, round, supple and polished, with a core of licorice, smoke, espresso, coconut and flowery plums. This is going to be just great with only 1 or 2 years of aging. 90-92 Pts
2020 Le Moulin – With a strong oak presence, the wine is dark, round, fleshy and ripe, with layers of spicy, black cherries, espresso bean, chocolate, smoke and licorice. Give these 3 – 5 years for the oak to better integrate. 89-91 Pts
2020 Lecuyer – Medium-bodied, silky, fresh, forward and polished, the smooth-textured wine shows its sweet, ripe plums and cherries with their cocoa, spice and wet earth infused accents with ease on the nose and palate. This is one of the better values in the increasingly expensive, Pomerol appellation. 90-92 Pts
2020 Maillet – Deep, dark in color with its purple accents around the edges, the wine is sexy, silky, opulent and concentrated. There is a fabulous depth of flavor, velvet-textured tannins and layers of black plum liqueur, chocolate and espresso that make an impression as the wine lingers and expands on your palate. 94-96 Pts
2020 Mazeyres – Silky, soft, ripe, polished and round, the wine offers juicy, black and red plums, cocoa, wet earth and forest notes. Medium-bodied and fresh, there is a nice sweetness to the fruits in the silky-textured, cocoa-infused, lush finish. 90-92 Pts
2020 Monregard La Croix – Medium-bodied, elegant, soft and polished, with a nice, silky-textured, fresh mid-palate and finish that leaves with your sweet, ripe, fresh plums and a judicious touch of chocolate. 90-92 Pts
2020 Moulinet – Dark in color, the wine pops with spice, licorice, smoke, espresso, incense and ripe plums. Round and silky, with sweet, juicy, polished fruits, licorice, spice and soft tannins, the wine will be best in its first decade of life. 89-91 Pts
2020 Nenin – Deeply colored, you find touches of cedar, flowers, licorice, herbs and dark plums on the nose. Bright, fresh, sweet and crisp, with a zesty, savory, dark red berry mid-palate and long, chewy, spicy finish, this needs some time to soften and develop. Give it 5-7 years in the cellar and enjoy over the next 2 decades. The wine blends 68% Merlot and 32% Cabernet Franc. 93-95 Pts
2020 Petit Beausejour – The striking floral nose gets plenty of notice before you find the ripe, sweet, red fruits, licorice and wet earth. Soft, polished, silky and fresh, with a sweet, pure, red plum and kirsch-filled finish, this is already a treat to taste. And for those that like trivia, this is one of the smallest estates in Bordeaux, with only .7 hectares planted to 100% Merlot making it difficult to find, as less than 300 cases are made per vintage. 90-92 Pts
2020 Petit Village – Dark in color, the wine quickly focuses on its floral, plum, spice, licorice and earthy character. The wine is medium-bodied, silky and fresh with a sensuous, supple textured, sexy finish. This is the best vintage of Petit Village I have tasted in ages. The wine is a blend of 60% Merlot, 32% Cabernet Franc and 8% Cabernet Sauvignon. This is the first vintage to show off its new, stylish label and wax capsule. 93-95 Pts
2020 Pierhem – Soft, fresh, juicy and with a touch of salt on its plummy core, the wine is medium-bodied, vibrant and chewy in the finish. 88-90 Pts
2020 Plince – Licorice, flowers, wet earth and ripe red fruits show a vibrancy and freshness. The soft, silky tannins give the ripe berries texture, length and definition. The savory finish combines sweet red berries with touches of olives and herbs. 90-92 Pts
2020 Plincette – Ripe, supple, fresh fruits, earth and chocolate filled, medium-bodied wine with soft, polished textures and a silky, vibrant, dark plummy finish. 89-91 Pts
2020 Port Chic – Plums and oak on the nose lead to a medium-bodied, forward, earthy, plummy, soft-textured, early-drinking wine with a round, plummy, herbaceous finish for early drinking consumption. 84-86 Pts
2020 Rouget – Showing a depth of color, the lusciously textured, rich, silky, fresh wine is packed with ripe, black cherries, espresso, dark chocolate with touches of peppery spice and cigar wrapper in the endnote. With 3-5 years in the cellar, this is going to be just great. 92-94 Pts
2020 Saint-Pierre-Pomerol – Flowers, chocolate-covered plums, espresso and licorice create the catchy nose. Darkly colored, lush, medium-bodied, polished and with a blast of chocolate-covered supple, dark red fruits, licorice and smoke in the finish. I am really liking this wine. This is the best vintage of Saint Pierre Pomerol yet. 90-92 Pts
2020 de Sales – Flowers, licorice, roasted plums, cherries, coffee bean and cocoa on the nose create the perfume. Medium-bodied, soft, fresh and vivacious, the elegant wine offers loads of ripe, red pit fruits with bitter chocolate in the finish. This is the best vintage of Chateau de Sales I have ever tasted. 90-92 Pts
2020 Taillefer – Elegant, fresh, bright, clean and pure, this cherry and red plum-oriented wine is already showing well, finishing with soft textures and freshness on its red plum-filled palate. 89-91 Pts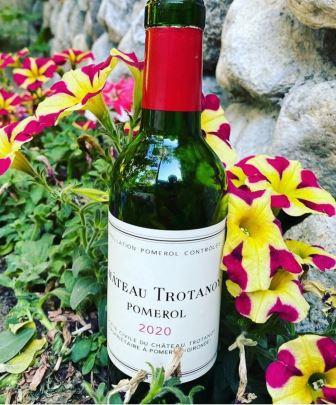 2020 Trotanoy – Inky garnet in color, the wine is pure hedonism at its best. The attention-seeking nose, with its violets, spice, truffle, black and blue fruit, licorice, and cocoa is off the hook. And it only gets better from there. Incredibly sensuous and silky, the fruit is drenched in velvet, infused with dark chocolate, and is effortless to drink. With a seamless finish that exceeds 60 seconds, this is what great wine is all about. A serious contender for wine of the vintage, fans of Pomerol and Trotanoy should buy this as soon as it is offered. It is that good. 98-100 Pts
2020 Tour Maillet – Medium-bodied, soft, fresh, forward, early-drinking, a charmer with a floral and plum-filled core, finishing with lifted, red cherries and plums. 89-91 Pts
2020 Valois – Medium-bodied and already drinkable, the wine is soft, fresh and savory, with a strong touch of herbs and olives in the earthy, kirsch-oriented finish. You can enjoy this on release. 86-88 Pts
2020 Valois L'Eclat de – Flowers and earth, along with black cherry and chocolate create the core of this wine. Soft, supple, round and ripe, the wine is fresh, lively and sensuous. Give it up to 5 years before you pulling a cork and it will be a much better wine. 91-93 Pts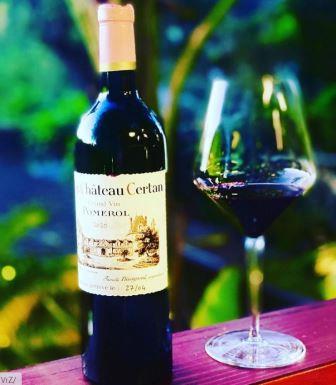 2020 Vieux Chateau Certan – Inky dark in color, it takes no time to discover the truffle, violets, black plum liqueur, Valrhona chocolate, spice, espresso bean, black raspberry and hints of blue fruit on the nose. Full-bodied, and incredibly concentrated, the wine feels like polished velvet as it caresses your palate. Dense, rich and powerful, yet weightless, balanced and fresh, the finish crosses the 60-second mark and keeps on going! The level of purity, concentration and depth of flavor here is matched by its sensuality. If Caligula were serving wine, this would be his choice. This is better than 2009, 2016 and probably 2018. This will be one of the legendary vintages for Vieux Chateau Certan. It is a serious contender for wine of the vintage! The wine blends 85% Merlot with 15% Cabernet Franc, 14.5% ABV. The harvest took place September 14-September 24 for the Merlot. Cabernet Franc was picked September 28-September 30. Yields were low at only 30 hectoliters per hectare. 98-100 Pts
2020 Vieux Maillet – Medium-bodied, bright, fresh, fruity, forward and ready to go with its core of red cherries, espresso, spice and medium-bodied, earthy nuances. 87-89 Pts
2020 Vray Croix de Gay – Holding a lot in reserve, the wine is ripe, round, plummy and fresh, yet reserved. Medium-bodied, soft and with chocolate overtones, you can drink this young, or age it for more complexity. 89-91 Pts