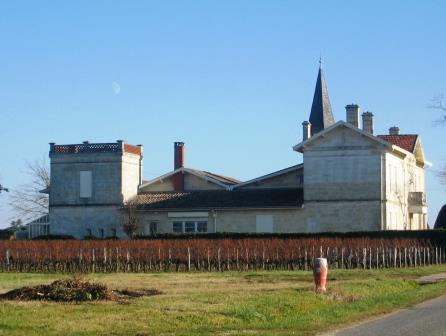 Learn everything about Chateau Latour a Pomerol with wine tasting notes and wine with food pairings. Learn the best vintages, the history of the property, and information on the vineyards, and winemaking. If you want to read about other important, Bordeaux Chateaux: Links to all Bordeaux Wine Producer Profiles
Chateau Latour a Pomeroy History, Overview
Chateau Latour a' Pomerol has vineyards that are located not far from Chateau Clinet and Chateau Feytit Clinet. Another famed vineyard that is fairly close is Chateau Trotanoy. Chateau Latour a' Pomerol has a long history in the region that dates all the way back to the mid or late 1800s when the wine was sold under the name of La-Tour-Pomerol.
Chateau Latour a' Pomerol, in its early days, was the property of the Garitey family before it was passed to Madame Loubat who also owned Petrus in 1917. Madame Loubat remained the owner of Chateau Latour a' Pomerol until her death in 1961.
At that time it was passed to Lily Lacoste, her niece. While Latour a' Pomerol continues to be managed by Ets. Moueix today, they are not the owners. The Lacoste family retained the estate until 2002 when it was donated to the Fondation de Foyers de Charite de Chateauneuf de Galaure, a charity.
Interestingly, Latour a' Pomerol produced some of the most legendary wines of the 20th century. 1947, 1950, 1959, and 1961 are all Bordeaux legends.
What makes that even more amazing is that 1959 and the historic 1961 were produced from very young vines due to the fact that the vineyards needed to be replanted after the 1956 frost! The majority of the vineyard needed to be replanted after the frost, starting in 1957.
However, perhaps due to its inconsistency, the high quality of the wines produced by Latour a' Pomerol went without much notice until they were written about by the famed wine critic, Robert Parker.
With the exception of the 1970 and 1982 vintages, Chateau Latour a' Pomerol has not been on top of its game for decades. This seems to have changed in 2009, as the property produced a very strong wine in that vintage as well as in 2010 and 2015.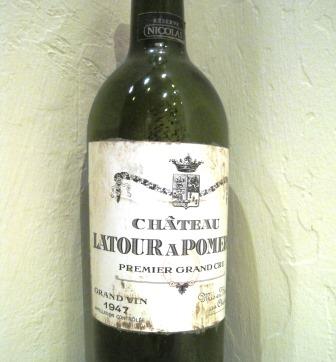 The best vintages of Chateau Latour Pomerol are: 2022, 2021, 2020, 2019, 2018, 2017, 2016, 2015, 2012, 2010, 2009, 2005, 2000, 1998, 1990, 1982, 1971, 1970, 1964, 1961, 1959, 1955, 1950, 1947 and 1945. As of today, the quality of Chateau Latour a' Pomerol continues improving. Latour a' Pomerol is a Pomerol wine to look out for.
2009, 2010, 2015, 2018. 2019, and 2020 are the best wines the estate has produced since 1982. But as great as those wines are they are not at the level of what was produced in the '40s, '50s, and especially the legendary 1961. Here is a secret tip for you. If you can find well-stored bottles, look for the 1970 and 1971. Both vintages are sublime!
Going back in time for a fun moment, until at least the legendary 1961 vintage, you were able to find negociant bottles selling the wine as Chateau Latour, Pomerol, Vin Superieur in Belgium and perhaps in other countries as well, making the wine appear as though it was from Chateau Latour in Pauillac.
Chateau Latour a Pomerol Vineyards, Terroir, Grapes, Winemaking
The 7.9-hectare, Right Bank Bordeaux vineyard of Latour a' Pomerol is planted to 90% Merlot and 10% Cabernet Franc. This shows a slight increase in the amount of Merlot planted here since the mid-1990s. The terroir is gravel, clay, and sandy soil.
Due to the small size of most Pomerol vineyards, the vines are most often found in contiguous plantings. That is not the case with Latour a' Pomerol as their vines are spread out over the Pomerol appellation. You find plantings in great terroir, as well as in weaker vineyards.
However, their best parcels with their oldest vines are located quite close to the famous Church. Perhaps, because their wine is produced from numerous varying levels of terroir, that is the reason the wine lacks consistency. When it's good, it's truly great! But numerous vintages between 1982 and 2008 have been at best, well-made quality wines, but they were not exciting.
That being said, the wine of Chateau Latour Pomerol was outstanding in 2009. Some of the credit to the improvement in their wines can be attributed to the new drainage system placed in the vineyards. The drainage system completed in 2003 allows a system of wells and pumps to ferry out the water in very wet vintages. The lack of slopes made this an important part of the estate's renovation.
To produce the wine of Latour a' Pomerol, two laser sorting tables have been in use since 2009. After sorting, the wine is vinified in thermoregulated concrete vats for the most part.
Starting in 2004 they have also been using stainless tanks for the vinification as well. Malolactic fermentation takes place mostly in the tank with a small portion of the wine going through malolactic fermentation in barrels. The press wine is added or not during the barrel aging process depending on the vintage.
Chateau Latour a' Pomerol is aged in between 30% new, French oak barrels and 50% new, French oak barrels for on average close to 18 months, depending on the quality and character of the vintage. On average, the production of Chateau Latour a' Pomerol is close to 2,500 cases of wine per year.
When to Drink Chateau Latour A Pomerol, Anticipated Maturity, Decanting Time
Chateau Latour a' Pomerol needs at least 8-12 years of aging in good vintages until it is ready to be enjoyed. Young vintages can be decanted for 1-2 hours.
This allows the wine to soften and open its perfume. Older vintages might need very little decanting, just enough to remove the sediment. Chateau Latour A Pomerol offers its best drinking and should reach peak maturity between 10-35 years of age after the vintage.
Serving Chateau Latour a Pomerol with Wine, Food, Pairing Tips
Chateau Latour a' Pomerol is best served at 15.5 degrees Celsius, 60 degrees Fahrenheit. The cool, almost cellar temperature gives the wine more freshness and lift.
Chateau Latour a Pomerol is best served with all types of classic meat dishes, veal, pork, beef, lamb, duck, game, roast chicken, roasted, braised, and grilled dishes. Chateau Latour a Pomerol is also good with Asian dishes, hearty fish courses like tuna, mushrooms, and pasta.
Château Latour à Pomerol Wine Tasting Notes
28 Vintages 232,237 Views Sort by Vintage-Rating
2022
Château Latour à (Pomerol)

Dark chocolate, licorice, smoke, flowers, cherry blossoms and plums create the aromatic profile here. On the palate, the wine is lush, creamy, sweet, and deep. The fruits are ripe, lifted and long. There is freshness, along with elegance in the silky finish. The wine is produced from 100% Merlot. Drink from 2026-2047. 91-93 Pts.

1,654 Views

Tasted

May 8, 2023

2021
Château Latour à (Pomerol)

Flowers, dark cherries, cocoa, and ripe, sweet black and red plums create the nose. On the palate, the wine is silky, fresh, soft and energetic, with layers of supple-textured, vibrant red fruits along with earthy nuances on the backend. Drink from 2024-2041. 91-93

1,583 Views

Tasted

May 20, 2022

2020
Château Latour à (Pomerol)

Rich, deep, dark, concentrated and packed with layers of black and red plums, chocolate, licorice, truffle and tobacco leaf in the nose, on the palate, this is where the action really takes place with its silky, full, vibrant mouth-feel. The wine finishes with layers of chocolate covered black cherries and plums drizzled with chocolate and a touch of espresso that comes in at the end. This is going to age and evolve for decades. Drink from 2025-2050.

1,121 Views

Tasted

Mar 21, 2023

Dark garnet in color, the wine is all about its truffle infused perfume that comes along with deep chocolate, licorice, black plums, tobacco leaf and espresso. On the palate, this is where the action really takes place with its silk and velvet textured mouth-feel. Sexy, sensuous and rich, the perfectly ripe, dark basket of plums is drenched in chocolate, wet earth and spices. This stunner will age and evolve for 20-30 years with ease. 94-96 Pts

2,393 Views

Tasted

May 20, 2021

2019
Château Latour à (Pomerol)

Fresh, silky, lush, polished and rich, the wine is packed with loads of silky-textured, dark, cherries, plums, flowers, espresso, wet earth and cocoa. Give this a few years in the cellar and enjoy it for at least 2 decades after that. Drink from 2025-2047.

1,655 Views

Tasted

Mar 29, 2022

The truffles say hello with little effort before discovering all the voluptuous black cherries, ripe plums, dark cocoa, flowers and accents of juicy kirsch and more dark chocolate in the endnote. The wine is rich, lush, earthy and fresh. Give this 5-7 years and enjoy it over the following 20 years or longer. Latour Pomerol keeps getting better year after year and 2019 clearly continues the trend. 93-95 Pts

4,601 Views

Tasted

Jun 16, 2020

2018
Château Latour à (Pomerol)

Medium/full-bodied, firm, yet elegant, this silky textured display of flowers, plums, truffles and cocoa is fresh, focused, earthy and concentrated. This will age and evolve quite well.

2,742 Views

Tasted

Mar 9, 2021

Elegant, silky, opulent, polished and sensuous, this is Pomerol! The concentrated plum and black cherry fruits are refined, fresh and velvety with the right amount of chocolate, espresso and truffle to boot. This is the best Latour Pomerol since the sublime 1970. Which is still showing great today! 94-96 Pts

4,748 Views

Tasted

Apr 19, 2019

2017
Château Latour à (Pomerol)

If you're not familiar with this wine in its current incarnation, you're missing out. Starting with 2009, this wine has been on a tear, progressing and improving with every vintage. Even in a difficult year of devastating frost, this is a beauty. There is a silky, plush, velvety quality to the fruit, paired with purity and sweetness that stands out. You should give this 3-5 years or more in the cellar and the wine should hit the top of my range.

4,390 Views

Tasted

Apr 26, 2018

2016
Château Latour à (Pomerol)

Voluptuous black cherries, wet earth, spice, flowers and kirsch are all over the place, Soft, silky and refined, there is lift, energy and polish to the silky fruits. Give this 5-7 years and enjoy it over the following 15 years or longer. Latour Pomerol has been getting better year after year and 2016 clearly continues the trend.

4,538 Views

Tasted

Sep 21, 2019

Soft, polished, medium bodied and forward, with silky tannins, freshness and ripe, sweet, juicy, red fruits topped off with black licorice. Give this a few years of age to further develop and it should be a beauty.

5,959 Views

Tasted

Dec 13, 2017

2015
Château Latour à (Pomerol)

Relatively unevolved, though the fruit and tannins are so ripe, it is easy to enjoy its waves of earthy black and red cherries, truffle, cocoa, licorice and black coffee. Rich, lush and round, this will probably begin to show its true essence by 2025 or so.

4,501 Views

Tasted

Nov 25, 2021

Silky, sexy, round and polished, the fruit is ripe, sweet and delicious. The wine has sex appeal, age-ability, and a long finish loaded with chocolate, cherries, plum liqueur and spice.

7,048 Views

Tasted

May 21, 2018

This wine has been getting better and better since the 2009 vintage, and 2015 is no exception. Fresh, silky and round, it serves up sweet, ripe, polished cherries and an earthy persona. The finish kicks in nicely with layers of black raspberries anointed with a bit of spice. 92 - 94 Pts

6,363 Views

Tasted

Apr 27, 2016

2014
Château Latour à (Pomerol)

Fresh black raspberries and floral aromas to start, this wine is medium bodied and graceful on the palate. Despite its finish of freshness and ripe scarlet fruits, it lacks the outstanding concentration found in recent vintages like 2009 and 2010. 89-90 Pts

6,617 Views

Tasted

Apr 24, 2015

2013
Château Latour à (Pomerol)

Hints of truffle, chocolate and cherry open to soft, polished tannins and a bold cocoa-dusted finish brimming with black raspberry and plum. This is a strong vintage for this often underperforming wine. 89-91 Pts

4,430 Views

Tasted

Apr 26, 2014

2012
Château Latour à (Pomerol)

Already showing a hint of truffle on top of the sweet, ripe, juicy black cherries and plums, the wine is soft, round and fresh, with a sweet hint of chocolate with the red fruits in the finish.

3,821 Views

Tasted

May 15, 2015

Floral, earth and fresh black raspberry scents open to a polished, soft and silky wine with an earthy, sweet, chocolate-covered cherry personality. This is a very high quality Pomerol that is available for a fair price, It's well worth looking into. 92-94 Pts

4,705 Views

Tasted

Apr 26, 2013

2011
Château Latour à (Pomerol)

Ruby in color with floral, earth and black raspberry aromas, the wine is soft and round, medium body in weight and ends with polished, fresh black raspberries and a hint of chocolate. 90-92 Pts

3,969 Views

Tasted

Apr 21, 2012

2010
Château Latour à (Pomerol)

Earthy, plum, black cherry and cocoa notes create the perfume. Plush, deep, rich and fresh, the wine ends with polished, sweet plums. Tannic, the wine needs time to soften, fill out and come together.

5,762 Views

Tasted

Aug 8, 2013

2010 Latour a' Pomerol Truffle, forest floor, chocolate and cherry aromas open to a supple, medium/full bodied, soft textured wine that ends with a black cherry, licorice finish 89-91 Pts

4,375 Views

Tasted

Apr 21, 2011

2009
Château Latour à (Pomerol)

Medium-full bodied with its secondary nuances of wet earth, forest floor, truffle, flowers and cocoa that ride along perfectly with all its sweet, ripe, cherry and plum notes. Soft, silky and ready for prime time, this is showing just great today. And it is only going to get better from here!

4,140 Views

Tasted

Sep 20, 2019

Truffle, wet forest, plum and cocoa notes open to a wine with silky, opulent textures. The wine finishes with polished, velvety, sweet, lush fruits. This is much better than it tasted in barrel. This should age and develop well. This could be the best value in 2009 Pomerol!

5,262 Views

Tasted

Aug 13, 2013

2009 Latour a Pomerol has a dark ruby hue. Its perfume is filled with scents of chocolate, dark berries, and flowers. With ripe tannins and opulent textures, the wine finishes with dark raspberry, sweet chocolate, and black cherry flavors. 92-94 Pts

6,153 Views

Tasted

Jul 27, 2010

2008
Château Latour à (Pomerol)

Just starting to show off its layers of silky, juicy, fresh, plum and dark chocolate character. The wine is soft, sensuous and hedonistic.

3,971 Views

Tasted

Sep 17, 2018

08 Château Latour a Pomerol offers a complex perfume of plums and fresh flowers. Soft, silky, round, and opulent in the mouth. The tannins are velvety. The long, elegant finish is a pleasure. 90-92 Pts

5,717 Views

Tasted

Jul 30, 2009

2007
Château Latour à (Pomerol)

Fully mature, medium bodied and with a light style, here you find more fresh, bright red fruits, mixing plums, cherry and strawberry, with truffles and tobacco. The light finish leaves with you more, soft, red berries.

5,207 Views

Tasted

Sep 2, 2017

2006
Château Latour à (Pomerol)

Medium/full bodied, soft, silky and plush, with a black cherry, cocoa powder and truffle scented nose, the wine finishes with sweet, plums and a hint of chocolate. While already becoming fun to drink, it will be even better with another 3-5 years of bottle age.

6,366 Views

Tasted

Jul 26, 2015

2005
Château Latour à (Pomerol)

Slowly beginning to display its charms starting with its black cherry, mocha, floral, earth and plum aromatics. Medium/full bodied with ripe, silky tannins, plush textures and a smooth, cocoa dusted, dark cherry finish. If you like young Bordeaux wine that is on the way up, you can pop a bottle. Else, give it 2-3 more years.

5,599 Views

Tasted

Jan 9, 2013

2004
Château Latour à (Pomerol)

Fully mature, medium-bodied, fresh, bright, earthy, classic, pretty, but not deep Pomerol with soft textures and a nice mix of plum and truffle on the nose and palate.

2,724 Views

Tasted

Sep 10, 2020

2001
Château Latour à (Pomerol)

I wish this had just a bit more concentration, because the silky, lush, soft fruit, shaved truffle, cocoa and floral notes really get you going. This is showing great today.

3,431 Views

Tasted

May 9, 2014

2000
Château Latour à (Pomerol)

Fully developed, the wine opens with cocoa-dusted roses, black raspberries, truffle, and herbal notes. With air, the wine develops strong mint notes. Medium-bodied, soft, easy to drink, with a dusty edge to the sweet red fruits, licorice, wet earth, green, leafy herbs, olives and wild cherries in the soft, fresh finish. This is at the peak of maturity, there is no reason to hesitate and not open a bottle, if you have any. Drink from 2023-2028.

1,199 Views

Tasted

Jul 28, 2023

Medium-bodied, soft, elegant, refined and silky expression of ripe cherries, plums, truffle and chocolate. This is probably close to full maturity, though there is no hurry to drink it.

3,544 Views

Tasted

Sep 13, 2021

I love how this wine is showing. It's silky, soft, elegant, fresh and loaded with cocoa dusted, cherries, plums, mushroom and flowers. Medium/full bodied, elegant and silky on the palate, this mature Pomerol delivers the goods.

4,699 Views

Tasted

Mar 3, 2019

I like the wine. I really like this style, with its nose of roses, hints of truffle, smoke, cherries and burning wood. The soft, silky texture really hits the spot. If only the wine were a bit more concentrated, this would be a stunner. At close to 17, this is in the sweet spot. You can age it for a few more years, but it's not necessary. Just pop, pour and enjoy.

4,604 Views

Tasted

Jul 29, 2016

Soft, smooth and round, with ripe, sweet, plums, chocolate covered cherries and truffle notes coupled with a silky finish. What more could you ask for?

5,663 Views

Tasted

Mar 12, 2015

1998
Château Latour à (Pomerol)

Subtle chocolate, truffle, violets and plum fragrances open to a soft, polished wine that finishes with mocha, chocolate black cherry and cassis. This suave, medium/full bodied, elegant style of Pomerol is close to full maturity and should be consumed over the next 5-8 years before it begins to slowly fade away.

5,302 Views

Tasted

Jun 3, 2011

1998 Latour a' Pomerol has jumped up in quality since my last tasting from about 5 years ago. Chocolate, blackberry, plum and earthy aromatics, coupled with silky, opulent textures and a long, sweet, chocolate covered black raspberry finish caught my attention. This is drinking great today.

6,120 Views

Tasted

Aug 30, 2010

1983
Château Latour à (Pomerol)

It's like walking into a tobacco shop, where everyone has finished their plums and is now smoking, nice cigars. Softly textured, medium bodied and refined, this is probably a few past its best, yet it's still quite fun to taste. I would not hold it any longer.

3,849 Views

Tasted

Mar 12, 2017

1982
Château Latour à (Pomerol)

Much better than the previous bottle. Popped and poured with no decanting was just perfect for this wine and bottle. Elegant, silky, soft and sexy, the wine is medium/full bodied, with a nose of truffle, cigar wrapper, rose petals, plums and cocoa, the wine finishes with finesse, refinement and earthy fruits. There is no reason to hold to this beauty hoping for more magic, this is at peak. If you are lucky enough to have a bottle, pop that cork!

4,371 Views

Tasted

Jun 2, 2018

This bottle seemed more advanced than other bottles. The nose, with its truffle, cherry, plum and tobacco showed nicely. The texture was soft and silky, but the finish much shorter than previous bottles. This is probably just past its peak and requires drinking.

3,240 Views

Tasted

Mar 6, 2017

When did this wine become so expensive? I remember buying this just a few years ago for a song. I guess others have caught on to how good this is. Rich, plush, velvety and deep, there is a purity of fruit, truffle, chocolate and earthy essence and plush, opulent cherry finish that leaves you wanting more. This is probably fully mature and does not require further aging.

3,151 Views

Tasted

Jan 14, 2016

Plums, ripe red and black fruits, leafy spearmint, spices and chocolate notes. Opulent layers of silky, velvety fruit float over your palate. Beautiful wine.

4,425 Views

Tasted

Jan 10, 2009

The perfume included scents of plums, herbs, chocolate, cedar and red fruits. The rich mouth feel was elegant. The palate swam in a river of cherries, strawberries & raspberry fruits. However, to be truthful, the nose was better than the palate. I've had better bottles of his wine. This bottle seemed to have matured prematurely.

4,412 Views

Tasted

Feb 12, 2004

1971
Château Latour à (Pomerol)

Sexy, earthy, and truffle filled, this is just great. With the texture of pure silk, the ripe, earthy cherries feels as good as they taste. There is no need to wait, or decant, just pop and pour.

2,086 Views

Tasted

Jul 17, 2019

Popped and poured, this got better and better in the glass over our 3 hour dinner. Concentrated, luscious and complex, the truffle, dark cocoa and black cherry carried through from the nose, to the opulent, lush finish. Fully mature, this is a beauty for current drinking.

2,280 Views

Tasted

Jan 17, 2018

This bottle was rocking'! Filled with dark chocolate covered cherries, truffle, fig, and plums on the nose and palate. Concentrated, rich and sensual, the finish stuck with you. Happy to own a few more of these treasures in my cellar.

1,807 Views

Tasted

Apr 13, 2017

1970
Château Latour à (Pomerol)

Loads of red cherries topped with cocoa, truffle and tobacco with a soft, elegant, fully-mature palate presence. Drink from 2023-2026.

241 Views

Tasted

Sep 5, 2023

Concentrated, rich and full, there is a serious depth of flavor here. The nose, with its blend of wet earth, truffle, black cherry and leafy aromas is fabulous. The wine hits your palate in all the right places and stays there, building in intensity. Fully mature, well-stored bottles should be great for at least another decade.

3,319 Views

Tasted

Jul 29, 2021

Probably the best bottle of this I have ever tasted! No decanting needed here. The sexy, silky textures, sweet, ripe, pure red plum and cherries shine right through all those gorgeous truffles. Sensual in nature, and fully mature, if you see well-stored bottles of this gem, grab them.

2,662 Views

Tasted

May 4, 2020

Fully mature, this sexy little beast offers truffle, cigar wrapper, hints of the darkest chocolate and cherries galore. The wine is sensuous, lush, soft and round and leaves with ripe, earthy plums that feel so damn good.

2,465 Views

Tasted

Feb 18, 2019

Beautiful, fully mature Pomerol with all the dark chocolate figs, truffle and plum you could ask for. Richly textured, soft, round tannins and sweet, dark, black cherry and cocoa finish. This charmer is drinking at peak.

3,423 Views

Tasted

Aug 15, 2017

Fully mature, this is a perfect example of old school Pomerol. The complex array of scents, starts and finishes with truffles, dark chocolate, truffle and cigar box aromatics. The full bodied wine has length, freshness, charm and plush textures. Closing in on 50 years of age, this is stunning.

3,538 Views

Tasted

Mar 19, 2017

If you're looking for a perfectly mature Pomerol that is on its way to 50 years of age, look no further than this beauty. With a beautiful wealth of earthy, truffled plums and a hint of cocoa and tobacco in the nose, the wine is round, plush and finishes with loads of sweet, earthy black cherries. While fully mature, there is more than enough stuffing for at least 10-15 more years of great drinking, if the bottles are well stored.

2,799 Views

Tasted

Dec 12, 2015

Fully mature, this is the perfect moment to enjoy this text book Pomerol. Layers of plush, ripe berries, cocoa, cherry and earth characteristics and a round, silky finish are easily found in this wine. Do not wait to pop a cork, as I do not think there is much to gain.

3,835 Views

Tasted

Sep 2, 2013

Truffle, chocolate, earth, forest floor and fresh cherry aromas produced a beautiful perfume. Silk and velvet tannins, supple textures and round, chocolate covered plums with the patina of age make this perfectly mature Pomerol, a delicious treat for the senses. There is no reason to age this wine further. Due to the lack of consistency in the wines made at Latour a Pomerol, prices for this wine are more than fair in today's world. If you can find a well stored example, it's worth picking it up.

4,499 Views

Tasted

Jan 27, 2012

1970 Château Latour à Pomerol opens with complex aromatics of flowers, leaves, fresh herbs, plums, espresso, wood and blackberry. With soft, round, sensuous textures and a deep, rich, plum, black cherry and silk finish, this wine delivers a lot of Pomerol pleasure. Fully mature, this wine might not get better. Well stored bottles are worth seeking out. 94 Pts

4,304 Views

Tasted

Dec 12, 2010

1964
Château Latour à (Pomerol)

Sensuous, multi-layered, deep, rich and ostentatious, the wine seems like it was made from truffles, fresh, perfectly ripe cherries, dark chocolate and overripe plums. Texturally, this is off the hook.

2,420 Views

Tasted

Feb 2, 2020

1959
Château Latour à (Pomerol)

Opulent, sensuous, rich, flamboyant, earthy, plum filled wine packed with truffle, dark cocoa, cherries, incense and espresso. Lush, sexy, round and finishing with dusty, plummy, chocolate-covered cherry and more truffle, this is an incredible wine that was a privilage to taste.

2,435 Views

Tasted

Feb 2, 2020