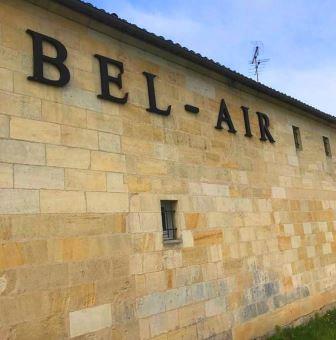 Learn everything about Chateau Bel-Air Pomerol with wine tasting notes and wine with food pairings. Learn the best vintages, a history of the property, information on the vineyards and winemaking. If you want to read about other important, Bordeaux Chateaux: Links to all Bordeaux Wine Producer Profiles
Chateau Bel-Air Pomerol History, Overview
Chateau Bel-Air Pomerol is one of the lesser-known estates in Pomerol, even though it dates back to at least the late 1800s. Chateau Bel-Air Pomerol is owned by the Melet family under the name of Vignobles Sudrat Melet, which combines the names of the current owner with the family name that first purchased Chateau Bel-Air in 1914, the Sudrat family. At the time of the purchase in 1914, the estate was known as Chateau Sudrat-Boussaton.
At one point in time, there was a sizable amount of Malbec planted in the vineyard, which has long since been removed and was replaced with Merlot. This probably took place after the great frost of 1956.
The Melet family owns other vineyards including Chateau Beausejour in the Fronsac appellation. At one point in the 1990s, they retained Michel Rolland as their consultant.
Chateau Bel-Air Pomerol Vineyards, Terroir, Grapes, Winemaking
The 13.11 hectare Right Bank vineyard of Chateau Bel-Air Pomerol is planted to 95% Merlot and 5% Cabernet Sauvignon. The terroir is sand with gravel soils.
The vineyard, which is quite large for the tiny region of Pomerol, is located not too far from Chateau Feytit Clinet, Chateau Bourgneuf, Chateau La Cabanne, and Chateau Clinet. The vines are placed on both sides of the A89 highway.
So you have a disparity of terroir here, making uniform ripening not always possible. The vineyard is planted to a vine density of 5,000 vines per hectare.
The wine of Chateau Bel Air is vinified in traditional cement vats. The wine is aged in a combination of barrels and vats that equates to about 33% new, French oak barrels, 33% in tank, and the remainder in one-year-old barrels for about 12 months, depending on the character and style of vintage.
There is a second wine, L'Ermitage de Bel-Air. The production is quite large for Pomerol with an average of close to 5,500 cases of wine per vintage.
The best vintages of Chateau Bel Air Pomerol are: 2022, 2021, 2020, 2019, 2018, 2017, 2016, 2015, 2014, 2012, 2010, 2009 and 2005.
When to Drink Chateau Bel Air Pomerol, Anticipated Maturity, Decanting Time
Chateau Bel Air Pomerol can be enjoyed on the young side with decanting. Young vintages can be decanted for an average of 1 hour or so. This allows the wine to soften and open its perfume. Older vintages might need very little decanting, just enough to remove the sediment.
Chateau Bel Air Pomerol is usually better with at least 3-5 years of bottle age. Of course, that can vary slightly, depending on the vintage character. Chateau Bel Air Pomerol offers its best drinking and should reach peak maturity between 4-12 years of age after the vintage.
Serving Chateau Bel-Air Pomerol with Wine, Food, Pairing Tips
Chateau Bel-Air Pomerol is best served at 15.5 degrees Celsius, 60 degrees Fahrenheit. The cool, almost cellar temperature gives the wine more freshness and lift. Chateau Bel-Air is best served with all types of classic meat dishes, veal, pork, beef, lamb, duck, game, roast chicken, roasted, braised, and grilled dishes.
Chateau Bel Air Pomerol is also good with Asian dishes, hearty fish courses like tuna, salmon, mushrooms, and pasta.
www.globalwinespirits.com/belair-beausejour
Château Bel-Air Wine Tasting Notes
18 Vintages 44,116 Views Sort by Vintage-Rating
2022
Château Bel-Air (Pomerol)

Elegant soft, medium-bodied, forward, fresh, plummy wine with elements of chocolate, espresso, and licorice to accompany the dark cherries, finishing with chalky tannins. Drink from 2025-2037. 90-92 Pts.

518 Views

Tasted

May 8, 2023

2021
Château Bel-Air (Pomerol)

Medium-bodied, bright and vibrant, with a savory, chewy edge to the cocoa and espresso tinted. red fruits on the palate. Drink from 2023-2035. 87-89

923 Views

Tasted

May 20, 2022

2020
Château Bel-Air Cuvée Jean Gabriel (Lussac-St. Émilion)

Dark in color, the wine shows off its black fruit, licorice, espresso and dark cocoa character with little effort. Round, soft, lush and polished, the sweet fruits and silky textured finish hits the spot for early drinking, hedonistic pleasure. 90-92 Pts

965 Views

Tasted

May 20, 2021

2020
Château Bel-Air (Pomerol)

Chocolate covered black cherries and plums with a truffle accent greets your nose. The wine is medium-bodied, soft, chewy, round and dark with more of those cocoa covered plums in the finish. 89-91 Pts

1,060 Views

Tasted

May 20, 2021

2020
Château Bel-Air Cuvée Divine (Bordeaux)

Medium-bodied, fruity, forward, soft, round, plum and chocolate-filled wine that will be ready for tasting on release. 87-89 Pts

2,207 Views

Tasted

May 20, 2021

2019
Château Bel-Air (Pomerol)

Plum, licorice, truffle and underbrush aromatics, medium-body and a forward, lean, earthy, dark cherry profile on the palate are what you find here. This is an easy to like Pomerol for early drinking pleasure. 86-88 Pts

4,482 Views

Tasted

Jun 9, 2020

2018
Château Bel-Air Cuvée Jean Gabriel (Lussac-St. Émilion)

The wine is medium-bodied, soft, sweet, forward and accessible, allowing the juicy cherries and licorice to show front and center.

1,038 Views

Tasted

Mar 9, 2021

2018
Château Bel-Air (Pomerol)

Plummy with a touch of cocoa and herbs, the wine is round, soft, fruity and shows a touch of herbs and sweet black cherries in the finish.

835 Views

Tasted

Mar 9, 2021

Floral, forward, medium bodied with a licorice infused, red plum profile, there is not a lot of weight or complexity here but it will be pleasant in its youth. 86-88 Pts

1,474 Views

Tasted

Apr 19, 2019

2017
Château Bel-Air (Pomerol)

Truffle, black cherry and just a hint of cocoa can be discerned in the nose and on the palate. The wine is medium bodied, simple and perfect for early drinking.

1,394 Views

Tasted

Apr 26, 2018

2016
Château Bel-Air Cuvée Jean Gabriel (Lussac-St. Émilion)

The wine is ripe, round, medium bodied and displays its floral and cherry character easily.

2,920 Views

Tasted

Sep 21, 2019

2016
Château Bel-Air (Pomerol)

Delicate, feminine, soft and approachable, a nice Pomerol for early drinking pleasure.

3,189 Views

Tasted

Apr 29, 2017

2015
Château Bel-Air Cuvée Jean Gabriel (Lussac-St. Émilion)

With 40% of the blend devoted to Cabernet Franc and the remaining 60 to Merlot the wine is forward, medium bodied shows its floral and cherry character easily. The soft, round wine leaves you with sweet, dark cherries, espresso and licorice.

2,733 Views

Tasted

Mar 12, 2018

Medium/full bodied, with a fresh, floral and dark cherry character, round, polished textures and a fruity finish. The wine, a blend of 60% Merlot and 40% Cabernet Franc is a parcel selection of the estates best vines.

3,253 Views

Tasted

Dec 25, 2017

2015
Château Bel-Air (Pomerol)

Medium-bodied, fruity and better than in previous vintages, despite that pesky herbal note in the end that leap frogs the plummy fruits and permeates the finish. 86 - 88 Pts

4,184 Views

Tasted

Apr 27, 2016

2014
Château Bel-Air (Pomerol)

Medium bodied, and almost light, the wine is bright, fresh and on the crisp, red berry side, with earthy accents. Simple in nature, this will be best in its youth.

2,498 Views

Tasted

Dec 13, 2017

2013
Château Bel-Air (Pomerol)

Light, polite and a bit tart with its red berries and light, dry finish. 82-84 Pts

2,328 Views

Tasted

Apr 25, 2014

2012
Château Bel-Air (Pomerol)

Medium bodied, fresh, bright, open and with a core of red cherry fruit, there is an earthy side that comes through this wine, which will be best on the young side.

1,938 Views

Tasted

Feb 9, 2019

2011
Château Bel-Air (Pomerol)

From 100% Merlot planted in 6 hectares situated close to Trotanoy, the wine is aged in 20% new oak. The wine is soft textured, medium bodied and has a cherry-dominated personality. 86-88 Pts

2,994 Views

Tasted

Apr 21, 2012

2010
Château Bel-Air (Pomerol)

Quaffable Pomerol, with an earthy, black cherry personality, medium body and a dusty, cherry finish.

3,183 Views

Tasted

May 13, 2015