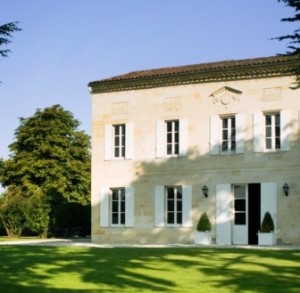 Learn everything about Chateau Bonalgue Pomerol with wine tasting notes, wine and food pairing tips, best vintages, a history of the property, information on the vineyards, and winemaking. If you want to read about other important, Bordeaux Chateaux: Links to all Bordeaux Wine Producer Profiles
Chateau Bonalgue History, Overview
Chateau Bonalgue started out life under the name of Clos Bonalgue. That name changed in 1969 to Chateau Bonalgue. The estate has a long history in the Pomerol appellation. The original chateau was constructed in 1815 when it was owned by the Rabion family.
The vineyard takes its name from the sector the vines are planted in, Graves de Bonalgue. Chateau Bonalgue was purchased by the Bourotte family in 1926. The Bourotte family remains the owners of Chateau Bonalgue today. They also own Clos du Clocher in Pomerol, as well as other Right Bank vineyards. In addition, they also own a successful negociant company.
Chateau Bonalgue Vineyards, Terroir, Grapes, Winemaking
The 9.41-hectare vineyard of Chateau Bonalgue is planted to 90% Merlot and 10% Cabernet Franc. The vines are located just northeast of Libourne. The vineyard has a terroir of sand, gravel, and clay with bits of iron in the soil.
Previously, the vineyard had a portion of its vines devoted to Cabernet Sauvignon. But those vines have been removed from the vineyard and were replaced with additional Merlot plantings in subsequent years. This took place at some point during the 1980s.
The vineyard, which is divided into 3 large parcels is planted to a vine density that ranges from 6,000 to 8,000 vines per hectare. The higher levels of vine density are found in the newer plantings. The vines are on average, 25 years of age.
To produce the wine of Chateau Bonalgue, vinification takes place in 13, temperature-controlled, stainless steel vats. Malolactic fermentation takes place in a combination of vats and French oak barrels The estate has plans to update their cellars and increase the number of vats to allow for more parcel by parcel vinification.
The best vintages of Chateau Bounalgue are: 2022, 2021, 2020, 2019, 2018, 2017, 2016, 2015, 2010, 2009, 2005, 2001 and 2000. However, it should be noted that since 2015, Chateau Bonalgue has really improved its wines with 2018 and 2020 being the best wines I have ever tasted from the property.
The wine is aged in 50% new, French oak barrels for an average of 18 months. Close to 2,500 cases are produced of Chateau Bonalgue each year. There is a second wine, Beausejour de Bonalgue.
When to Drink Chateau Bonalgue, Anticipated Maturity, Decanting Time
Chateau Bonalgue needs at least 2-4 years of aging in good vintages until it is ready to be enjoyed. Young vintages can be decanted for 1 hour. This allows the wine to soften and open its perfume. Older vintages might need very little decanting, just enough to remove the sediment.
Chateau Bonalgue offers its best drinking and should reach peak maturity between 4-12 years of age after the vintage.
Serving Chateau Bonalgue with Wine, Food, Pairing Tips
Chateau Bonalgue is best served at 15.5 degrees Celsius, 60 degrees Fahrenheit. The cool, almost cellar temperature gives the wine more freshness and lift. Chateau Bonalgue is best served with all types of classic meat dishes, veal, pork, beef, lamb, duck, game, roast chicken, roasted, braised, and grilled dishes.
Chateau Bonalgue is also good with Asian dishes, hearty fish courses like tuna, mushrooms, and pasta.
The Bourotte family also own three other vineyards in Pomerol, Chateau Clos du Clocher, Chateau Monregard La Croix and Chateau Burgrave, plus two estates in Lalande de Pomerol; Chateau Les Hauts Conseillants and Chateau Les Hauts Tuileries, as well as two vineyards in the Lussac St. Emilion appellation, Chateau du Courlat and Chateau Les Echevins.
They also maintain a thriving business as a negociant, located in the city of Libourne, the business center for the chateaux and wines of the Right Bank.
Château Bonalgue Wine Tasting Notes
17 Vintages 55,926 Views Sort by Vintage-Rating
2022
Château Bonalgue (Pomerol)
The fruits are ripe, lifted, sweet, spicy, and earthy. The mid-palate, and finish is all about its chocolate-coated plums, black cherries, and espresso. Fresh and vibrant, soft and polished, the fruits are lush, long and creamy. The end note delivers touches of salty-chocolate on the backend. The wine is made from blending 92% Merlot with 8% Cabernet Franc. Drink from 2025-2042. 91-93 Pts.
1,109 Views
Tasted

May 8, 2023
2021
Château Bonalgue (Pomerol)
Wet earth, coffee, licorice, cocoa and red plums show well in the medium-bodied, round, vibrant, bright, earthy, red cherry finish. It is possible here that with aging, the wine could add more roundness and weight before bottling. You can enjoy this on release. Drink from 2023-2035. 88-90
1,033 Views
Tasted

May 20, 2022
2020
Château Bonalgue (Pomerol)
Sporting a new, designer label, the wine sports a bouquet of flowers, black cherries, espresso and spice. Medium-bodied, soft, supple, fresh and energetic, the wine finishes with silky-textured plums, kirsch a touch of chocolate and crushed rocks on the backend. Drink from 2023-2040.
432 Views
Tasted

Mar 21, 2023
Medium-bodied, elegant, fresh, ripe and already expressing its spicy plum, espresso, earthy, smoke and cocoa-filled nose. Round, polished, and earthy, the red fruits in the finish are ripe, fresh and vibrant. Give the wine 2-4 years of cellaring and it should be a better tasting experience. 90-92 Pts
2,707 Views
Tasted

Jun 3, 2021
2019
Château Bonalgue (Pomerol)
Floral and plummy, with a fruity character, along with earth, herbs, olives, and a big hit of oak in the medium-bodied finish. Give it a few years in the bottle to gain additional nuances and complexity. 89-91 Pts
2,981 Views
Tasted

Jun 8, 2020
2018
Château Bonalgue (Pomerol)
Showing much better in bottle than in barrel, the wine starts off with fresh picked flowers, licorice, smoke and red pit fruits on the nose. Lively, silky and refined, with layers of ripe, sweet, pure red fruits and earth on the palate as well as in the seductive finish.
1,442 Views
Tasted

Mar 9, 2021
This medium-bodied wine showcases sweet black cherries, silky tannins, licorice and floral notes. The wine is forward, soft and polished and exposes ripe cherries in the finish. 89-91 Pts
2,032 Views
Tasted

Apr 19, 2019
2017
Château Bonalgue (Pomerol)
This medium-bodied wine is softly textured and forward, showing a fresh, sweet, charming, red cherry character. This can be enjoyed close to release.
1,569 Views
Tasted

Apr 26, 2018
2016
Château Bonalgue (Pomerol)
Medium-bodied with a hint of truffle already coming through, you find flowers, herbs, plum and cherry notes. The finish is quite fresh, with a strong, herbal accent in the end note.
1,389 Views
Tasted

Sep 21, 2019
Medium bodied with soft, polished plums, cocoa and cherry, there is freshness and early drinkability with an open, fruity personality.
2,352 Views
Tasted

Apr 29, 2017
2015
Château Bonalgue (Pomerol)
With a touch of oak on the nose before you find the earthy, plummy fruits and truffle on the nose. The wine is medium-bodied, soft textured finishes with fresh, spicy, earthy, red fruits..
3,289 Views
Tasted

May 21, 2018
Medium-bodied in a pleasant, forward, soft, albeit, simple, fresh, spicy, earth and red berry character. 88 - 90 Pts
2,813 Views
Tasted

Apr 27, 2016
2014
Château Bonalgue (Pomerol)
Medium-bodied, plumy, short, sweet and tart with a bright, red berry finish. 86-87 Pts
2,847 Views
Tasted

Apr 24, 2015
2013
Château Bonalgue (Pomerol)
Cherry and herbal in nature, this light wine will offer its simple, bright, red berry profile on release. 84-86 Pts
2,230 Views
Tasted

Apr 25, 2014
2012
Château Bonalgue (Pomerol)
Tight on the nose, some air should help. The wine is soft, medium bodied, short and sweet.
3,543 Views
Tasted

May 15, 2015
Flowers, cocoa and raspberries with medium body and fresh style, the wine ends with a red berry and herb-dominated finish. 86-88 Pts
3,496 Views
Tasted

Apr 26, 2013
2011
Château Bonalgue (Pomerol)
Fully mature, medium-bodied, earthy, plummy, bright, soft-textured wine that is not going to make old bones. Drink up if you have any, as it is already gently declining.
1,707 Views
Tasted

Aug 24, 2021
2010
Château Bonalgue (Pomerol)
A top value wine from Pomerol that delivers a lot of bang for the buck, with its black cherry, mocha and plummy, round profile. This drinks well young too.
5,143 Views
Tasted

Mar 14, 2014
2009
Château Bonalgue (Pomerol)
Uncomplicated, silky, soft, medium bodied Pomerol dominated by fresh cherries that is made to drink on the young side.
4,600 Views
Tasted

Aug 4, 2013
2008
Château Bonalgue (Pomerol)
This medium bodied, dark cherry and red plum, earth and thyme filled wine is ready to go.
2,400 Views
Tasted

Mar 4, 2017
2006
Château Bonalgue (Pomerol)
Fully mature, medium-bodied, with a nose of wet earth, herbal, cherry and plum notes. The nose is better than the palate which finishes with bright red plums and slightly coarse tannins.
1,472 Views
Tasted

Sep 8, 2020
2005
Château Bonalgue (Pomerol)
Red cherries, black raspberry, herbs and wet earth scents open the perfume. Better in the nose than on the palate, the medium bodied, soft wine ends with a dusty, slightly gruff, red plum finish.
5,340 Views
Tasted

Aug 11, 2013