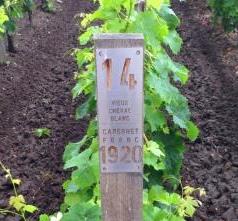 2017 White Bordeaux wine steals much of the show this year. The wines are crisp, racy, fresh, pure and vibrant, with length and character.
The early, cool season was not ideal for 2017 Bordeaux for the red grape varieties. But for white Bordeaux wine, it was close to perfect.
The combination of cool days, dry weather and even cooler nights created exactly what was needed to produce bright, fresh, crisp, refreshing white wines with character and style. And as the harvest took pace well before the September rains, the grapes were brought in under good conditions.
A few vineyards began harvesting August 23 and August 24, but most estates held back their harvest until Monday, August 28. Depending the grape variety and the size of their vineyard, picking at some estates continued until September 12.
2017 White Bordeaux from Pessac Leognan, for those vineyards not decimated by the late April frost performed admirably. Other regions in Bordeaux that produce dry white wine like Entre deux Mers, Cotes de Francs and AOC Bordeaux wines all produced strong wines.
The following 2017 white Bordeaux wines were tasted between March 22 and April 12.
2017 Alto de Cantenac Brown – The essential oil of a citrus blend with flowers, melons and even more lemons, emerges and endures in this medium bodied, refreshingly crisp, white Bordeaux. This wine is energetic, animated and pops in the mouth with early drinking lure. Produced from a blend of 90% Sauvignon Blanc and 10% Semillon, 30% of the crop was destroyed by the frost. – 91 Pts
2017 Blanc de Lynch Bages – Vanilla, citrus, lime and green apple create a fresh, bright, citrus-filled package. Vibrant pomelo sticks with you through the refreshing finish. – 93 Pts
2017 Blanc deValandraud No. 1 – An exotic, tropical smoothie, a flower lei, green apple, butter, vanilla bean and a healthy tremor of acidity, create a vibrant, energetic, juicy, citrus-filled wine. – 93 Pts
2017 Blanc Sec de Suduirau – Citrus, honeysuckle and lemons with green apples create the core of this refreshing, crisp, summer wine. – 88 Pts
2017 Brown Blanc – The wine is loaded with ripe, fresh, bright lemons, grapefruit and a hint of orange blossom. Fresh, lively and crisp, you'll find hints of green apple in the finish. – 91 Pts
2017 Cantelys Blanc – Grapefruit, honeydew and white peach on the nose, opulent and juicy in the mouth, an enjoyable spray of lemon and key lime in the finish. You can enjoy this white Bordeaux on release. – 90 Pts
2017 Carbonnieux Blanc – Medium bodied, fresh and refreshing, the yellow citrus fruits pop with acidity, the floral notes stand out and blast of honeysuckle and pomelo in the finish is just what the doctor ordered. – 91 Pts
2017 ChateauOlivier Blanc – Energetic yellow citrus notes pop with acidity. There is a touch of sweet honeysuckle, green apple and tropical fruits that add complexity. Lively and vibrant, the finish is loaded with just squeezed lemons. – 92 Pts
2017 Clos des Lunes Lune d'Argent – Ripe, crisp citrus leaning on pomelo, lemon and white peach notes, this is a soft, open and juicy wine displaying a squeeze of lime and a touch of honey in the finish. – 91 Pts
2017 Clos des Lunes Lune d'Or – Showing a strong sense of minerality before reaching the lemon peel, tangerine, floral and vanilla notes. The wine is juicy and fresh, with sweetness to the fruit and a refreshing quality to the concentrated, citrus dominated finish. – 92 Pts
2017 Clos Marsalette Blanc – Vanilla bean and pomelo, a bit of orange peel adds complexity to the nose. The wine is fresh, lively and ready to go with its bright, citrus character. – 91 Pts
2017 Cos d'Estournel Blanc – Youthful and crisp with a spark of honeysuckle, orange, grapefruit, vanilla and lemon on the nose. On the palate this wine is drenched in brightness and very refreshing. – 93 Pts
2017 Couhins-Lurton Blanc – Fresh and floral, with a sweet, lemon peel character, the wine is a great example of an easy drinking, white Bordeaux blanc with character. – 90 Pts
2017 Croix de Labrie Blanc – Mouthwatering crispiness, perfectly ripe citrus with white peach, roses and honeysuckle, this wine has an enticing amount of amatory acidity. The wine was made from a blend of 60% Semillon, 20% Sauvignon Blanc and 20% Sauvignon Gris. – 92 Pts
2017 Domaine de Chevalier Blanc – Floral notes begin the experience, leading to the discovery of crushed stone and a generous offering of citrus. On the palate, this wine is fertile, fat and full of life and the finish is virtually unending with a mélange of pulpy citrus and bracing acidity. Made from a blend of 65% Sauvignon Blanc and 35% Semillon, the wine reached 13% alcohol. The high percentage of Semillon is due to the frost. – 97 Pts
2017 du Tertre Blanc – The combination of pomelo and flowers is perfect this year. From there you find lemon grass, tangerine and citrus peel. Bright, crisp and refreshing, there is body and vibrant citrus in the finish. The unique blend is made from 50% Chardonnay and 50% Viognier. The wine was vinified in stainless steel and barrel and aged in 100% new, French oak barrels. – 91 Pts
2017 Gazin-Rocquencourt Blanc – A topping of vanilla ice cream over freshly halved grapefruit, green apples with grating of lemon rind. There is ample freshness, vibrancy and lift, giving the wine a racy finish. – 92 Pts
2017 Girolate Blanc – Easy quaffing white wine with a straight forward, fun already tasty bright, citrus personality. – 87 Pts
2017 Grand Village Blanc – Lemon, lime, pomelo, tangerine and just a bit of honey create a personality that is juicy, fresh, sweet and vibrant. The wine was produced from 70% Sauvignon Blanc and 30% Semillon, picked September 12. Due to the frost, the production was only 100 cases instead of the usual 1,000 cases! – 90 Pts
2017 Grand Village Les Champs Libres – Relax on a freshly mown lawn near a stone path lined with lemon trees at the pinnacle of summer, this wine is a snappy, crisp confection with juicy energy and a long-lasting, vivacious, yellow citrus note in the finish. – 91 Pts
2017 Haut Brion Blanc – The perfume is limestone, quartz and shale crushed into gravel and harboring a basin of fresh sliced lemons. Full-bodied, garden-fresh and so deep you could have an existential crisis. This wine is concentrated, long, bright and focused on sweet, ripe, yellow citrus fruits. You will feel the finish of this sunny wine for nearly a minute. Made from a blend of 56.2% Sauvignon Blanc and 43.8% Semillon, the wine reached 14.3% alcohol with a pH of 3.22. – 98 Pts
2017 Le Clarte de Haut Brion Blanc – It takes a certain amount of determination but with some cajoling this wine reveals fresh, sweet, lively yellow and orange fruits, oily textures and a juicy, lemon-drenched finish. – 93 Pts
2017 Hubert de Boüard Le Chardonnay – Lemons, pears and green apples define this wine. There is freshness and sweet fruits on the backend and a pleasant touch of stone from start to finish. The wine has early drinking appeal. – 87 Pts
2017 Hubert de Boüard Le Sauvignon – Lemongrass and grapefruit with vanilla accents out in front — from there you'll find a fresh, delectably zesty personality, making this wine a match for easy, summer drinking. – 87 Pts
2017 Hubert de Boüard Le Semillon – Tropical fruits with honeysuckle on the snout. On the palate you'll quickly find a fresh picked, lemon centered wine with just a light touch of honey and a certain acidity in the finish. – 85 Pts
2017 Jean Faux Les Pins Francs – A lively, fresh yellow citrus and floral wine with a juicy, crisp character that delivers a hint of honeysuckle and vanilla with a squeeze of pomelo in the finish. – 90 Pts
2017 La Garde Blanc – Freshly squeezed grapefruit, honeysuckle and vanilla pop right out of the glass. The wine is fresh, crisp and refreshing. – 90 Pts
2017 La Grande Clotte Blanc – A fresh, forward, juicy, summer white wine with a density of sweet, yellow citrus fruits, honeysuckle and orange notes on the back end. Drink this over the next few years. – 90 Pts
2017 La Louviere Blanc – Pomelo, green apples, vanilla, yellow citrus and flowers pop right up. Lively acidity gives the sweet, lemon-edged fruits lift and length. – 92 Pts
2017 La Mission Haut Brion Blanc – Strong minerality and a refreshing finish, this wine is juicy, energetic, full bodied, concentrated, richly textured and biting with its edgy citrus character. Made from a blend of 76.2% Semillon and 23.8% Sauvignon Blanc, the wine reached 14.3% alcohol with a pH of 3.23. – 97 Pts
2017 La Tour Carnet Blanc – Light in color, this wine offers lemon peel, herbs and licorice on the nose. In the mouth, you find fresh yellow citrus fruits and a trace of honey that remains with you through the crispy finish. The wine was made from blending 60% Semillon and 40% Sauvignon Blanc. – 91 Pts
2017 Larrivet Haut Brion Blanc – The freshness is there and so is all the sweet, ripe, juicy, citrus fruits, flowers, honeysuckle and vanilla. Lively and exuberant, with loads of pomelo and vanilla all tempered with stony minerality and steely tannins. – 93 Pts
2017 Laurence Blanc – From 100% Sauvignon Blanc and aged in 100% new, French oak, the wine blasts you with fresh squeezed grapefruit. The wine is fresh, bright and crisp. A new wine from Hubert de Bouard and Philippe Nunez, drink this young for its energetic freshness. – 89 Pts
2017 Le Petit Cheval Bordeaux Blanc – From 100% Sauvignon Blanc, the wine is lively, fertile and vibrant with green apple, white peach, flowers, citrus peel and just a touch of vanilla. Animated and refreshing, there is a zesty quality here that stands out on the palate. – 92 Pts
2017 Lespault-Martillac Blanc – A dollop of honey, a squeeze of citrus and a tinge of tangy that rejuvenates the palette, this wine unveils a subtle, respectful line of stone which accents the juiciest of fruit. Due to the frost, there is a much higher percentage of Semillon than usual, giving the wine more fat and marbled qualities and a bit more sweetness. – 91 Pts
2017 Malartic Lagraviere Blanc – Floral in nature with a fine dusting of vanilla bean, a slather of lemon curd and a thin slice of pineapple, this wine is fresh and alive with lift, sweetness and snappy yellow fruit prompting a crisp, incisive finish. The wine is made from a blend of 80% Sauvignon Blanc and 20% Semillon, reaching 13% alcohol and will be aged in 50% new, French oak barrels. – 94 Pts
2017 Marjosse Blanc – Flowers, pomelo, lemongrass and citrus combine perfectly with ample acidity to create a refreshing, lemony wine made from 40% percent Semillon, 30% Sauvignon Blanc, 25% Sauvignon Gris and 5% Muscadelle. Due to the frost, only the white wine was produced – 90 Pts
2017 Monbousquet Blanc – Blending 60% Sauvignon Blanc, 30% Sauvignon Gris, 5% Semillon and 5% Muscadelle creates a lively vintage with lemon rind, grapefruit and floral notes. This bright, refreshing wine finishes up crisp with a pod of vanilla bean rappelling through the yellow citrus. – 91 Pts
2017 Nardian – Alive and fertile, citrus with hints of honeyed pineapple and banana, Copa Cabana is the theme here. Quite sweet but despite this, the wine retains its freshness. – 91 Pts
2017 Pape Clement Blanc – Full, rich and deep, yet bright, zesty and fresh, this is rockin'. The juicy, bright citrus is incredibly fresh. This is made even better with the honeysuckle, crushed rocks and vanilla accents that ride on top of all the ripe sweet, citrus and green apple notes. – 96 Pts
2017 Pavillon Blanc du Chateau Margaux – Lightly honeyed citrus rind, traces of vanilla, pomelo and the peelings of green apple grab your attention right away with a parade of invigorating citrus flavors. There is length and acidity giving the wine buzz and endurance. – 96 Pts
2017 Puygueraud Blanc – Yellow citrus and floral notes with hints of orange and white peach are everywhere. Fresh and lively, this is a vibrant white Bordeaux value wine. – 89 Pts
2017 Rahoul Blanc – Lemon peel, white peach and floral scents are paired with just squeezed citrus. A crisp personality makes this a great summer white wine. – 89 Pts
2017 Smith Haut Lafitte Blanc – With honeysuckle, lemons, pear, almonds and traces of vanilla bean, this wine is loaded with sweet yellow fruits, crushed rocks and vibrant acidity. Offering a buoyancy and a profundity of flavor with length and complexity, this wine was produced from a blend of 90% Sauvignon Blanc, 5% Sauvignon Gris and 5% Semillon. It reached 13.5% alcohol with a pH of 3.15. – 97 Pts
2017 Smith Haut Lafitte Le Hauts de Smith Blanc – Rocks, stone and pomelo with the skins of freshly picked lemons get the wine going. On the palate, there is an indelible stamp of sprightly and sweet, offering its pure lemon nucleus with ease. This wine is always made from 100% Sauvignon Blanc. – 93 Pts
2017 Smith Haut Lafitte Le Petit Blanc – Sunny citrus fruits dominated by an extra splash of pomelo to begin. In the mouth, the wine is juicy and fresh with a zippy, sweet blast of a well-pared, sugared grapefruit in the finish. – 91 Pts
2017 Suduiraut "S" de Suduiraut – White peach, lemon zest, apple and flowers on the nose combine well with the revitalizing citrus. A dab of honey and smidge of dried pineapple in the finish make this wine unique. – 89 Pts
2017 Virginie de Valandraud – A skyrocket of lemon, pineapple and vanilla bean soars in the background and hits the target. Juicy and fresh, this vibrant wine is ready to go. – 90 Pts
Our final report should be out tomorrow, covering all the best sweet wines from Sauternes and Barsac.