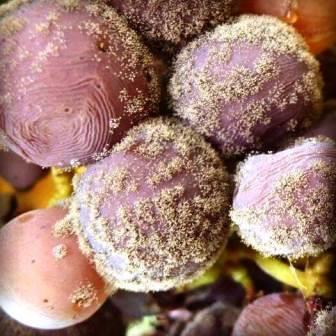 2017 Bordeaux is a mixed vintage for the red wines, but in Sauternes, those chateau that were not entirely devastated by the frost produced outstanding wines.
Several vineyards suffered devastation from the April frost, losing between 50% to 100% of their crop! Yields which are already low in Sauternes were even lower. The frost was more severe in Barsac than Sauternes.
The vineyards that held onto to fruit enjoyed the necessary combination of war, dry daylight, cool nights and enough moisture in the morning to produce botrytis. The rains that fell in late August through early September were perfect to help with the onset of botrytis.
The harvest began at some properties for 2017 Sauternes Monday, September 25. The harvesting continued until Friday, October 13. However, there were a few vineyards that did not finish picking until October 20.
The growing season and harvest conditions were exactly what the sweet, white of Bordeaux needed, as the wines are generally rich, full bodied, luscious, sweet treats buttressed by racy acidity.
It is interesting to note that The trend to produce more dry white wine from grapes planted in the Sauternes appellation continues gaining in popularity.
For a detailed look at the weather and harvest that shaped the 2017 Bordeaux vintage and growing season 2017 Bordeaux Vintage and Harvest Report
The following sweet, white Bordeaux wines were tasted in Bordeaux between March 22 and April 12.
2017 Coutet – An all-you-can-eat buffet of tropical fruit with a slather of orange honey, this concentrated, opulent wine has a sweetness and purity to the fruits, but the brisk acidity is equally noticeable, bringing everything into equipoise. 93 – 95 Pts
2017 Clos-Haut-Peyraguey – Honey, banana, vanilla, apricots and – did I sense a Hawaiian fruit plate? A tropical bakery? Sweet ingenuity is all over the place here. The wine is voluminous with a clean lift in the energetic, apricot confection of a finish. 93 – 95 Pts
2017 Symphonie de Haut-Peyraguey – Fat, juicy and sweet with offerings of honey-glazed apricots and candied orange rind in the nose and on the sweet, round palate – could it really be a second wine? 89 – 91 Pts
2017 Doisy Daene – Luscious, juicy, white peach, pineapple and apricots with a generous serving of vanilla, honey and nuts, this wine maintains the right amount of boost to keep all the sweetness up and on its feet. 93 – 95 Pts
2017 Guiraud – Pineapple, mango, white peach and candied orange rind are blended together and topped with vanilla bean and honey to make this a confectionary extravagance. But like all the great sweet wines, it's the harmonizing acidity that's needed to bring freshness 94 – 96 Pts
2017 La Tour Blanche – With distinctive orange and tangerine accents on a superfluity of tropical fruits, there is a richness here that is tough to resist. The sultry, fruit-filled finish with its refreshing attitude is incredible. La Tour Blanche is one of the few Bordeaux cha 92 – 94 Pts
2017 Lafaurie-Peyraguey – Vanilla, pineapple, honey, flowers and overripe apricot create the nose but it is the density, sweetness and purity of fruit along with the piercing acidity and length that make this wine a standout. The harvest, which took place September 25 through October 12, was the shortest picking period in the history of the chateau. Close to 20% of the vineyard was damaged by frost this year. The Grand Vin was made from only 50% of the harvest. 93 – 95 Pts
2017 Rayne Vigneau – The floral notes on the front end add to the pineapple, Mandarin orange and apricot to create the base of the wine. Take all that, drizzle it with honey and vanilla, add a liberal dose of acidity, shake, stir and serve for a delicious indulgence. 92 – 94 Pts
2017 Rieussec – Roasted nuts, pineapples, vanilla custard and apricots come on strong. The wine is perfectly balanced between sweetness and racy acidity, with a melange of over-ripe, spicy, sweet, tropical fruit and honey. The wine was made from blending 54% Semillon and 46% Sauvignon Blanc. 95 – 97 Pts
2017 Suau – On the nose, I imagine a gourmet granola bowl from a chic West Village café. This wine is intense with tropical fruits, honey and vanilla with hints of apricot and handpicked roasted nuts. On the palate, the wine is indulgent and sexy, fat and lush and the climax is wrought with pineapples and honey being fed to you while you're fanned with a palm frond. This is the second vintage made from 100% Semillon. 91 – 93 Pts
2017 Suduiraut – Toasted hazelnuts and egg custard flood the nose along with honey-drenched pineapple and apricots, foreshadowing a luscious, full-bodied, decadently textured finish. This wine really hangs in there with layers of sweetness and smoldering nutmeats. 96 – 98 Pts