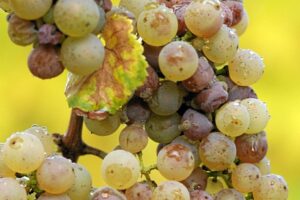 Sauternes/Barsac Bordeaux Wine Guide, Chateaux Listings
Sauternes, Barsac, Bordeaux Wine Guide with a history of the appellation, Botrytis, look at the character and style of wines, producer and chateaux listings with links to pages on every important property in the Sauternes, Bordeaux wine region with wine tasting notes, histories of the properties, images, technical information and Bordeaux wine buying tips from the best producers of sweet, white Bordeaux wine from Sauternes.
If you want to read about other Bordeaux wine producers in different Bordeaux appellations: Links to all Bordeaux Wine Producer Profiles If you are interested in learning more about Bordeaux wine, we offer numerous articles on everything about Bordeaux wine, from a history of the Bordeaux region and the famous 1855 Classification, to the grapes used to produce Bordeaux wine and even vintage summaries covering Bordeaux wine from 1900 to today: All About Bordeaux Wine Guide
The links located to the left of the page lead to the top sweet, white Bordeaux wines from Sauternes and Barsac. You can read wine tasting notes , detailed  profiles and detailed histories of the top estates, details on the wines, wine making, soils and other important information, as well as view images of the following top Bordeaux value wine producers:
Map of Bordeaux Sauternes Chateau
There are numerous styles of  Bordeaux wine that come from Sauternes. There are the sweet, honey drenched wines of Barsac, which have many of the flavors of d'Yquem, but not the concentration. The Bordeaux wine from Sauternes are richer. In those wines it's easy to find pineapple, peaches, flowers, pears, apricots, nectarines, orange, vanilla and coconut are not uncommon. These are unique wines that are best served slightly chilled, perhaps close to 60 degrees. Sauternes are best enjoyed with salty cheese, spicy food and of course the best pairing of all, Foie Gras. While Sauternes are considered dessert wines, due to their high levels of sugar, more often than not, they do not pair well with dessert. Sauternes and other sweet wines need to be sweeter than what you are eating.
Many Bordeaux wine producers in Sauternes and Barsac also produce a dry wine. For example Chateau d'Yquem makes a dry white called Y, Rieussec also produces a dry white called R. Numerous other Bordeaux chateaux make dry white wine from Sauternes as well. They are not highly sought after and sell for a lot less money than the sweet wines from the same estate.
Sauternes was incredibly popular in the 19th century.  The appellation was so important, during the time of the 1855 Classification, in essence, it merited its own classification which done at the same time. Sauternes covers a large area. The entire Sauternes appellation has 1,999 hectares under vine. This can be divided into 1,599 hectares for Sauternes and 403 hectares for Barsac.
The appellation of Sauternes is classified. Unlike the red Bordeaux, which had 5 levels of classified status, in Sauternes, there was only two.  Learn about the 1855 Sauternes- Barsac Classifications That being said, throughout the entire history of Sauternes, Chateau d'Yquem is considered in a class by itself.  In fact, while many people argue over which First Growth is best, or is Haut Brion better than La Mission Haut Brion, that is not the case in Sauternes.  There is no other wine region in the world where everyone, everywhere agrees that one wine stands heads and shoulders over all the the other wines of the appellation.
Sauternes is the only Bordeaux wine producing appellation that is exclusively devoted to the production of making white wine.  the best wines of Sauternes are of course, the famous, Sweet, white wines of Bordeaux.  These wines are like no other Bordeaux wine.  For the production of these wines, a unique combination of elements and circumstances must take place, most notably, Botrytis Cinerea, better known as noble rot.
This unique rot, or fungus that under the right circumstances comes alive in Sauternes has numerous, special and highly sought after qualities it can impart to the fruit. This rot needs specific conditions to develop and the micro climate of Sauternes plays a major part in making that happen. Mornings must be damp, coupled with warmth later in the day. This leaves the fruit without much moisture.
What happens next is, the grapes become shriveled, dehydrated and concentrated with new, more complex, spicy, nut and honeyed characteristics. These new qualities are sought after in Sauternes and other wine regions outside Bordeaux for their sweet, honey filled, tropical and exotic sensations. The laws of Sauternes dictate the wines from the appellation need to be grown in one of the 5 specified communes,  Sauternes, Barsac, Bommes, Preignac and Fargues. Interestingly, the wines of Barsac can be labeled as either Sauternes or Barsac.  The AOC laws also state the wines  need a minimum level of  13% alcohol and they must pass a tasting exam. Of course, the wines need enough sugar to be considered as well.
Sauternes is an expensive wine to produce. It takes multiple passes through the vineyards for the pickers to harvest all the grapes with enough rot on them. Yields are very small. The best estates often have yields of only 8 to 10 hectoliters per hectare. For the top wines that translates into the fact that each vine might only deliver a single glass of wine!
The reason Sauternes has such low yields is due entirely to Botrytis. Once enough rot develops, the grapes become dehydrated and look like they are covered with a powdery fungus. Which is exactly what the chateaux want! Sauvignon Blanc, Semillon and Muscadelle, which is not used as much as the other two grapes are the only varietals allowed by AOC law to grow in the  Sauternes region.
Semillon is originally a Sauternes grape variety. In the 18th century, it only existed in this area. It increasingly spread on the Garonne river right bank, through the South West and the Centre, etc. It became the ideal variety for sweet wine. Semillon is sensitive to mold, but harder to grow than Sauvignon Blanc. At one time, there was almost as much Sauvignon Blanc as Semillon planted in Sauternes. Today, less than 25% of the appellation is planted to Sauvignon Blanc. Most of the region is planted to Semillon.
Over the years, the sweet, white Bordeaux wines of Sauternes have fallen from favor.  Some of it has to do with wine lovers cutting back on calories and not wanting more wine after dinner, especially, highly caloric wines.  Generally speaking, sweet is not as popular as it used to be.  That's a loss for not only the wine producers, but for wine lovers who enjoy Sauternes as well. They are the most difficult and expensive wines to make.   Interestingly, until the 1980′s, at best, there was one or two years per decade with enough botrytis to produce a great Sauternes. In the decade of the 1980′s, 4 out of 10 years were great. The 1990′s saw 3 good years, which is a return to normalcy. But since 2000, the entire region was the good luck of being able make great wine in 6 out of the last 11 vintages!  Sauternes is on a roll.  It's not just the Chateaux at the top that are producing great wine, it's all over the entire appellation. While there are numerous strong producers today, for my palate, Chateau Coutet, Chateau Climens, Chateau Suduriaut. Chateau Raymond Lafon, Chateau Rieussec and Chateau de Fargues are among the best sweet, white wines in the world! If you're a fan, they all merit purchasing.