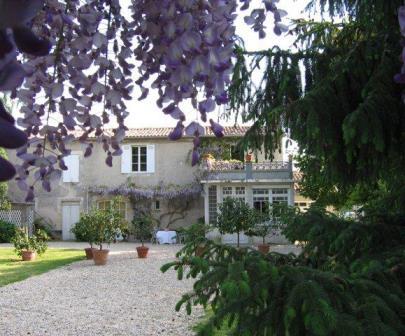 Learn everything about Chateau Romer Sauternes, Deuxiemes Crus, with wine tasting notes, wine and food pairing tips, a history of the property, information on the vineyards, and winemaking. If you want to read about other important, Bordeaux Chateaux: Links to all Bordeaux Wine Producer Profiles
Chateau Romer History, Overview
Chateau Romer was founded in the 18th century by the Montalier family. Through marriage to a member of the Lur Saluces family, who was quite famous for owning Chateau d'Yquem, the Romer estate was once a part of their vast holdings. Skipping ahead to the 20th century, Chateau Romer was purchased by the Farges family in 1911.
A few decades later, the Romer estate was divided up into smaller parts in 1937, which gave birth to what we know of as Chateau Romer du Hayot today. Chateau Romer remained the property of the Farges family for more than 100 years. From 1976 to 2002, the vines were leased to Chateau Romer du Hayot. The estate was purchased by Bernard Magrez in April 2012.
This was not the first purchase for Bernard Magrez in Sauternes, he already owned Chateau Latrezotte. He added to his holdings in Sauternes later that when he bought Clos-Haut-Peyraguey. The vineyard was however sold to Francois Janoueix, who continues to own and manage the estate today.
Chateau Romer Vineyards, Terroir, Grapes, Winemaking
The 3.5-hectare Chateau Romer vineyards are planted to 90% Semillon, 5% Sauvignon Blanc and 5% Muscadelle. The tiny vineyard of Chateau Romer has a terroir of gravel with clay-based soils.
To produce the wine of Chateau Romer, the wine is vinified in French oak barrels and is aged in 60% new, French oak barrels for 12 to 18 months before bottling.
Chateau Romer is perhaps the most obscure Classified growth in Sauternes. In large part, this is due to the size of the estate. In fact, Chateau Romer is the smallest 1855 Classified growth in Sauternes, as well as the smallest classified growth in all of Bordeaux. The annual production is close to 400 cases of Sauternes wine per year.
The best vintages of Chateau Romer are: 2022, 2021, 2020, 2019, 2018, 2017, 2016, 2015, 2014, 2013, 2011, 2010, 2009, 2007 and 2005.
When to Drink Chateau Romer, Anticipated Maturity, Decanting Time
Chateau Romer can be enjoyed on the young side with no decanting. In fact, it is delicious and quite a treat young, even on release! However, like all great wines, Chateau Romer is much better with age and does not reach full maturity until it's between 9-20 years of age, or in some years, perhaps even longer in the best vintages! So, enjoy it on any special occasion that calls for it.
Of course, the wine is sweet, but there is so much, incredible, racy acidity, the wine always feels fresh, and never cloying, which makes it quite fun to enjoy young. With Chateau Romer and frankly, all Sauternes, the temperature is more important than decanting.
Serving Chateau Romer with Wine and Food Pairings
Chateau Romer is best served at 14 degrees Celsius, 57 degrees Fahrenheit. The cool, almost cellar temperature gives the wine more freshness and lift. The wine will naturally warm in the glass, while it develops more aromatic complexities and fleshes out. Chateau Romer can be served with seafood dishes, especially shellfish, lobster, crab, and oysters on the half shell.
Foie gras is a perfect pairing with its natural sweet, salty and savory characteristics. Chateau Romer can also be paired with roasted chicken, veal, and pork dishes that are either spicy or prepared with a touch of sweetness. Spicy Asian cuisine, raw fish, like sushi or sashimi, and cheese, both hard and soft also make great pairings with Chateau Romer.
Château Romer Wine Tasting Notes
1 Vintage 1,143 Views Sort by Vintage-Rating
2007
Château Romer (Sauternes)

Medium bodied, with fresh pineapple, orange, apricot, vanilla and honey notes, this easy to drink sweet wine is light enough to double as an aperitif.

1,143 Views

Tasted

Feb 3, 2014