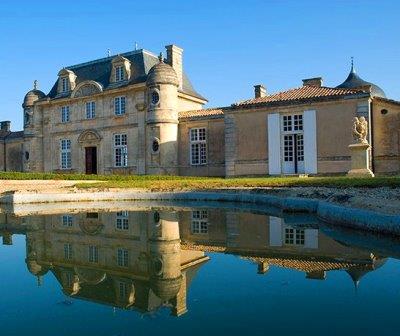 Learn everything about Chateau de Malle Sauternes, Deuxiemes Crus with wine tasting notes, wine and food pairings, best vintages, a history of the property, information on the vineyards, and winemaking and terroir. If you want to read about other important, Bordeaux Chateaux: Links to all Bordeaux Wine Producer Profiles
Chateau de Malle History, Overview
Chateau de Malle, located in the Sauternes appellation of Bordeaux, took its name from the former owner, Jacques de Malle. Jacques de Malle founded the estate and built the original, stunning, chateau in around 1650.
Chateau de Malle continues to remain in the hands of the de Malle family today. While there are other families that have managed to keep their estates in family hands by passing it down from generation to generation, today, it is much less common.
Chateau de Malle is close to setting a record for longevity in that department. Interestingly, for a time in the early 18th century, through marriage, the estate was part of the vast Sauternes empire controlled by the Lur Saluces family who owned Chateau d'Yquem.
Chateau de Malle lapsed into mediocrity for several decades until Pierre de Bournazel, a relative of the Lur Saluces family took over the estate. Pierre de Bournazel revitalized Chateau de Malle, replanted the vineyards, renovated the chateau and its entire wine-making facilities and cellars. The de Bournazel family manages Chateau de Malle today.
Chateau de Malle Vineyards, Terroir, Grapes, Winemaking
The 28-hectare vineyard Chateau de Malle is planted to 88% Semillon, Sauvignon 8%, 4% Muscadelle, which shows a change in the vineyards with more Semillon and less Sauvignon Blanc. They have a terroir of gravel, clay, sand, and limestone soil.
In total, the property consists of 50 hectares of land, with a total of 28 hectares under vine. The remainder of their estate is taken up with beautiful parkland surroundings and a reflecting lake behind the chateau. It is one of the most picturesque estates in the appellation. The vines are on average 35 years of age. The vineyard is planted to a vine density of 6,000 vines per hectare.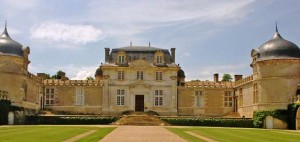 To produce the wine of Chateau de Malle, each grape varietal is vinified separately at Chateau de Malle. Vinification takes place in a combination of 100% new, French oak barrels and one-year-old, French oak barrels.
The wine of de Malle is aged in 30% new, French oak barrels for 12 to 18 months, depending on the vintage. There is a second wine, Sainte Helene du Chateau de Malle. The average production of Chateau de Malle is about 3,500 cases of Sauternes wine per year.
The best vintages of Chateau de Malle are: 2022, 2021, 2020, 2019, 2018, 2017, 2016, 2015, 2014, 2013, 2011, 2010, 2009, 2007 and 2005.
Chateau de Malle also owns vines located just outside the region of Sauternes in the Graves appellation, where red and white grape varieties are planted. From Graves, the dry white Bordeaux wine is sold as M. de Malle Blanc and the red wine is produced under the name of Chateau de Cardaillan.
When to Drink Chateau de Malle, Anticipated Maturity, Decanting Time
Chateau de Malle can be enjoyed on the young side with no decanting. In fact, it is delicious and quite a treat young, even on release! However, like all great wines, Chateau de Malle is much better with age and does not reach full maturity until it's at least 10-15 years of age, or in some years, perhaps even longer in the best vintages!
That is when the magic happens! But that is unrealistic for 99% of the world's wine drinkers. So, enjoy it on any special occasion that calls for it.
Serving Chateau de Malle with Wine and Food Pairings
Chateau de Malle is best served at 14 degrees Celsius, 57 degrees Fahrenheit. The cool, almost cellar temperature gives the wine more freshness and lift. The wine will naturally warm in the glass, while it develops more aromatic complexities and fleshes out.
Chateau de Malle can be served with seafood dishes, especially shellfish, lobster, crab, and oysters on the half shell. Foie gras is a perfect pairing with its natural sweet, salty and savory characteristics. Chateau de Malle can also be paired with roasted chicken, veal, and pork dishes that are either spicy or prepared with a touch of sweetness.
Spicy Asian cuisine, raw fish, like sushi or sashimi, and cheese, both hard and soft also make great pairings with Chateau de Malle.
Château de Malle Wine Tasting Notes
12 Vintages 30,421 Views Sort by Vintage-Rating
2018
Château de Malle (Sauternes)

Loads of sweet, honeyed orange fruits, apricots, mango, and tangerine with accents of vanilla bean, flowers, and the right lift from freshness on the palate that carries through to the finish. Drink from 2023-2040.

1,841 Views

Tasted

Dec 23, 2022

2017
Château de Malle (Sauternes)

I really like tasting, and frankly drinking young Sauternes. The play between all the ripe, and overripe tropical fruits, candied orange rind, lemon meringue, vanilla, and honey, paired with the right amount of edgy acidity makes this so easy to enjoy now, and if you prefer more secondary notes, for at least the next 20 years as well.

2,089 Views

Tasted

Sep 20, 2021

2016
Château de Malle (Sauternes)

Medium-bodied, with a lean to the candied orange and lemon curd side of the style range, you also find, ripe, sweet, honeyed pineapple, mango and vanilla notes. This will be nice to enjoy on the younger side, pairing it with spicy, savory dishes.

1,566 Views

Tasted

May 10, 2020

2015
Château de Malle (Sauternes)

Forward, sweet, fresh, lush and ripe, with orange, apricot and pineapple all coated with honey and vanilla. This is quite a nice sweet treat that is well-priced and easy to like.

2,227 Views

Tasted

Nov 7, 2019

2014
Château de Malle (Sauternes)

Lighter-styled, fresh, forward, sweet wine with a lean to the orange, apricot side of the style range with accents of flowers, spice, honey, and vanilla bean.

1,278 Views

Tasted

Nov 28, 2021

2013
Château de Malle (Sauternes)

Sweet, fresh, overripe tropical fruits, apricots, vanilla, flowers and honey get you going and ready for the next step, the luscious, fresh, honeyed pineapples on the palate and in the medium bodied finish. I really like these young Sauternes on a hot summer night, it's such a nice pairing.

1,947 Views

Tasted

Sep 1, 2017

2011
Château de Malle (Sauternes)

With the right balance between the sweet, juicy pineapple soaked in honey and topped with vanilla, and acidity, the wine is fun to drink now, if you like them young, and it will also age quite nicely over the next 15-20 years, if you can wait that long.

1,896 Views

Tasted

Apr 16, 2017

2010
Château de Malle (Sauternes)

Medium bodied, well priced, sweet, easy drinking charmer with a floral, spicy, honeyed, tropical fruit character that can be enjoyed after dinner, or due to its lighter style, as an aperitif.

2,845 Views

Tasted

Jul 28, 2016

2009
Château de Malle (Sauternes)

Forward, fresh, lively honeyed tropical fruits, orange, candied lemon peel, nectarine and vanilla notes make up this medium bodied, tasty wine.

4,439 Views

Tasted

Mar 4, 2015

2007
Château de Malle (Sauternes)

The nose is packed with honeyed citrus peel, tropical fruits, vanilla and floral scents. The perfect blend of sweet and fresh, the wine ends with spicy, honey coated, pineapple, apricot and nuts. This is a wine I seldom taste, so it was nice to see it after dinner. This is a strong value buy for Sauternes lovers.

3,220 Views

Tasted

Oct 22, 2012

2005
Château de Malle (Sauternes)

At 10, this is really showing a lot of sweet, honey coated, candied orange, apricot, tangerine and pineapple. There is good acidity in the wine that keeps it fresh, along with enough sweet, honeyed fruits in the finish.

3,714 Views

Tasted

Dec 12, 2015

2001
Château de Malle (Sauternes)

Drinking perfectly, the honey coated, pineapple, apricot, floral and vanilla sensations are kept lively with good acidity and sweetness.

3,359 Views

Tasted

May 22, 2013