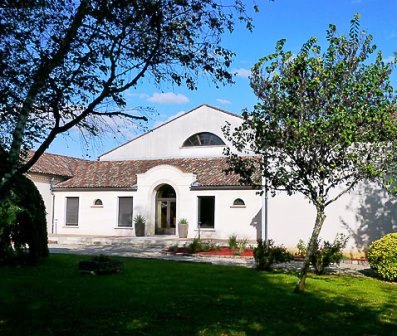 Learn everything about Chateau Romer du Hayot Sauternes with wine tasting notes, wine, and food pairing tips, best vintages, a history of the property, and information on the vineyards and winemaking. If you want to read about other important, Bordeaux Chateaux: Links to all Bordeaux Wine Producer Profiles
Chateau Romer du Hayot History, Overview
Chateau Romer du Hayot was originally part of the Chateau Romer vineyard. The chateau was founded in the 18th century by the Montalier family. Like many Bordeaux chateaux, its beginnings came through marriage and a dowry.
The marriage was to a member of the Lur Saluces family who owned Chateau d'Yquem. In fact, at one time, what we know of as Chateau Romer du Hayot was once a part of the vast holdings in Sauternes of the Lur Saluces family.
Eventually, the vast Romer estate was divided up into smaller parts. This took place in 1937, which gave birth to the Chateau Romer du Hayot vineyard. The name change came from one of the new owners, Madame du Hayot. From 1976 to 2002, the owners leased the vines of their previous sister vineyard, Chateau Romer.
During the 1970s, when new roads were being built in the Sauternes appellation, the wine-making facilities of Chateau Romer du Hayot were torn down. They were never rebuilt.
Today, the wines are vinified at two different estates owned by the same family; Chateau Andoyse du Hayot or Chateau Guiteronde du Hayot. The wine label was resigned after 2001 when Anne Farges began managing the estate. In 2008, Alain Raynaud was named as the consultant.
Chateau Romer du Hayot Vineyards, Terroir, Grapes, Winemaking
The 15 hectare Romer du Hayot has 9 hectares planted to 90% Semillon and 10% Sauvignon Blanc. This is a massive change in the vineyard which was previously cultivated with 70% Semillon, 25% Sauvignon Blanc and 5% Sauvignon Gris.
Before that, there was up to 5% Muscadelle in the vineyards! Over time, you can expect to see more Sauvignon Gris, which is slowly, but surely being added to the vineyard, as other, older vines die off.
Located in the commune of Fargues, the terroir is clay, limestone, and gravel soils. The closest neighboring vineyard belongs to Chateau de Malle.
To produce the wine of Chateau Romer du Hayot, the wine is vinified in French oak barrels and is aged in 50% new, French oak barrels for 12 to 24 months before bottling. Slightly more than 4,000 cases are produced of Romer du Hayot Sauternes every year.
The best vintages of Chateau Romer du Hayot are: 2022, 2021, 2020, 2019, 2018, 2017, 2016, 2015, 2014, 2013, 2011, 2010, 2009, 2007 and 2005.
When to Drink Chateau Romer du Hayot, Anticipated Maturity, Decanting Time
Chateau Romer du Hayot can be enjoyed on the young side with no decanting. In fact, it is delicious and quite a treat young, even on release! However, Chateau Romer du Hayot is better with age and does not reach full maturity until it's between 9-20 years of age, or in some years, perhaps even longer in the best vintages!
With Chateau Romer du Hayot, and frankly, all Sauternes, the temperature is more important than decanting.
Serving Chateau Romer du Hayot with Wine and Food Pairings
Chateau Romer du Hayot is best served at 14 degrees Celsius, 57 degrees Fahrenheit. The cool, almost cellar temperature gives the wine more freshness and lift. The wine will naturally warm in the glass, while it develops more aromatic complexities and fleshes out. Chateau Romer du Hayot can be served with seafood dishes, especially shellfish, lobster, crab, and oysters on the half shell.
Foie gras is a perfect pairing with its natural sweet, salty and savory characteristics. Chateau Romer du Hayot can also be paired with roasted chicken, veal, and pork dishes that are either spicy or prepared with a touch of sweetness. Spicy Asian cuisine, raw fish, like sushi or sashimi, and cheese, both hard and soft also make great pairings with Chateau Romer du Hayot.
The family owns and produces several different, little-known wines in the Sauternes appellation including Andoyse, Guiteronde du Hayot, Mayne du Hayot, Camperose du Hayot, Pebayle du Hayot, Le 2 de Romer, and Delicius de Romer du Hayot.
They also own vines in the Graves Superieur appellation where they produce Mathalin du Hayot, which is a sweet wine. In the Graves appellation they make a Vin Sec, Fleur d'Andoyse.
Château Romer du Hayot Wine Tasting Notes
4 Vintages 7,335 Views Sort by Vintage-Rating
2016
Château Romer du Hayot (Sauternes)

Light, fresh, early-drinking, sweet wine, focused on its core of flowers, honeyed citrus, and bright, tropical fruits. This is quite easy to enjoy as an aperitif or with spicy foods. Drink from 2022-2031.

2,103 Views

Tasted

Nov 28, 2022

2015
Château Romer du Hayot (Sauternes)

Medium-bodied sweet wine on the orange marmalade, tangerine side of the style range. The wine has a nice vibrancy to its honeyed orange, tropical fruit-filled character. Nice, easy-drinking sweet wine, with a zesty candied, citrus character.

1,556 Views

Tasted

Aug 3, 2020

2010
Château Romer du Hayot (Sauternes)

Value priced, lighter styled, early drinking sweet Bordeaux wine that works OK as a holiday aperitif with its sweet, citrus and light, honeyed tropical fruits.

1,553 Views

Tasted

Dec 31, 2014

2009
Château Romer du Hayot (Sauternes)

A pleasant, easy to drink, sweet Bordeaux wine with notes of apricot, orange and pineapple with some honey. Medium bodied and uncomplicated, this is best enjoyed on the young side.

2,123 Views

Tasted

Jul 24, 2013