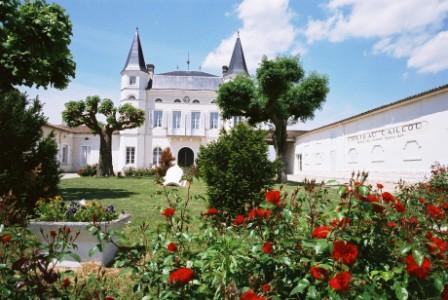 Learn everything Chateau Caillou Sauternes/Barsac, Deuxiemes Crus with wine tasting notes, wine, and food pairing tips, best vintages, a history of the property, and information on the vineyards and winemaking. If you want to read about other important, Bordeaux Chateaux: Links to all Bordeaux Wine Producer Profiles
While Chateau Caillou enjoys a long history in the Sauternes appellation, the modern era for the property begins in 1909 when the estate was purchased by the Ballan family from the Sarraute family.
The estate is still the property of the Ballan family today. The property is managed by Marie Josee Pierre, a direct descendant of the Ballan family.
Chateau Caillou was part of the original 1855 Classification. In fact, it was so well thought of at the time, they were awarded the classification of Premiere Cru Classe.
Chateau Caillou Vineyards, Terroir, Grapes, Winemaking
The 12.9 hectare Sauternes vineyard of Chateau Caillou is planted to 90% Semillon and 10% Sauvignon Blanc. The terroir of this property is a combination of gravel, clay, and limestone soils with large stones, which is where the estate takes its name from. The vines are close to 40 years of age.
The vineyard is planted to a vine density of 5,500 vines per hectare. The vineyard is in a good location, on the peak of a sloping hill. The vineyards are situated next to some very good neighbors, most notably Chateau Climens and Chateau de Myrat.
To produce the wine of Chateau Caillou, after a pneumatic pressing, vinification takes place in a combination of stainless steel tanks and French oak barrels. The wine is aged in 60% new, French oak barrels for 12 to 18 months, depending on the character of the vintage.
For a short period of time, in the best vintages, Chateau Caillou produced a high-end wine that was aged in more new, French oak, Cuvee Reine. The last vintage released of Cuvee Reine was 2003.
The best vintages of Chateau Caillou are: 2022, 2021, 2020, 2019, 2018, 2017, 2016, 2015, 2014, 2013, 2011, 2010, 2009, 2007 and 2005.
Some older vintages have been released over the past several years by Chateau Caillou which are listed as a Creme de Tete. Today, Chateau Caillou produces one of the widest arrays of Sauternes wines from their estate than any other chateau in the appellation. Not much wine is produced here, on average they make less than 1,750 cases of wine per year in total.
Cuvee du Chateau Caillou is the estates main wine. Produced from 100% Semillon, the production is on average close to 1,200 cases per year.
Chateau Caillou Cuvee Centennial, produced from 100% Semillon, the wine is aged in 100% new, French oak barrels for close to 24 months. The production is limited to close to 200 cases per vintage.
Chateau Caillou Prestige, from 100% Semillon, the wine is aged in 100% new, French oak barrels for an average of 24 months. Only 250 cases are made each year.
Chateau Caillou Cuvee Queen, which takes its name from Queen Ballan, the daughter of the owner who purchased the property in 1909, is only made in the best, select years and in very small amounts. The entire production is at most two barrels, which comes out to be a whopping 50 cases or 600 bottles of wine.
The property produces a second wine, Les Erables de Caillou, as well as a dry white Bordeaux wine, Caillou Sec. Interestingly, they also produce a small amount of dry red wine, Cru du Clocher.
Chateau Caillou is a lighter, early-drinking style of Barsac wine.
When to Drink Chateau Caillou, Anticipated Maturity, Decanting Time
Chateau Caillou can be enjoyed on the young side with no decanting. In fact, it is delicious and quite a treat young, even on release! However, like all great wines, Chateau Caillou is much better with age and does not reach full maturity until it's at least 10-15 years of age, or in some years, perhaps even longer in the best vintages!
That is when the magic happens! But that is unrealistic for 99% of the world's wine drinkers. So, enjoy it on any special occasion that calls for it.
Of course, the wine is sweet, but there is so much, incredible, racy acidity, the wine always feels fresh, and never cloying, which makes it quite fun to enjoy young. With Chateau Caillou and frankly, all Sauternes, the temperature is more important than decanting.
Serving Chateau Caillou, with Wine and Food Pairings
Chateau Caillou is best served at 14 degrees Celsius, 57 degrees Fahrenheit. The cool, almost cellar temperature gives the wine more freshness and lift. The wine will naturally warm in the glass, while it develops more aromatic complexities and fleshes out.
Chateau Caillou can be served with seafood dishes, especially shellfish, lobster, crab, and oysters on the half shell. Foie gras is a perfect pairing with its natural sweet, salty and savory characteristics. Chateau Caillou can also be paired with roasted chicken, veal, and pork dishes that are either spicy or prepared with a touch of sweetness.
Spicy Asian cuisine, raw fish, like sushi or sashimi, and cheese, both hard and soft also make great pairings with Chateau Caillou.
Château Caillou Wine Tasting Notes
7 Vintages 19,320 Views Sort by Vintage-Rating
2015
Château Caillou (Sauternes)

With a strong lean to the orange, mango, candied marmalade side of the style range, the wine offers a nice space between sweetness and acidity with a honeyed, orange tropical fruit, vanilla and apricot finish.

1,426 Views

Tasted

Aug 24, 2020

2011
Château Caillou (Sauternes)

Medium bodied, with more of its fruit on the honeyed orange, candied citrus and floral side, than the range of tropical fruits, Bright, sweet fresh and lively, a few more years and this should be even better.

2,392 Views

Tasted

Aug 4, 2017

2010
Château Caillou (Sauternes)

On the orange side of the style range, here you find more tangerine, candied orange rind, marmalade and vanilla, tinged, honeyed, apricots, with freshness, and vibrant, orange, and honeyed citrus in the finish.

1,843 Views

Tasted

Dec 10, 2017

2009
Château Caillou (Sauternes)

Vanilla, creme carmel, custard, apricot, honey, orange, floral and tropical characteristics are easy to find. Medium/full bodied, sweet and fresh, the wine finishes with a blast of candied orange, honey and apricot.

1,451 Views

Tasted

Feb 1, 2014

2007
Château Caillou (Sauternes)

Light in the nose and the palate, this medium bodied Sauternes offers some light honeyed tropical fruit. This will be best tasted on the young side.

2,547 Views

Tasted

May 25, 2012

1959
Château Caillou Crème de Tête (Sauternes)

If this wine wasn't dead, the best that can be said of it is, "it's comatose." Or possibly in a deep sleep. Almost no fruit or anything of interest going on in this wine. It should be called the Monty Python of wines allowing us to say, "It's not dead, it's sleeping." Don't buy this wine. Save your money, purchase something else

3,056 Views

Tasted

Mar 14, 2006

1947
Château Caillou (Sauternes)

Much better on the nose, with its burnt caramel, orange, banana and Jolly Roger tangerine aromatics than the palate, where the acidity edges out the fruit. There is not much sweetness remaining, but there good texture, even if the finish is short.

2,980 Views

Tasted

Dec 16, 2016

Deep cooper and brown, rusty brick in color, the hue was not clear. On the nose, this 65 year old Sauternes delivered the goods with its flood of wood, orange marmalade, chocoalte, earth and spice. The plush textured wine was still holding on to a touch of sweet, spicy apricots in the finish. It's always a treat drinking bottled history. This praticular bottle was not a later release. This was bottled in about 1949 and purchased in the early 1950's.

3,625 Views

Tasted

Dec 11, 2012