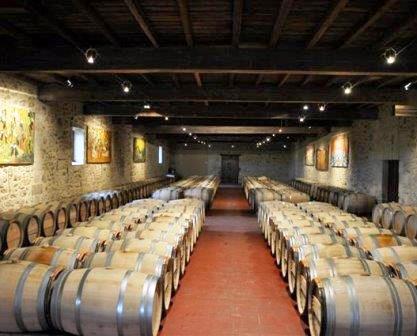 Learn everything about Chateau Sigalas Rabaud Sauternes, Premiers Crus with wine tasting notes, wine and food pairings, the best vintages, a history of the property, information on the vineyards and winemaking. If you want to read about other important, Bordeaux Chateaux: Links to all Bordeaux Wine Producer Profiles
Chateau Sigalas Rabaud History, Overview
Chateau Sigalas Rabaud takes its name from the two original owners of the estate, the Rabaud family, who owned the property prior to 1660, and the Sigalas family, who purchased the property in 1864. What we know as Chateau Sigalas Rabaud passed to the de Cazeau family as the dowry of Madame Peyronne de Rabaud.
During the mid to late 1800s, the owner, Henri Drouilhet de Sigalas purchased Chateau Pexoto, a 10-hectare vineyard that was part of the 1855 Classification, and added those vines to Sigalas Rabaud. In 1903, the Sigalas family renamed the estate, Chateau Rabaudet, which then became, Chateau Sigalas Rabaud.
That same year, the son of Henri Sigalas sold part of their vineyards to Adrien Promis, who created Chateau Rabaud Promis.
Starting in 1913, Sigalas Rabaud began entering into various rental agreements with their vineyards. In 1929 the same properties once again became part of the original estate.
Beginning in 1930, they leased their vineyards to the powerful, Ginestet family. That arrangement lasted until 1949 when the portion that was previously known as Chateau Promis was sold to Raymond Louis Lanneluc. The established company, Domaine Cordier, first took an interest in Sigalas Rabaud in 1972, before buying a stake in the vineyards in 1994.
Chateau Sigalas Rabaud Vineyards, Terroir, Grapes, Winemaking
The 14-hectare vineyard of Sigalas Rabaud, located in the commune of Bomme is planted to 85% Semillon and 15% Sauvignon Blanc. This represents a large reduction in the amount of Semillon previously planted in their vineyards. On average, the vines are 45 years of age. The terroir of Sigalas Rabaud consists of sand, gravel and clay soils on a sloping hillside.
To produce the wine of Chateau Sigalas Rabaud, the estate uses both a vertical press and a pneumatic press. Vinification takes place in French oak barrels. The wine is aged in an average of 33% new, French oak barrels for a minimum of 18 months before bottling.
On average, the estate produces close to 2,500 cases of Chateau Sigalas Rabaud per year. There is a second wine that changed names from Le Cadet Sigalas to Le Lieutenant de Sigalas with the 2004 vintage. Under the direction of Laure de Campeyrot, Sigalas Rabaud has continued adding more wines to their portfolio, in the hopes of increasing their sales.
The best vintages of Chateau Sigalas Rabaud are: 2022, 2021, 2020, 2019, 2018, 2017, 2016, 2015, 2014, 2013, 2011, 2010, 2009, 2007 and 2005.
Starting with the 2009 vintage, the property began producing a dry, white Bordeaux wine, Demoiselle de Sigalas. Only 250 cases are produced from this blend of 80% Semillon and 20% Sauvignon Blanc in an average vintage.
In 2013, La Semillante de Sigalas made its debut. This dry white Bordeaux wine is produced made from a blend of 97% Semillon and 3% Sauvignon Blanc.
Le N5 Sans Soufre Ajoute Sigalas Rabaud is the properties first natural wine, produced without the use of sulfur, the wine is made from 100% Semillon. The wine was first sold under the name of N°5 de Sigalas, but they were sued by Chanel, for the trademark of N°5, so they changed the name of the wine to Le N5 Sans Soufre Ajoute Sigalas Rabaud. 2015 was the first vintage.
When to Drink Chateau Sigalas Rabaud, Anticipated Maturity, Decanting Time
Chateau Sigalas Rabaud can be enjoyed on the young side with no decanting. In fact, it is delicious and quite a treat young, even on release! However, Chateau Sigalas Rabaud is a better wine with age and does not reach full maturity until it's between 10-30 years of age, or in some years, perhaps even longer in the best vintages!
With Chateau Sigalas Rabaud, and frankly, all Sauternes, the temperature is more important than decanting.
Serving Chateau Sigalas Rabaud with Wine and Food Pairings
Chateau Sigalas Rabaud is best served at 14 degrees Celsius, 57 degrees Fahrenheit. The cool, almost cellar temperature gives the wine more freshness and lift. The wine will naturally warm in the glass, while it develops more aromatic complexities and fleshes out.
Chateau Sigalas Rabaud can be served with seafood dishes, especially shellfish, lobster, crab, and oysters on the half shell. Foie gras is a perfect pairing with its natural sweet, salty and savory characteristics.
Chateau Sigalas Rabaud can also be paired with roasted chicken, veal, and pork dishes that are either spicy or prepared with a touch of sweetness. Spicy Asian cuisine, raw fish, like sushi or sashimi, and cheese, both hard and soft also make great pairings with Chateau Sigalas Rabaud.
www.chateau-sigalas-rabaud.com
Château Sigalas Rabaud Wine Tasting Notes
18 Vintages 53,446 Views Sort by Vintage-Rating
2022
Château Sigalas Rabaud (Sauternes)

Candied white peach, pineapple, apricot, vanilla, and honey show up instantly on the nose and palate. The wine finishes with sweetness, and ample lift to the honeyed apricots along with a nice touch of vanilla as well on the creamy, sweet, fresh palate. You can enjoy this early as well as age it. Drink from 2025-2045 91-93 Pts.

1,652 Views

Tasted

May 8, 2023

2019
Château Sigalas Rabaud (Sauternes)

Candied white peach, pineapple, apricot, vanilla and honey show up instantly on the nose and palate. The wine finishes with a good sweetness and ample lift in the honeyed apricot along with a nice touch of vanilla as well on the creamy palate. You can enjoy this early as well as age it. Drink from 2022-2037.

1,531 Views

Tasted

Mar 29, 2022

Pineapple. crushed rock, vanilla, flowers and caramel on the nose and sweet, pineapple with a generous helping of honey and marmalade on the finish is what you will find here. 91-93 Pts

3,751 Views

Tasted

Jun 9, 2020

2018
Château Sigalas Rabaud (Sauternes)

Mandarin orange, sweet pineapple, lemon chiffon, honey, vanilla and mango notes are find on the nose and on the sweet, oily, creamy, orange centric palate.

1,658 Views

Tasted

Mar 9, 2021

2018
Château Sigalas Rabaud La Sémillante de Sigalas (Bordeaux)

Honeysuckle, orange marmalade, lemon peel and waxy grapefruit come through with lift and crisp freshness on the palate. You can enjoy this on release for its freshness and fruit.

972 Views

Tasted

Mar 9, 2021

2017
Château Sigalas Rabaud (Sauternes)

Lush, rich, juicy, sweet and packed with honey slathered yellow and orange tropical fruits, honey and spice, the wine matches its overly sweet character with ample levels of freshness. This is a baby, so a bit of patience is going to add nuances and balance things out. But it is so good now, it is hard to be enjoying it already.

2,166 Views

Tasted

Mar 28, 2021

2016
Château Sigalas Rabaud (Sauternes)

Medium/full-bodied, combining honeyed apricot, overripe pineapple, vanilla, candied orange peel, and white peach with freshness, you have a nice sweet wine loaded with ample lift, making this a nice sweet treat. This should offer pleasure for at least the next 2 decades.

2,116 Views

Tasted

Apr 5, 2020

2015
Château Sigalas Rabaud (Sauternes)

Fresh, bright and with an orange fruit edge to the honeyed tropical flavors, the wine is still primary and needs another 5 years or so to develop.

3,564 Views

Tasted

Oct 11, 2019

2014
Château Sigalas Rabaud (Sauternes)

Fat, juicy, ripe and over ripe fruits, vanilla bean and honey work together to create a delicious, sweet, experience. It's not just all the sugar, it's the shot of acidity on the palate that finishes the puzzle.

2,559 Views

Tasted

Jun 25, 2017

2013
Château Sigalas Rabaud (Sauternes)

Young and filled with equal amounts of promise and sweet, honeyed, tropical fruits, there is a distinctive orange and nectarine component that adds to the floral and honey aromas. There is freshness and energy that keeps all that honeyed fruit on its heels. This is quite tasty, but it will be much better with another 7-10 years in the bottle.

2,870 Views

Tasted

May 10, 2017

2011
Château Sigalas Rabaud (Sauternes)

Medium/full bodied, with juicy, sweet, apricots, tropical fruit, mango, orange and pineapple and just right amount of honey and freshness to leave with satisfied, without feeling the wine was over done.

2,333 Views

Tasted

Apr 16, 2017

2010
Château Sigalas Rabaud (Sauternes)

Young, lively, sweet, rich and concentrated with over ripe pineapple, lemon custard, apricot and marmelade. The balance between sweetness and acidity is right where it needs to be. The wine ends with a lively, honeyed tropical fruit, nut and apricot finish.

5,604 Views

Tasted

Nov 8, 2014

2009
Château Sigalas Rabaud (Sauternes)

What a beauty! Honey coated tropical fruits, orange, apricot and vanilla custard are there to inform you this is one sweet, white Bordeaux treat. There is the right amount of freshness waking your palate, giving the wine lift and leaving you with sweet, spicy, honeyed fruits in the finish. This will should age quite nicely.

3,450 Views

Tasted

Dec 26, 2013

2007
Château Sigalas Rabaud (Sauternes)

Medium to full bodied, with an assortment of tropical fruits with honey and spice, the wine ends with sweet, ripe, orange, pineapple and honey notes.

4,381 Views

Tasted

Sep 19, 2012

2005
Château Sigalas Rabaud (Sauternes)

Fresh, sweet, ripe tropical fruits which slant to the orange side of the style range with its apricot, tangerine, orange rind and papaya, all coated with honey and vanilla. There is good concentration, lush, sweet fruits and ample freshness in the endnote, that is coated with honey. At 12, this is quite nice to enjoy today, where is should remain for at lest 15-20 more years,

3,363 Views

Tasted

Nov 15, 2017

2003
Château Sigalas Rabaud (Sauternes)

Sweet fruits and fresh vibrant flavors, just what the doctor ordered. Add a perfume with floral, vanilla, apricot, pineapple and honey scents coupled with lush, round, but lively fruits and you have the recipe for this wine.

3,363 Views

Tasted

Jun 5, 2013

2001
Château Sigalas Rabaud (Sauternes)

This sweet, medium bodied wine offers orange, pineapple, apricot and honey with spice and floral characteristics.

3,369 Views

Tasted

May 9, 2012

1990
Château Sigalas Rabaud (Sauternes)

Full mature, this medium bodied, sweet treat offers caramel, butterscotch, orange, tangerine, apricot and honeyed pineapple. The lift is just the right touch too.

2,252 Views

Tasted

Sep 23, 2018

1959
Château Sigalas Rabaud (Sauternes)

Orange, apricot, marmelade, spice and honey scents move you to the medium bodied, fully mature wine that is better on the nose, than on the more simple, apricot and orange marmelade palate, which is shorter and less sweet than I wish it was.

2,492 Views

Tasted

Dec 23, 2014