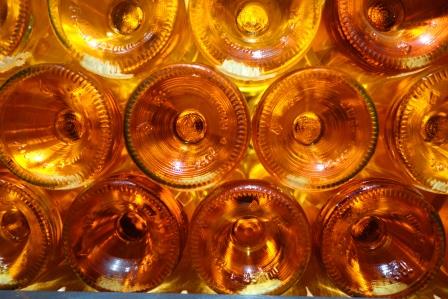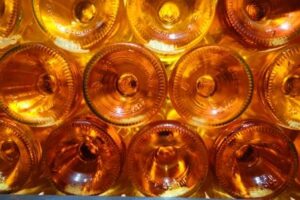 Sweet wines are great. There is no doubt about it. The beautiful balance between sugars, acidity, richness and complexity are compelling. Yet, as good as they are, they have slowly slipped in popularity over the last several decades. If you have not enjoyed a great sweet wine lately, or ever, there is no better time than May 8 to open a bottle of your favorite sweet wine and celebrate International Sweet Wine Day May 8!
I love the decadence that is often discovered in the world's great sweet wines. Like many people, I do not find myself opening as many bottles of sweet wine as I'd like. I can promise you that on May 8, International Sweet Wine Day, I'm going to open a bottle of Chateau d'Yquem!
Personally, I prefer the sweet white Bordeaux wines produced in Sauternes and Barsac. The wines are made from grapes, Semillon and Sauvignon Blanc (In most cases, although Muscadelle is also used from time to time) that have been attacked by boytrytis.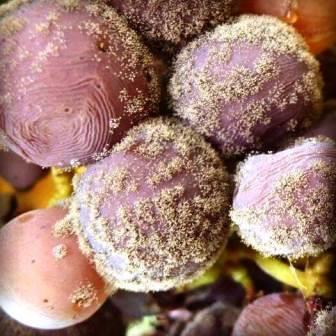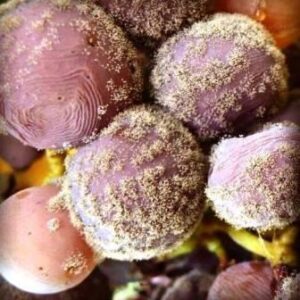 Boytrytis needs specific conditions to develop and the micro climate of Sauternes plays a major part in making that happen. Mornings must be damp, coupled with warm conditions later in the day which all help to create the humid conditions required for botrytis. When a grape is initially struck by botrytis, which is also known as noble rot, the fruit is attacked through the pores and cracks in the skin of the grape by the fungus. Shortly after that, it becomes easy to see the fungus developing as it begins to appear on the skin of the grape. At this point in time, the berry changes color, turning dark brown. Once the grape has been penetrated and covered with rot, the berry begins to lose its juice, becoming dehydrated and incredibly concentrated. Once the process has completed, with the help of morning mists, warm, windy afternoons and humid conditions, the fungus dies and the berries are ready to be picked.
At this stage, the shriveled, dehydrated, concentrated grapes have developed more complex, spicy, tropical fruit, nut, floral and incredible honeyed characteristics along with ample levels of acidity. These marvels of the sweet wine world are pure bottled decadence. Yet, due to their high acidity, they can also be paired with a wide variety of food.
While many people feel sweet wines are just for dessert, that is not the case. Sauternes and oysters on the half shell is a great wine and food pairing. Depending on the preparation, Sauternes can be served with seafood dishes, especially shellfish. Foie gras and Sauternes, or other sweet white wines, with its natural sweet, salty and savor characteristics is a classic wine and food pairing. Sweet wines can also be served with spicy Asian cuisine. Cheese, hard and soft is another great pairing for Sauternes or other sweet wines, especially blue cheese.
OK, I admit it. I'm addicted to Sauternes and love Chateau d'Yquem. But Yquem is a rare treat as it's rather pricey. There are numerous choices of other producers that produce great sweet wine from Bordeaux to chose from. Why not look for Chateau Coutet, Climens, Rieussec or Suduiraut. If the wines of Sauternes are too pricey, there are numerous other regions that produce great, sweet wine from botrytis attacked grapes in Bordeaux. In total, 13 additional appellations also allow the production of sweet Bordeaux wine. The other regions do not make wine at the level of Sauternes, but they are considerably less money in most cases. Bordeaux, Bordeaux Superieur, Cadillac, Cerons, Cotes de Bergerac, Graves Superieurs, Haut-Benauge, Loupiac, Monbazillac, Premieres Cotes de Bordeaux, Sainte Croix du Mont, Sainte Foy and Saint Macaire are all appellations that allow the production of sweet Bordeaux wine. You can read full details on each of these appellations in our guide to the Lesser Known Bordeaux Appellations.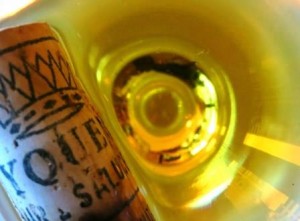 The Bordeaux appellation of Sauternes is not the only great wine region to produce sweet wine from grapes attacked by botrytis.
May 8, International Sweet Wine, Sauternes and d'Yquem Day is for all the appellation that produce sweet wine. May 8, International Sweet Wine, Sauternes and d'Yquem Day is a perfect world wine day because great sweet wines are made from countries and regions all over the world. Germany, Portugal, Hungary, Italy, Spain, Australia, South Africa, Maderia and the United States all produce world class sweet wine.
As I mentioned, on May 8, International Sweet Wine Day, I'm opening a bottle of Chateau d'Yquem. But clearly there are countless choices for sweet wine lovers that are made in a wide and diverse array of styles, price ranges and price points. And perhaps most important, all sweet wines are not created alike, because they are made using a myriad of different techniques.
One of the most important traits in a sweet wine is the balance of sugars and acidites. The high sugar content that is essential to the process can take place either through late harvesting, or with the addition of spirits. Most sweet wines start off being made in a similar fashion to dry wines, except in the case of sweet wines, the goal is to retain a healthy portion of residual sugar. This is accomplished by not allowing the sugars to completely ferment to dryness.
Methods of producing vary. For example, you can find Vin de Paille, which is sweet wine made from grapes that were in many cases dried on straw mats before being pressed. You find Vin de Paille wines in the Rhone Valley, Jura, Italy and even in California, where Sine Qua Non produces what many people consider the benchmark of sweet California wine.
Sweet wines are also produced by as we mentioned, allowing the grapes to remain on the vine for extended periods of time. This technique is used to produce some of the world's best sweet wines in regions as diverse as Alsace, Germany and the Loire Valley. The grapes most often used for late harvest wines are Riesling, Chenin Blanc, Pinot Gris and Gewurztraminer.
Ice wines are another proven method to make great sweet wine. Ice wines are made by freezing the grapes to allow for the separation from the water and the naturally occurring grape sugars. This happens because while water freezes, sugars do not. Once the grapes are pressed, you end with the ability to make Eiswein.
Fortified Wines also offer one of the most decadent sweet wine treats. The levels of richness, complexity and ability to age are perhaps unequaled. Port and Madeira seem impervious to the effects of extremely long aging. To produce fortified wines, the process is simple. You add neutral grape spirits to stop further fermentation while retaining the high sugar levels necessary to the wine. While the process might sound simple, the wines can be incredibly complex and as I mentioned age worthy. I had a Port this year from 1945 that was as fresh as a daisy! The virtue and problem with great Vintage Port is the same thing. It takes decades for the grape brandy to truly marry into the wine, making a seamless connection. For Port lovers that cannot wait, there's Tawny Port, that is ready when you are. You can buy Tawny Port that is already aged, for example you can easily find and buy Tawny Port that is 10, 20, 30, 40 or 50 years of age.
The production of Madeira uses the same method as Port to retain the sugar levels. But Madeira adds another step in the chain as the wine is also essentially cooked. Meaning the wine is heated to temperatures of about 130 degrees Fahrenheit, (50 Celsius.) The wine is also purposely exposed to oxygen while aging. These two techniques create a wine that can age for centuries allowing almost anyone to taste true, bottled history. With Madeira, you have several different styles and choices of wine to consider. The initial choices you need to make are, do you want a vintage Madeira or a Solera. A Solera is a wine produced from multiple vintages by the process of moving the wine to barrels of older wines, that still have some of the previous vintage remaining.
Last, but not least, you have the famous Sherries of Spain. Sherries are fortified wines. The big difference in the production of sherry is that the grape spirits or brandy are added to the wine after the fermentation process has been completed. Sherries come an amazing variety of styles and characters and can also be produced using the Solera method.
Regardless of the sweet wine you want on your table, and in your glass, make sure you open a bottle May 8 to celebrate International Sweet Wine Day!