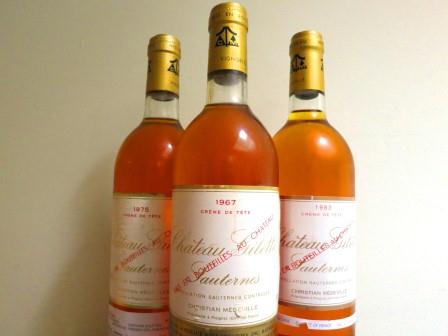 Learn everything about Chateau Gilette Sauternes with wine tasting notes, wine and food pairing tips, a history of the property, information on the vineyards and winemaking. If you want to read about other important, Bordeaux Chateaux: Links to all Bordeaux Wine Producer Profiles
Chateau Gilette History, Overview
The story and creation of Chateau Gilette date back to 1710, when two, well-known Sauternes families got together through marriage. The Numa Medeville family married family Marie Despujols, the daughter of another famous family in the region, Lamothe Despujols. The couple was given the estate as a wedding gift from Lamothe Despujols. they received vineyards, Chateau Gilette, and Chateau Les Justices.
The estate has remained in the hands of the Medevile family for generations. Chateau Gilette is perhaps the most unique Bordeaux wine produced in the Sauternes appellation.
The wines of Chateau Gilette are released on average, between 20 and 25 years after the vintage! The wine remains in tanks for close for almost 20 years before it's even bottled! At that point, Chateau Gilette ages the bottled Sauternes wine for an additional 3-5 years! This was not always how the wine of Chateau Gilette was made.
Prior to World War 2, they made wine like every other property in the region. When the war was over, Rene Medeville found they still had wine in their tanks that was leftover from the 1930s. Rene Medeville likes the results so much, he was inspired to continue allowing the wine to age for extended periods in cement vats.
Chateau Gilette Vineyards, Terroir, Grapes, Winemaking
The 4.5 hectare Sauternes vineyard of Chateau Gilette is planted to 90% Semillon, 8% Sauvignon Blanc and 2% Muscadelle. The vineyard is well-placed in the commune of Preignac. The walled-in vineyard has a terroir of gravel, sand, rock, limestone, and clay-based soils.
To produce the wine of Chateau Gilette, the wine is fermented and stored in small, cement tanks that range in size from 20 hectoliters up to 40 hectoliters. The wine of Chateau Gilette does not see any new or used oak during its extremely long aging period.
The aging can take up to 25 years before the wine is released. This is unique to Bordeaux and to most of the wine-producing world. It was the unique idea of Rene Medevile to begin this unique aging process for his wines.
The long aging in cement vats has not always been how the wines of Chateau Gilette were produced. In fact, at first, it was not a choice, it happened by accident when the owner of Chateau Gilette, Rene Medeville joined the army during World War 2.
When he left for the war, he told his family not to touch the wine and to leave it resting in the cement vats. He would take care of the wine when he returned. The family liked the results so much, they simply continued their unique, extended, long aging process.
Chateau Gilette is only made in select vintages. Currently, Chateau Gilette is managed by Julie Gonet-Medeville and her husband Xavier Gonet. Xavier Gonet is also known for Gonet Champagne. The family also owns Chateau Les Justices in Sauternes as well as other Bordeaux properties.
The best vintages of Chateau Gilette are: 2022, 2021, 2020, 2019, 2003, 2001, 1997, 1996, 1990, 1989, 1988, 1986, 1983, 1976, 1975, 1971, 1967 and 1959.
It is interesting to note that Chateau Gilette has declassified more vintages than any other estate in Sauternes. As the estate only makes wine in the best vintages, no wine was produced in 2012, 2008, 2004, 1998, 1995, 1994, 1993, 1992, 1991, 1987, 1984, 1980, 1977, 1974, 1973, and 1972. It is amazing to consider they have declassified more vintages than Chateau d'Yquem!
Chateau Gilette at its best is filled with tropical, honey-drenched fruit and spices. But the wine lacks vanilla, coconut, or custard scents, as well as some of the fatness found in many Sauternes, as it was not aged in French oak barrels.
Depending on the vintage, this Bordeaux wine gains complexities with additional bottle age, which is amazing, considering it's already close to 25 years old by the time it's released! However, in some vintages, the fruit drops with age and it's not as much fun to drink with time. As the vineyards are tiny, the production is minuscule, making the wine quite difficult to find. On average, about 600 cases of wine are produced here each vintage.
When to Drink Chateau Gilette, Anticipated Maturity, Decanting Time
Chateau Gilette can be enjoyed on the young side with no decanting. In fact, it is delicious and quite a treat young, even on release! However, like all great wines, Chateau Gilette is much better with age. However, due to the fact that the wine was aged in tanks for over 20 years, Chateau Gilette is mature on release. However, the wine can still improve in bottle for at least another 12-30 after the wine is released!
Of course, the wine is sweet, but there is so much, incredible, racy acidity, the wine always feels fresh, and never cloying, which makes it quite fun to enjoy young. With Chateau Guiraud and frankly, all Sauternes, the temperature is more important than decanting.
Serving Chateau Gilette with Wine and Food Pairings
Chateau Gilette is best served at 14 degrees Celsius, 57 degrees Fahrenheit. The cool, almost cellar temperature gives the wine more freshness and lift.
The wine will naturally warm in the glass, while it develops more aromatic complexities and fleshes out. Chateau Gilette can be served with seafood dishes, especially shellfish, lobster, crab, and oysters on the half shell. Foie gras is a perfect pairing with its natural sweet, salty and savory characteristics.
Chateau Gilette can also be paired with roasted chicken, veal, and pork dishes that are either spicy or prepared with a touch of sweetness. Spicy Asian cuisine, raw fish, like sushi or sashimi, and cheese, both hard and soft also make great pairings with Chateau Gilette.
Château Gilette Wine Tasting Notes
10 Vintages 53,292 Views Sort by Vintage-Rating
1997
Château Gilette Crème de Tête (Sauternes)

Medium-bodied, fresh, lively, sweet and lifted, with a focus on its candied citrus, pineapple, roasted, candied orange, apricot, and mango, coupled with flowers, creme brulee, nuts and spice. The bracing acidity is there giving you freshness and ample, honeyed, sugary fruits. It is amazing to think that the wine spent 22 years in vat before it was bottled and shipped!

1,688 Views

Tasted

Aug 26, 2021

1996
Château Gilette Crème de Tête (Sauternes)

Not a wine I see much, the color shows an orange tint, and so does the fruit. Fresh, racy, sweet, but not overly so, you find honeysuckle, candied orange rind, papaya and overripe apricots on the nose and palate. Gilette is an amazing wine when you consider it's aged in concrete 20 years or so before it is released.

1,669 Views

Tasted

Sep 21, 2020

1990
Château Gilette Crème de Tête (Sauternes)

Lively, fresh, bright tropical fruits, tangerine, flowers, honey and marzipan notes blend together perfectly. Racy acidity and a honey soaked apricot finish is the name of the game here. In today's day and age, it is amazing to note this is their current release, some 27 years after the vintage!

2,732 Views

Tasted

Jun 25, 2017

1989
Château Gilette Crème de Tête (Sauternes)

I like the fruit, honey, floral, stone and spicy notes in the wine. But the lack of fatness, vanilla, custard, creme brulee and other attributes I find in young Sauternes is always a bit odd at first. It is a good, albeit unusual style of wine, due to the complete lack of oak in the aging process. Interestingly, even though it spends close to 25 years in cement vats before bottling, the wine continues aging and improving in the bottle.

3,128 Views

Tasted

Nov 1, 2016

1983
Château Gilette Crème de Tête (Sauternes)

This light copper colored wine offered apricots, honeyed orange rind, sweet tropical and apricot flavors, soft, rich textures and a fully mature, pineapple, orange and citrus finish. There is ample sweetness and freshness. I did not know it at the time, but this was my last bottle. Gilette is an interesting Sauternes as it does not see ageing in oak. It's aged in cement vats for 20-25 years before bottling, so you do not find the typical, vanilla or custard sensations that are found in most sweet Bordeaux wines.

3,587 Views

Tasted

Sep 1, 2012

Sweet, honeyed tropical fruits greet your nose, while ripe honey drenched. pineapple, pear, apricot and orange fruit grace your palate. For lovers of sweet wines, this was very nice. It's improved over the past year. I liked this bottle a lot more than the last bottle I opened. It's hard not to love a winery that their most recent releasewas the 1983, and that came out in 2006!

2,572 Views

Tasted

Nov 15, 2009

Light in color and light on the palate, this wine reminded me more of a Barsac than a Sauternes. Medium sweetness, but not enough concentration to be more than good. Good acidity with a nice lift. It reminded us of a good, but not great Climens.

2,435 Views

Tasted

Nov 12, 2007

1976
Château Gilette Crème de Tête (Sauternes)

Ripe, sweet and with searing acidity, the candied apricot, pineapple, mango and tangerine fruits coated with all that delicious honey hit the spot. This is a very specific, full bodied, concentrated, bright style of Sauternes, as the wine is not aged in oak. So, while you get the sweetness, there is no vanilla, caramel or fat from oak. Instead you find more purity of fruit and higher levels of acidity, with an orange peel leaning. This is a good thing here, as the wine was delcious to the last drop.

2,935 Views

Tasted

May 20, 2017

Much better than the previous, and both were from the same case. This was loaded with fresh pineapples, pears, peaches, apricot, honey and nuts. The fruit was sweet, the acidity was lively. This was a sweet treat in a glass.

3,860 Views

Tasted

Dec 21, 2013

1976 Château Gilette Crème de Tête opens with an orange, Christmas spice, nectarine, cinnamon, peach, honey and floral perfume. If that was all there was supposed to be the wine, that would have been fine. But wines need to offer pleasure on the palate too and this wine stopped short of that. Semi tart, lacking sweetness and freshness, while not great, this was average at best. Based on this bottle, the wine is slowly starting to dry out and drop its fruit. Perhaps it was the specific bottle. I'll try to open another in the moderate future.

2,666 Views

Tasted

Dec 9, 2010

1975
Château Gilette Crème de Tête (Sauternes)

Much better and more interesting than anticipated, the sweet, orange and tropical fruits had loads of lift, length and complexity. Fully mature, this is great with, or as dessert.

3,104 Views

Tasted

May 20, 2017

Light copper in color and filled with apricot, pineapple, orange blossom and honey accents. It had the weight of a Climens instead of Rieussec. This is ready to drink.

4,277 Views

Tasted

May 1, 2011

The wine is all ripe fruit. As it sees no oak, there are none of the vanilla or honeyed tones you normally find in Sauternes. The deep, orange hued wine with its elegant, ripe, tropical fruit was very rich, had good concentration and complexity and made a perfect paring with the Foies Gras

3,258 Views

Tasted

Dec 18, 2006

Thick, rich, concentrated, opulent flavors exploded from glass. This wine is best described as a boatload of dense, extremely ripe, honeyed fruit accompanied by a healthy dose of unique spices.

2,877 Views

Tasted

May 3, 2005

1971
Château Gilette Crème de Tête (Sauternes)

Getting tired and starting to become oxidized. The wine was dull and lacked a lot of fragrance or fruit showing. I hope this was an off bottle. However, I think it's just old age setting in.

3,640 Views

Tasted

Oct 6, 2011

1967
Château Gilette Crème de Tête (Sauternes)

Full bodied, dense and intense, the wine focuses on its marmalade, apricot, earthy citrus, honey, tangerine and spicy personality. Fresh, powerful, bright and even zippy, the wine is not exactly refined. This is a very distinctive, even idiosyncratic style of Sauternes, due to having been aged in cement tanks for close to 25 years without seeing any oak. Perhaps, this wine is best suited for contemplation, rather than pure, sweet pleasure.

2,541 Views

Tasted

Oct 20, 2014

This deep orange, copperish colored wine was vibrant and alive. Full of ripe, honeyed tropical fruit and the lift of acidity. Thick, rich and concentrated, this will deliver pleasure for years.

2,048 Views

Tasted

Aug 12, 2008

1950
Château Gilette Crème de Tête (Sauternes)

Dark as molasses. It had an interesting burnt caramel nose. Lots of depth, but lacking finesse. Some sweetnees and fruit remained, but the majority of sensations came from the burnt qualities. Still, it was quite an adventure to taste a Sauternes close to 60 years old.

4,275 Views

Tasted

Dec 1, 2007