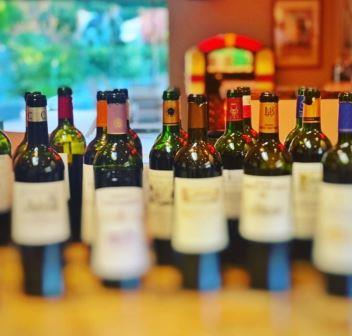 2018 Bordeaux is going to be thought of as an outstanding vintage for years to come. Not just because the wines at the top were sublime. The quality of a vintage is also measured by how the lesser wines from more challenging terroir performed. I tasted 800 wines from 2018 Bordeaux covering every appellation and price point and discovered several value-priced gems!
With 2018 Bordeaux, there are numerous well-priced, easy to drink and easy to like Bordeaux value wines from all over the region. Many of those are generic AOC Bordeaux. Some of those wines come from lesser terroir. Other AOC Bordeaux wines are produced by top estates. But, because that do not follow the rules of their appellation, the wines are demoted to generic AOC Bordeaux.
There is an ocean of AOC Bordeaux wine. And many, if not most are not that interesting. But if you can separate the wheat from the chaff, which is what we have done for you, there are several well-priced Bordeaux AOC wines that are worth purchasing. Some by the case! That is the advantage great vintages offer to more difficult terroirs.
As you can see from reading the tasting notes below, 2018 AOC Bordeaux are both red and white Bordeaux wine. Some are mostly Cabernet Sauvignon and others are dominated by Merlot in their blends. So, there is a lot to choose from.
Of course, I enjoy tasting all the famous names. Who doesn't? But perhaps the best part of tasting through a vintage is finding the petit chateaux producing fine wine for every day drinking that sell for a price anyone can afford. Truthfully, the best 2018 AOC Bordeaux wines offer early drinking, charming, pleasure at a very friendly price.
If you want to read tasting notes for other 2018 Bordeaux wines 2018 Complete Guide to All the Best Wines of the Vintage
Any of the following 2018 Bordeaux wines listed below are worth purchasing by the case when they are available at your local stores. The following wines were all tasted in non-bind conditions at my home office.
2018 – Bad Boy – Round, lush, fruity, juicy, sweet black cherries, flowers and licorice are in the nose, palate and finish of this forward, ready to drink charmer. You can enjoy this gem on release. 90 Pts
2018 – Belle-Vue (Haut-Médoc) Petit Verdot – Dark and intense in color, the wine is equally deep and intense with its blast of spicy, peppery, black and blue fruit core of fruits. Full-bodied and concentrated, the wine is a peppery, palate-staining blast of fruit that coats your taste receptors with black and blue peppery berries and a touch of bitter espresso. Some tasters are going to like this more than others. This is a rarity in Bordeaux as it is one of the few wines made from 100% Petit Verdot. 90 Pts
2018 – Bonnet Blanc – Creamy, juicy, sweet lemon curd and grapefruit filled wine with a dab of honeysuckle in the finish. 87 Pts
2018 – Bonnet Merlot Cabernet – Leafy herbs and bright red fruits on the nose. Forward, light, bright, fresh, soft and easy drinking for uncomplicated quaffing. Drink this over the next few years. 83 Pts
2018 – Clos des Lunes Lune d'Argent – Rich, lush, creamy, juicy, fruity and already fun to drink, this ready to go delight leaves you with all the just squeezed Meyer lemon, pineapple and pear you can handle. 91 Pts
2018 – Clos des Lunes Lune d'Or – This is great example of a dry Sauternes. Here you find loads of white peach, pineapple, sweet lemon and Anjou pears. Creamy in texture, with the right balance between sweet and fresh, this is ready for prime time drinking. 92 Pts
2018 – Cos d'Estournel Blanc – Fresh squeezed grapefruit, lemon peel, flowers, crushed rock and a sprinkle of vanilla smell just great. The wine is rich, creamy, fresh, juicy and crisp, with a blast of sweet lemon, vanilla, lime and green apple all blending perfectly together on your palate. 95 Pts
2018 – Les Pagodes de Cos Blanc – Forward, fresh, fruity with sweet yellow citrus, orange rind and the perfect touch of honey to sweeten up the lush, juicy finish. This is fully ready to go. 91 Pts
2018 – Doisy-Daene Grand Vin Sec – Slightly honeyed yellow citrus with green apples and mango in a round, forward, early drinking style. 89 Pts
2018 – Domaine de Cambes – Pepper, truffle, black pepper, mint and earthy, red fruits create the core of this wine, Medium-bodied, with a spicy presence on the fruit, you can enjoy this in its youth. 90 Pts
2018 – Girolate – Deeply colored, with a nose of chocolate covered cherries, espresso, licorice, thyme, cinnamon and smoke, the wine is full-bodied, rich, round and lush with a chocolate covered, black cherry, espresso and licorice filled finish. 92 Pts
2018 – Girolate Blanc – Creamy green apples with touches of lemon peel and grapefruit that is ready for near-term drinking. 88 Pts
2018 – Grand Village Blanc – Grape fruit, lemon peel, guava, green apple and banana aromas are a lot of fun to work with in the perfume. But it is the fresh, vibrant palate, with its crisp bite of yellow citrus accompanied by fresh topical accents that really makes this work. The wine was made from 75% Sauvignon Blanc and 25% Semillon. 92 Pts
2018 – Grand Village Les Champs Libres – Pink grapefruit, guava, lemon curd, waxy lemon, flowers and limes on the nose really wakes you up. On the palate, all the fresh, lively, crisp, lemon centric fruits paired with green apples and creamy textures leave you feeling equally refreshed. The wine is always produced from 100% Sauvignon Blanc. 93 Pts
2018 – Hubert de Boüard Cabernet Sauvignon – Forward, round, juicy and fresh with ripe cherries accented with a hint of cedar and thyme on the nose and palate. The finish mixes herbs, olives and sweet red fruits. This will be fun to enjoy early in its life. 88 Pts
2018 – Hubert de Boüard Le Sauvignon Blanc – Waxy lemon grass, grapefruit, honeysuckle and lemon make this a delightful, juicy, crisp, refreshing white wine that would be perfect for any seafood dish. 90 Pts
2018 – Hubert de Boüard Merlot – The intriguing combination of citrus, plums, herbs and licorice in this medium-bodied, forward, easy to drink and like wine is perfect for near term, uncomplicated drinking. 89 Pts
2018 – Jean Faux Sainte-Radegonde – White peach, vanilla and tropical fruits show off their lush, sweet, fruity character as soon as the wine hits your glass. This will be best over the next few years. 88 Pts
2018 – La Grande Clotte Blanc – Creamy, juicy, fresh, crisp, lemon, white peach and green apple packed, floral wine with touches of mango and yellow citrus in the finish. 90 Pts
2018 – La Tour Blanche Duo de la Tour Blanche – Crisp waxy lemons, grapefruit, spring flowers and a touch of bright, orange tropical fruit all wrapped up in a lush, creamy, fresh and fruity finish. 89 Pts
2018 – Lamothe-Vincent Heritage – Medium-bodied, fresh, sweet, earthy and fruity, the wine finished with spicy plums and fresh brewed espresso notes. 87 Pts
2018 – Lauduc – Soft, round and fruity, this forward, early drinking, plum, cherry, herb and licorice filled, well-priced charmer is ready to go. 87 Pts
2018 – Laurence Blanc – Honeysuckle and lemon zest with pomelo with a sweet bright citrus filled palate and finish that is ready to go. 88 Pts
2018 – Le Nardian Blanc – Honeysuckle, lemon peel, vanilla and grapefruit shine nicely in this rich, creamy, lush, slightly honeyed, citrus filled wine. The wine is a blend of 70% Sauvignon Blanc, 20% Muscadelle and 10% Semillon. 92 Pts
2018 – Le Petit Cheval Bordeaux Blanc – Bright, fresh, lively yellow citrus, honeysuckle, green apple, lemon peel and a touch of vanilla on the nose and palate works here. The wine is lively, creamy, fresh and leaves you with a blast of fresh, sweet citrus in the finish. The wine blends 74% Sauvignon Blanc with 26% Semillon. 95 Pts
2018 – Leroy-Beauval – With a nice dark hue, the wine offers ripe, black cherries and plum notes, along with a wet earth character on the nose. Lush, round, silky and fruity, the wine ends with dark, ripe plums, licorice and cocoa. This is already quite a lot of fun to taste and it is only going to get better over the following decade. 91 Pts
2018 – Loudenne Blanc – Lemon, pears and green apples with sweetness and lift for early drinking pleasure. 87 Pts
2018 – Lussac Blanc – Honeysuckle, citrus peel and grapefruit, with a creamy, juicy, sweet lemon essence on the palate 85 Pts
2018 – Madran – Smoke, flint, red plum and strawberry notes come along with a medium-bodied, soft, polished, fruity mid-palate and finish. This is perfect for near-term drinking. 87 Pts
2018 – MagrezFombrauge Blanc – The wine kicks off with a jolt of juicy lemon, white peach, vanilla and flowers. Lush, round and forward, the finish is all about its creamy lemon and green apple character. 92 Pts
2018 – Malleret Blanc – Fresh, fruity, easy drinking, citrus oriented wine for near term consumption. 86 Pts
2018 – Mongiron Prior Blanc – Orange cream sickle, grapefruit and white peach with a touch of lemon in a ready to drink creamy style. 88 Pts
2018 – Mont Perat – Licorice and cherries, with soft, supple, textures and an already accessible, sweet, cherry filled finish. It is one of the better wines for the money you can fund today. 88 Pts
2018 – Mont Perat Blanc – Green apple, white peach, vanilla, spice and grapefruit pop with their crisp, fresh, bright fruits. This is not a wine for aging, pop, pour and enjoy all the sweet, creamy citrus fruits. 90 Pts
2018 – Naujan – Medium-bodied, fresh, soft and fruity with light touches of black raspberry coffee bean and plum in the finish. This is going to be easy to drink on release. 90 Pts
2018 – Pabus – Medium-bodied, silky, sweet and fresh, with loads of delicious red fruits, a dab of cocoa and freshness in the finish. You can enjoy this on release. 90 Pts
2018 – Paveil de Luze Blanc – Zesty, juicy, bright lemon and honeysuckle centered wine with freshness and a nice jolt of yellow citrus with a shot of lime in the finish. This will be just great on release. 90 Pts
2018 – Pavillon Blanc du Chateau Margaux – Fresh, bright, crisp and juicy, the lemons, grapefruit and green apple are made even better with a deft touch of orange rind and honeysuckle. Creamy, juicy and crisp with a lemon drenched finish, this is ready now and can age for at least 10-15 years with ease. 95 Pts
2018 – Penin Blanc – Honeysuckle, citrus, grapefruit and green apple on the nose and palate for early drinking, uncomplicated, summer quaffing. 85 Pts
2018 – Perriere Blanc – Light, forward mix of honeysuckle, lemon rind and green apples with a slightly honeyed, yellow citrus finish for early drinking pleasure. 84 Pts
2018 – Prieure Marquet – Light, bright, crisp red fruits on the nose and palate for early drinking pleasure. Drink this over the next few years. 82 Pts
2018 – Puygueraud Blanc – Juicy, crisp lemons, tropical fruit, honeysuckle and white peach create a solid perfume. The wine is fresh, creamy and lifted, leaving you with sweet, creamy, green apple, lemon and lime sensations. Drink this over the next few years. It is impossible to find a better value in white Bordeaux wine than you have here. 90 Pts
2018 – Rayne Vigneau Le Sec de Rayne-Vigneau – Waxy lemon with tropical fruit is crisp, fresh, creamy and ready to go for near term drinking pleasure. 90 Pts
2018 – Reignac Blanc – Yellow citrus and mango with tropical notes and green apple in a lush, creamy style for near term drinking pleasure. 88 Pts
2018 – Reynon Blanc – Yellow citrus, white peach and lemon peel, in a forward, juicy, creamy style that is ready to go for short term drinking. 88 Pts
2018 – Ronan by Clinet – Sweet, juicy, lush black cherries and licorice in a forward, round, soft, luscious style that is ready to drink on release. 89 Pts
2018 – Sigalas Rabaud La Sémillante de Sigalas – Honeysuckle, orange marmalade, lemon peel and waxy grapefruit come through with lift and crisp freshness on the palate. You can enjoy this on release for its freshness and fruit. 88 Pts
2018 – Stella Solare Croix de Labrie – The nose is quite sweet with all its honeysuckle, candied orange and white peach notes. Lush and creamy on the palate with loads of lemon and tropical fruit with a dab of honey in the finish, you can enjoy this on release. The wine is a blend of 60% Semillon, 20% Sauvignon Blanc and 20% Sauvignon Gris. 92 Pts
2018 – Suduiraut "S" de Suduiraut – White peach, pears, pineapple and flowers hit your nose before discovering the combination of bitter and sweet, yellow citrus, green apple and pineapple in the finish. Medium-bodied, early drinking and with fruit and freshness, this is ready to go on release. This is best consumed on the young side. 89 Pts
2018 – Tronquoy-Lalande Blanc – Ripe, fresh, sweet lemons, flowers and fresh cut grass aromas waft from the glass. The creamy, bright, yellow citrus filled wine, with its hints of green apple and dab of honey is fully ready to enjoy on release. 91 Pts
2018 – Valandraud Blanc – Juicy, ripe, zesty yellow citrus, tart green apples, pink grapefruit and vanilla come alive in this fruit filled, luscious, creamy, rich Bordeaux Blanc. This is already great in your glass and it is only going to become better with a few years of age. 94 Pts
2018 – Virginie de Valandraud Blanc – Bright, fresh lemons, grapefruit and a touch of yellow tropical fruit and honeysuckle combine to produce a sweet, fresh, fruity citrus oriented wine that is already delicious to drink. 91 Pts
2018 – VirginieThunevin – Flowers and cherries fill the medium-bodied, forward, easy to drink and like, early drinking, soft textured, fresh, fruity charmer. You can drink this on release. 87 Pts
2018 – Yquem "Y" – Waxy lemons, grapefruit, lemon curd, green apple and honeysuckle all make an appearance in this fresh, mineral driven, yellow citrus and tropical orange focused wine. 94 Pts